July Studio Showcase Winner: Wendy
We are so excited to introduce the July Studio Showcase Winner. Not only is Wendy's space gorgeous, it has been so fun getting to know her and learning about her background. Wendy enjoys a variety of crafting hobbies that include quilting, sewing and paper crafts. Although she has been involved with paper crafting from the mid-90s, it wasn't until 2010/2011 she really dove in after the loss of her father to esophageal cancer. Wendy found community with a group of ladies that became her support and made a huge difference in her life. These wonderful ladies encouraged her to become a Stampin' Up! demonstrator under Ann Schach and Mary Fish. Wendy's creativity for card design speaks for itself...not to mention she just passed her $100,000 sales mark a month ago. Congrats Wendy!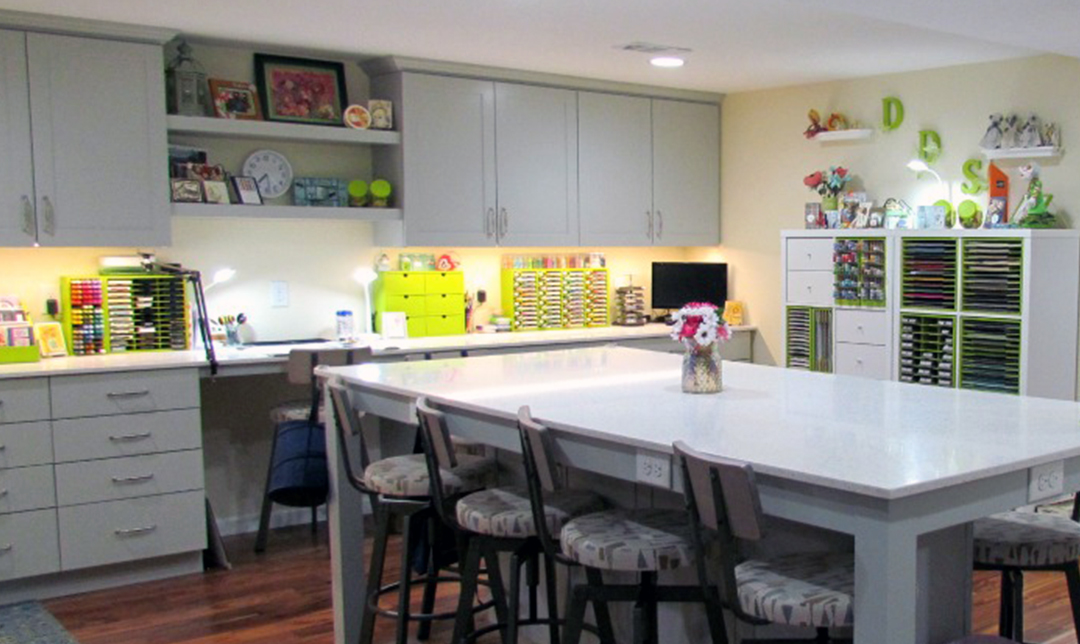 When it came to designing a craft studio, Wendy says, "The driving forces of my dream studio were inspired by Keisha Charles (Crafted Spaces) and Mary Fish." Wendy understood her specific needs and knew that she wanted a larger space for classes where her customers could sit and craft. Storage and organization were important, as well as being able to grow when necessary. Wendy worked with a designer and mapped out design ideas, and her vision and needs for the 22' x 19' space. The two worked together to plan every detail down to electrical outlets, lighting, and flooring.
Wendy's accent color for the space was already chosen and carried over from her previous studio. She loves happy, bright, and cheerful colors so lime green has always been a favorite. The color was inspired by the Stampin' Up! ink colors Lemon Lime Twist and Granny Apple Green. She painted her Stamp-n-Storage products with Laser Behr Premium Plus Interior Semi-Gloss Enamel Paint & Primer and a small foam paint roller.
"I learned very quickly that a regular nap roller did not lay the paint down the way I liked, and was too hard to get the paint on the edges and corners like I wanted. A good friend suggested I change to the foam roller, and ever since my pieces paint out beautifully." -Wendy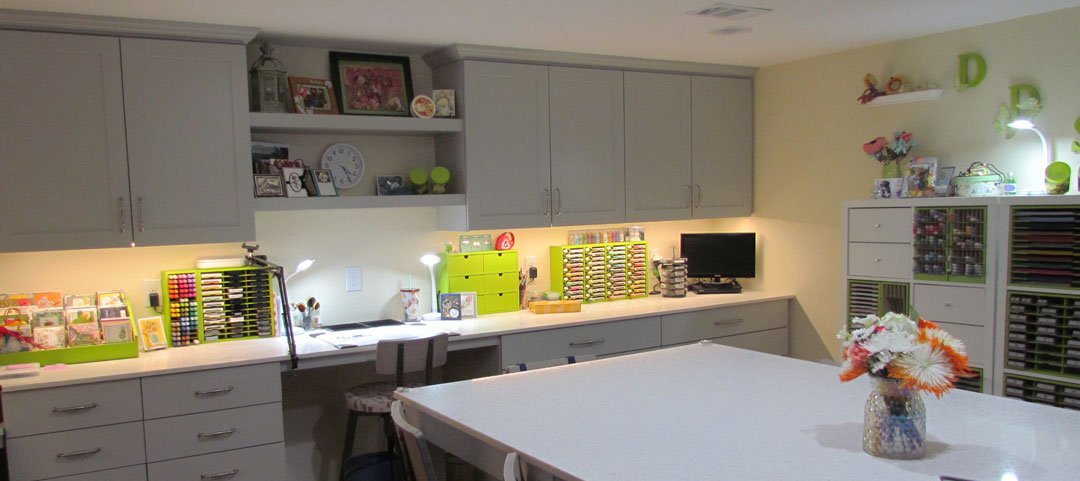 In the center of Wendy's space is a custom island that was inspired from Keisha's space. At 38" tall it allows customers to stand or sit when they are crafting. The island can sit 8-10 people for a class and has an electrical outlet every other chair. The storage area underneath fits plastic storage cases that hold a mix of Creative Memories and quilting projects.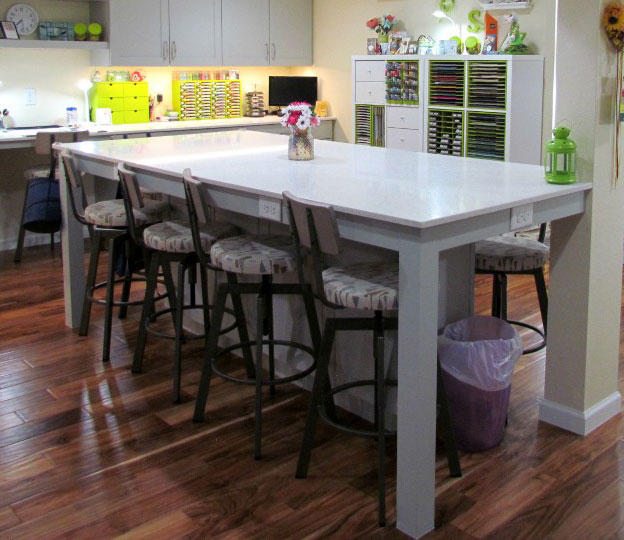 Against the wall, Wendy added two desk stations. The corner desk area is her office space where she keeps her computer, printer and work files. Next to Wendy's office area is her work space where she designs her projects. She keeps her Standard Ink Pad Holder, Marker Holder for Stampin' Blends, Multi-Level Card Holder, Six Drawer Storage Unit, and the 60 Combo Holder all within hands reach.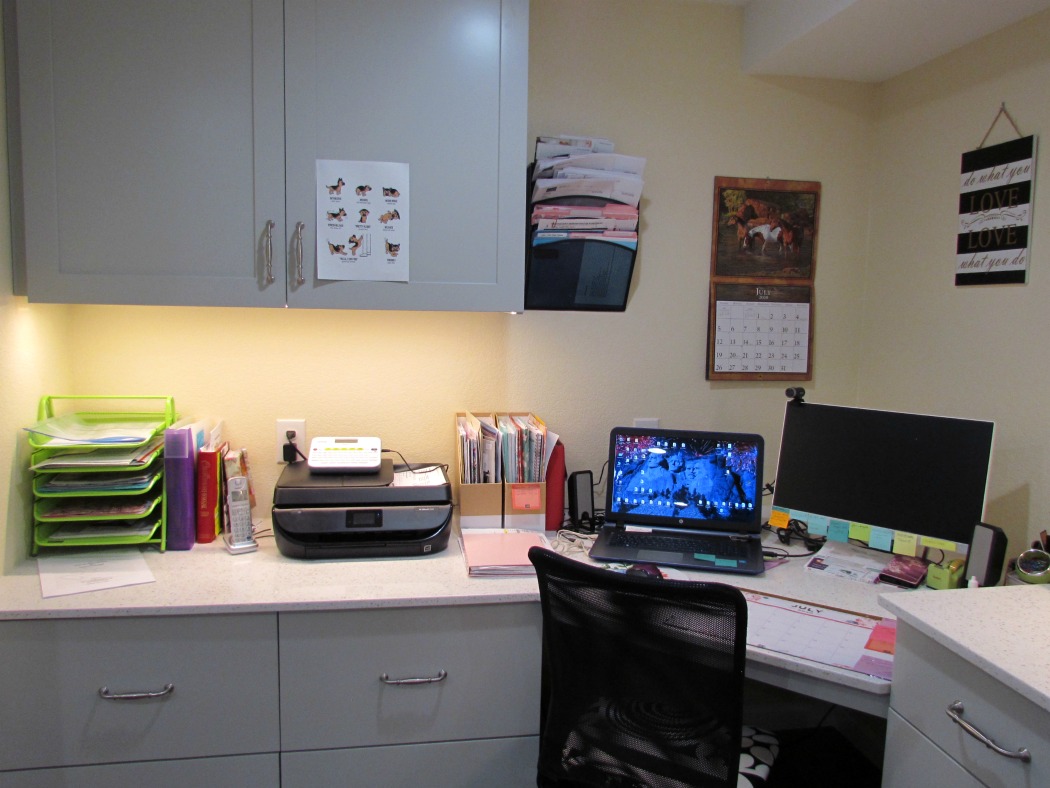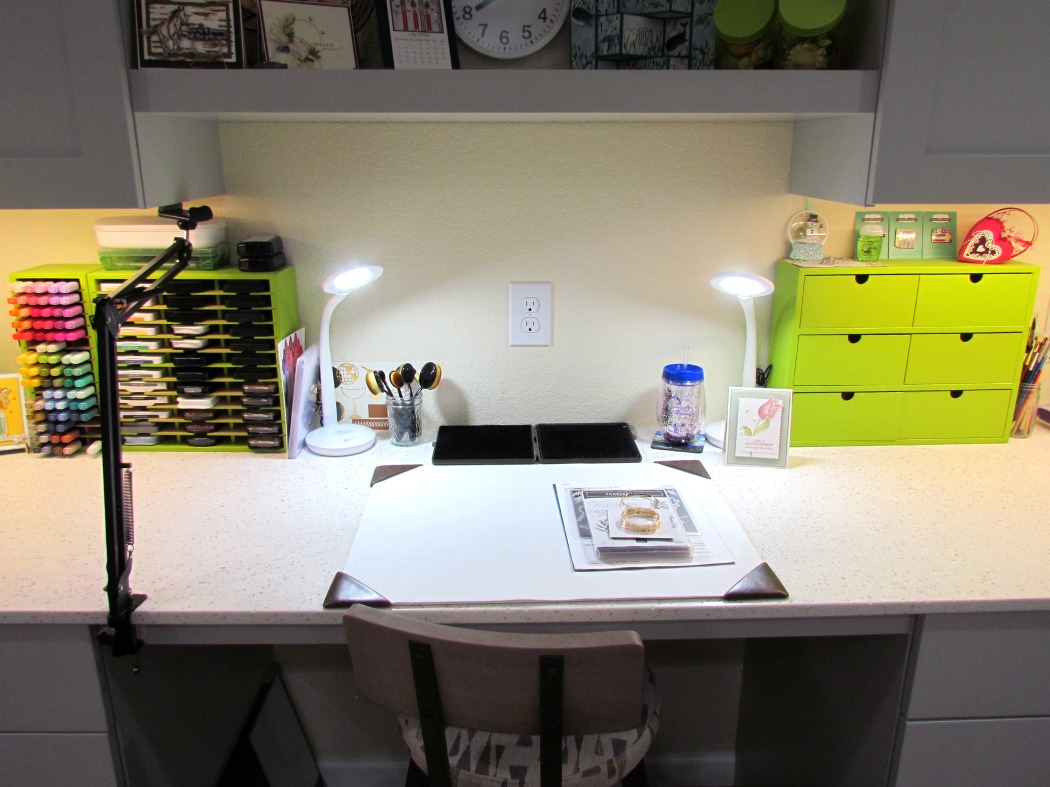 "These choices are about convenience and what made the most sense for the space. I keep the Standard Ink Pad Holder and Marker Holder for Stampin' Blends at the left of my design work area because I reach for items in there a lot. I keep the 60 Combo Holder slightly down the counter to the right where I can easily step and pick out ink pads and markers/refills when needed. The Six Drawer Storage Unit was previously on a shelf in the old studio; but here it is able to be out in full display and keeps washi, sponges/daubers, watercolor pencils and other accessories close at hand" -Wendy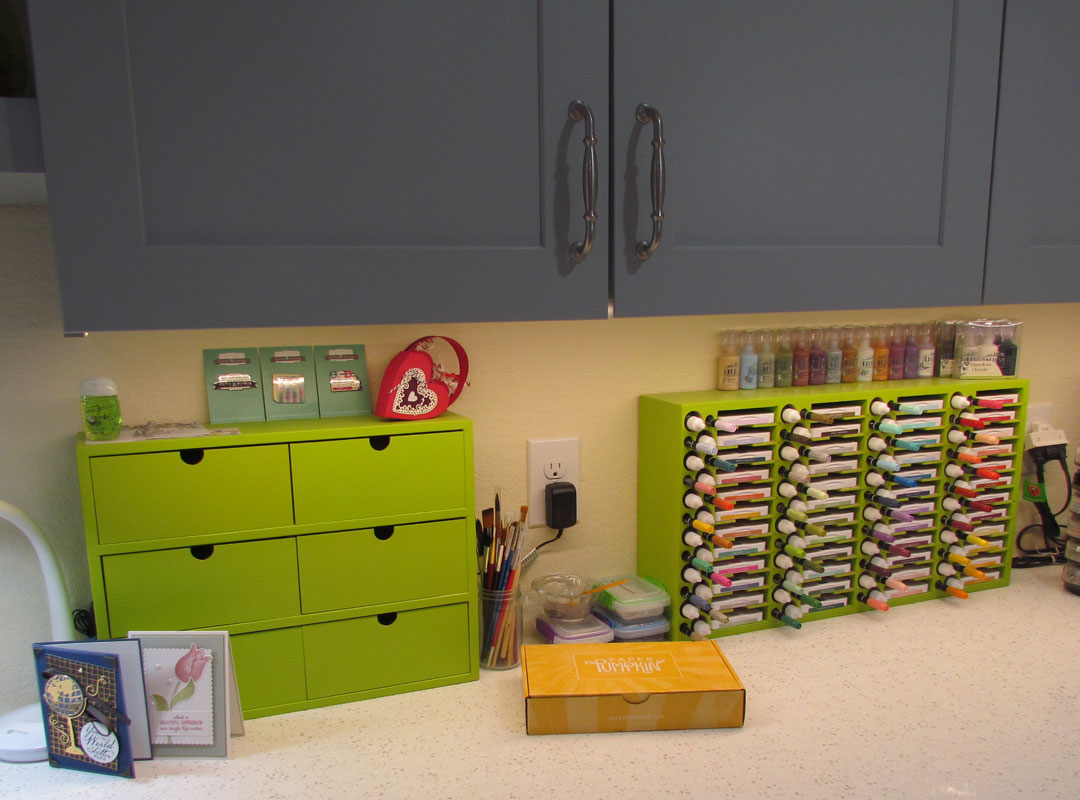 Wendy's newest Stamp-n-Storage product is the Multi-Level Card Holder. "I keep it where I can easily organize and display my cards both for me to find, and for my customers to look at when they are in the Studio."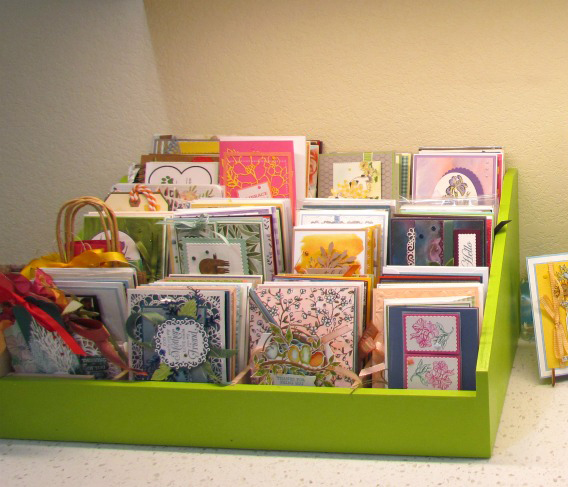 In the cabinets above her work area, Wendy keeps catalogs, older projects and her Creative Crate. In one Creative Crate she organizes her dies on 6x7 Magnet Cards and in the other she keeps her Emboss Folders. She stores both her dies and emboss folders in Storage Pockets, which makes them easy to label. The labels are printed with a Brother P-Touch Electronic Labeler.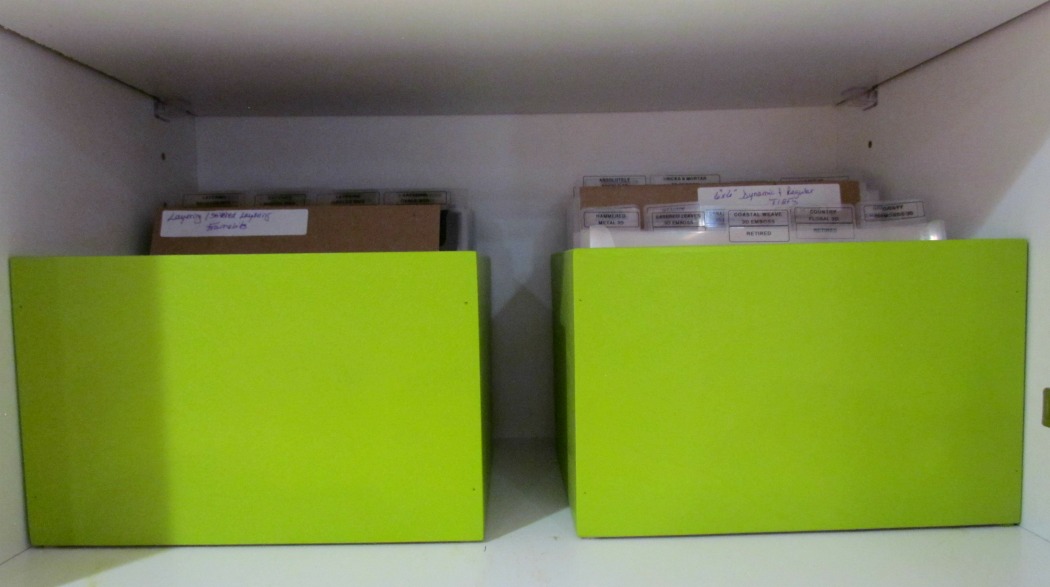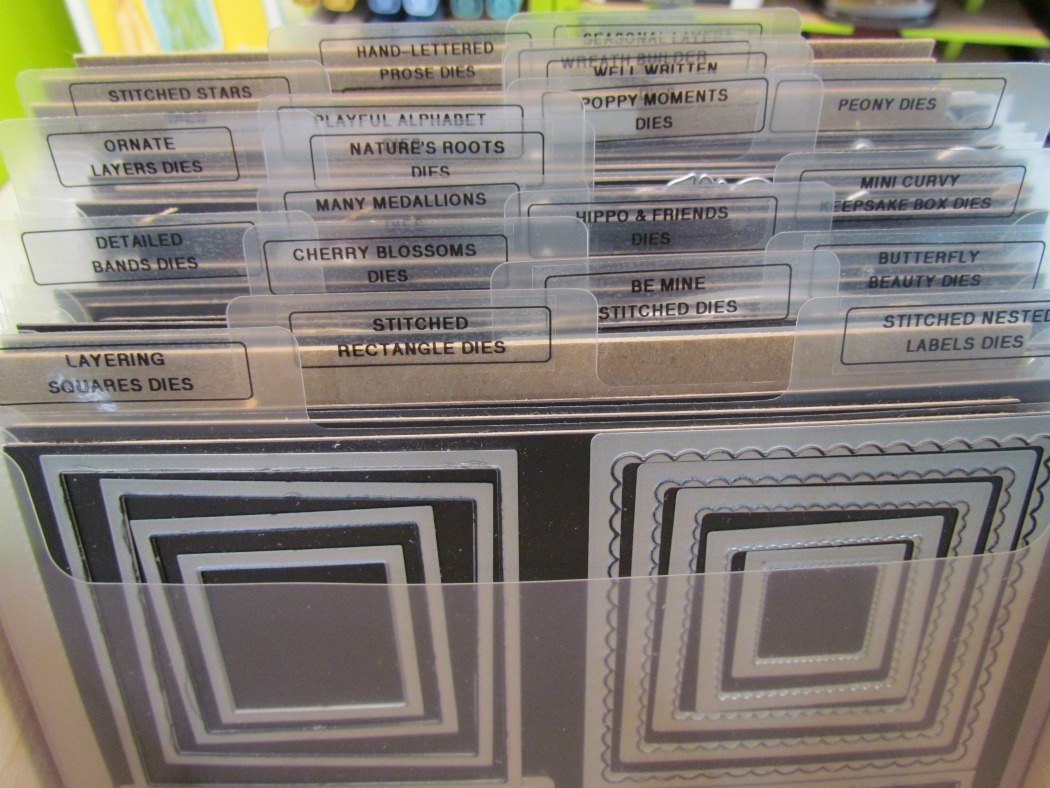 Wendy also utilizes an IKEA® Kallax unit to hold her Stamp-n-Storage products. In fact, this piece was so important for Wendy, the design of her space was wrapped around it.
"An absolute requirement for the space was that we accommodate the Kallax shelving and Stamp-n-Storage units in them. The wall was "bumped out" several inches specifically for the Kallax, which is a mainstay to my Studio I can't live without."
Wendy keeps her Copic® markers organized in the Stacked Marker Holder, her punches in the Lock-Down Punch Holder and her paper organized in the 12x12 Paper Holder for IKEA®. She also has a 6x6 Paper Holder for IKEA® with a 12x12 Paper Holder Add-On. We thought we should let her explain how she organizes her paper...
"I organize my left-hand organizer with all the current active In-Color Collections. The first 5 slots are the mid-year set (i.e., 2019-2021 In Color); the second set of 5-slots hold the newest released In-Color collection (i.e., 2020-2022); the final two slots hold Vellum and some retired specialty paper.
The right-hand side of the Kallax holds the remaining color collections for SU!. I organize from Whisper White thru Black in the Neutrals; and thereafter it follows the color wheel beginning with greens all the way thru to oranges at the bottom.
The Add-On next to my 6x6 Paper Holder holds rotating 12" x 12" Designer/Specialty Designer Series Paper packages from the mini catalog. This is different from the 12x12 Paper holder I keep in the center column of the IKEA shelving, which holds the Annual Catalog designer paper.
I also use the Paper Sleeves (which I just added and love). Each sleeve holds the scraps and leftover pieces that correspond to the color in that slot."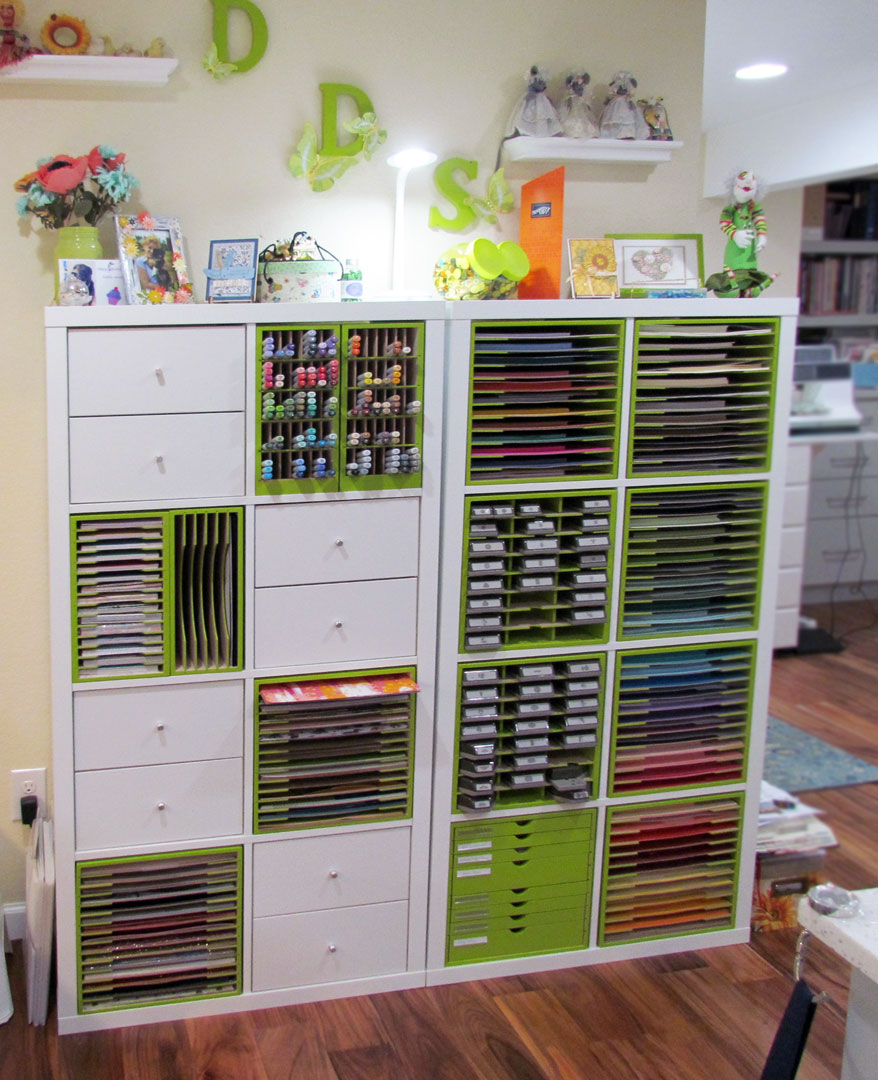 The Drawer Cabinet at the bottom of the Kallax unit is used to organize embellishments and Wendy's wood mount stamps.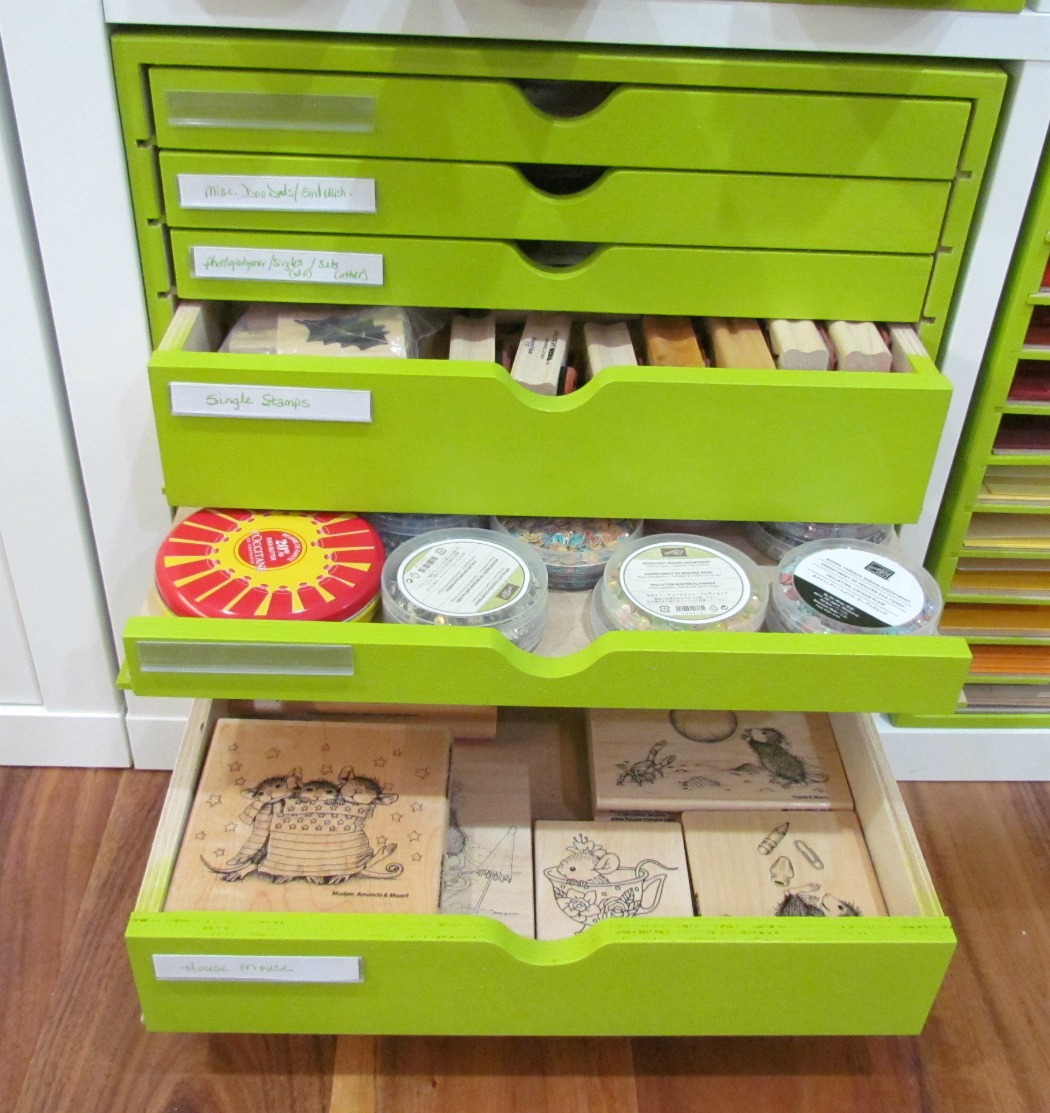 Being organized has helped unleash Wendy's creativity. "I'm a "Type A" personality. I cannot work in chaos. So having everything exactly where it should be, easy to find, easy to access - you have no idea what a difference that makes for me! I love having everything right at my fingertips, know exactly where everything is; and that I can put things right back where they belong when I'm done designing!" Wendy says.
When we asked Wendy what her favorite Stamp-n-Storage product was, her response made us smile...
"Oh my, seriously?? I LOVE them all! Couldn't live without them. Changed my world!! I think, like Keisha, my favorite pieces are the 12x12 Paper Holders -- I love having my paper all lined up by color and easily accessible. I love looking across the room and seeing all the color. And when I'm ready to craft, I just pull the cardboard liner piece that I got from you guys and voile - there's my cardstock ready to take a piece. A VERY close second is the Combo Holder. Oh My!! What a joy to have my inks organized and right at my finger tips." -Wendy
Check out Wendy's VIDEO TOUR of her space...
---
Would you like to be our next Studio Showcase winner and have the chance to receive $75 in-store credit?
Here are a few hints: clean up your space, snap some photos (4 or more) from a few different angles, and include some comments about what you love about your area and your Stamp-n-Storage products. Then, you will be entered into our monthly drawing. Email your entry to: contact@stampnstorage.com.