Stamp-n-Storage
Drawer Cabinet
Weight:

17.00 LBS
Shipping:

Calculated at Checkout
Dimensions:

Refer to images for dimensions.
Description
Description
Are you looking for a versatile craft storage solution? That's why Stamp-n-Storage created the Drawer Cabinet! It will help you with some of your most challenging organization problems.
You'll notice that the Drawer Cabinet has a similar design to the Paper Holder. However, your storage options are endless in a Drawer Cabinet! With 10 drawers and 10 square feet of storage, you can organize your wood mount stamps, paper, ink pads, embellishments, ribbons and more. The Drawer Cabinet is a great option to store paper if fading from bright lighting is a concern. We've even included a convenient label system to give you more organization options.
*Stampabilities stamps are too thick to fit in both sizes of the Drawer Cabinet.
Customize your Drawers
You can choose Single Height Drawers for your Drawer Cabinet, or customize by choosing a Double Drawer or Triple Drawer. You can add up to two custom drawers when combined with Single Drawers or choose five Double Drawers.

Drawer Configurations
All single height (ten total)
Eight single height with one double drawer (in the bottom slot)
Six single height with two double drawers (in the bottom and middle slots)
Five double height drawers
Three triple height with one single height drawer
One double height, one triple height, and five single height drawers


Drawer Height & Sides
Accessory Trays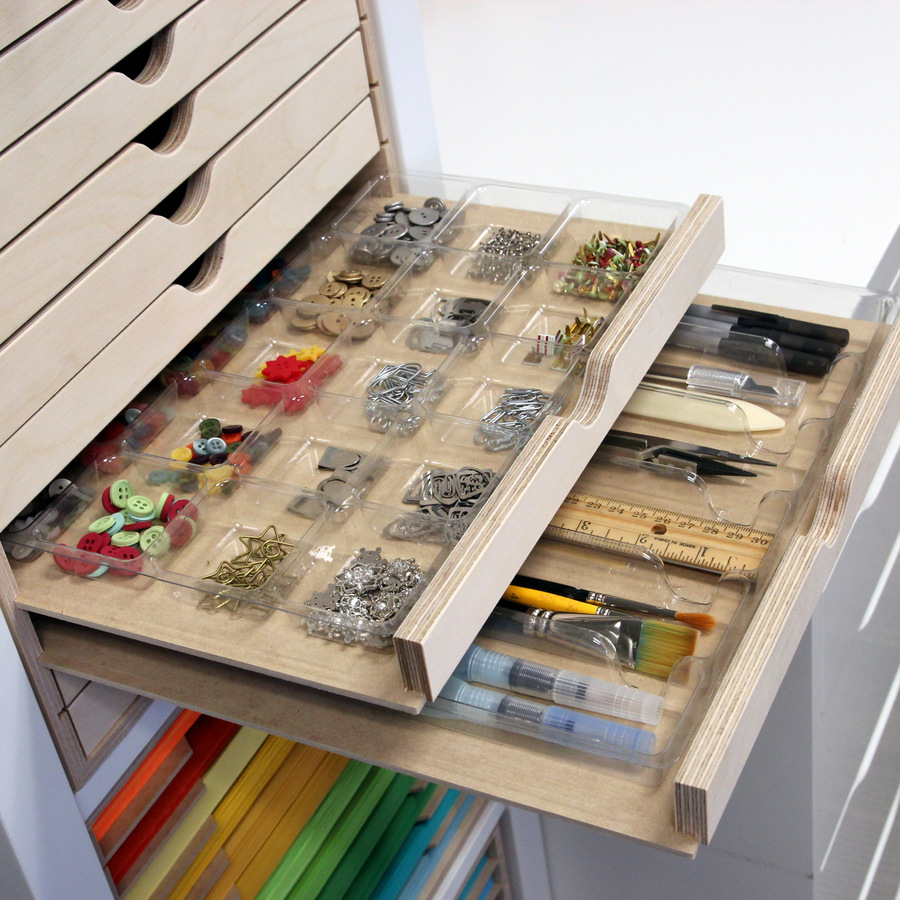 Take organizing your craft space one step further with our Drawer Cabinet Accessory Tray! These trays come in two options, a 30 Compartment Embellishment Tray or a 6 Slot Tool Tray. Both are great options for organizing your decorations and sturdy enough to store your tools.
Check out the Drawer Cabinet Accessory Tray HERE.
Combine and Save!
Purchase a Rolling Base with two Drawer Cabinets and receive 20% off the Rolling Base (applied at checkout).
Stamp-n-Storage products are handcrafted in Minnesota and made of Baltic Birch plywood. Products are delivered to you pre-assembled, sanded smooth and display ready!
Customer Craft Spaces & Studios
See how Stamp-n-Storage customers organize with our paper storage options. Use the search bar to narrow down your results. (Ex. search: Drawer Cabinet)
Reviews
Reviews (195)
5 Drawer Cabinet
love love, quality is fabulous, can't wait to get organized!
Perfect little drawers
I love this Stamp-n-Storage box of drawers for my IKEA shelves. They are so lovely that I might put them OUTSIDE of my IKEA shelves if I need the extra room. The drawers are great for storing small crafting items and the little tray inserts really add versatility. Quick tip: if you take all of the drawers out to make the box lighter to put it into the shelf and then they "don't fit" back in, you have the box on the shelf up side down :) Learn from my mistake. I eventually figured it out :)
Sharon Broussard
10 16 2020
Drawer Cabinet
I love these cabinets. All my cabinets are in my Ikea units. The first time I preordered and it only came with 10 drawers. Even with the the 10 drawer, it holds quite a bit. I also bought the trays for a few of them and the spots holder for 3 of them.. .Now that they come with different sized drawers I bought 4 units with 5 drawers each. It has helped me to organize my craft room. ..
great
will be great to get organized
Awesome!
I LOVE this set of drawers. I was able to fit all of my stamps with room to spare! I had them in two sets of plastic drawers which were wobbly and kept getting stuck when I pulled them out. The SNS drawers are perfect, sliding easily. Most all stamps fit in the small drawer but I ordered one of the larger drawers to fit some oversized stamps and to hold my acrylic blocks. I feel so organized! Thank you!!!
what i expected
I wish it came sooner--great product
Very pleased with the craftsmanship and the capacity!
I purchased two pieces to organize my craft supplies, the storage drawer cabinet unit and the 12x12 paper holder. Each piece is beautifully crafted of real wood and put together as my Dad, a talented woodworker who has passed on, would have taken the care to create and execute. The storage drawer cabinet has a very large capacity - I placed stamps that have been collected for over 30 years and still had room for my ink pads and I will share that this used to take up 3 storage bins :). Thank you to the team who works on all the products, great job!
3/1 drawer
Great product, the quality is amazing as always.
10 drawer cabinet
I really like the looks of this cabinet and it is well made. The only thing I found is that several of my wood stamps are just about an 8th of an inch higher than some so they will not fit in the 10 drawer cabinet,I also ordered the 5 double drawer cabinet so will have to use that but really was hoping the 10 drawer would work as I have a lot of stamps .The quality of the cabinets are excellent and so I'm very pleased with that.
Drawer Cabinet
This was my first experience ordering from Stamp & Storage and I couldn't be happier. The products are very sturdy and great quality. Looking forward to getting my entire art room organized and this is a fantastic start!
Cabinet
It was exactly what I wanted. As always great quality.
cindy anderson
09 09 2020
drawer unit
I was not aware that the drawers in this unit have no side in it, I am talking about the really thin drawers. the 2 bigger drawers are very nice. I am just disappointed in the very thin small drawers. The unit itself is well built. I think you need to tell people before they purchase this particular unit what the smaller drawers are like. SNS Response: We have reached out to the customer to see if she would like to return her cabinet for a refund. We do try to bring this to our customers attention in the product description on our website . We have multiple pictures showing the single drawers open (clearly with no sides). and we have a chart that states the dimensions for the drawers and which ones have sides.
Drawer cabinet
Is it possible to fall in love with a wood cabinet?! Yes it is! lol. I just love this cabinet!!! It's so well made, looks fabulous, holds a ton. I can't recommend it enough! Go ahead, buy the cabinet!
Cathy Gillooley
08 19 2020
Drawer cabinet
I love, love, love these products. They are sturdy and well made. Perfect for paper, embellishments, ink pads or whatever.
Elaine M Dukin
08 11 2020
Drawer cabinet
Well made and live the 2 I bought.
flat storage drawers
These drawers are perfect for storing my wooden stamps. A little more than I wanted to spend, but they are well made, attractive and hold so many stamps all visible. I have been able to organize my stamps by category which makes card-making much more streamlined. A couple of my stamps had rubber images on both sides and they don't fit.
10 out of 10, would buy again!
These drawer storage cubes are very high quality!! The craftsmanship is top of the line! Leave them bare or spray paint them. Do not get paint on the edge of the drawers if you paint them though. They will not slide good then. Love them!
Tray storage
I love this cube for my IKEA bookcase — it fits perfectly, was customizable and the accessory trays made it easy to meet my storage needs. I love the accessory tray for all of my smaller embellishments — and the 3" deep shelf is perfect for extra spools of ribbon.
10-Drawer Storage Cabinet
I love StampnStorage products. My order arrived earlier than expected. Everything was packaged very well. The products are beautifully made and very high quality. I purchased the IKEA Kallax unit and everything fits in it perfectly.
drawer cabinet
beautifully made. love it
5 drawer cabinet
Excellent quality. Wish I could afford all of them.
10 drawer storage for IKEA
I cannot say enough about these. The price is high, so I purchase them periodically, but now have 4 of them. The craftmanship is superb and I use these cabinets every day for scrapbooking. I purchase the "cubbie" trays, so I use the cabinets for small embellishments, wood veneers, etc. Highly recommend!!
Lisa Cockerham
06 11 2020
Drawer Cabinet
I absolutely love my new drawer cabinet. I bought the 12x12 option with one double, bottom drawer and it is perfect for organizing my workspace. Not only that, it looks great too!
Kathy McCartney
06 04 2020
Always a great choice
I think the best review I can give is to say I have 17 of these and I've been buying one or two at a time for years. I hoard beautiful, old wood mounted stamps. And although these drawers are great for other things, I love being able to pull out a drawer--maybe the "DOGS" one--and see everything I have to choose from. And they look so nice and neat in my IKEA Kallax units.
Deborah Zuehlk
06 03 2020
Love that I can store so much so close at hand. i
I've taken two sets of deep drawers and consolidated them to the IKEA drawer insert. I will send before and after pictures when I m done!
Love Love Love
The drawer system is wonderful! It's amazing quality. I love that I got to customize the drawers to what I needed. I am so organized now and ready to start scrapbooking!!!
Drawer cabinet
These are awesome! I bought two and plan on getting two more!! Service was wonderful and my order went out in 3 weeks in spite of the shutdowns!
Drawer Cabinet and Accessory trays
I am "over the moon" tickled with my drawer cabinet and trays! They will enable me to consolidate my embellishments into 1 convenient ( well, maybe I will need 2 !
Jeanee McJilton
04 27 2020
Drawer cabinet for Ilea
I find the drawers not deep enough. I should have ordered the 2 drawer or 3 drawer. First product I ordered that I'm not happen with.
Drawer Cabinet
Love the cabinet. I purchased it for holding my wooden stamps and was pleasantly surprised how many I could fit in the cabinet.
Sheila Albright
04 03 2020
10 Drawer cabinet
LOVE this cabinet. I'm Phasing out wooden stamps but had lots that I still loved. This cabinet holds all of them for easy viewing and access. As with all the pieces I've bought from you, this one is great too!
7 drawer caniner
Oh my goodness am I enjoying my drawer that keeps my re-inkers organized and easy to get to!
Guadalupe Guerra
03 23 2020
Drawers
Perfect for Leatherworking tools!
Love the Drawer Cabinet!
I just received my second Drawer Cabinet - these things are so awesome. It fits perfectly in the Ikea shelving unit. The drawers all move very smoothly and with the trays you can customize it anyway you like. Stamp-n-Storage products are the highest quality and they ship quickly.
Michelle Buffalo Ny
03 17 2020
Great USA made products
I love my cabinet, it is very well made, good solid wood product. I was on the fence about purchasing it, and I am glad I did! It freed up space for me, has made it easier for me to be more organized and see all my treasures. 4 stars, because i wish there was a edge on the drawers to prevent items from falling out like others stated, and the price , i was lucky to pick up this on sale and free shipping! I will save up for another , i really love this cabinet!
Great new design
Love the new design of 5 drawer unit. I bought the IKEA fit and it's perfect. I love that the drawers are enclosed as opposed to open sides
Organization at its best
Love this! I was able to fit so much crafting stuff and organize my items so well. It saved tons of space making it easier to find and space saving.
3.5 Stars! They are great - However!
First, I love all of of the Stamp N Storage products. And I love these drawers -- I have the small, 1" variety, and the full double drawer variety. However, the one thing I don't like is that I pretty much had to buy the plastic trays for the smaller drawers because the drawers do not have sides. I have the paper slots and plan to use my drawers for various "scrap" paper in smaller sizes; however, it will be a mess without sides on the drawers. I know some folks use them for stamps, etc., but I don't use those. I'm very glad I have them ... but I wish they either came with trays, or there was a clear explanation that the drawers do not have sides. You can see in the photos - however, I think including it in the description would be helpful. Stamp-n-Storage Response: Thank you for the feedback on our Drawer Cabinet. Glad to hear you love our product! And yes, the small single drawers/trays don't have sides. We try to make that know to our customers shopping on our website or in our catalog by the pictures of our product showing the single drawers. On our website, we also have a chart located in the Drawer Cabinet product description that provides the dimensions for each drawer and if they have sides. Again, thank you for your feedback. We are always looking for ways to improve our product descriptions to make shopping easier for our customers.
Margo Plachetka
01 22 2020
10 drawer storage cabinet
Just beautiful!! Very happy with these, I purchased 2 of them, beautifully crafted.
Sharon Broussard
01 18 2020
5 drawer cabinet
I already had the original 10 drawer cabinet for my IKea unit. I ordered the 5 drawer, got my delivery and loved it. Loved it so much I ordered a second one.. It holds quite a bit and as always it is beautifully made. and sturdy.
Great!
I LOVE this for all my scraps! I ordered the double 5 drawers - one drawer for each color family! I was very impressed that I got all of my scraps that I had in a three-drawer, 8.5 x 11 Sterlite container into the 5 drawer and I still have more room!
Bridgette Manuel
01 10 2020
Drawer Cabinet
Very well made, Solid and a bit heavy. The drawers slide out smoothly. Absolutely love it and will definitely purchase another one in the near future.
IKEA Drawer cabinet
LOVE THIS! Again fits perfectly in my IKEA cube station . Great Quality! great purchase
Stamp drawers
I have 3 stamp drawers for ikea. I bought 2 10 drawer and one 8 drawer (where two drawers are double size). They are perfect! It fits perfectly in the ikea bookcase. My stamps fit perfectly in the drawers. The two double drawers- one I used for oversized stamps and one for sets. I love how they look, labels are included. I can't say enough about the quality and craftsmanship- it's very well made.
Maureen MacDonald
12 24 2019
Drawer cabinet-love it, so handy and well made!
Hope to buy another one or two
Sharon Broussard
12 17 2019
Drawer Cabinet
I originally bought the 10 drawer when it first came out and then last week I bought the 5 drawer. These hold quite a bit. especially the 5 drawer with the sides.
Kathy McCartney
12 17 2019
Always a great choice
Sturdy and will last forever....I have several and can't wait to fill my new ones :)
Stamp oganizer cabinet
It's a beautiful cabinet of quality and workmanship. With the busyness of the holidays haven't been able to set me stamps into the cabinet. That will be an after Christmas project. Should be a pleasure to open a drawer and find just the stamp I need instead of searching through the drawers of my old plastic storage cabinet. Thanks for the great products.
Drawers
This is my third set of drawers and not my last. They are perfect for storing my wood-mounted stamps and ink pads.
Jennifer Blikstad
11 11 2019
Meets my storage needs for wooden stamps
I like having narrow drawers where I can store my wooden stamps one layer deep.
Drawer Cabinet
I love my new Drawer Cabinet! I have been able to organize all of my little embellishments in one place - just open the drawers, and there they are!! Everything is at my fingertips! No more sifting through boxes or underneath extra / discontinued rolls of ribbon!
Karen Campbell
10 22 2019
Always need more space
I haven't actually used my new product as we're moving soon to a new house. I just didn't want to unpack it right now. It looks beautiful and I can't wait to get started organizing all my trinkets in it.
Excellent Products
These products are sturdy and beautiful! I could not be more pleased!
DRAWER CABINET
All of the products are amazing. I absolutely LOVE the drawer cabinet with 5 double drawers. I have ordered several products and they have not failed to impress, Stamp n Storage helps me keep everything organized and looking beautiful. Inspiration for my creations!
12 x 12 drawer cabinet
This unit is perfect for so many uses. I am using this one for my expensive specialty papers. I will be buying more for my embellishment and small tools that tend to get lost. I am happy I purchased this and highly recommend it to anyone needing to organize their treasures.
Cathy Loveless
10 02 2019
Great Storage
This cabinet makes it so much easier for me to get all of my ink cubes organized and in one place!
Drawer cabinet 12X12
Wish the side of the drawers had a lip so things could not roll out when the drawer is open. Other than that, it is perfect. I use it for some things that can roll, so I guess if I stuck to flat objects, it would not be a problem.
5 drawer cabinet
Love it. Roomy drawers for all kimds of craft supplies. Adding sides to all drawers makes it so mich more versatile.
Guadalupe Guerra
09 16 2019
Desk Top Cabinet
Drawer-Cabinet-12x12-w/1-Double&1-Triple Excellent storage for my leather working tools and parts! Quality made! Will definitely be purchasing more organizing cabinets!
Fine workmanship
Just the fantastic smell of wood upon opening this set of drawers from its packaging was pure pleasure. It's measurements were perfect and i am going to love using this in my craft room.
Drawer Cabinet
Love it! It's perfect for holding all the misc wood stamps. Now I can store all the stamps in one handy location!
Drawer Cabinet
I purchased this product for my Stampin Up stamps and was extremely pleased with the quality of the wood materials used in the construction. However, it would be a much better product if each drawer was 1/4 to 1/2 inch thicker. There were quite a few of my stamps that were too thick to fit in the drawers.
The best investment for art room
This is the best investment for my art room so far. I wish I knew about Stamp n Storage earlier. I wouldnot have spent so much money on plastic drawers that take space without actually storing properly my stamps and pencils. I love it. I ordered more with different configuration of drawers to house my taller thicker wood stamps.
Drawer Cabinet
Just purchased additional cabinets because I loved the first ones so much. These have organized my craft supplies so well.
10 Drawer Cabinet
I love it , I stained it to match the rest of the cabinetry in my Craft room and it fits in perfectly. I combined it with accessory trays for my mini inks and put all of my Julie Nutting and Peachy Keen face stamps in the top drawers to keep them separate from the rest of the stamps. I Love all of Stamp N Storage products! Thank you so much!
Awesome quality as always!
I am never disappointed when I open a box from Stamp-n Storage!!! Always consistently excellent quality!
must have
I love storing my wooden stamps in this drawer cabinet. You cannot beat the service from this company that stands behind their products. Very happy!
Drawers are not interchangeable
I thought I would be able to reorganize the order of the drawers but I was unable to. I purchased the one double and one triple drawer cabinet. I could not move the placement of the double or triple drawer because the shelf is glued into the slot.
Deborah Grover
05 24 2019
10 drawer cabinet
I couldn't wait to get this cabinet organized, I have different brands of papers and I put one brand only in this cabinet so I don't have to dig through the other papers. The drawers glide smooth and it's an excellent piece of craftsmanship.
Drawer cabinets I
I really love my 1 cabinet I purchased so much that I then ordered 3 more ...and love the double drawer option for my wooden stamps that are thicker than 1 inch as well as for the accessory trays. love it all
Drawer cabinets
I really love my cabinets so much that I ordered 3 more ...and love the double drawer option for my wooden stamps that are thicker than 1 inch, as well as for the accessories trays. Love it all
Drawer cabinet with 2 three inch drawers
This is my fourth drawer cabinet. They are the best thing since sliced bread. You add the drawer inserts and lids; you have excess storage for all your small to tiny things you would loose or misplace. Thank you Stamp n Storage
Phyllis Gardner
05 20 2019
Drawer cabinet
Absolutely amazing, it really gives me so much more space to be so compact and keep my area cleaner. Love it!!!!
catherine courtney
04 23 2019
Love It
absolutely awesome! I use it for bobbins and scissors and put non slip material in it and labeled each drawer. work perfect!
LOVE LOVE LOVE
I absolutely love this product! I have several sets of the drawers in different sizes, and they are awesome! They are very well made, and make organization of all my crafting things incredibly easy. If you have OCD tendencies, these units are going to make you super happy! If you don't have OCD, these units might help you develop a little. LOL The customer service was great, with very quick response time.
Drawer Cabinet
I absolutely love this!!! Been wanting one for a while now and was finally able to purchase it. No more looking under stacks for accessories.!!
Drawer Cabinet
Extremely well constructed. Drawers function smoothly. Love it.
Drawer cabinet
Received today. It fits well in my space. I have started loading it with my wood mounted stamps. It works well for Stampin' Up wood mounts that I have lots of. I have a few other companies and if the stamps are tall they won't fit inside. I plan to put them in a container and set it on top of the cabinet. Cabinet fits well in my large cabinet.
Drawer Cabinet
I LOVE my new drawer cabinet! I have the IKEA size and it's perfect. The drawer inserts are great for organizing my embellishments so that I can see everything I have. I'm so happy I finally decided to get this cabinet. The quality is, as always, excellent. I do wish there was an option to get sides on the drawers, for times when I want to store loose items that won't fit in one of the inserts.
Jerry W Hanson
02 11 2019
Drawer cabinet
The drawer cabinet for IKEA is exactly what I needed to keep my stamps in and space enough to organize them. The quality of the product is superb and I wonder why I waited so long to buy one.
Have been waiting for an item like this
The drawer cabinet just arrived last night and I haven't unpacked it just yet. I have been saving up for this and have plans to just store items that have been collecting on my counter neatly into your beautiful cabinet. I'm proud to display my craft products in Stamp & Storage Units.
Sharon Middleton
01 29 2019
Drawer Cabinets
I will be setting them up shortly after finishing the other half of my room. I was a little disappointed that I didn't get the drawers I had thlught I had orderd. I thought I had ordered two for each Drawer Cabinet with the a larger tray. As it is, I have to take out a drawer to use the larger Accessory Trays.
Patricia Tillman
01 26 2019
2 Drawer cabinets and rolling base
I purchased 2 drawer cabinets to stack them on the rolling base. All were constructed very well and I have no issues with them. After stacking the units onto the base and trying to roll the entire unit to my desk so I can retrieve the stamps stored, the bottom unit slides from the top unit and also on the base. I had to keep realigning it to keep straight. I wish there was something to secure the three together so it would roll as an entire unit rather than the three pieces shifting. I had an issue with the way order was shipped: the two boxes that contained the two drawer units were scotched taped together making one long heavy delivery for the UPS person plus difficult for me to get into the house since they are only able to delivery to the front door. Once I got them inside I cut the 2 apart to slide to my craft room.......... Hi Patricia, we appreciate your feedback. When stacking two products (Drawer Cabinets) with a Rolling Base, we recommend gluing the Drawer Cabinets together. This will eliminate the issue of having to realign the two products when you roll it out from underneath your desk. Please contact our customer service if you have any questions on securing the product with glue. Thank you, Stamp-n-Storage
10 draw cabinet
wish draws was a little taller, but it is nice to see my stamps without taking them out all out to find the one I need. I
Drawer Cabinet
I have wanted this for years. I was able to empty a plastic storage drawer and several shoe boxes of stamps into this cabinet. My space is less cluttered. The construction is excellent.
Jennifer L Kotrba
11 28 2018
Drawer Cabinet
I love this product! I now have 5 of the single draw cabinets and 3 that have the 2 double drawers for the stamps that are slightly bigger. It is so nice to have all my stamps single layer and not have to dig thru them to find what I want!.
Susan McSharry
11 14 2018
Storage drawers
Due to hurricane Michael item was not able to be delivered as planned. Your customer services was so nice and was able to have it delivered when it was convient to me. I love it. Plan on ordering another one.
Drawer Cabinet
I love this piece and the price. I have a lot of components for my jewelry making, its a very quality and useful piece. Thank you!
Holds SO much!
I just received my drawers yesterday. I took them to my craft room and was going to fill one drawer... well supper was an hour late , the drawers are all full and I'm loving how much I was able to get into them. I now have a bunch of plastic containers that are empty!!! All my wood stamps are in categories in the drawers and it is so nice to be able to pull out a 'birthday' drawer and pick out the stamp I need! I am very happy with this product, as I have been with all my StampNStorage items!
Drawer Cabinet for IKEA
I absolutely love this product. I purchased the IKEA cube unit and this product is made specifically to fit inside a cube. It's perfect! Everything is organized and easy to find. The labels on the outside make it easy to find just what I have stored away. It's a very clean look. It's a bit pricey, but I'd buy it again.
"Drawer" unit
As another review mentions, these are not "drawers," they are shelves. I still haven't received the trays I ordered so I haven't been able to use these yet. So, 3 stars because it's well made, but I can't use.
Chang Sook Peoples
09 12 2018
Drawer Cabinet
I was so looking forward to receive the drawer cabinet to organize my wood stamps, but the cabinet I received was not even functional. The side woods are not straight and there are so much gap that the drawers are not freely moving.at all. Stamp-n-Storage Response - Unfortunately the products are occasionally damaged in shipping. We're glad we were able to take care of this for you and ship another one. - Brett
Drawer Cabinet
Well build and sturdy storage cabinets. It fit almost all of my wood backed rubber stamps. I'll need another one one day.
If I could give it 10 stars I would!
I can't say enough about this product. My jewelry beads are now stored together and easy to access. the fact that it fits my Ikea shelves is a plus!
12 x 12 cabinet
Love the 12 draw cabinet. So nice to have all my miscellaneous wood stamps in one place
Stamp storage
The cabinet is beyond my expectations. Its sturdily built with quality!!
Drawer Cabinet for Ikea
I ordered the drawer cabinet with one triple and one double drawer. This is simply wonderful for storing some of my larger art items, as well as stamps. I certainly recommend this product!
Connie Munguia
06 06 2018
Z Drawer unit for IKEA
I have lots of Stampnstorage products and love all of them. I was so excited to get this so I could organize all of my embellishments. Unfortunately it arrived damaged. I called and was emailed a shipping label to return it and a new one was promised to be on its way. I'm very pleased with the customer service and can't wait to receive the new unit.
10 drawers cabinet
This is a great cabinet, so far I have filled 2 drawers with Wood mount stamps, 1 drawer with clear blocks, 2 with papers I might just have to get another.
Terrace Mitchell
04 17 2018
Drawers
Very pleased with quality of my purchase. My only regret is that I should bought one with a deeper drawer.
Drawer Cabinet
Love these cabinets-excellent quality!
"Drawers"
I like that it fits into the Ikea unit. However read and look at the description carefully the "drawers" are really only pull out shelf's and are basically useless as "drawers" without the liners any item you put on the pullout will fall out without the liners
Drawer storage
This is the second Stampnstorage piece I have bought and I love it as much as the first piece I bought which was the Stamp and marker storage. I have since purchased an 8.5x11 paper storage unit and a 12x12 paper storage unit. I envision the purchase of more of these sturdy, well made units to organize my craft room!
10 drawer unit
What an amazing little piece this is! I got the unit to fit inside my IKEA shelving, and boy does this little fella hold a lot!! I was able to store a large amount of my embellishments, and I still have 2 drawers empty and a still room to add more. I got the little inserts and they'll hold quite a bit and keep them organized. I love that there were labels included so I could label what is in the drawers. If you need to organize lots of little things, this is a piece I'd recommend!
Tonya Delozier
03 07 2018
Drawer Cabinet
This system holds a ton of stamps! I may buy one more ( I have 3) because a few of my rubber stamps were slightly too tall. I bought some of the tray liners too. I love this product as well as all of their shelving units. They do exactly what they are meant to do.
Finally a storage solution for my rubber stamps!
This unit is fantastic for storing rubber stamps! The drawers allow me to arrange my stamps in single layers so I can easily find what I am looking for without having to dig through layers of stamps. I also appreciate the label holders that come with the unit, as that makes it easy to identify what themes of stamps are in each drawer.
Drawers
These drawers are excellent. I bought one unit last year and just purchased a second one. I originally bought the unit to store rubber stamps, but noted that some of them were too tall for the drawer to close properly. Also, the rubber stamps were so heavy that the drawer tended to "drag" against the drawer below it due to the weight. I decided to go a different direction with the unit and purchased the drawer inserts with the little squares. This has been such a success. I keep all my "little's" seperated, easy to find in one space, and dust free. I have the drawers labeled "metal", "plastic", "bling", "wood veneers", "buttons", etc etc. I love this system so much that I had to get a second one! The craftmanship is exquisite. Very recommended.
Jennifer Himmerick
02 21 2018
Craftsmanship is great
Craftsmanship is superb; fits perfectly in my IKEA unit. I just wish, for the price, that the pieces were finished and painted, at least on the outside. The drawers are a little annoying because they don't have sides and my stamps keep falling off the edges when I pull the drawers out.
Drawer Cabinet
I love this Cabinet and I very happy to see new drawer configurations. I keeps all of my "little things" at hand yet out of the way and dust fee. I have discovered though that it's much better for the drawer organizers to be on a piece of non slip shelf liner.
Drawer cabinet
I am loving this container. I'm still arranging the items i want to use in it. I have about 7 items from stamp and storage and love them all.
Drawer Cabinet Accessory Tray
I'm using this product, thinking outside the box. I purchased a gun safe, removed all the shelves and filled it with stamp n storage drawer cabinets and the accessory trays. They will hold Jewelry and coins. No more digging thru stacked boxes. Can't wait to purchase more and organize my colored pencils collect.
Cabinet drawers
I absolutely LOVE this drawer. I have several items from Stamp-n-Storage and I love everyone of them. I couldn't believe how many stamps I fit into it! Amazing! GO STAMP-N-STORAGE!!!
Debbie Sullivan
11 18 2017
Drawer cabinet
I went back-and-forth in my mind about whether or not to order this product, since I wasn't sure how much it would hold and if it would be a good addition to my crafting space. All I can say is that I'm very glad I decided to order it. I've been able to arrange stance in a way that makes them more logical to use and easier to get to. The capacity is amazing. Thanks for such a great product!
awesome drawer storage
I really love these drawer storage units for my wood stamps, also for other items that just do not fit in other storage containers. My only complaint is that the ones made for Ikea size cubes cost more than the standard, even though they are actually smaller. :/
Thanks for keeping us crafters so happy
Love the Drawer Unit I bought for my IKEA shelving; perfect fit and great workmanship and quality!
Drawer storage
This is the 2nd one I bought. Love t as much as first this time I had some rubber stamps in the drawer. The rubber stamps were in 8 containers and putting them in these drawers freed up extra space The 1st one I bought is near my stand up work table and all I need to do is turn around and pull out my most used embellishments Now to figure a way to add more space for mor drawers
Joan MacDonald
11 03 2017
10 drawer storage cabinet & Stampin Storage Company
I ordered the 10 drawer cabinet last October and loved it. Over time it began to stick and drawers weren't sliding out easily. I tried to fix this issue myself with little success. I emailed the company for advice and instead of advice they quickly sent me out a new cabinet (within 10 minutes I received a response that they would send me a new cabinet). The cabinet is well made & great for storing any variety of items. It is worth every cent and I am sure my new one will last even longer.
Drawer Cabinet
My 7 single drawers with one triple drawer at the bottom is just wonderful. It is so well made. I have it full already and will be ordering more. I love this company and will be using their products to organize my craft room.
.Cabinet holder
This is my 6th item I bought and you have not failed me yet I have most of my embellishment in containers that have covers on them. I order one that haddrawers. So easy to open and close. Good quality material. I felt bad for Cindy She told me about this product and the options that were going to be available and almost every other week I asked her are the available now? Finally when it did become available she was ready for me.
Loved it so much, I had to order a second unit
I have a diverse collection of Northwood stamps. This unit stores all of them!! I used to have them stored in approx. 12 x 24 drawer unit. This uses so much less space. This will free up the old area for more organization that is, until I can purchase more Stamp n Storage items. These items are so much better quality than what I have purchased at the big box stores.
Drawer cabinet
Love it. It stores MANY wood mount stamps. This takes up much less room than storing them in cases. I ordered the one that fits IKEA KALLAX shelving.
I love it! Drawer unit fits in Ikea kallax unit.
I love the drawer unit. It fits perfectly in my Kallax unit. It is high quality and well made. I was originally going to use it for paper storage but ended up using it for stamps, ink and paper storage. This unit holds a ton of products.
Cabinet drawers
This has the best idea for storage I've seen anywhere. It holds alot more then it the picture shows. A must have in every craft room.
Multi drawer cabinet
I have only peeked into my box but I will say this...you all do some incredible woodwork. After I move I will let you know more..
Game Changer!
This awesome set of drawers has allowed me to have storage for often used crafting tools organized in the add-on plastic pen/tool tray (available on the site for $4). That drawer alone got rid of a caddy on my workspace holding the tools. Drawers 2, 3, and 4, emptied out my Iris drawer unit of all its wood block stamps, which started a pile for a Goodwill run. Drawers 5 & 6 allowed me to organize my large collection of mini ink cubes, with each drawer capable of holding at least 60 mini cubes. Boom! There went all those Mini cube tins into my giveaway pile. Drawer 7 holds my collection of stamping blocks along with all of the Misti corners. Bam! There went another bin into the pile. Now I still have drawers 8-10 unfilled, but that's only a temporary situation until I order another tool tray and a couple of 30 compartment trays (also $4 each). With all the things I got rid of by consolidating items in this drawer unit, I freed up enough space to permanently set up my Cricut. Win!
I need to get more!!! MORE!!!
Tiny flat drawers!! Perfection! This is my absolute favorite item from my recent purchase. It's so versitle and looks amazing in my Ikea unit. Brilliant design! Not knowing where to begin with my craft supply storage I researched youtube videos about how other people stored their products. I found that the most elegantly organized craft room tours always included products from Stamp-N-Storage. Thank you for making a product with outstanding craftsmanship that attends to my needs that I can use for so many years to come. LOVE IT!
Why did I wait so long to purchase this?
I LOVE LOVE LOVE this organizer! One unit was able to hold 50 Stampin Up retired wood sets!!! I absolutely love that I now have my older stamp sets in a quickly viewable format, and I'm utilizing so much less space to store them than before. I kept my old clam shells in case I ever want to resell the sets. I put a unique number on each clamshell and the same number on each stamp in the set, as well as a picture of the set in the clamshell, to make to possible to reassemble a set if I ever desire, but these are truly the sets that I cannot part with, so I doubt that I will need to. I wish I had done this sooner and really feel that I will these retired stamps more often now that I have them organized this way.
Clean Lines and So Practical
This exceeds my expectations. I love the way it looks tucked into my Ikea shelves and the clutter it clears. I emptied two baskets and one small 4 drawer plastic container into it. The shelves have backs which keeps thinks from slipping off. The drawer trays tame the chaos of small items. This is a life safer for organizational crazies like me :)
LOVE IT ! Best organization purchase ever !
I now have five of these and absolutely LOVE how I can organize my wood stamps by theme. On this one, there was a slight disappointment as I couldn't switch out my drawers with the other units - they were too tight for the ones bought previously. This isn't a problem overall, but when rearranging your stash, it would have been easier to switch out a few drawers. I would also vote for a unit with only eight drawers at 1-1/4 inch so I can put all my stamps together instead of having something else for my thicker ones. BUT - I love these :)
It is usable this time
The last one I received was broken and warped. The replacement is in great condition
Best storage for wooden stamps
This is great for wooden stamps holds a ton .Everything at your fingers tips. Another great product....
stamp cabinet
can't wait to put my stamps inside cabinet, wish it were a tad bigger, but its just perfect for the use.
Came As Advertised
I knew what I was buying because a friend recommended you. The only comment I might make is that I would prefer 1 or 2 less drawers and a little deeper. I knew they were shallow (thank you for informing me) but a 1/4 of an inch or so would make a huge difference for me. Thank you for your testimony - we share God's mission.
Holds wood block stamps perfectly!
I just received my drawer cabinet and I love it already. It holds so many wood block stamps it's unvelieveable. I also ordered two of the tray inserts to put some colored pencils in. These work so good I'm going to order another unit just for colored pencils. If I had one tweet I could make to these it would be to put a small lip around the side edges. Nothing has fallen off just yet but if you do not have your stamps lined up perfectly, you cannot close the drawer.
Answer to my prayers
I love my new cabinet. Very well made. Fits in my Ikea unit. I have all my wooden stamps and die cuts in the drawers. I wish we had a choice in color. I wish they were painted white but I still love them. Very functional.
Drawer Cabinet
I have purchased many of your products and loved the quality of all of them. My most recent purchase was the drawer cabinet. The quality is not up to the usual standards, in my opinion. It wasn't sanded as smoothly as usual and I even got a splinter from it. I do like the product and appreciate having a place for my wooden stamps.
A great product
Everything I have purchased has been excellent. The products are well made and I am very happy. This last purchase is a gift for a family member and I know she will extremely pleased with it.
Great Product!
The only problem I have is that I wish the drawers had sides on them so things don't slide off when you open them.
So Pleased!
I have wanted to get the Drawer cabinet ever since it first came out. It is everything I had hoped it would be, and I am so pleased to be able to put it to good organization in my craft room!
Sharon Coleman
12 08 2016
Bestest Ever!
I love the drawer cabinet and have finally corralled some of the clutter on my desktop. No stamps in it as yet but there are lots of other supplies I need at my fingertips. Two "vacant" drawers make room for often used sentiment stamps.
Perfect
After searching for nearly a year without success to find more 'sleeves' for 12 x 12 , I purchased other options - but nothing worked. I should have come here first! Although it's not an inexpensive purchase, it does what I need it to do. It fits nicely in my work area and makes it much easier for me to accomplish crafting projects. The 4 stars is re the cost. If I had saved $ on other purchases which didn't work, I could have already paid for this - lol. Live and learn.
Jennifer Kotrba
11 28 2016
Drawer Cabinet
Love that I can see all my stamps without digging thru layers. Will be ordering more. Just wish they were a little higher as a few stamps that have bigger blocks of wood don't fit. Otherwise a great product.
Great idea but needs some refinement.
I'm happy with my drawer cabinet. I got most of my stamps and ink pads in it. It's great to have everything in one place. My only complaint is that a number of drawers are tight and difficult to pull in and out. Over all though I would definitely recommend this product.
Help in Taming Odd-Size Stamps
Stamp n Storage's drawer cabinet is the best way yet to organize, label and easily find various stamps and look great while stored. Thanks, Stamp n Storage!
Excellent visual instructions
Would have liked more guidance on tapping in blue glue pegs so they don't bubble surface paint as they are hammered in.
Kaethe Andersen
11 05 2016
Love - love - love it!!
Drawers arrived in perfect shape and exactly when they said it would!!!
Best stamp storage ever!!
This holds a ton of stamps! It is built very nice! I love and am happy with all of the products this company offers!
Feeling Organized
I have all my wooden stamps in this cabinet. Everything is snug and well-organized. Thinking about purchasing another one to store my papers.
I'm in love!
The drawer cabinet for IKEA has tamed all the clutter around my work area! All the little things I use on a daily basis have an organized home. I love having my most used supplies right next to me. If you're on the fence about this product, jump off that fence. :)
Joan MacDonald
10 22 2016
Worth the money
I have looked at the 10 drawer cabinet ever since they did a survey during the design phrase. I finally decided I needed to get my stamps by topic as I wasn't using some in spite of having them in stamp cases. After checking all my options online, the stampin storage drawer case ended being the best buy and definitely the smallest in overall size as no wasted space. I now have cleaned off about 25 feet of shelf space by placing stamps in drawers with 3 empty drawers. It is great to pull open a drawer and see all my options for a category instead of pulling down several cases to figure which one has what. Well worth the mony.
Perfect, but....
First, I have to say these are extremely well made and I love them. The only thing, and I knew this before I purchased them, is that given the choice I would have chosen an 11-drawer item if it could have fit all my stamps. I have a large collection of wood stamps, and there are several brands just a hair thicker than these drawers will hold. Which means I can't have all my themed stamps together....I have to look in two different places. But, I do love them and the wonderful way the look in my IKEA shelf. I like being able to pull out one "drawer" (or 3 or 4) and look at my stamps by theme. This just thrills my OCD heart :) :) :)
Wonderful Product
I love this drawer storage unit. That's why I have 2 now!!!!!
Frustration With Stamp Storage
Love it except draws would hold all my stamps if the drawers were 1/4" taller.
Love my drawer cabinet
I'm using my Kallax drawer cabinet to store all my Prismacolor and misc. colored pencils, Inktense and misc. watercolor pencils, miscellaneous pens. It's working perfectly for me. I made 3/4" tall boxes to organize everything that didn't have it's own storage container. This cabinet has made organizing my pencils so much better, everything is at my fingertips and so nice and neat, very easy to access as it's right next to me in my studio. The quality of the cabinet is top-notch. Would highly recommend this product! Ordering from Stamp-n-Storage is such a pleasant experience, great communication, quick shipping and items packed very well.
Wonderful new product
Haven't decided what to use this for, but I'm sure it will be wonderful.
Drawer Cabinet
IKEA Drawer Cabinet met all my expectations!!! Delivery was quicker than expected. Quality is great...looking forward to using my 'organized' supplies. Now I need to order more!!!
Been stamping for years
I have so many stamps mounted on wood blocks and I can't bear to part with them. I had my stamps in plastic boxes where I could easily access them, but, these drawers are even better. Each drawer is 12X12 and easily slides in and out of the cabinet. I didn't give a five star rating because I'd like to see sides to the drawers as some of my drawers are filled to the max. The drawer cabinet comes with labels you can attach or not. These labels stick nicely and don't fall off. The paper labels inside can easily be changed out. I'm labeling my drawers by theme; birds, flowers, baby, Halloween, etc. Confession time: I just bought a second drawer cabinet because I needed more drawers, but, I'm really organized now. I might have a drawer left over for the next stamp show!
Cherie from Craft Cave Cards
08 26 2016
Love at first sight
I just received my 12X12 drawer cabinet and I just don't know how I lived without this wonderful invention. I was able to put all my wooden block stamps into it and had a drawer and a half to spare. I was storing them in clear plastic containers that took up way too much space. I can now label my drawers by theme and find all my wooden stamps in one place. Love Love Love this item. I also have the ink pad and marker storage units for SU and Ranger, markers alone, lockdown punch storage, as well as the magnetic die storage units. I love all things Stamp N Storage but this is by far my most favorite !!!! It also shipped quicker than anticipated.
Stamp storage box
Excellent workmanship, worked exactly as I wanted it to and filled all 10 drawers. Turned out heavy though, once filled. Excellent way to organize and display my stamp in up collection.
Lots of space
I am giving this 4 stars only because the drawers are just a tiny bit too close. I have had my wood stamps snagged when pulling the drawer out and then it hangs. Otherwise it is a very nice product.
Exactly what I needed
I have come to expect the highest quality products and once again was not disappointed! This is so handy, from securing projects awaiting finish (I will stamp a lot of fronts and insides when I have time and go back later and put the colors on) to storing my go to stamps (we all have them.....favorite quick birthday, sympathy, thank you, thinking of you stamps that you don't really want to have to hunt down) and placing my scissors, various measuring devices, small tools etc. Once again, I don't know however I got organized before Stampin' n Storage! One suggestion would be the same item with only slightly deeper drawers to place the old wood mount stamps.
Genius way to store stamps
i totally love this. All my wood stamps are in one place and organized.
Perfect Organization
I love my Stamp-n-Storage Drawer Cabinet. I am able to organize my stamps by theme and find them so much easier with this system. Very good construction. Can't wait to purchase the unit for my "Punches" and my "Ink Pads, Markers and Refills".
How Useful!
I just love this product and have now ordered a few more. The drawers slide easily, even after I panted the unit. It now holds all my blocks, packs of pens, various themes of stamps (I have so many "Funny Bones" stamps and now I have them laid out so Voila, I can easily pull out the one I am looking for. Also great for storing "Stamps By Judith and Heather" small stamps attached to dowels. I have a few of the paper storage bins and punch holder bins which I love, but this one is just amazing. The amount it can store will astound you and makes for a much cleaner, craft room while adding easier access. Buy one, you too will be ordering more!
Cindi Richhart
07 15 2016
Drawer Cabinet
I was very impressed with the construction of the cabinet, it s beautifully made. However, I was disappointed to see no sides to the pull out drawers to contain the stamps. I now have 4 of your pieces and am pleased with the ease in storing my crafting supplies. Thank you for your beautiful products.
Great Storage for Wood Mounted Stamps
This is a great concept and makes viewing and selecting my stamps so much easier than in the cases where I had them before. My only concern is that some of my stamps are taller than the drawer height and do not fit. If you could make the drawers a little bit higher, it would be perfect.
Perfect
Exactly what I wanted and even better than I expected. I was able to put all of my stamps in one drawer cabinet unit. Totally amazed that it had room for all of them, I was sure I would need to order a second one.
Beautiful organization
Bought two of these to house ink pads, stamps and some paper. Now all my stamps are organized by theme, the desk-top is clear and I can find things easily. Very pretty and well crafted.
Great Start
I love the drawer units. They slide out smoothly and hold a lot of stamps. I hope another will follow soon with deeper drawers to accommodates thicker wood blocks (I realize there would be fewer drawers but ok).
Drawer Cabinet
What a great storage item! Holds TONS of stamps in a small space. The drawers pull entirely out so you can see everything and then slide right back in. I may need another one!
Brenda Fritzke
05 20 2016
Hidden Supplies
The drawer shelf hides your stamps, catalogs, card stock, ribbons, ink pads, and misc. stuff. It holds so much stuff and your craft room doesn't look cluttered and messy. This is #2 product and #1 is still the combo hold(60)
Love them!
For Mother's Day I asked for the drawer cabinet for my stamps and got two. I love them. They work for most of my stamp except some Magenta stamps and some other oddly shaped stamps I never expected them to house. The workmanship is amazing and I had them filled in a couple of hours. Now I can find my stamps in a flash!
The best!
I absolutely love this drawer unit. It has now replaced my combo holder as my favorite storage unit. I ordered it to store my wood mounted stamps and was happily surprised by how many fit in it! It fits perfectly in my old Expedit and has space on the drawers so I can label them to find things easier. Think I might need to order another to hold other supplies...
1-inch deep drawers!
First off , I love this drawer set. It stores tons of small items -in such nice order instead of trying to keep order in 2"+ deep storage bins, tins, boxes and drawers. The reason for the 1-star deduction? My bad. Didn't see that there are no sides to drawers. Should be described as pull-out TRAYS. One of the trays is very difficult to pull out. Luckily I do some woodworking and can sand the tight spots. Then, it was a month to receive (ordered before the banner about delayed shipping) I had to finally email " where in line am I?" to get informed of delay. I totally understand about the demand in this. It fits perfectly in my IKEA Expedit, along with my paper storage. Another plus: the IKEA units fit into my Scrapbox!!! I'm saving for more of all three that I've already purchased. My scrap area looks so great. Just need another combo and paper.. I'm getting some for my sewing area - the drawer/tray units will be perfect for storing bobbins, scissors, measuring tools and see on!
Sharon Linenkugel
05 04 2016
Crafter's Delight
This new product from Stamp-N-Storage is MOST AWESOME..a dream come true for me. Great for storing my wood mount rubber stamps and many other craft items. Much can be stored in this compact organizer. Labels are provided for easy identification of contents in each drawer. LOVE THIS CREATION..THANK YOU STAMP-N-STORAGE.
Dalinda Rowland
04 26 2016
Compact
I had some old stamp pads I didn't want to part with as well as single stamps, this unit is perfect for organizing miscellaneous odds and ends
Better than expected
So many things can be stored in the drawers. Love the look. Drawers glide open.
Great product
Nicely made. Exactly as advertised. Saved me a lot of storage room. Made my crafts more organized
Debbie blacksher
04 22 2016
Drawer cabinet
They cost too much money do you need to lower the price people can afford that
Best investment ever
Received my drawer cabinet and have put all wood stamps in with room left over. I like how it fits in my work space and in at my finger tips. Best investment I have ever made for storage!
J-Curtis Thomas
04 21 2016
At Last
Wood mounted stamps, how do you store them? Put them in see-through storage containers and stack them on a shelve, never to see them again. Line them up on an a shelve, who has that kind of room? The list is endless. Thanks to you Stamp-n-Storage for the genius idea of designing a cabint with many small draws, so all you do is just pull out a draw (that has been labeled, and there are your stamps at a touch. Thank you Stamp-n-Storage.
Like product very much
I like the quality of your products and the fact that you construct the components to fit in the IKEA shelving units. Pretty Awesome! I also love that they are unfinished so I can design how I would like them to look! If I had one wish it would be that you create a new unity where the drawers were a tad bit deeper. I like that the drawers hold my wood mount stamps but there are other things I would love to store in a unit that fits in my IKEA. Such as paint, sprays, re-inker bottles, etc. So a future request would be deeper drawers! Thank for for creating such a high quality product
Wonderful Quality
I was hesitant to purchase due to price. I am extremely pleased I did, in fact I purchased three! They fit into my IKEA shelves beautifully. I am always looking for storage/containers. I prefer wood. This is a quality product, very well made.
Draw cabinet
I was a little disappointed that there were no sides on the draws. But after I loaded it up I realized that I would have lost some storage space...
Awesome product!!!
This is a great product for storage of wood stamps or paper!!! Well made from a great made in America company!!!! Love all my products from stamp n storage!!!!
Kimberly Rendino
04 19 2016
Amazing for Ink Storage
I can fit 15 of the older style MFT ink pads per drawer....and it's so nice to see them all at once, and so quick to grab what I need! I have lots of drawers yet to fill and I can't wait to find out what other supplies will fit in them.....I definitely will purchase another in the future!
barbara cauchon
04 18 2016
Great storage!
I'm enjoying re-organizing my stamping stuff using this neat cabinet! So far, I've used three drawers for word stamps, another for pre cut card stock, one for my brads and tools, and one for my stamp cleaner pad. Still have plenty of space to fill, so I'm very happy with this unit! And I love the little labels and holders that were included!
Drawer Cabinet
I absolutely love this cabinet...I finally have all my stamps in one place; makes it so much easier to find what I need. If I could change one thing, I wish the drawers were just a little taller; I have some wood mounted stamps that did not fit and some that did fit but the drawer drags when opening it. Anyway, I love it.
Sharon Linenkugel
04 14 2016
Drawer Cabinet Purchase
I am ABSOLUTELY THRILLED with my new drawer cabinet. Immediately filled it with several craft items that I use for making cards. This is a superb invention by Stamp-N-Storage!! I love it and will be saving my money to buy more of them. I am now motivated to make a room in to my inspiration station. Looking forward to more top quality products from Stamp-N-Storage :)
ITS THE BEST!!!
I just rec'd my drawer cabinet & I feel like I had a visit from the "Guardian Angel of Stamping"...if you have a reasonable amount of wooden stamps, you need this. Now I am an organization friek, & OCD on top of that...& I absolutely hate having to search for supplies...This cabinet/drawers emptied (3) 12 x 12 x 4 plastic bins plus 1 smaller bin...one great thing is the drawers come out completely & don't have sides, so you can put the drawer in front of you to arrange your stamps (sometimes it's a bit of a jigsaw) and they slip back in easy peasy. You will love it! Thanks to whomever invented this gem!
AMAZING!!
THIS IS IT!!! Perfect storage for all my block stamps. No more plastic boxes for each set. They are going in the drawers!! I am saving up for the next one!
This new piece adds
This new drawer piece adds a lot of extra storage space. I have paper and ink holders And the drawes add a new dimension to the room as well to the kinds of things I can see and store. The draws hold 12x12 paper, punches and many things I never saw in my larger cabinets. I will be seeing and using items that get stuck away instead of being just a pull away. So easy. LIke it.
Annie San Martin
04 05 2016
QUALITY!
I rec'd the Drawer Cabinet the week I ordered it. Speedy Quick. I couldn't be more pleased with the latest addition to my Stamp-n-Storage collection. Like all of the products I've ordered, this is a Quality product. My stamps fit perfectly inside the slide out drawers, labeling is convenient and I couldn't be more pleased. Another Excellent product from Stamp-n-Storage!
The best!
I love all my Stamp N Storage items, and I was so excited to see this Drawer Cabinet available. I have had some favorite individual wood stamps up on shelves for years. Not very conducive to using them.! This has brought all of those within easy reach, along with drawers for some other items. Love that each drawer is labeled, too. Thanks for an awesome product!
QUALITY WORKMANSHIP
The Drawer Cabinet is my third item I have purchased. All the products I have bought are designed for the IKEA shelving. They fit perfect!! Wish these were available years ago!
Additional Info
Additional Info
Weight:

17.00 LBS
Shipping:

Calculated at Checkout
Dimensions:

Refer to images for dimensions.