September Studio Showcase
Our September Studio Showcase winner is no stranger to Stamp-n-Storage. If you have visited our booth at the Stampaway expo in Ohio, chances are you met Kris as one of our helpers. We have enjoyed getting to know Kris and following her journey of organizing her craft studio.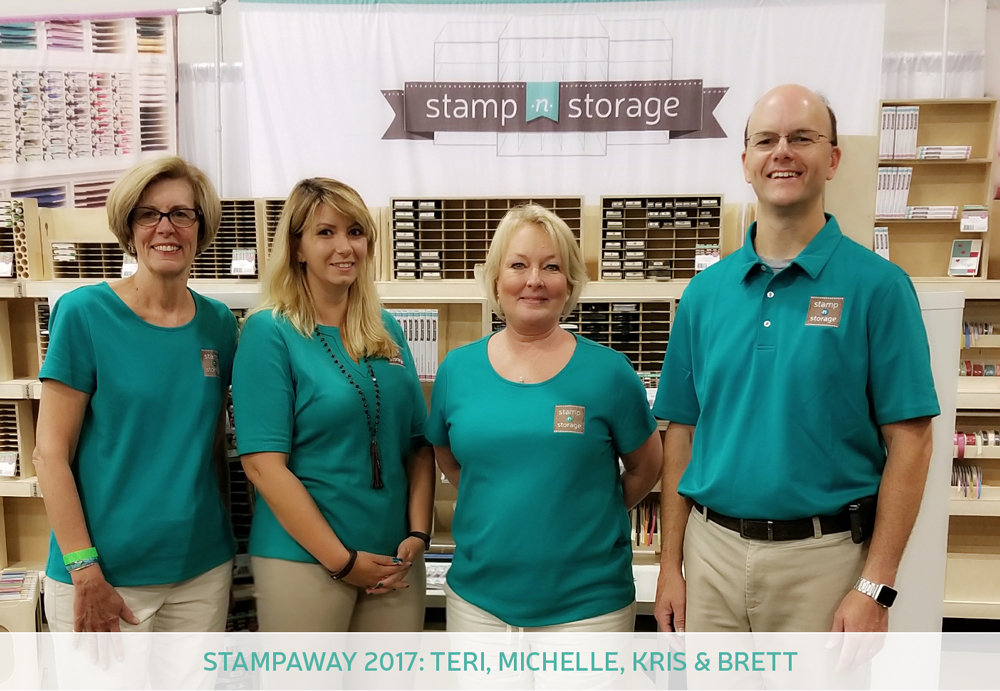 Kris has been paper crafting for eight years and has tried a variety of storage systems for her craft supplies. "Over time, I have learned that 'out of sight, out of mind' is true for me. I wanted to be able to see the supplies that I have so they get the best use," she says. Kris first discovered Stamp-n-Storage products and liked how the products worked with the IKEA® Kallax unit. "It was the perfect partnership," she says. As we take a look at Kris' studio, you'll notice several different IKEA units.
On one wall Kris has two 3x4 Kallax shelves side-by-side. She maximizes the width of the cube with the 48 Slim Ink Pad Holder for IKEA®, Whale-Tale Punch Holder for IKEA®, 6x6 Double for IKEA®, 12x12 Paper Holder for IKEA®, three 8.5x11 Max, and three Drawer Cabinets for IKEA® that store 12x12 paper. She also has an 8.5x11 Paper Holder for IKEA®, two 6x6 Paper Holders, and an 8.5x11 Add-On for 8.5x11.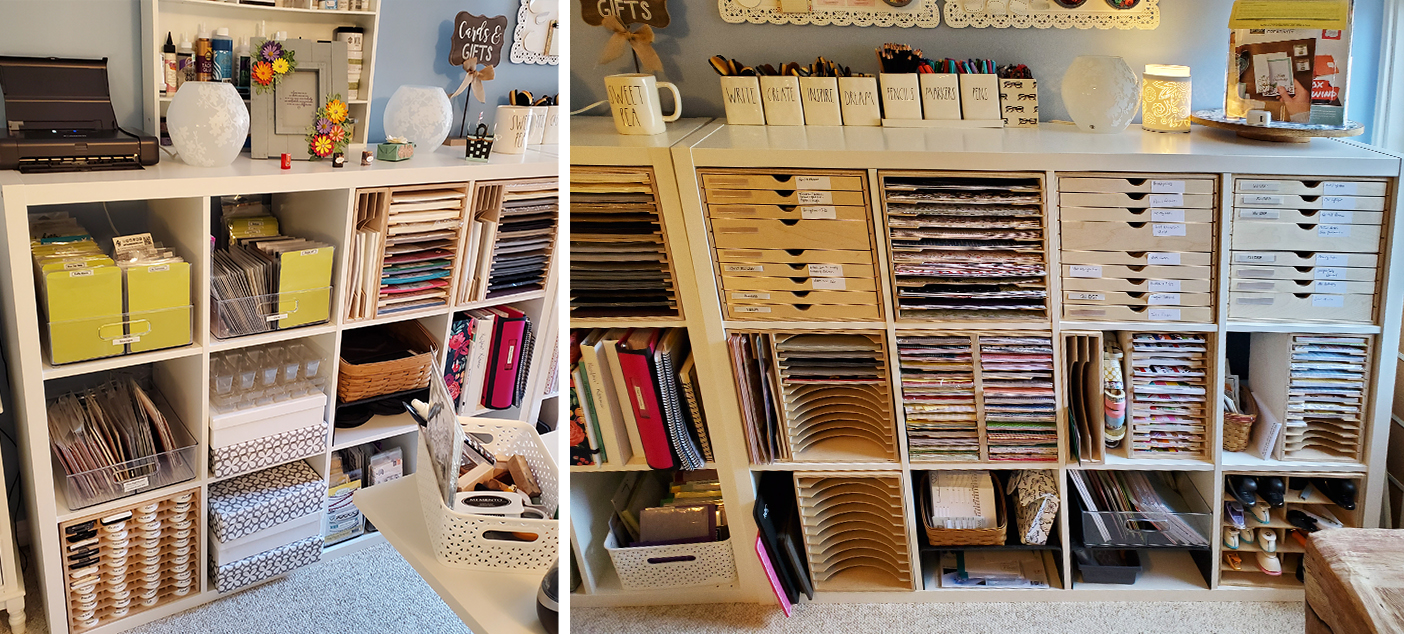 If you don't think that's enough storage for paper, just wait...there's more! Kris has an 8.5x11 Three-Tier Paper Holder and the 12x12 Paper Crate with Cover and Rolling Base. In the Three-Tier Paper Holder Kris stores her Stampin' Up!® paper in rainbow order. "I find storing it in this order helps me find just the right color when I'm creating," she says. The Paper Crate is a new addition to Kris' space, and she's loving it! "I love that I can store 12x12 paper, roll it into place, and easily locate the designs. The Cover is the perfect size to hold my acrylic blocks on top," she says.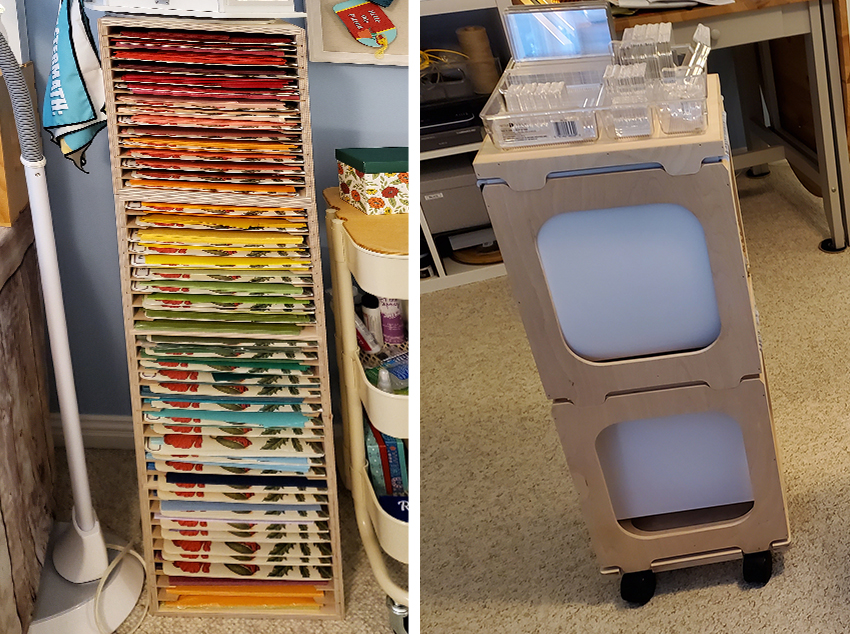 Kris has four 2x2 Kallax units with one stacked on top of the other to create a fun look. She keeps her stamp cases in three Mega Stamp Case Shelves and organizes the cases alphabetically. She adds a red dot if the set has a coordinating punch, and a blue dot if there is a coordinating die set. On top of her Mega Stamp Case Shelves, Kris organizes her Copic marker refills in the Large Lock-Down Punch Holder. "I am a Copic marker lover! I own the entire set which I use very often and the Lock-Down Punch Holder stores my refills perfectly! Five refills fit in each slot. I can see at a glance which refills I own and find them easily when I need a refill!"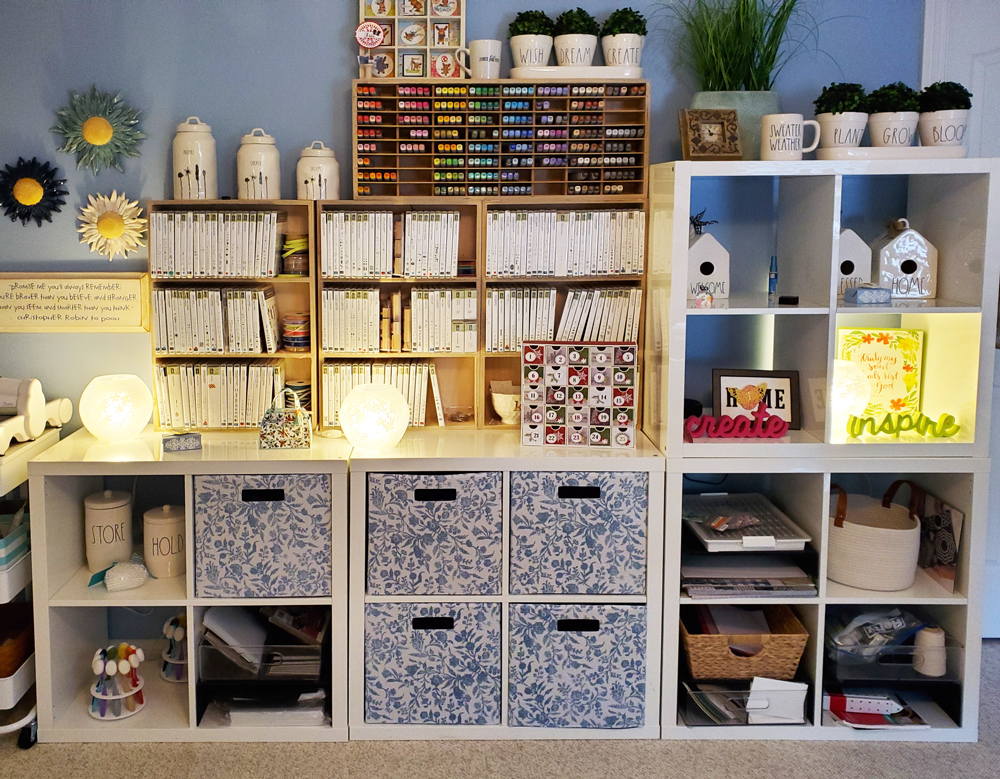 Across the room, Kris organizes her punches, ribbon and ink pads on top of a 2x4 Kallax shelf. She uses a 60 and 12 Combo Holder for her Stampin' Up!® ink pads, and a 36 Distress Ink Pad Holder for her Oxide® ink pads. She stores her ribbon in the 33" Ribbon Shelf, and punches in the Large Lock-Down Punch Holder.
"Stamp-n-Storage products are built to last a lifetime. I know that I will use these forever because of the amazing quality. When I am organized, I don't have to spend precious crafting time searching for supplies, and they're right where I need them! It allows me more time to craft, less time taken digging around!"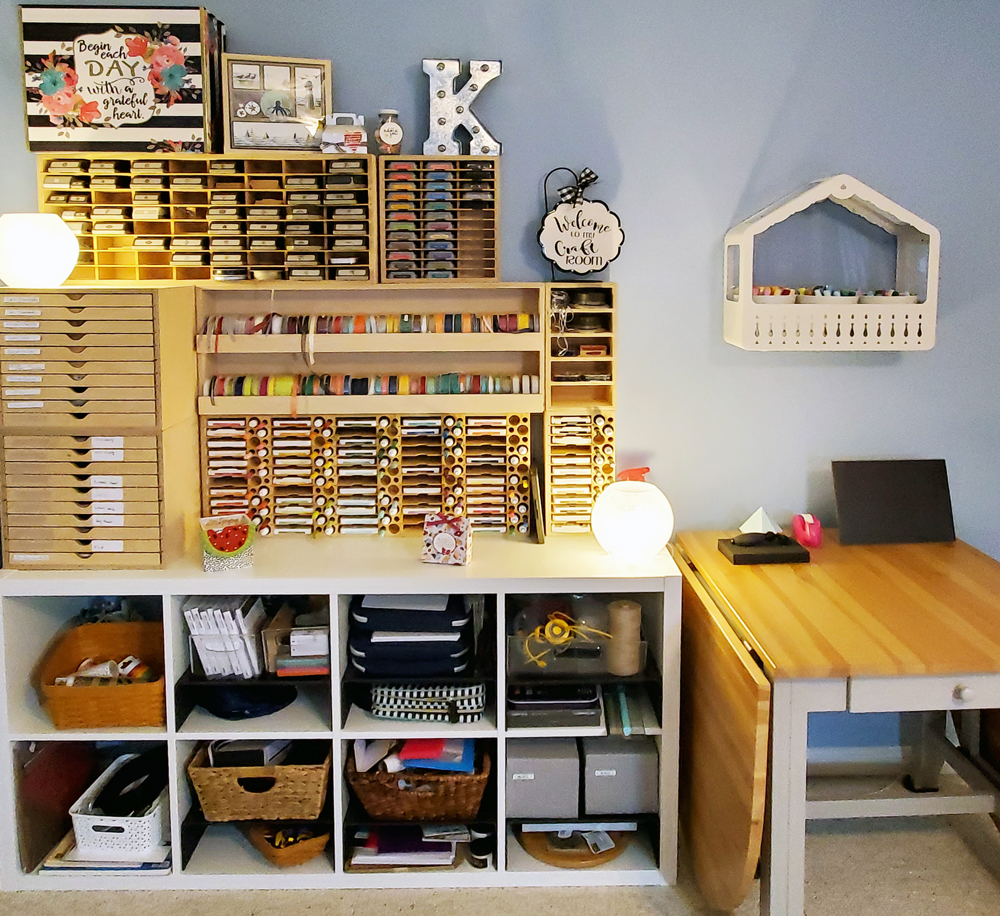 Kris also has Two 12x12 Drawer Cabinets that she had purchased before the IKEA units. She organizes her embellishments and mini ink pads utilizing the Mini Ink Spot Holder and Accessory Trays.

We asked Kris what advice she would give to someone designing a craft studio. She said, "Don't rush the process. Think about your space, and what works for you. If you prefer things tucked in drawers, there are great products for that. If you want to see all your items, there are solutions for that kind of crafter, too. Making it less about a photo you've seen on Pinterest and more about your personality and your creating style will work best. Enjoy the process!" We think that is fantastic advice!
---
Would you like to be our next Studio Showcase winner and have the chance to receive $75 in store credit?
Here are a few hints: clean up your space, snap some photos (4 or more) from a few different angles, and include some comments about what you love about your area and your Stamp-n-Storage products. Then, you will be entered into our monthly drawing. Email your entry to: contact@stampnstorage.com.