Stamp-n-Storage
Mega Stamp Case Shelf
Weight:

1.50 LBS
Shipping:

Calculated at Checkout
Dimensions:

Refer to images for dimensions.
Description
Description
Are your unmounted and clear mount stamp cases regularly cluttering your desk? Are they lost in your closets and drawers? The Stamp-n-Storage Double Stamp Case Shelf fits right in with our other products and provides space for those stamp cases you use regularly.
The Double Stamp Case Shelf can hold over 80 stamp cases. You can order yours with or without a back. (This usually depends on if you want your wall color to show through.)
Previously known as Double Stamp Case Shelf.
Stamp-n-Case shelves also work really well for storing your Cricut® Cartridges!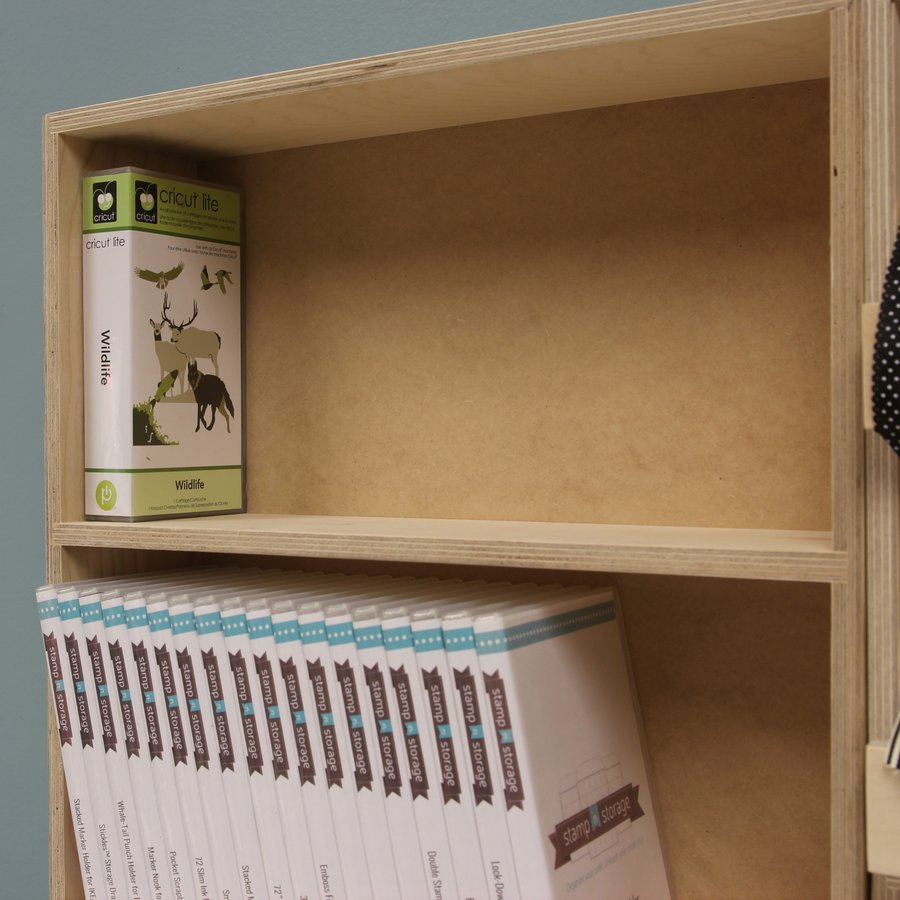 This product has the option of being wall-mounted too!
Looking for a smaller shelf? Check out our Stamp Case Shelf.

Wondering what size this product is? Refer to images for dimensions.
Made of Baltic Birch plywood delivered to you pre-assembled, sanded smooth and display ready!
Reviews
Reviews (35)
Stamp shelving
Love, love, love the shelf unit. Definitely need to order more. Great quality
Just perfect!
To say that I needed a bit of organization for my stamp sets is an understatement! Somehow I had managed to amass a lot of SU stamp folders (thanks to the fun meetings with my SU demonstrator) and my disorganized mess was driving me insane! I am one of those people who needs to see what I have or else it goes forgotten (more or less) and unused. This unit is perfect! I bought it along with the punch holder and my desk area finally looks so much better! This shelf unit looks lovely; it is simple and very well made. It was shipped beautifully...using recyclable paper. What a delight to unpack and be able to see what have all in one place! Yes! I will be back for more storage. Simply wonderful, perfect, storage options for craft supplies!
Additional Info
Additional Info
Weight:

1.50 LBS
Shipping:

Calculated at Checkout
Dimensions:

Refer to images for dimensions.
Videos