Mega Stamp Case Shelf
Weight:

1.50 LBS
Shipping:

Calculated at Checkout
Dimensions:

Refer to images for dimensions.
Description
Description
Are your unmounted and clear mount stamp cases regularly cluttering your desk? Are they lost in your closets and drawers? The Stamp-n-Storage Mega Stamp Case 3-Level Shelf fits right in with our other products and provides space for those stamp cases you use regularly.
The Mega Stamp Case Shelf can hold over 80 stamp cases. You can order yours with or without a back. (This usually depends on if you want your wall color to show through.)
Previously known as Double Stamp Case Shelf.
Stamp-n-Case shelves also work really well for storing your Cricut® Cartridges!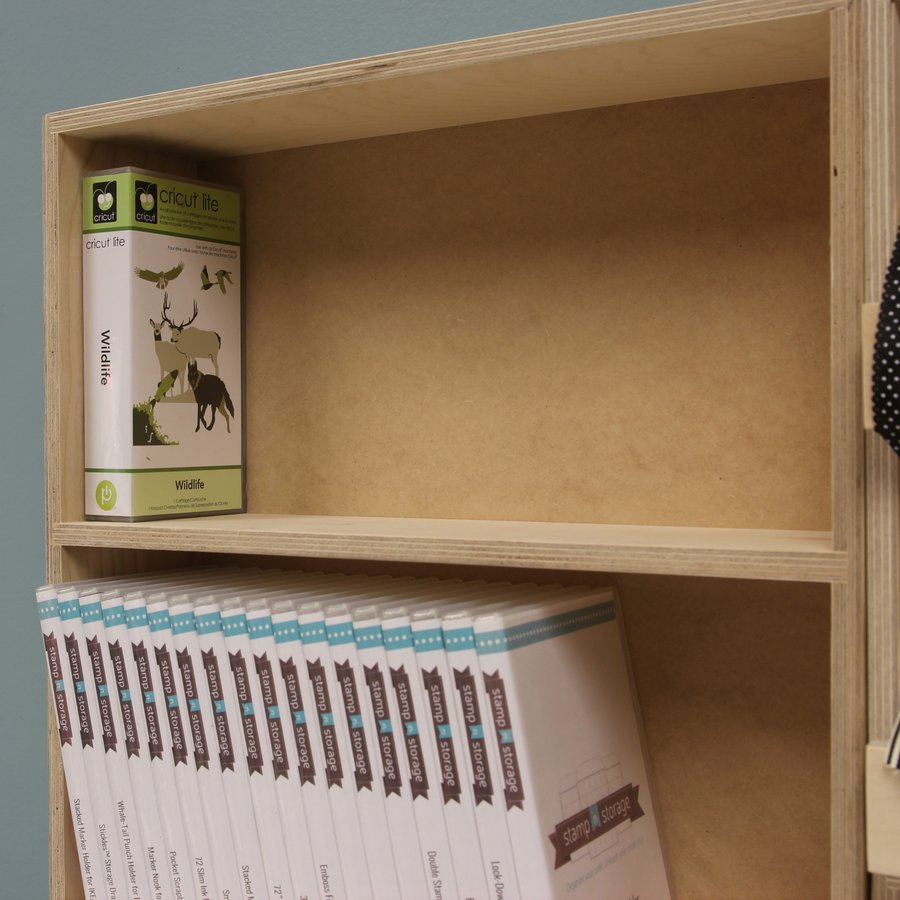 This product has the option of being wall-mounted too! Click the link wall mount for more information.
Looking for a smaller shelf? Check out our Stamp Case 1 Level Craft Shelf Organizer.
Wondering what size this stamp case 3-level shelf is? Refer to images for dimensions.
Delivered to you pre-assembled, sanded smooth and display ready!
Made in the USA from Birch plywood.
Reviews
Reviews (107)
Great for space utilization and productivity
"For every minute spent in organizing, an hour is earned." Benjamin Franklin
Mega Case
Beautiful case looks good on my new craft desk.
Stamp Shelf
This is my 5th stamp shelf and the first one I ordered painted white. I love them and they are perfect for storing my Stampin Up stamp cases.
Three Tier Shelves
I ordered these as a late Birthday present for myself. I totally love them!!
Mega Stamp Case Shelf
I ordered 2 of these. I've been debating for about a year and finally bought them. They are fantastic !!!
Mega Stamp Case Shelf
Sturdy product - it was exactly what I needed! I WILL be buying another! I love the stampnstorage products. they truly help me stay organized.
3 shelf stamp holder
This is the 2nd one I have bought and couldn't wait to fill it. Did that the same day I got it. Also have 4 of the 2 shelf holders. They are great!
Stamp Holder
This is an amazing product. I love that it is easy to pull stamp cases out and its footprint on my table is smaller than other holders. Truly worth the buy!
Mega Shelf
This is my second shelf and find it perfect for my stamp sets!
Mega Shelf
Excellent Company to do business with and product is always of good quality. If there is an issue it is handled quickly and professionally. Will always do business with Stamp N Storage.
What a great shelf
This shelf is really great quality. I'm thinking of buying another ….. just because. It looks wonderful and of course is the perfect place to organize stamp sets.
3 tier stamp bookcase
I am amazed at how many stamp cases this item holds. Now everything is at my fingertips! And I'm really impressed with how well the pieces are made. Definitely NOT the junk stuff you see in the stores. I consider the pieces I bought a great investment.
3 Tier Stamp Bookcase
Perfect for my Favorite Stamps. Efficient Shipping and Packaging. Thank you StampnStorage.
Mega Stamp Case Shelf
Case is wonderfully made and looks great in the spot I have for it. It holds A LOT of Stampin Up stamp cases..... only problem I have is that it is almost full and I know I am not done purchasing SU stamps!!! :)
stamp case shelf
This is the second one I have purchased of this size and am very pleased with it as it holds more, and I also have 3 of the two shelf ones that I really like also. I highly recommend these shelves as they are very sturdy and make my organization of my product so much simpler.
Mega Stamp Case Shelf Love it!!
I have stamp set all over my craft room. Now I will have them all in one location and in order. Love it, love it, love it. It's well made so I know it will hold up for many years. That is a big plus.
Wilma L Barnhart
01 18 2022
shelves
I love my shelves and I loved the literature you sent with it. I plan to pass it on. thank you
Great shelving units.
Great customer service.
Mega Stamp Storage shelf
Sized just right to storage about 75 of my CD stamp cases. It is well built and looks nice too.
Michelle Baranick
01 12 2022
Mega stamp storage ahelf
I purchased 2 of these and will be ordering more. They are perfect for my Stampin Up stamps! Love them!
stamp case shelf
I really like the quality and storage space this shelf has. I am sure I will be purchasing more. They have the best products I have found. Highly recommend stampnstorage products.
Mega Stamp Shelf
These are fantastic for my StampinUp cases. I have ordered 2 and probably will order another one. Well built!
Christine Surber
12 14 2021
Great storage for my stamp cases
These were the perfect size to fit on top of my storage cabinets. I was able to fit two of these and the marker storage. Sizes were exact. I agree that they are plain, but you can decorate to your individual taste. Personally they were exactly what I was looking for to complete my new craft storage area. Now I can easily locate the stamp set I want to use.
Cynthia J White
12 06 2021
Lock Down Punch Holder
I am so excited to have my own Punch Holder Shelving. I can't get over the sturdiness and well made details it has. It isn't bulky and is a great addition in my craft room! The testimony of this company feels my heart with such joy and then when I received my package there was a biblical pamphlet and card sharing the love of Jesus and His love. Oh how I love Jesus!
Brenda Lee Restey
11 22 2021
Decent
What can I see, it's wood pieces together. Needs to be finished (painted). Three stars because this is pricey for the type of wood.
Michelle Quinno
11 16 2021
Great shelf!
This shelf fits a lot of stamps! It's good quality and I love it. Might have to buy another!
Best stamp cases
I have purchased 2 of the 3 level shelf for my Stampin-up stamps. I don't know why I waited so long to buy these. They are the best, perfect for the stamp cases I use daily.
Mega Stamp Case Shelf
I had all my stamp cases stored in a basket and never knew what I had. Invested in my wonderful a Mega Stamp Case Shelf and used these wonderful stamp sets all the time now!!!! What a great investment! Thank you Stampinstorage….you did it again!!!!!
Stamp three selves holders
I love it. Your work is meticulous and I'm excited to add it to my craft room
Karen Loetterle
10 11 2021
Shelves
Very clean and great holds what I needed
Easy to put up and holds a lot
I ordered the custom version of this shelf in the widest width possible (26"). It holds 146 DVD cases! This was super easy to install on our wall and provides me with an extra shelf on top that is perfect for my colored pencils. This is well made and is the best way I've found to store those stamp sets. I can see each case and easily pull them out.
Barbara Rathmell
09 08 2021
3 shelf stamp shelf
This is the perfect solution to store my stamps on my work surface and keep them at my fingertips. It's well built and shipped quickly! .
Sturdy and easily mounted
I think my husband was happy to put this up. Now my room really looks organized.
Mega Stamp Case Shelf
I now have 3 of these mega shelves that have been very helpful in organizing my large stamp set collection. Highly recommended. Stamp and Storage creates wonderful products that are well constructed for numerous storage needs. 100% satisfied with the many different products that grace my craft room.
Jennifer Miller
07 22 2021
Mega Stamp Case Holder
Wow, these shelves are very well built! They hold a ton of SU stamps! I'm sorry I waited so long to get them! My room looks so nice and neat with all my Stamp and Storage items. You will not regret buying anything Stamp and Storage makes, top notch all the way!!
Mega stamp shelf
I like this product so much that I now have eight of them.
Mega Stamp Shelf
Perfect, not to big fits right on top of desk, without taking up the work space. Cheaper than purchasing a book shelf from other vendors that will take up too much space. You will not regret this purchase.
Stamp case shelf
This is my first shipment of storage items from this company. I got the ink pad holder, the large stamp case shelves and the large ribbon holder. I love them! The quality and craftsmanship are simply outstanding! So much better than I expected. As I said this is my first order from this company but it certainly won't be my last!
Charlotte Adams
06 14 2021
Mega Stamp shelf
I love this stamp shelf. It is well built. This is my third one.
Mega Stamp Case 3 Level Shelf
I just purchased 2 of these and couldn't be happier with the quality of the shelves. I'm going to paint them white to match my Ikea furniture and can't wait to get all my SU stamp sets on them, instead of the 3 tier cart they are crammed into now. No more bending over until I fall off my chair or turning the cart continuously to find what I need. The 3 Level Shelf is quite large and I ordered 2. I am trying to figure out how to get them on my desk along with my 60 ink pad/reinker holder and various other tools!
Charlotte Adams
06 08 2021
Mega stamp case
This is the 3 shelf and I bought 2 for my room. They hold all my current stamp cases and I love them. I can now see all my stamps without digging through piles in my drawers. I would recommend them.
Linda Campbell
05 25 2021
Shelves
This is my second set of shelves that I have bought from Stamp and Storage, They fit my Stampin Up stamp Set boxes perfectly. Excellent quality. I love them.
Dixie L Cravens
05 20 2021
3 shelf stamp holder
It is great, I also 4 of the 2 shelf holder and am very happy with your products. I just ordered another 2 shelf to set on top of the 3 shelf I just got.
Mega stamp case shelf
This shelf is really quite large. I set it atop the smaller shelf & it made a tall display. The wood & craftsmanship is excellent. If you have many stamp set in cases, this is for you!
Stamp Shelving
Exactly as described. Fit behind bedrooom door to use space! Excellent choice.
Joanne Cardone
03 27 2021
Stampin' Case Bookshelves
Love this product. Very easy to install and keeps everything perfectly organized. Thank you Stamp 'n Storage!
Barb Petersohn
03 24 2021
Shelf
Love the shelf. Just what I needed.
Mega Stamp Storage Shelf
I am very pleased with this product, as I have been with other components I already had. Each is well designed with stampers in mind.
Mega Stamp Storage
I am delighted with the product. The phone conversation I had with the Stamp 'n Storage rep. answered my questions, and I was assured to get exactly what I wanted.
Stamp Case Shelf
Thank you!! I know have all my stamp cases organized and neatly setting in my new stamp shelf! I ordered the backless and set the shelves (I purchased 2 mega shelves) on top of my Ikea Hemmes dresser. They are against the wall and work perfectly. They are very well made and came ready to use right out of the box! I'm a happy stamper now!
Stamp Home
This was my first Mega Stamp Case and I love it! It holds lots of sets, keeps them together and I look forward to getting more in the future - thanks!
Mega Stamp Case
Very good quality. I'm so glad I bought this, it holds alot.of stamp sets and looks so neat now and organized. I plan on buying other things soon. Thank you
Time Saving Mega Stamp Case Shelf
Have been waiting for this Mega Stamp Case Shelf. Now I can finally see my many different stamps at a glance. This will save time as I will not have to search thru the drawers for what I need to use
Wonderful high quality products!
I love the quality of these wood cases! Boy, am I glad I didn't waste money on lower quality storage products. I am extremely happy about my purchase, which will last me indefinitely. This was an investment that will pay off for years/decades!
Stamp Case Shelves
These are w0nderful. It allows me to view all my stamps and retrieve what I need without rummaging through all of them. It is wonderful.
Elizabeth Richmond
11 06 2020
Mega stamp shelf
This shelf is perfect for my needs.
Stamp Case Mega Shelf
My entire craft room is organized with Stamp-N-Storage products. They are simply beautiful and well crafted with superior quality wood. I have it all and I'm a lifelong customer now!
Mega Stamp Case Shelf
Already had two of these and needed another one. Absolutely love it.
Mega Stamp Case Shelf
Just what I wanted to hold my Stampin Up stamp cases. Well made, sturdy and is now full....probably will need another in the future. Recommend as great storage and gives you the ability to see what you actually have to use.
Quality
Your products are such great quality! The Mega shelves showcase my stamp cases so that I can see easily what I am looking for. They also store other items well. Love your products!
Mega stamp case shelf
This is Great If you have stamps to store. This is a case to have. This is the third case I got. And it stores a lot of stamps.
Mega Stamp Case
Love these! I have more room on my desk and still have all my stamps close at hand. I will be ordering more very soon.
Kathleen L Caron
08 11 2020
Mega Stamp Case Shelf
I ordered this stamp case shelf to hold all the cases in one place. It is very sturdy and well made-- definitely worth the price! In fact as I started converted my wood stamps to cling stamps I realized a week later I would need another shelf case. Today I am ordering it. My husband painted the unit white to have it go with other furniture iin my craft room and it looks great. Thanks for making this quality item.
Mega Stamp Case Shelf
Love this Shelf. Works perfect for my Stampin'up stamp cases. Love how it hangs on the wall to save space.
stamp case
I love it
Mona L Ullrich
06 08 2020
Three shelf stamp storage unit.
Live the three shelf stamp storage.very sturdy and fits my stamp cases well.
Janice Rendon-McElroy
06 07 2020
Mega Stamp Case Shelf
This shelf hold lots and lots of stamp sets. I have been collecting Stampin' Up sets since 1989 and have been storing in boxes. The Mega Stamp Case Shelf has made a big difference for easy finding, organized themes. I loved it so much I have bought 2 so far, and can't wait to finish setting up my room with other products by Stamp-n-Storage.
Melanie Winter
05 19 2020
Sturdy, good price
Very happy with the time it took to get to my house. They are made very well and sturdy. You can paint them any color to match your room/space. I'm still trying to decide where to put them, but I'm very pleased.
stamp case shelf
Love these for all my stamps, they are just awesome!!
Mega Stamp Case Shelf
I bought 2 of these a few months ago, and they are so cute and useful, I bought another one!
Excellent craftsmanship
This is my second shelf of this kind. The craftsmanship is amazing! The dimensions are perfect for Stampin Up cases and magnetic "B" folders. I'm very thankful to have a company that puts such great thought into the needs of crafters!
mega stamp case shelf
bought this for our room at our city's senior citizen center. such a great item to keep stamps set organized and visible !
Stamp shelving
Love, love, love the shelf unit. Definitely need to order more. Great quality
Just perfect!
To say that I needed a bit of organization for my stamp sets is an understatement! Somehow I had managed to amass a lot of SU stamp folders (thanks to the fun meetings with my SU demonstrator) and my disorganized mess was driving me insane! I am one of those people who needs to see what I have or else it goes forgotten (more or less) and unused. This unit is perfect! I bought it along with the punch holder and my desk area finally looks so much better! This shelf unit looks lovely; it is simple and very well made. It was shipped beautifully...using recyclable paper. What a delight to unpack and be able to see what have all in one place! Yes! I will be back for more storage. Simply wonderful, perfect, storage options for craft supplies!
Roxanne Stevens
09 28 2019
What's not love?
M first wall mount shelf has arrived. The quality and craftmanship is top notched. Bit by bit I'm reorganizing my reduced crafting space. By wall mounting the shelves,(plural because I will be buying more), and ink pads holders, I free up desk space and keep them out of the reach of the grand kids.
Teena Foringer
08 30 2019
double storage shelve
Love the quality of the products I get from you. Everything in it's place. I can get 81 stamps sets in this. I paint everything white when I get it and it looks great. I already need another one.
Pauline J Dorman
08 23 2019
Stamp self with a back
I love these selves. I now have three and they allow me to see what I have and have them close at hand. They have made my stamping so much easier and quicker. I can see what I have and that helps my creativity. Thank you for making such great products to help us stamper stay organized.
Patricia Daywitt
08 22 2019
Double stamp shelf with back
I love it! It fits well with my two existing 60-stamp cases. I like the flexibility of the shelves. Right now, I have stamp cases on the top 2 shelves. On the bottom shelf, I have stamp cleaning items and miscellaneous tools. Your products are the best!
Best storage for stamp sets
I have two of these shelves to house my stamp sets.. I didn't get a back on the first one, and wish I had. The workmanship and quality are excellent, and it's perfect storage for stamp sets. It sits on a cabinet and everything is right there were you can see it.
double stamp shelf
This is my fourth double stamp shelf purchase and they are terrific. I'm always amazed at the precision of manufacturing these shelves.
Sheila Hendrix
08 10 2019
Double Stamp Case Shelf
This product is just the right size for storing SU Stamp cases and provides easy assess to use when one is ready. It helps organize ones work area. Great for the stamper.
Dorothy Everett
07 30 2019
Double Shelf
I am totally impressed with this product ... couldn't ask for anything better! In fact, I've already ordered and received a 2nd one, and plan to order another. This shelf is PERFECT for my SU stamp sets, shipping was fast and VERY reasonable. As soon as my craft space is rearranged, I will probably order the punch shelf, too!
Excellent product
This is my 9th shelf. I love that everything I need fits on them, I have 8 that hang on the wall for my stamps and dies, along with some supplies that fit in stamp cases. Love all their products. Have my desk outfitted with ink and punch holders as well
Stamp set storage.
Love the storage for my stamp sets. At some point I might paint it all white. If you have suggestions that would be appreciated.
J-Curtis Thomas
06 17 2019
You people are wonderful!
This is my third double stamp case shelf. As usual, it is perfect. You guys really know what you are doing, and you've really helped me organize my studio. I still need some of your products, so I'LL BE BACK! Thank you, J-Curtis Thomas
Shelf unit
I purchased a 3 shelf unit for my stampin up stamps. It fits 75 single stamp folders. Doubles fit as well. It does not take up much room and I can see what I have at a glance. Love it.
Stamp storage shelves
These shelves are amazing I have purchased 2 of them for my Stampin up stamps and dies and they look so much neater in these storage units. They are well made and I love them!
LaRue D. Baxley
05 31 2019
Stamp shelf
Very satisfied planning to order 2 more
Double stamp case shelf was a must have!
This case was just what I needed. I've been searching for an easy way to see my collection of stamps without having to dig through the every time. I just wish I'd found this sooner. The quality of the shelf is superior to anything I've found locally. Thank you!
Double Stamp Case Shelf
I purchased this shelf as I needed just a small additional shelf for my stamp sets. Fits perfectly on top of the stamp case behind my door. Love it!
Wonderful product
I have several Stamp-N-Storage products and love them all! The stamp shelf was the most recent addition to my craft space. It's well made and holds 81 dvd-type stamp cases.
Double Stamp Case Shelf
I love these shelves! Their best qualities are sturdiness and mobility. I started with one for my crafting space beside the pad/reinker, punch and ribbon combination. Overtime I find that my needs change as my crafting evolves. Therefore, my storage items are constantly changed to accommodate the products that are kept close to hand. Mobility and sturdiness are qualities that never change and can be counted upon!
Barbara Holicky
12 06 2018
Double Stamp case shelf
First off, I love the quality of all the products I have purchased from you! This is awesome, I was amazed at the number of sets that it holds! Highly recommend it! As always, delivery is fast and packaging is awesome!
Double Stamp case shelf
I love my new shelf so much that I need another one.
Carolyn Buckeridge
10 24 2018
Double Stamp Case Shelf
Nice looking, smooth shelves. Holds a lot of cases. All the products I have purchased from this company are well made. Will definitely buy from them again.
Stefanie Walker
10 23 2018
Double stamp case shelf
I have 3 now,and they are terrific! Perfect size for my shop
Barbara weaver
10 17 2018
Stamp storage shelf
Love it. Holds so many stamp sets and works great.
Double Stamp case Shelf
I can see and find what I have when I need it!!!
Ruby Lynn Stone
10 17 2018
Paper Holders both 8 1/2 x 11 & 12 x 12
I so love the ease of getting to my paper, and keeping it protected from too much light!
Great Craftsmanship
The cabinet came wrapped very well, the wood smell is fantastic. The wood is smooth, and quality craftsmanship A great transaction, I will order from you again. Thank you kindly.
Double Stamp Case with back
I love these shelves! I bought 3 in the beginning and needed another for all the stamps that I have!
Nancy Reynolds
09 04 2018
Stamp Case Shelf
I ordered the Wall Mount stamp shelf, it is wonderful, all my stamps fit and my husband appreciated how easy it was to install.
Pauline Dorman
08 24 2018
Double Stamp Case shelf with a back
I had to order two to store all of my stamp cases. We just moved into an apartment coming from a large home where I could store my stamps on book shelves. Here in the apartment, with little room, I needed a much more economical system. These cases are amazing and I have all my stamps together and very handy. The cases themselves are so well constructed and look good without any stain or paint. So pleased with my purchase.
3 tier stamp shelf
WOW! Well made, light and holds a lot of stamps. I am going to order more for sure. Can't think of a better way to store your Stampin' Up Stamps!!!!
3 Shelf
I love this product cause you can use it either direction. It holds all your stamp sets in one place.
Rubber Stamp Display
This is the best solution to displaying rubber stamp cases without the clutter or cascading
Double Stamp Shelf w/back
I now have 4 of these in total in my Igloo. I have 4 (2 horizontal and 1 vertical) to hold my stamps that I either use A LOT or by theme (birthday) and current. I have devoted one just for my penguin display. These are made really well and aren't very heavy. And they will hold A LOT of stamp sets!
Additional Info
Additional Info
Weight:

1.50 LBS
Shipping:

Calculated at Checkout
Dimensions:

Refer to images for dimensions.
Videos