Our November Studio Showcase winner, Debbie, did a lot of daydreaming about an organized and efficient craft room. Little did she know her husband (now retired) was also daydreaming about a music room/recording studio. Together, they decided to transform their basement into two dedicated hobby spaces.
Since Debbie was using the entire basement as her craft space, she had to come up with a plan that would incorporate all her crafting needs into a much smaller space. When creating the new studio design, Debbie based her decisions on several things…
A space for her husband's music hobby
The ability to have workshops in her home
Becoming more organized
Displaying colorful items in plain sight to get the creative process flowing
With a new plan to remodel the basement into two dedicated spaces, Debbie and her husband made a visit to Minnesota to visit Stamp-n-Storage's retail store, Craft-n-Store.
"After seeing pictures online of Stamp-n-Storage products, I knew I needed to see everything in person to really get a feel for what would work in my space. The visit also helped my husband envision the space with me. Once that first visit took place, the serious planning began...poring over the pictures I took, reading measurements, drawing, and re-drawing on graph paper. It was a fun project."
With a lot of hard work (mostly by Debbie's husband since she works full-time), Debbie's space started to take shape. The process included installing a new ceiling, drywall, flooring, additional electrical outlets, lots of paint, and a few trips to Goodwill to drop off unneeded items. Debbie decided to utilize IKEA Kallax units combined with Stamp-n-Storage to maximize her studio's space.
As Debbie started to organize her space, she kept thinking that all the supplies she acquired over her 23 years of scrapbooking and 20 years selling Creative Memories would not fit into her smaller space.She became overwhelmed with the process, thinking she would have to purge too much or stuff supplies elsewhere. However, as time went on, she realized how using storage solutions that maximized the space can make such a huge difference for storing supplies.
"Whenever I felt overwhelmed, I would try to do one thing that would show some progress, like filling a paper holder or border maker holder or making labels. Then I would look at the drawn-up plans and remind myself that things would fit because we planned well."
Once Debbie got going and thought through how to organize her space, everything started to fall into place. Debbie made another trip to Minnesota, this time to take advantage of Stamp-n-Storage's Annual Warehouse Sale in September. She checked in early that Friday morning with her list in hand, and had a fun day shopping. Then she spent the weekend putting her plan in action and completing her craft room.
On one wall Debbie used the IKEA Kallax 5x5 unit as her "Storefront" filled with products from Creative Memories and 26 completed scrapbook albums. She organized her paper in the 12x12 Paper Holder for IKEA® and 8.5x11 Max for IKEA®. She uses the 2x2 Drawer Cabinet for organizing her embossing folders and stencils, and Drawer Cabinet with five Double Drawers for Cricut® and Creative Memories supplies.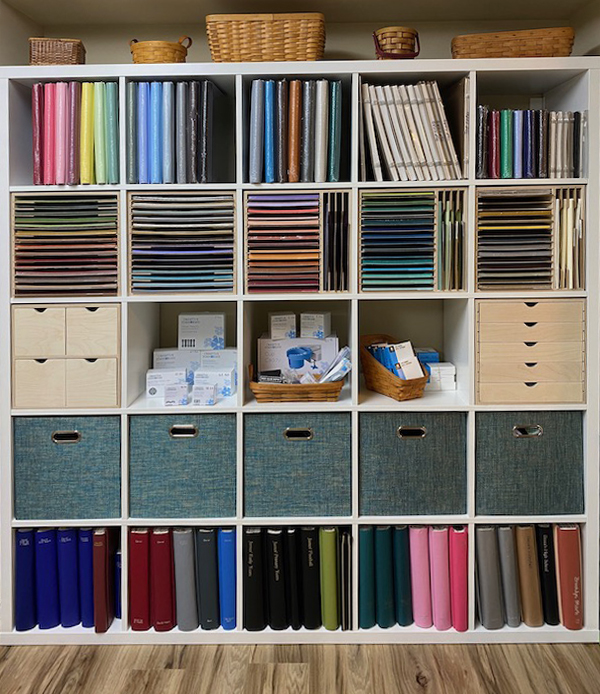 Debbie's desk (made with bases cut from two 6-1/2' bookcases) is where she makes her cards and does office work like paperwork and taxes. Her stamps are nearby in the Mega Stamp Case Shelf wall-mounted to utilize her wall space. Also near her desk she adhered a Magnet Sheet to a cabinet to keep her dies visible and easy to access.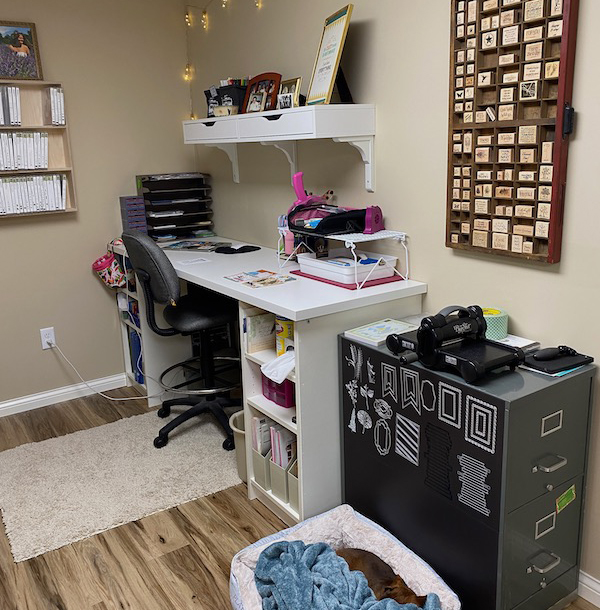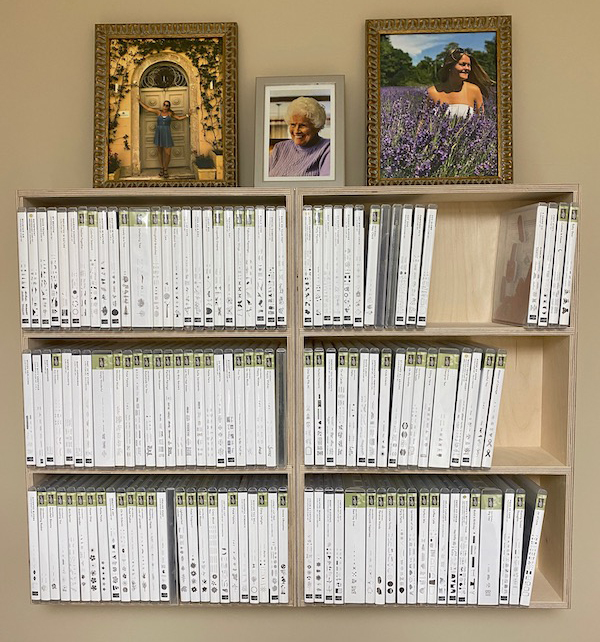 From her desk, Debbie can swivel around to face the second IKEA Kallax 3x4 unit with all of her stamping supplies that are easy to reach. This includes additional stamp sets in her Mega Stamp Case Shelf and Stamp Case Drawer Cabinet for IKEA®, markers in the Marker Holder for Stampin Blends, and paper in the 6x6 Paper Holder for IKEA®. She has a Drawer Cabinet (3 Triple / 1 Single Drawer) that organizes additional markers in the Tool Accessory Tray, refill bottles in the Grid Storage System 1", stamp blocks and miscellaneous tools.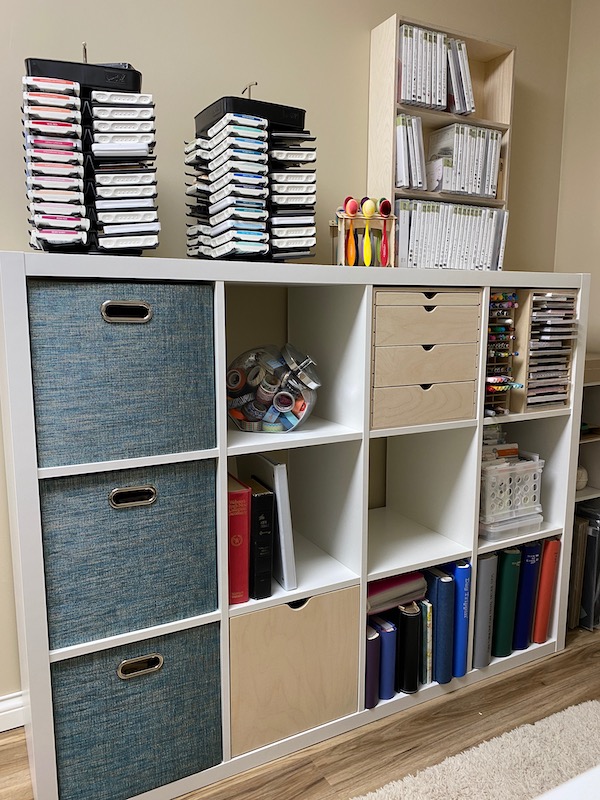 A second area allows her to display prizes, idea boards, and cards for sale. Debbie and her husband had a lot of fun thinking of ways to up-cycle and reuse her old craft room furniture. One of their projects was reusing rough shelving for storage under tabletops and hiding it with curtains for easy access.
Behind one of the curtained areas is her stash of papers organized by color in ArtBin satchels. Debbie uses one for whole sheets and one to store the same color scraps.
Debbie designed a dedicated area as her cutting station. Here she stores all her paper trimmers, punches, templates, and CM Border Maker Cartridges in the Border Maker Punch Holder.
After going through the process, Debbie's tips for fellow crafters would be to have your papers organized by color family and items displayed that call out "pick me, pick me!" For Debbie, this included cardstock, blending brushes, ink pads, punches, and favorite dies. She would also recommend tucking away the utility items like stamp blocks, tape runners/dispensers, and tools. Lastly Debbie says "label everything, and clean up after major projects. There's nothing like coming downstairs to my beautiful craft room with wide-open surfaces to start all over again on a new project!"

Oh, and if you wonder how her husband's music room turned out, here is a peak!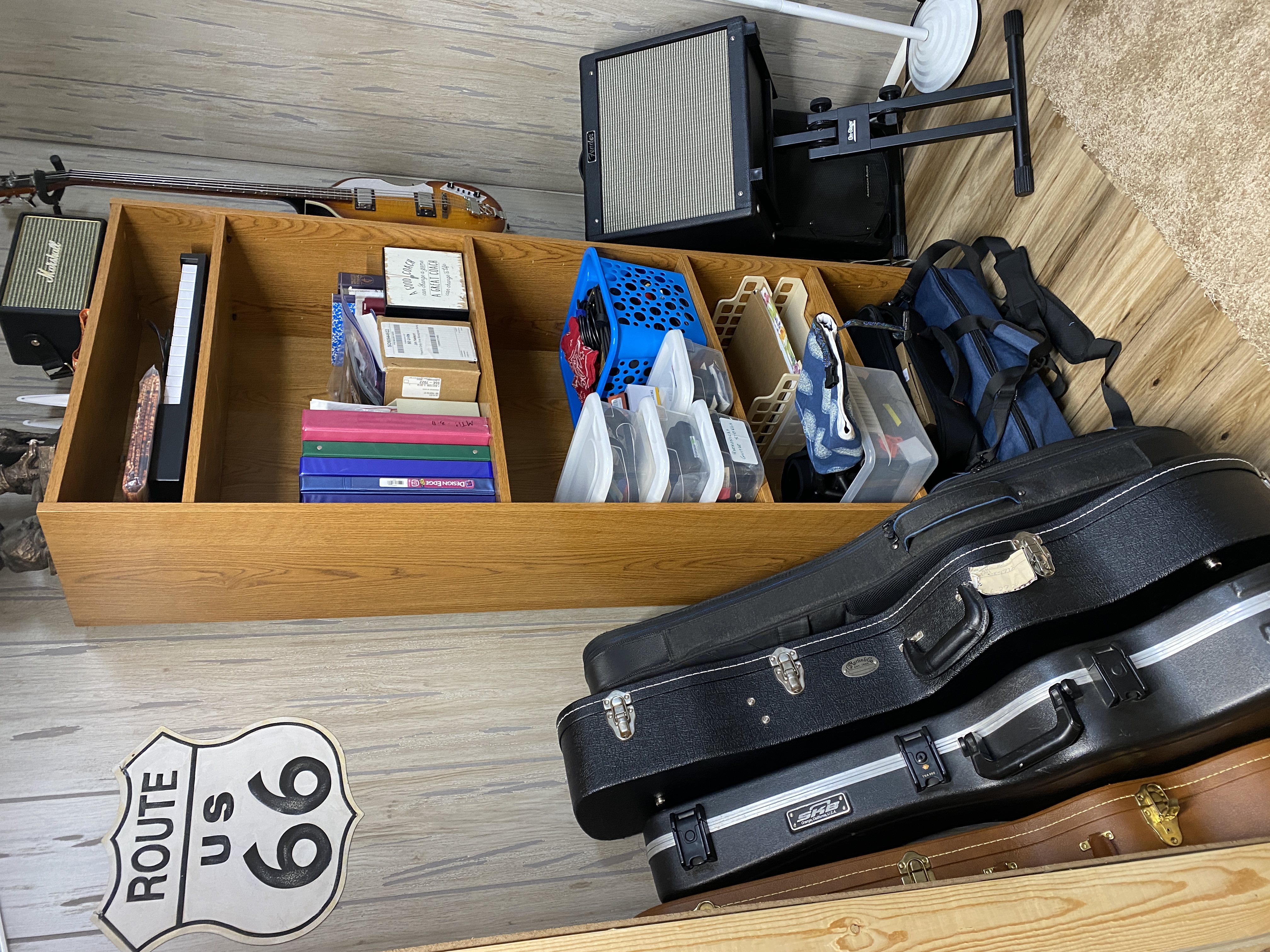 Thank you, Debbie, for sharing your organized craft studio. If you would like to be our next Studio Showcase winner and have the chance to receive $75 in-store credit, here are a few hints: clean up your space, snap some photos (4 or more) from a few different angles, and include some comments about what you love about your area and your Stamp-n-Storage products. Then, you will be entered into our monthly drawing. Email your entry to: contact@stampnstorage.com.