July Studio Showcase Winner - MaryKate M
Our July Studio Showcase winner is MaryKate M! She has a very organized setup that doubles as a crafting space and a computer area. Fun fact: One of our favorite things about her room is that the color of the wall is really close to the blue of our company's branding colors!
Do you want to be our next Studio Showcase winner and receive $75? Here's a few hints: clean up your space, snap some photos from a few different angles, and include some comments about what you love about your area. Then you will be entered into our monthly drawing. Email your entry to contact@stampnstorage.com.
Below, the personal touches of the bright yellow, magnetic photo board, as well as the monkey coffee cup add so much character to this well-designed studio. We think it's important to incorporate some of your favorite knick-knacks into your craft room. They tend to help generate some crafty inspiration!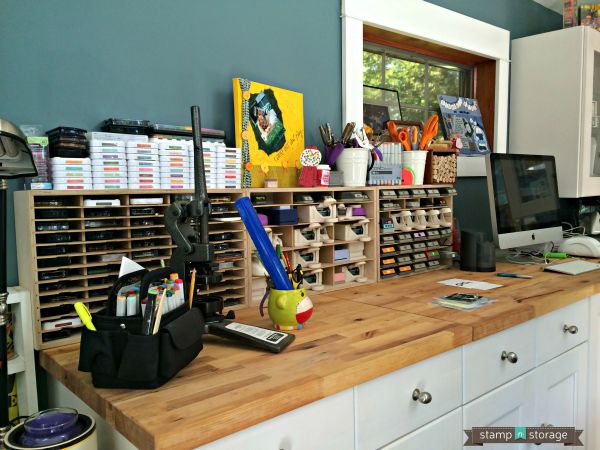 Above, we see the 60 Standard Ink Pad Holder on the left, then Large Whale-Tail Punch Holder, and the Standard Lock-Down Punch Holder. All of her Stamp-n-Storage products are conveniently placed next to each other and are within an arms reach while she crafts at her counter top.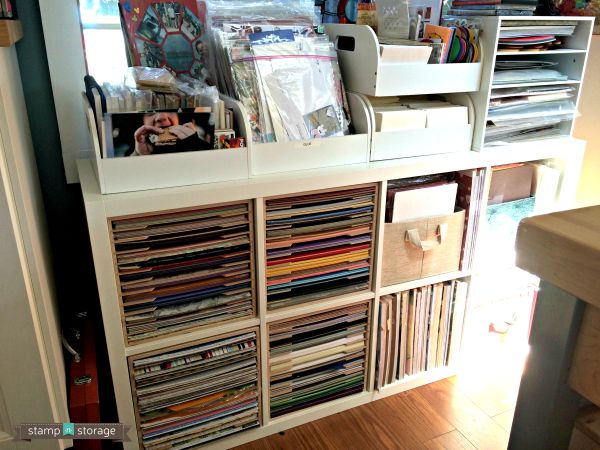 MaryKate has a wonderful set up for storing her paper in her four IKEA® sized Paper Holders. These perfectly fit inside of the IKEA® Kallax system.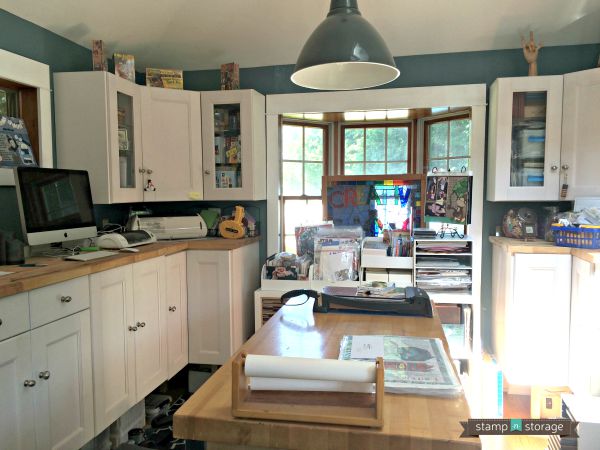 There's some great natural lighting coming from the windows. We love the stained glass decor that says Create on it.
Located right in the heart of the room is an island counter. Here, MaryKate has easy access to her paper cutting tools. The light above the island illuminates her working space. Having different types of lighting is a must-have for all craft rooms!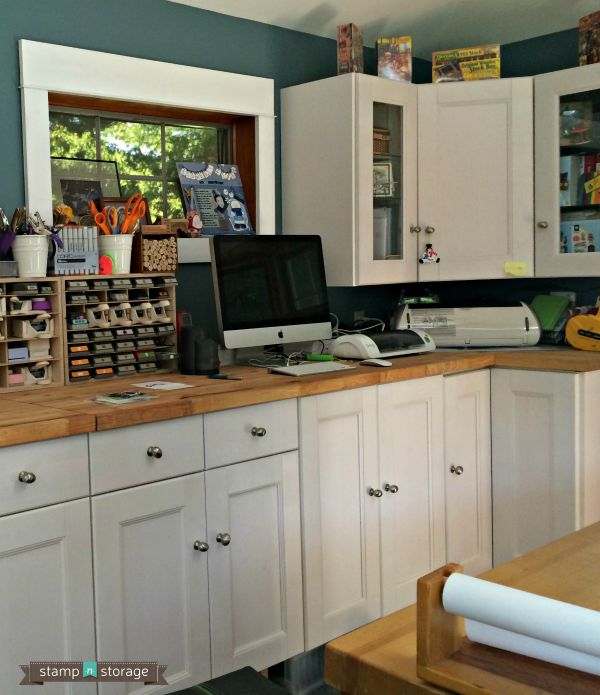 This part of the studio doubles as a computer area. The white cupboards in this craft room add a sophisticated charm to this room. We really like the glass door cupboards where she has some of her crafts displayed through the the window.
Thanks, MaryKate for your great submission for our July Studio Showcase contest. Your room is spacious and spectacular. We hope that you get to spend lots of time in this gorgeous crafting space.