July Studio Showcase Winner: Lynne
Our July Studio Showcase was designed in phases and evolved over time. The original space was part of a guest bedroom and involved two folding card tables. Lynne would add organizational solutions as she could from Stamp-n-Storage. It wasn't until she became an empty nester that she decided to turn her crafty 12x14 guest bedroom into a dedicated craft space.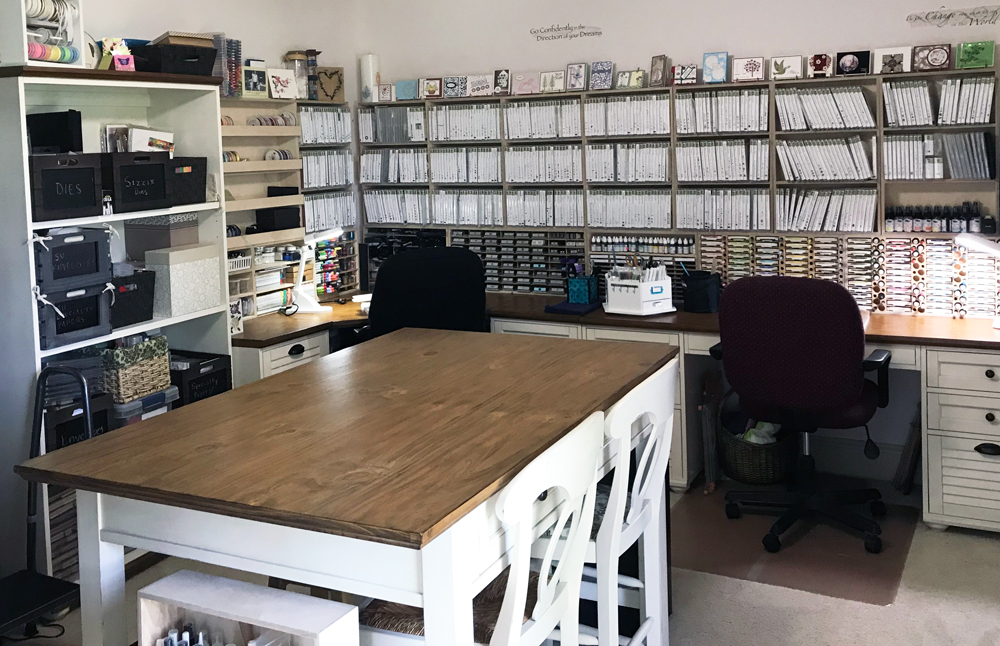 "Dream large when you are planning your space! You don't have to get it all at once. Decide early on whether you want the Stamp-n-Storage products for IKEA or the standard. Measure your space so you know what will fit, and what is most important for you to have within arm's reach. Think about what you want visible and easy to access quickly," Lynn says. She began transforming her space and replaced her folding tables with new furniture from Pottery Barn. She chose the Whitney collection, which allows you to pick the drawer configurations. Lynne has been adding Stamp-n-Storage products over the years and had a solid collection to stack on her desk. One of the first things you'll notice in Lynne's space is her incredible collection of Stampin' Up! stamp sets. She stores 75 stamp cases in each Double Stamp Case Shelf, and she has 8 shelves total across her desk. One and a half Double Stamp Case Shelves hold her holiday stamp sets which are mostly Christmas, "I am somewhat of Christmas freak," she says. The rest are sorted in alphabetical order.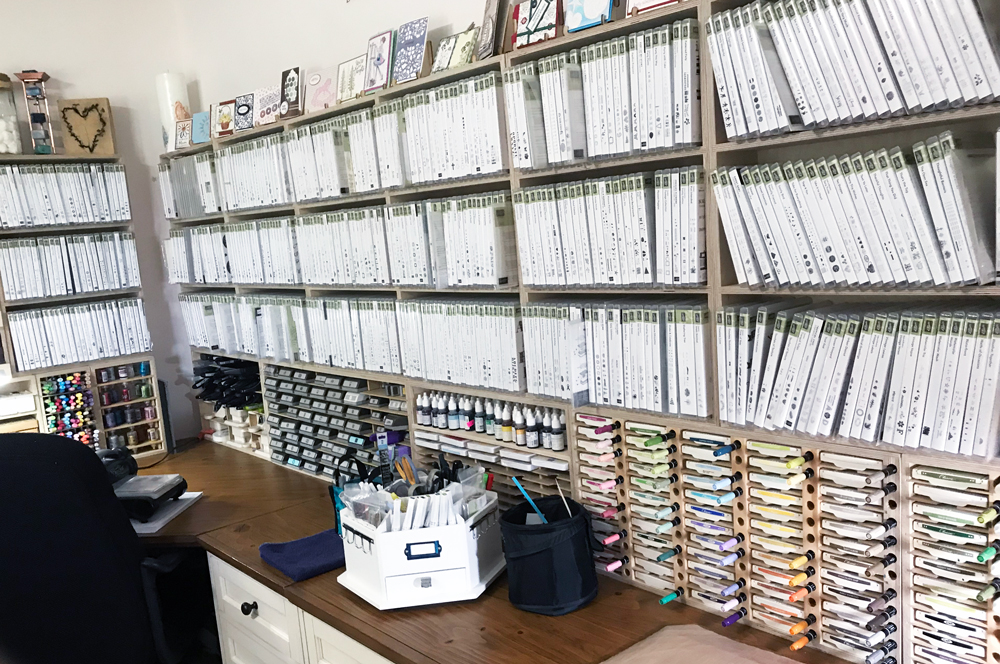 Underneath the Double Stamp Case Shelves, Lynne keeps her most used products within hands reach. She first added the Ink Pad and Marker Holder, and then the Combo Holder. The Combo Holder is one of Lynne's favorite products. "One of the best purchases I ever made was the Combo Holder for my ink pads, markers and refill bottles. I love these products and being able to see all the colors available as I create makes life so much easier," she says. When the new Stampin' Up! ink pads were released, Lynne added the Stampin' Ink Pad Holder for Color Families. She uses the top shelf to store her refill bottles.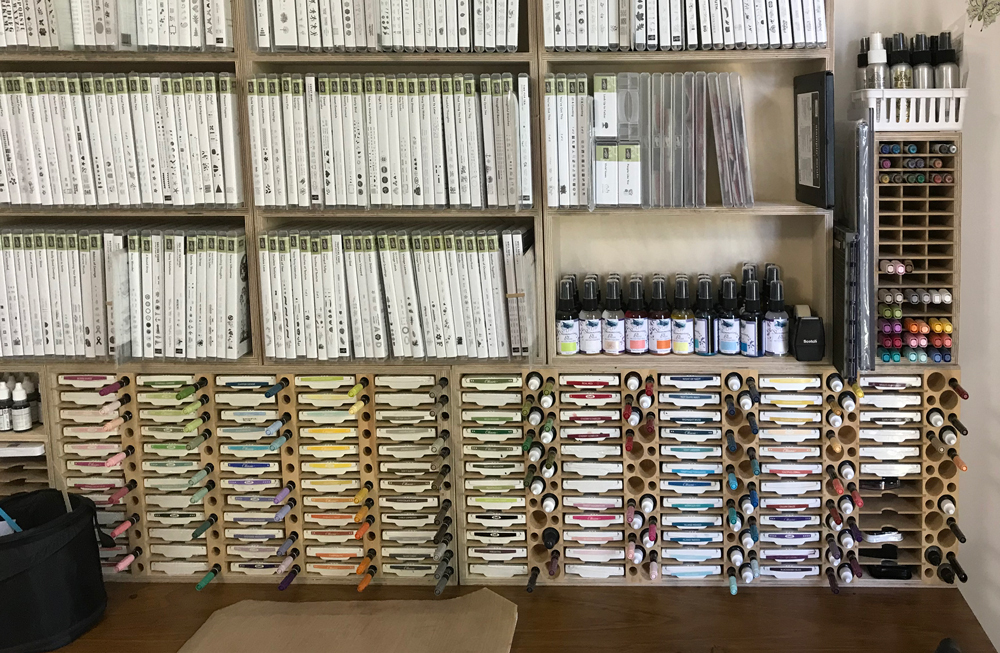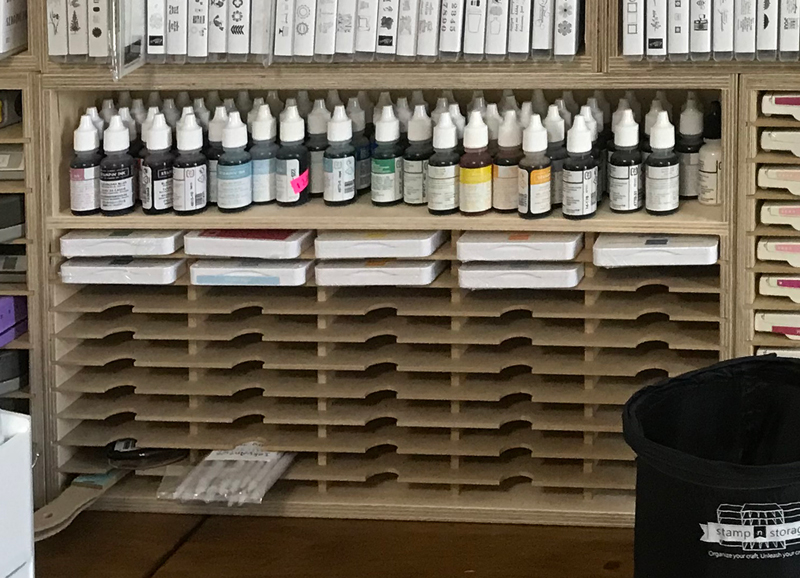 Further down the desk you'll find punches in the Lock-Down Punch Holder and Whale-Tail Punch Holder. To the side she has her Stacked Marker Holder, Stickles Desk, Ribbon Shelf and two Standard Storage Shelves. "My set-up works exceptionally well for the way I work despite the amount of SU products in my space. I have been thrilled with Stamp-n-Storage products from the first pieces I purchased and have enjoyed how easy it was to get organized," Lynne Says.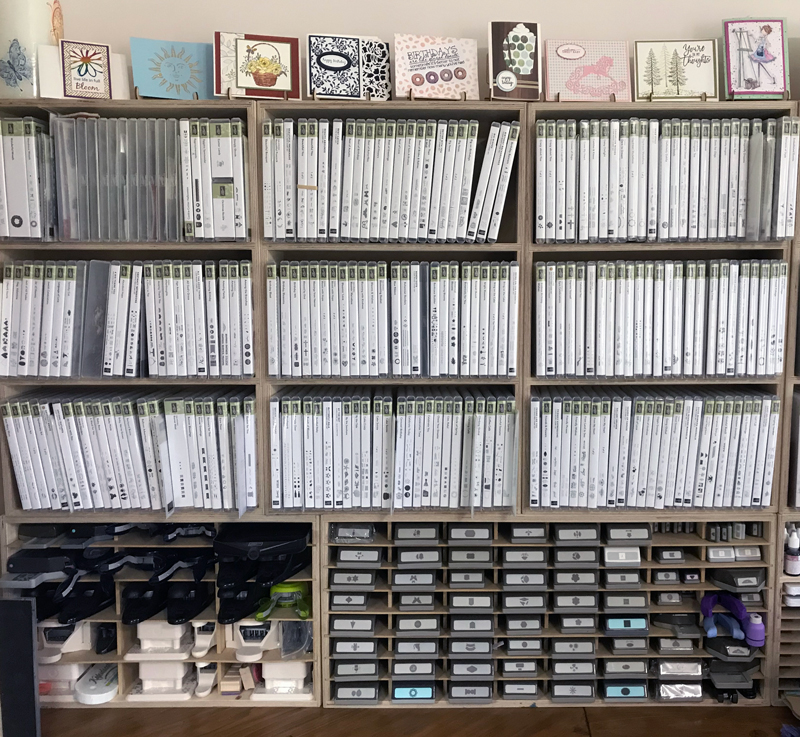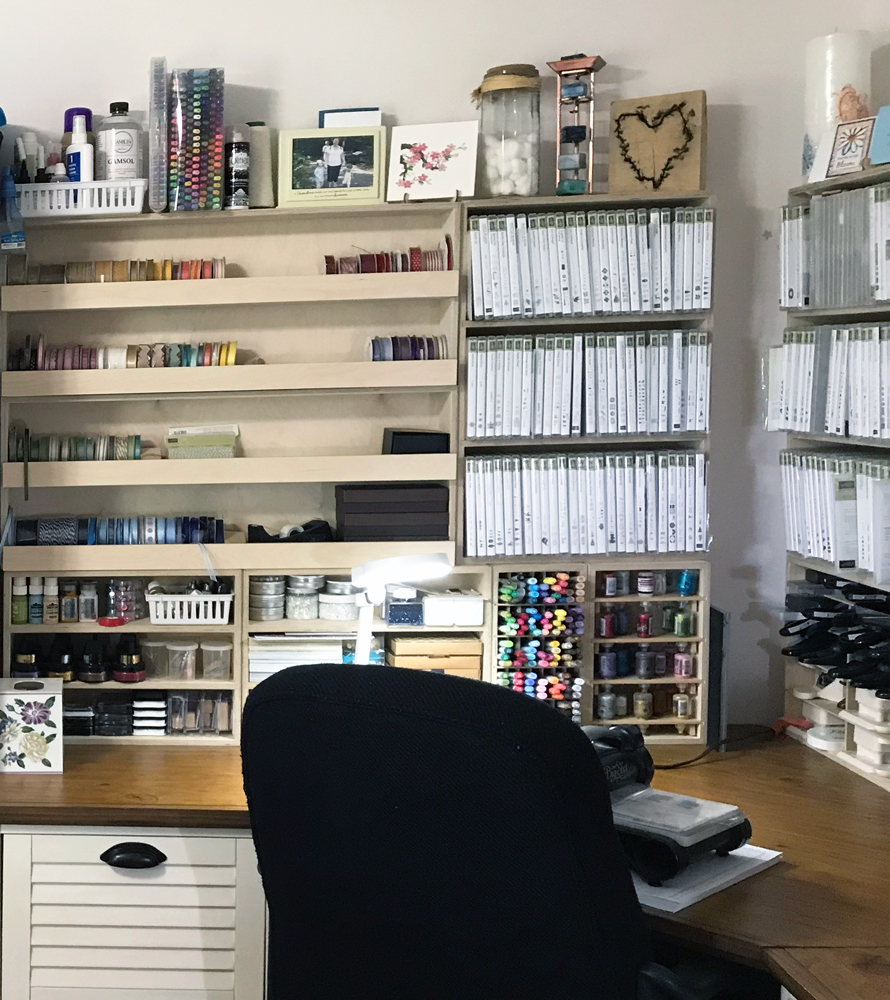 In a closet Lynne keeps her 12x12 Three-Tier Paper Holders, 8.5x11 Paper Holders and Drawer Cabinets. In the drawers she uses the Accessory Trays for embellishments, tools, gel plates, and to store her go-to stamps. She also stores pre-cut die cuts and card sets that haven't been assembled. On the top she stores her dies on Magnet Cards in Wafer Die Totes with a cover. "The Magnet Cards have the best hold for dies," she says.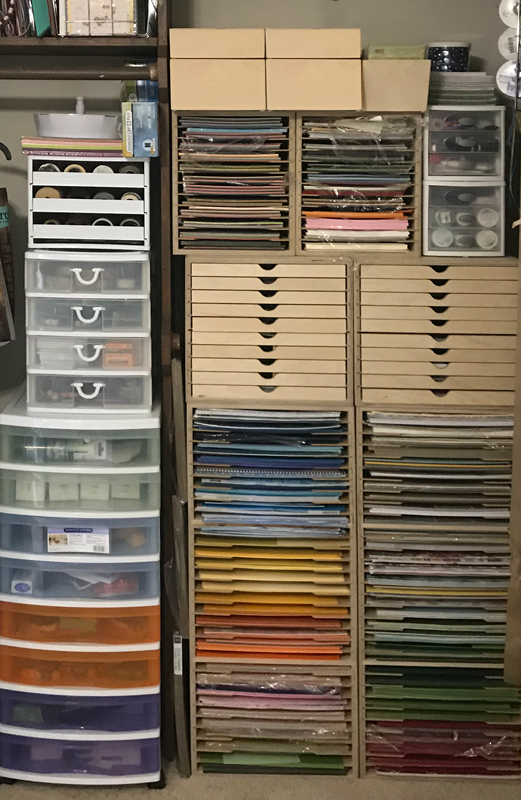 When you close the closet doors, you'll see a mix of cards. These are the cards Lynne wants to remember how to recreate. "They make me happy and also give me ideas for future cards," Lynn says. She displays her favorite on top of Stamp-n-Storage products using the Card Holders.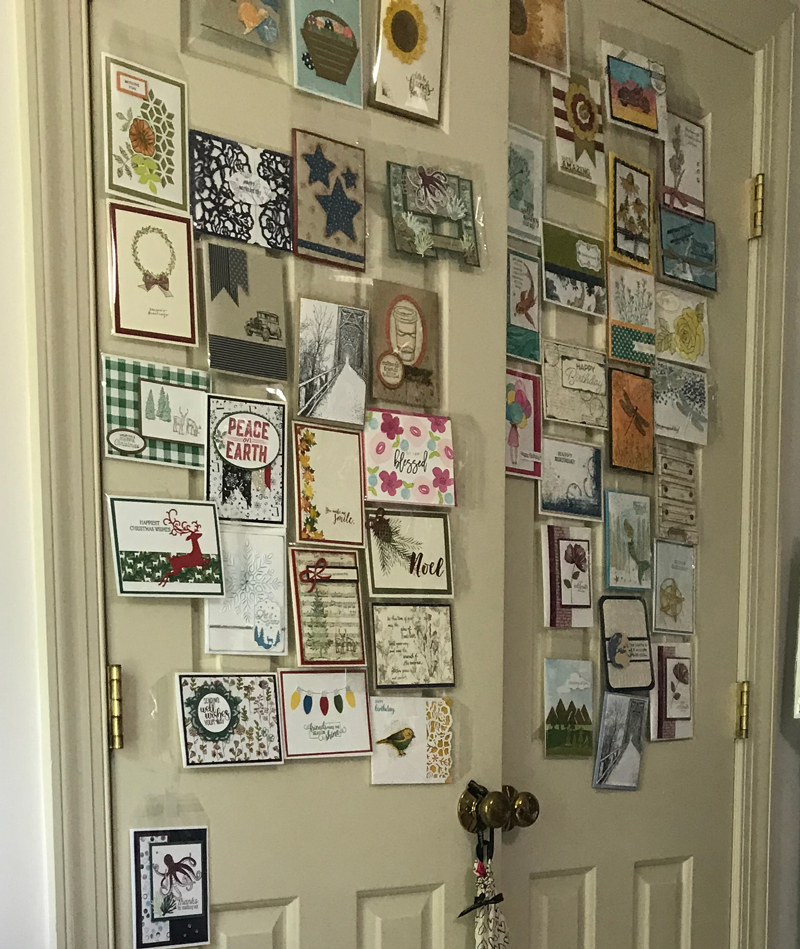 We mentioned Lynne has nearly two Double Stamp Case Shelves full of holiday stamp sets...well paper is no different. Lynne keeps her holiday paper filed in two 12x12 Paper Crates on a Paper Crate Rolling Base.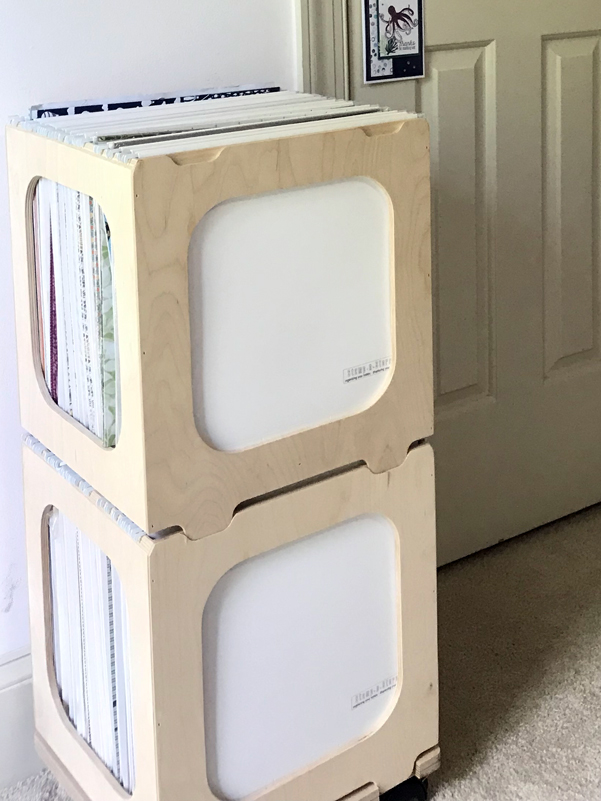 When Lynne was chosen as our Studio Showcase winner, we asked her what her favorite thing was about Stamp-n-Storage products. Her answer made us all smile because it aligns perfect with our mission to unleash creativity!
"I can't tell you how much I love your products! As I gathered more and more items with which to create, I realized how much searching cut into my creative time. I still work full time as a nurse and my time is limited. With Stamp-n-Storage to keep me organized, I can get lost in my craft rather than in hours of trying to find something that you know you have, but haven't a clue where you put it!"