From Crafting Mess to Hello Guest in 5 Minutes!
If you craft in a guest bedroom, you understand the challenges of keeping the space ready for your guest. Our latest Studio Showcase winner, Kristy, has mastered going from a crafting mess to hello guest in 5 minutes! Let's get to know Kristy and learn how she created a space that serves as a guest bedroom, office, and craft studio all in one!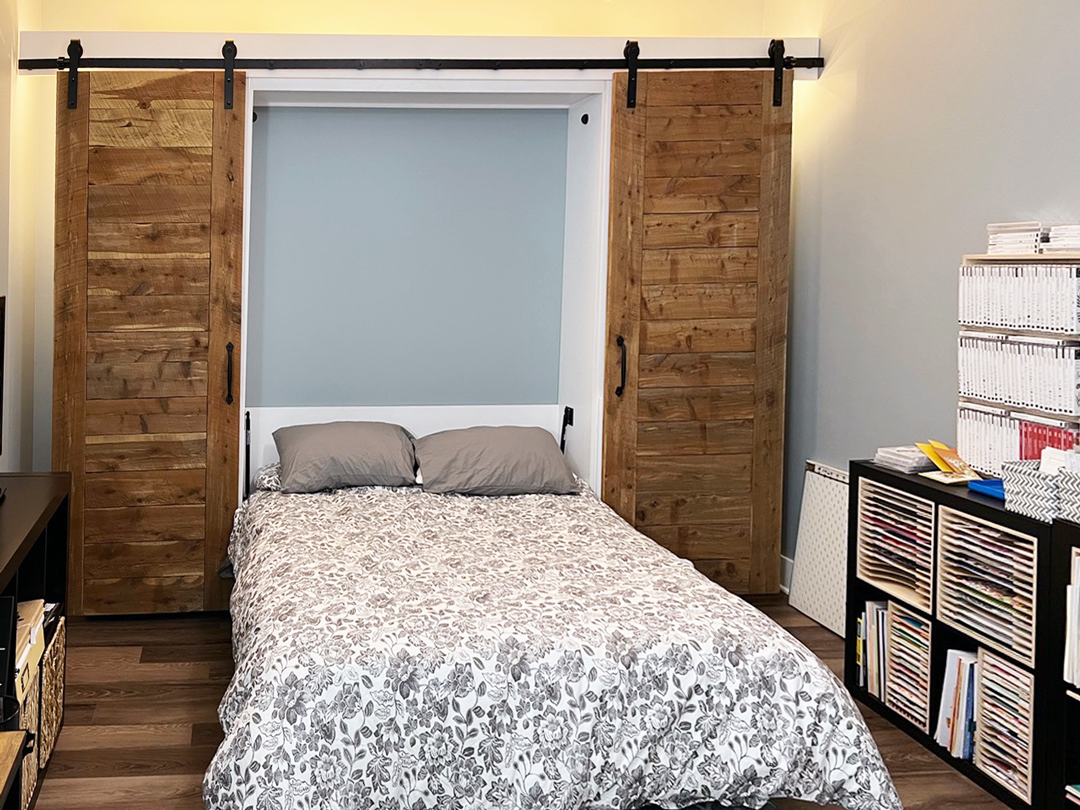 Let's meet Kristy!
SnS: Kristy, tell us about your crafting background.
Kristy: I've always loved crafts, and when I was younger, I learned to crochet and did a little latch-hooking. I also loved origami and had an affinity for stickers, paper, and pretty pens. In my early 20s, when I was in graduate school, I began scrapbooking, which was the start of my love affair with paper crafting. From 2005 through today, I balance my free time between stamping and scrapbooking, as I enjoy making greeting cards and working on my two daughter's scrapbooks. Fun Fact - I have my entire life scrapbooked, and since having children in 2009, I've been focused on capturing their memories and working on their scrapbooks. I usually run about 3 to 4 years behind with their books, but I've decided there is no such thing as being caught up, as we are constantly making new memories!
BCO: Tell us about the process of creating your space.
Kristy: Through much of 2020 and 2021, this space was a dedicated guest bedroom that was forced to pose as an office and craft space on the side. Because my work desk and crafting goodness were forced to play second fiddle to the guest bed and associated furniture, I knew we had to find a better solution. As we custom-built our home seven years ago, we were not looking to find another home. Plus, I do not need more space that has to be cleaned! There were not many other options in our home, as I did not have extra bedrooms just lying around, and I did not want our open basement space to be my crafting zone. I knew I needed to get creative…
As an avid Marie Kondo'er, I decided it was time to thank the bedroom furniture, hug it and send it on its way, but I was not quite sure how to create a space that could play three purposes - guest room, office, and craft space. I really wanted to selfishly say it was only going to be craft space, but a girl has to work, and we still hosted guests often enough that I knew there had to be a way to make it work…without being clunky. I spent time on Pinterest and connected with a local woodworker to share my vision for the space, and the idea of a Murphy bed was perfect!
Tim of Urban Mill Woodworking was fantastic, as I shared pins and described my vision for this space (and two other spaces he helped us define). We FaceTimed and shared multiple e-mail exchanges that affirmed Tim was the right artist for the job. We had to wait patiently, as Tim was also quite popular, but was the wait worth it!! He created the most beautiful Murphy bed and shelving unit that matched our style and fit our space perfectly! I was able to repurpose my IKEA shelving units (with my Stamp-n-Storage units), and I added a Ruggable, decorations, and an IKEA foldable craft desk. The space can truly go from mess to guests in 5 minutes. It's beautiful and functional! My only regret was not doing this seven years ago.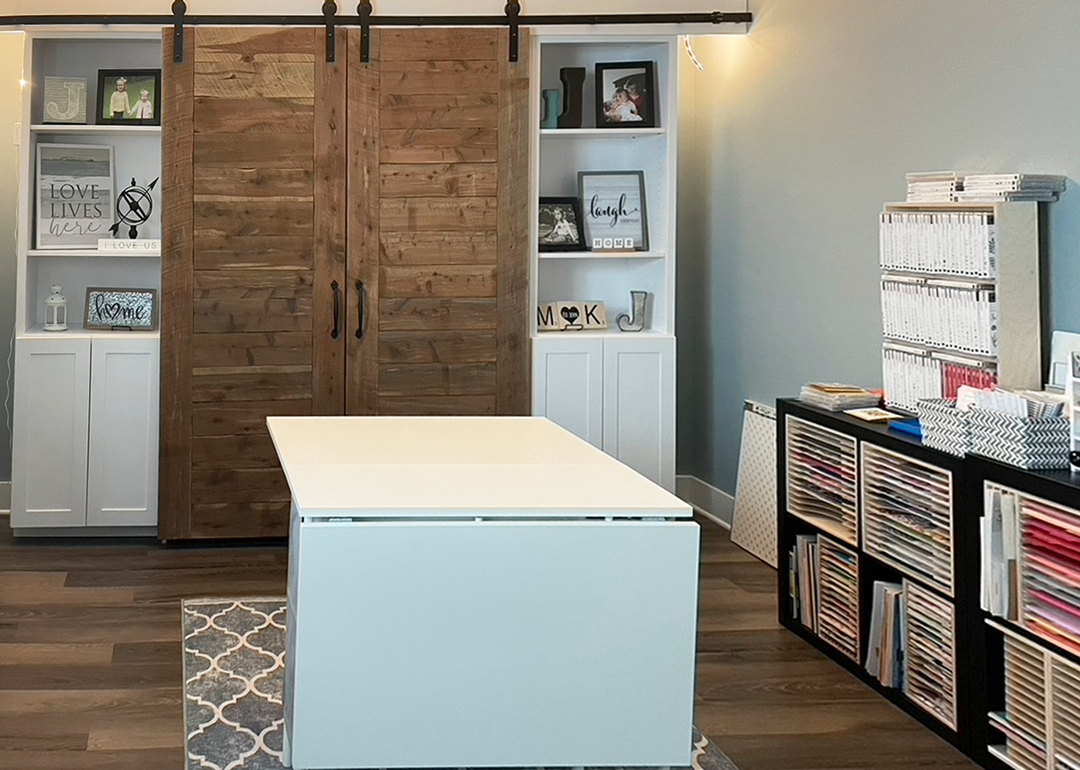 SnS: Tell us more about the fold-down table.
Kristy: The fold-down table came from IKEA! It is super easy to fold down, and one person can do so. It's also easy to store, and I find it very sturdy when working on it.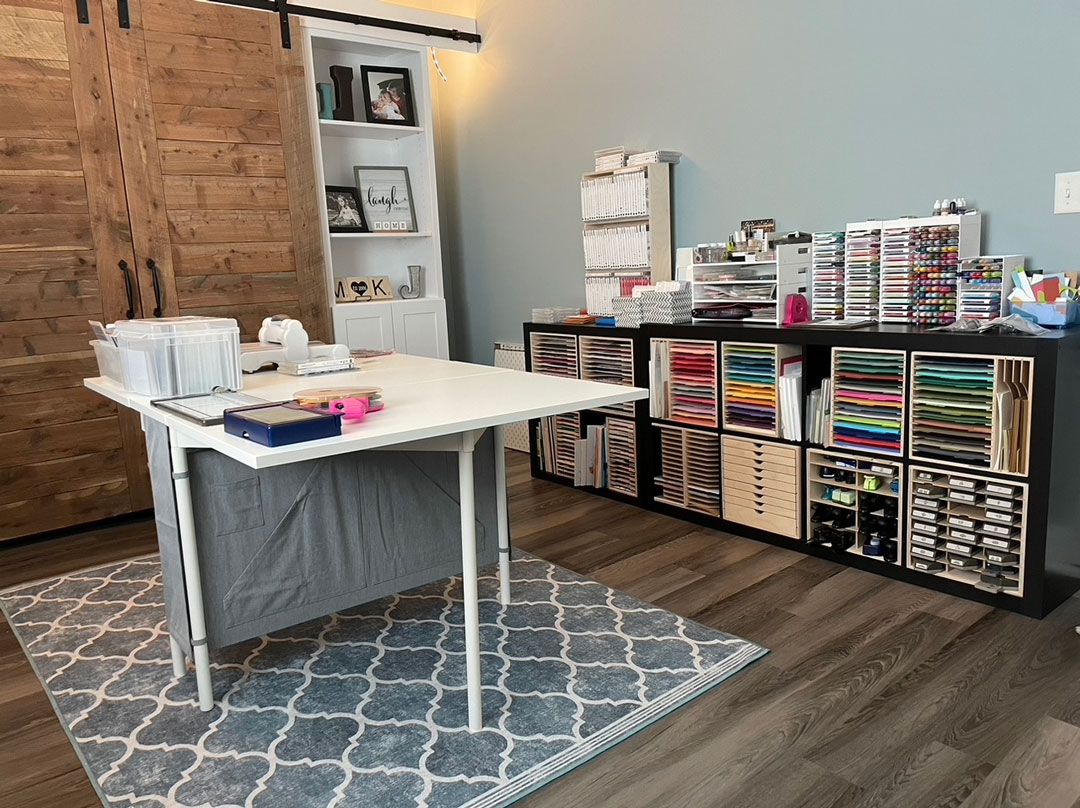 SnS: What are the dimensions of the room?
Kristy: The room is 12'4" x 15'11", and it has two closets opposite the Murphy bed.
SnS: How do you organize your paper?
Kristy: With Stamp-n-Storage Paper Holders for IKEA, of course! I have a few different styles, and I like the flexibility of accommodating different sizes (12x12, 8.5x11, 8.5x11 Max for IKEA, and 6x6 & 6x6 Double).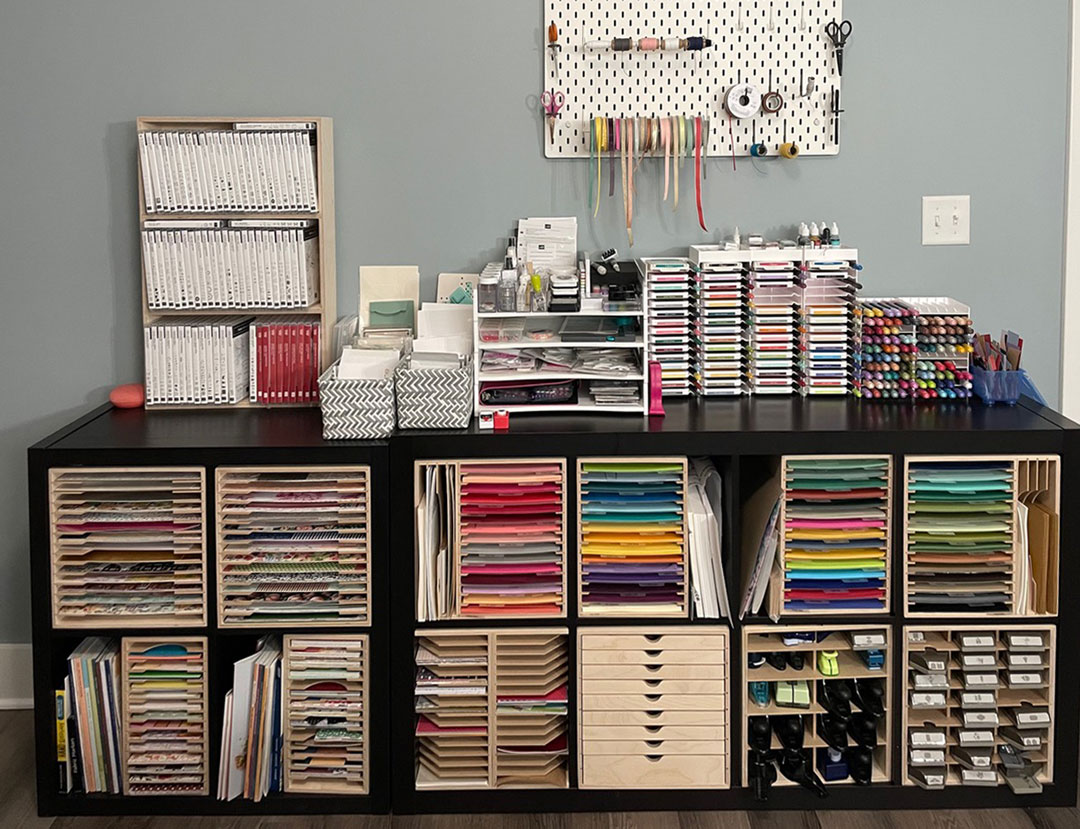 Also shown: Whale Tail Punch Holder and Lock-Down Punch Holder
SnS: What is inside your Stamp-n-Storage Drawer Cabinet?
Kirsty: In the bottom drawer of my Drawer Cabinet I have Queen & Company bling in a 15 Compartment Deep Tray, and other drawers I keep wood-mounted stamps in the 30 Embellishment Trays. I love the drawers, but I do find that having items tucked away is not as ideal as having them visually accessible, as I tend to use things that are out in the open and forget about items tucked away.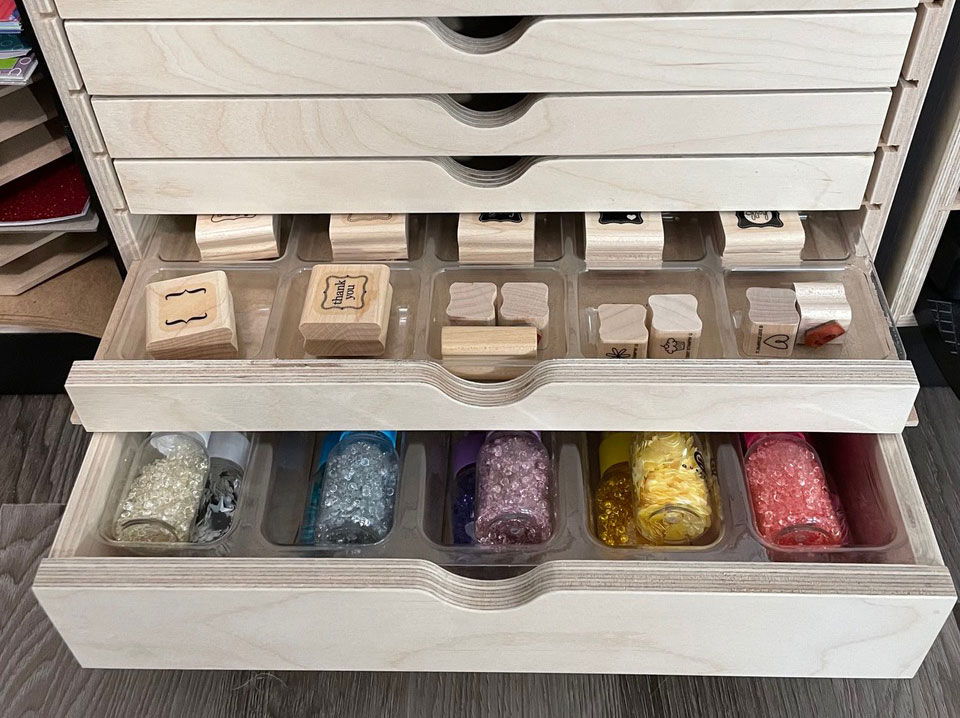 SnS: How do you organize your stamp cases?
Kristy: The Mega Stamp Case Shelf with a back! It's about time to get another one, as this one just reached capacity. I have the shelf sitting on my Ikea Kallax shelf with my other paper crafting supplies.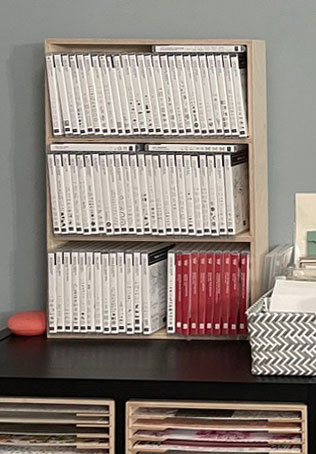 SnS: Do you have storage on the other side of the room?
I have another Kallax storage shelf with a TV and a Scan-n-cut machine on top of it. I have some storage baskets for other craft projects I do with my kids - rock painting, beads, vinyl storage, a file box of printed photos, my heat press, etc. I also have my work desk, where I work from 3-4 days per week.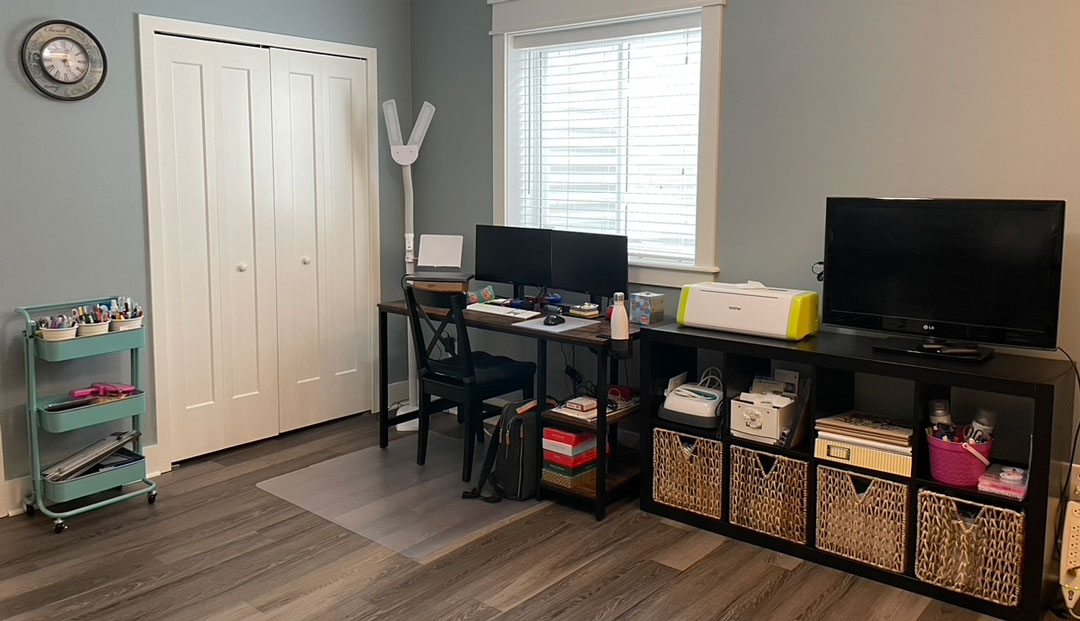 SnS: How has being organized helped you unleash your creativity?
Kristy: I love having all of my supplies readily available and within easy reach. In the past, I had a desk that was a partial workspace and storage and never had enough room to craft. I was always looking for items and never had a set-up that met my needs. This solution allows me to have a dedicated work surface and have all my supplies on display.
SnS: What tips would you share with other crafters looking to organize their space?
Kristy:
Take the time to find storage solutions you love and make the investment. Over the years, I tried different solutions, and none worked well for me. I regret not taking the time to design an ideal space and investing in getting what I wanted from the start. I'd be money ahead had I taken this approach.
Even if you cannot dedicate a large space to crafting, find a way to dedicate some space to an area that inspires you. If the process of setting up your supplies is exhausting, crafting will feel like work, and we all know crafting should be enjoyable and not feel like work!
Thank you so much, Kristy, for sharing your beautiful space and tips on turning a guest bedroom into a multi-purpose room.
If you would like to be our next Studio Showcase winner and have the chance to receive $75 in-store credit, here are a few hints: clean up your space, snap some photos (4 or more) from a few different angles, and include some comments about what you love about your area and your Stamp-n-Storage products. Then, you will be entered into our monthly drawing. Email your entry to: contact@stampnstorage.com.