What's New at Stamp-n-Storage
Check out the latest Stamp-n-Storage products designed to organize your space!
Maximize your IKEA® space

Stamp-n-Storage offers a variety of options to maximize your cube's space. Choose a 6x6 Double, 6x6 Max or 8.5x11 Max to organize your paper.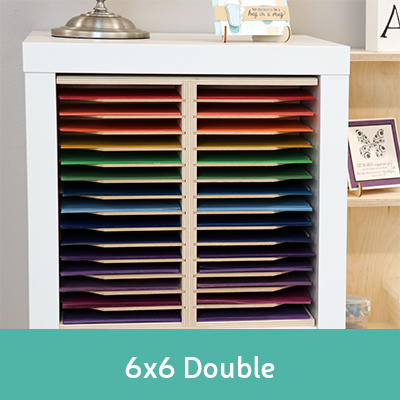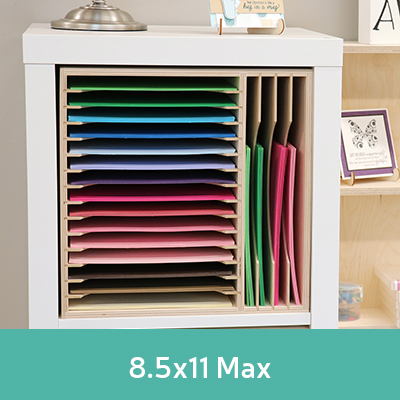 Already have a 6x6 or 8.5x11 Paper Holder in your cube? No worries, you can purchase the Add-On to fill up your cube space (8.5x11 Add-On for 6x6 shown).
Clear Paper Sleeves with tabs
Are you tired of searching for paper scraps? Do you need a better filing system for your DSP paper? Stamp-n-Storage now offers the perfect solution. Our Clear Paper Sleeves are available in 6x6, 8.5x11, and 12x12 sizes. Each sleeve has a tab for labeling, two sides open, and a cut out to easily access your paper or paper scraps. Organize just your scraps in the sleeve, or tuck 10-15 sheets of paper inside to protect from dust. Sleeves fit inside the Stamp-n-Storage Paper Holders. They even fit in the Stamp-n-Storage Paper Holders.
Stamp Card for clear and unmounted stamps

We know organizing your stamps can be a challenge. That's why we've designed the Stamp Card. Easily store your photopolymer and cling stamps on the clear and sturdy Stamp Card. Each card fits inside a Storage Pocket for labeling. Keep all your Stamp Cards organized together in the Creative Crate.
Storage Pocket for Magnet Cards, embellishments, Stamp Cards and more...

Do you prefer storing your Magnet Cards in a clear pocket for labeling? How about Stamp Cards? The Storage Pocket is designed to hold 5x7 & 6x7 Magnet Cards, and Stamp Cards. Each Pocket provides a tab for easy labeling, and they fit perfectly in the Creative Crate! You can even use them to organize embellishments, adhesives and more.
Creative Crate for versatile storage

The Creative Crate holds 5x7, 6x7 and 8x7* Magnet Cards, the Stamp Card, emboss folders, and Storage Pockets. Available in three sizes and with or without a cover, the Creative Crate keeps your dies, stamps and emboss folders within hand's reach and easy to flip through. The Creative Crate is a replacement for the Wafer Die and Emboss Folder Totes. Its new design allows more space for your Storage Pockets and Stamp Cards.
*8x7 Magnet Cards fit in Medium and Large Creative Crate without cover only.
Organize your Stamp Cases

Stamp collections are only growing and Stamp-n-Storage is ready! Regardless if you are new to the hobby and need a small storage unit, or you have a massive stamp collection in cases, you'll find a solution with our new options to fit your needs. The SlimLine Stamp Case Shelf offers a solution for storage on your counter beneath cabinets. Our Stamp Case Shelf sits next to other Stamp-n-Storage products (Ink Pad Holder, Punch Holder, etc.), or you can even stack it on top. The Stamp Case Drawer Cabinet maximizes your IKEA® cube space with stamp case storage on two sides and a drawer on top.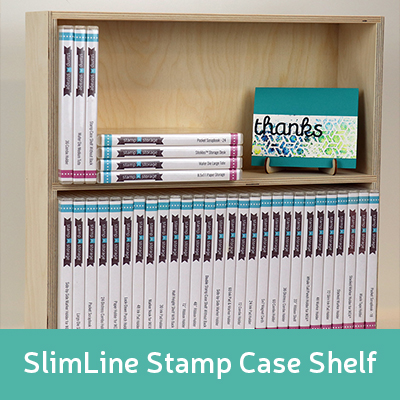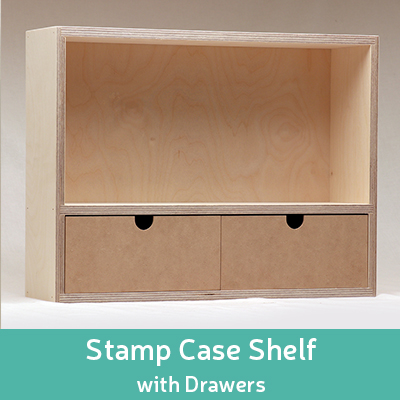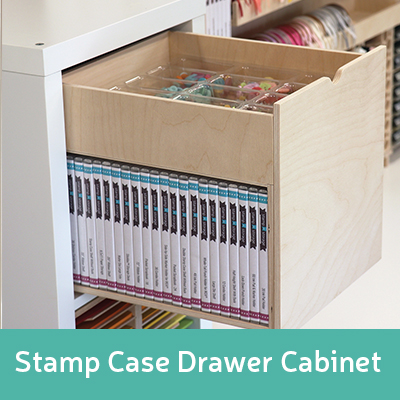 Punch Holder for Creative Memories(TM)

The Punch Holder for Creative Memories(TM) is designed to store both border and shutter punches. Your punches slide into the holder, keeping the punch label visible and easy to access. Options are available for small and large punch collections.
Peg Stamp Nook

Do you have lots of little peg stamps? Keep them neatly organized in the Peg Stamp Nook. With five compartments you will have space to store a variety of sizes.
Drawer Cabinet with 5 Double Drawers
The Drawer Cabinet is now available with 5 Double Drawers with sides.