Studio Showcase Winner - Nancy
Our December Studio Showcase winner understands what it means to craft out of her closet. She spent years finding ways to organize the 4' x 9' space. "I collected several Stamp-n-Storage units and was so pleased how I could organize so many items in a very small amount of room, and was able to have my supplies visible and ready to use, " Nancy says. When she shared her studio photos, she wanted to include the closet space as part of her journey. "I thought it might inspire someone with a limited amount of square footage."
Nancy's Craft Closet: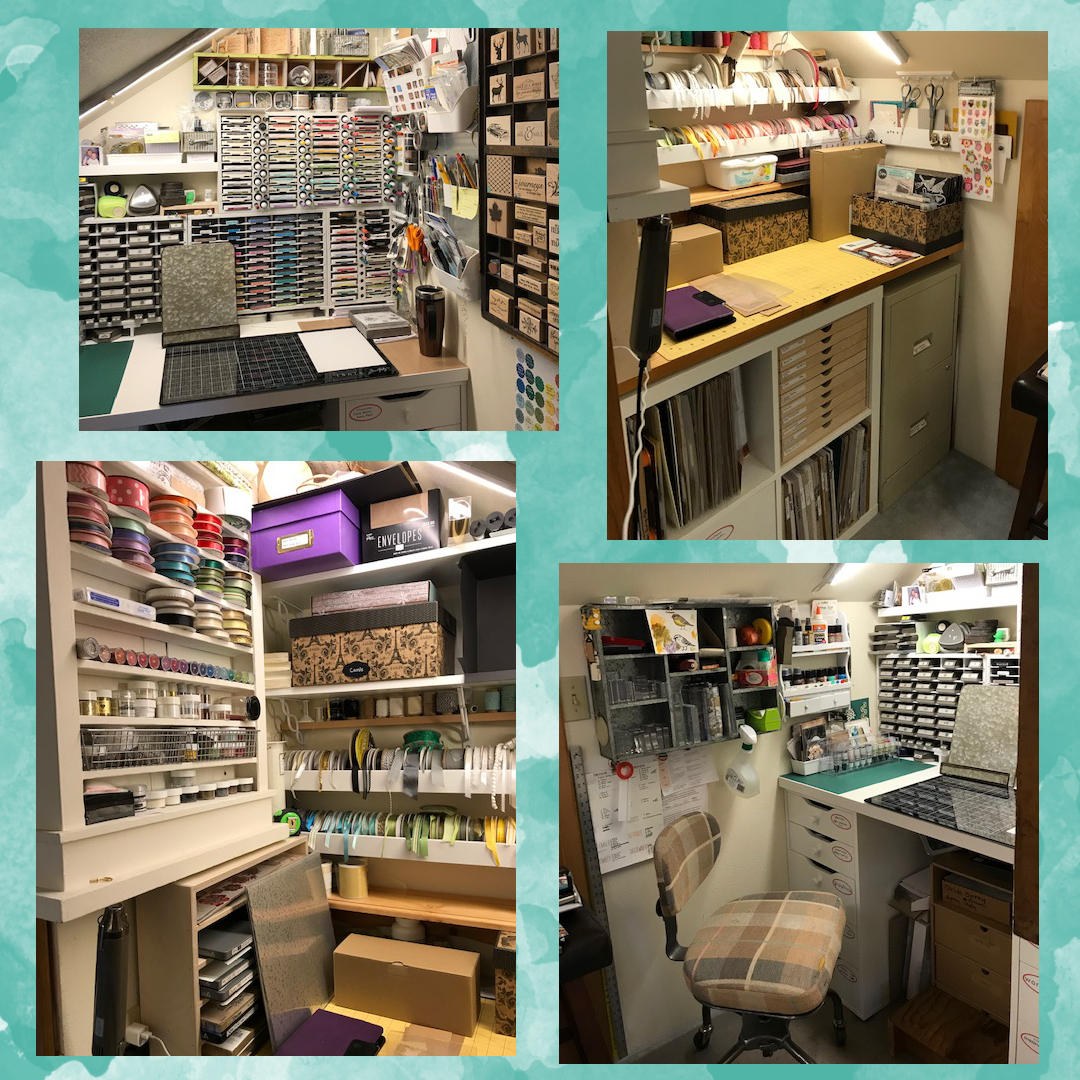 After 12 years of crafting in the closet, Nancy began creating a new space in an unused 13' x 12.5' bedroom. Her family gave her money for birthdays and Christmas to help with the process, and her husband helped make her dream studio come true. "He worked so hard tearing out the carpeting, laying down wood flooring, and putting up new LED light fixtures in every corner," Nancy says.
The completed design includes a large "L" shaped work table in one corner for Nancy's work station. Below the desk, Nancy has a Stamp-n-Storage Paper Crate, a Desk Base, three Alex Drawers by IKEA®, and additional paper storage for overflow cardstock. The corner underneath the desk is her kitty's favorite hideout.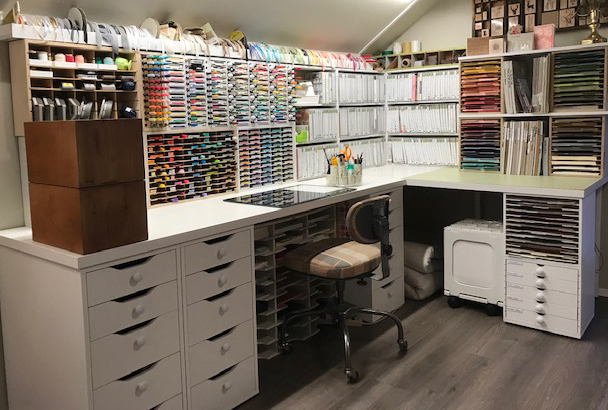 On top of the desk, Nancy keeps all of her most-used supplies visible and easy to access. She has two Lock-Down Punch Holders, a Marker Holder, Ink Pad and Marker Holder, Combo Holder, Standard Ink Pad Holder, Distress Ink Pad Holder, Mega Stamp Case Shelf, and Ribbon Holders.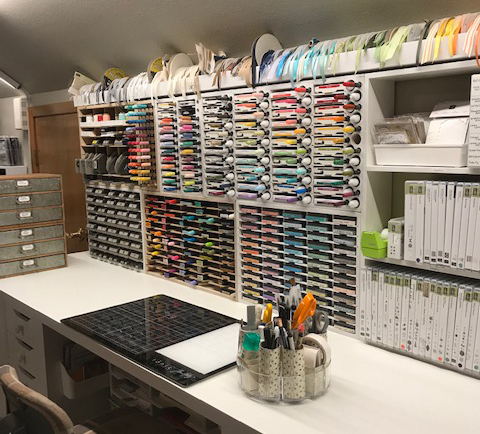 Further down the desk, Nancy's stamp case collection continues in a few more Mega Stamp Case Shelves, where it meets her paper collection in the 8.5x11 Paper Holders. She organizes her stamps by category (Christmas, birthday, sympathy, etc.) and her paper in rainbow order.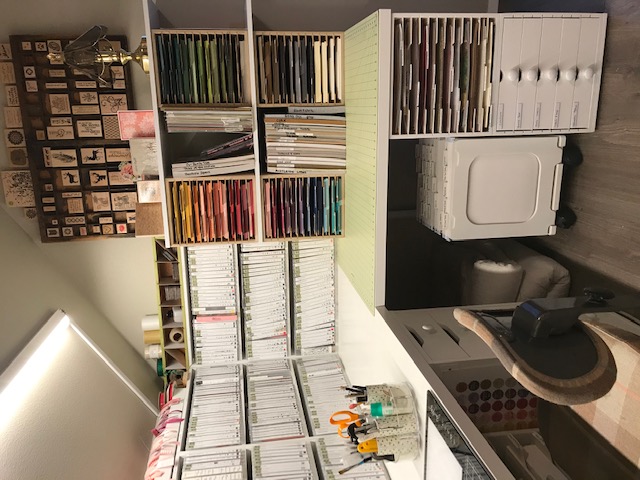 Nancy also added some fun drawer nobs to every drawer in her studio and painted her Stamp-n-Storage products white with a paint and primer in one spray paint.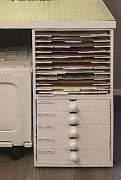 The other corner of Nancy's studio is her embossing and die-cutting station. She has her dies organized on the Die Shelf and 8.5x11 Magnet Cards in Paper Sleeves. She keeps her emboss folders in the drawer along with her die cutting machine. The beautiful antique desk was a gift from Nancy's sister. She keeps her paints and emboss powders on the shelves near the desk to inspire creativity.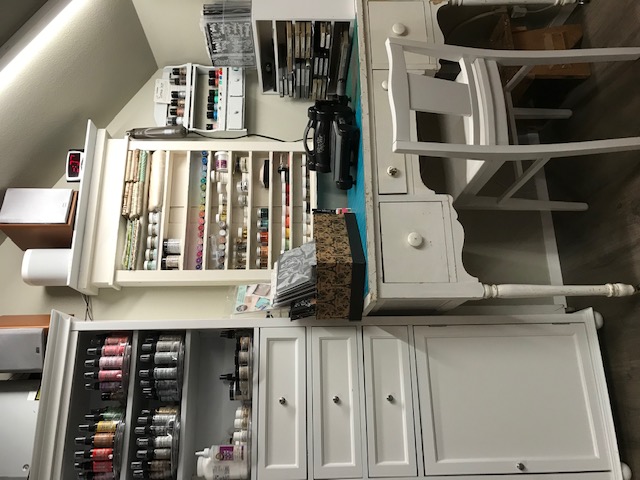 "I cannot imagine organizing my inks, paper, and embellishments without the help of Stamp-n-Storage. These units have made my dream craft room so organized and amazing. Thank you so much for producing such wonderful quality products that make finding items easy and organizing so pleasant and fun!" - Nancy
Thank you, Nancy, for sharing your space with us! If you would like to be our next Studio Showcase winner and have the chance to receive $75 in-store credit, here are a few hints: clean up your space, snap some photos (4 or more) from a few different angles, and include some comments about what you love about your area and your Stamp-n-Storage products. Then, you will be entered into our monthly drawing. Email your entry to: contact@stampnstorage.com.