Spring Cleaning Day 5—Paper
So far this week we've cleared our space, organized ink pads, markers, punches, and embellishments. Today is the final day of our spring cleaning and the space is looking awesome! We have just one more product to organize, and it is one of the most challenging. Yep, we are talking about paper. Paper organization comes down to considering your personal preferences since it can be sorted by color family, theme, brand, pattern, etc. You have to choose which way to organize paper works best for you. Don't be afraid to try a few of our paper organization tips until one feels right.
The first thing we are going to do is separate our paper into five piles (12x12 colors, 8.5x11 colors, 6x6 paper, scraps, and designer paper).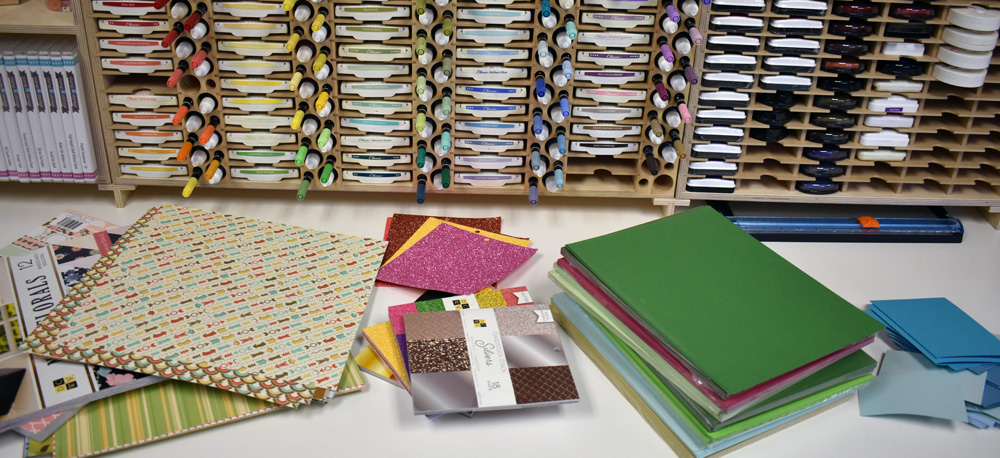 We started with our solid color paper and sorted them out using the same color chart as for the ink pads.

We are sorting our paper horizontally in the 8.5x11 and 12x12 Paper Holder for IKEA®. There is a lot of debate regarding storing your paper horizontal or vertical. Ultimately it comes down to personal preference. We keep ours horizontal to avoid warping and bending. Keep in mind, our papers aren't being used for projects, they are used for display, and we need them to stay flat for a long period of time.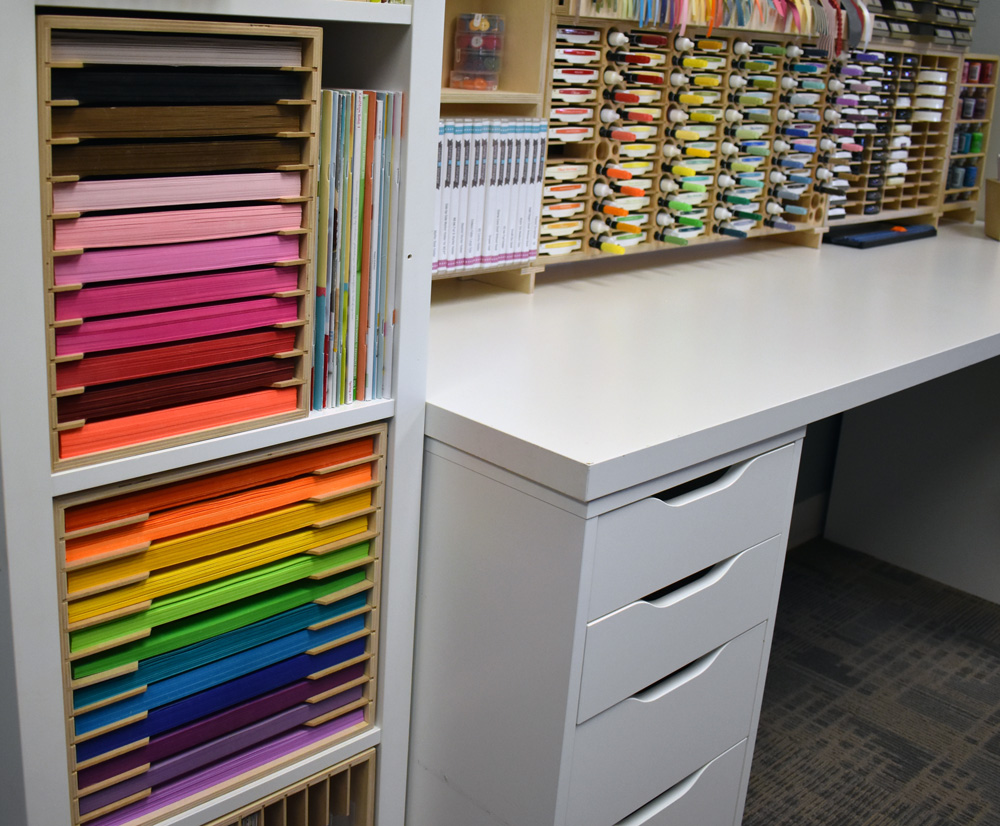 Next we'll organize our design and pattern paper vertically in a 12x12 Paper Holder for IKEA®. Storing them vertically allows us to easily flip through the designs/patterns, finding the correct paper. Also, many design pads have heavier cardboard covers and backs to keep the paper from bending when standing vertical.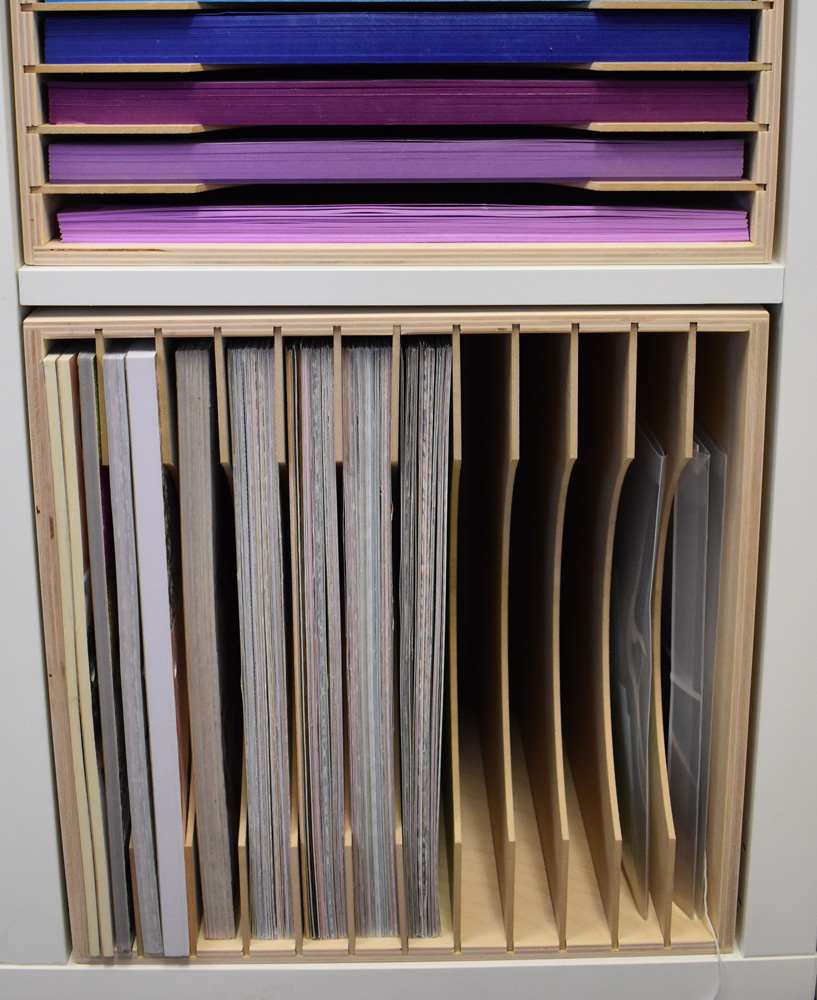 Taking organization one step further, the Paper Holder Label System is a great way to label your paper. You can label colors like the photo below, patterns and designer paper. This will also be a benefit if you decide to add more then one color or pattern in a slot.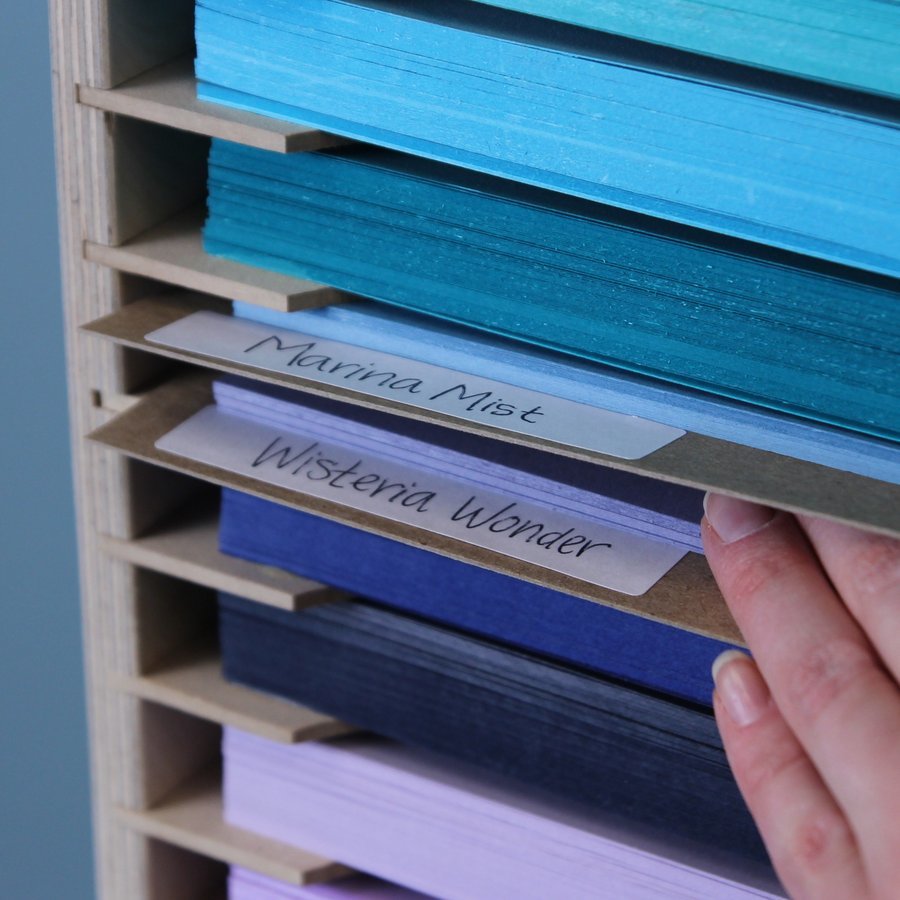 We wish we could take credit for the idea on how to store 6x6 paper. However, it actually came from one of our friends, Patty Bennett. Patty came up with the idea to store 6x6 paper in a Wafer Die Tote. You can learn more about how Patty labels and organizes her 6x6 paper at Patty's Stamping Spot.
Last comes the fun part...paper scraps! Sort your scraps into two piles (1. Keep it, 2. Toss it!). We know this might be the most difficult part of spring cleaning, no one wants to throw away those scraps. We are organizing our scraps in a plastic envelope (purchased on amazon) and then sliding them in the Paper Holder for IKEA® with our design and pattern paper. You can store yours the same way or with the matching color family.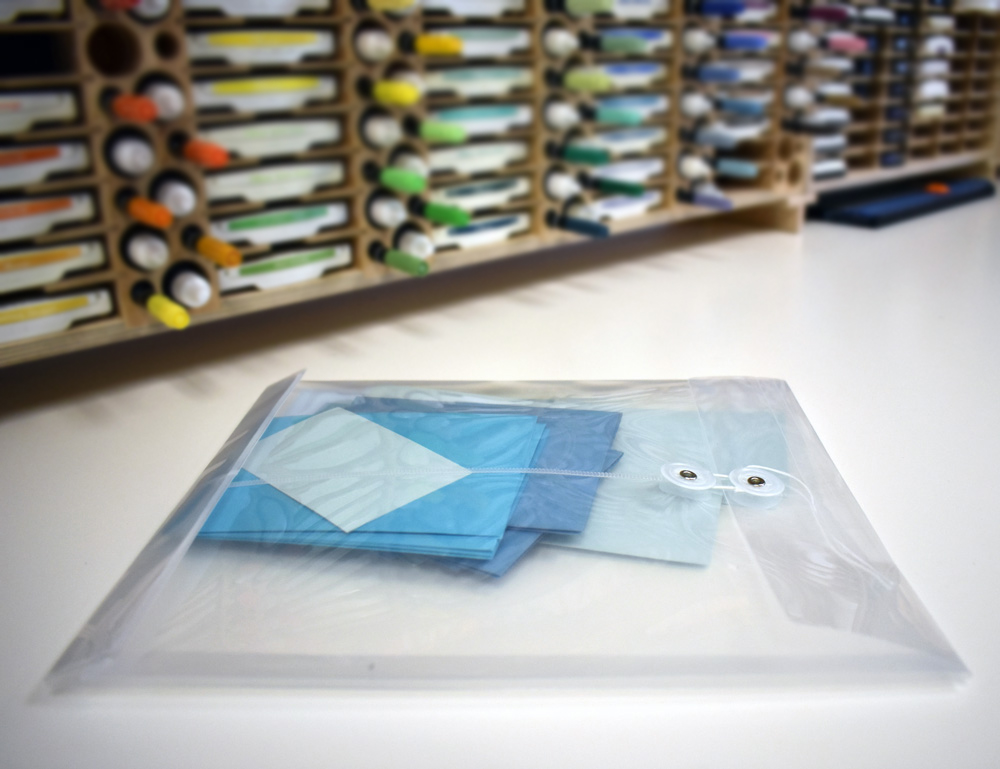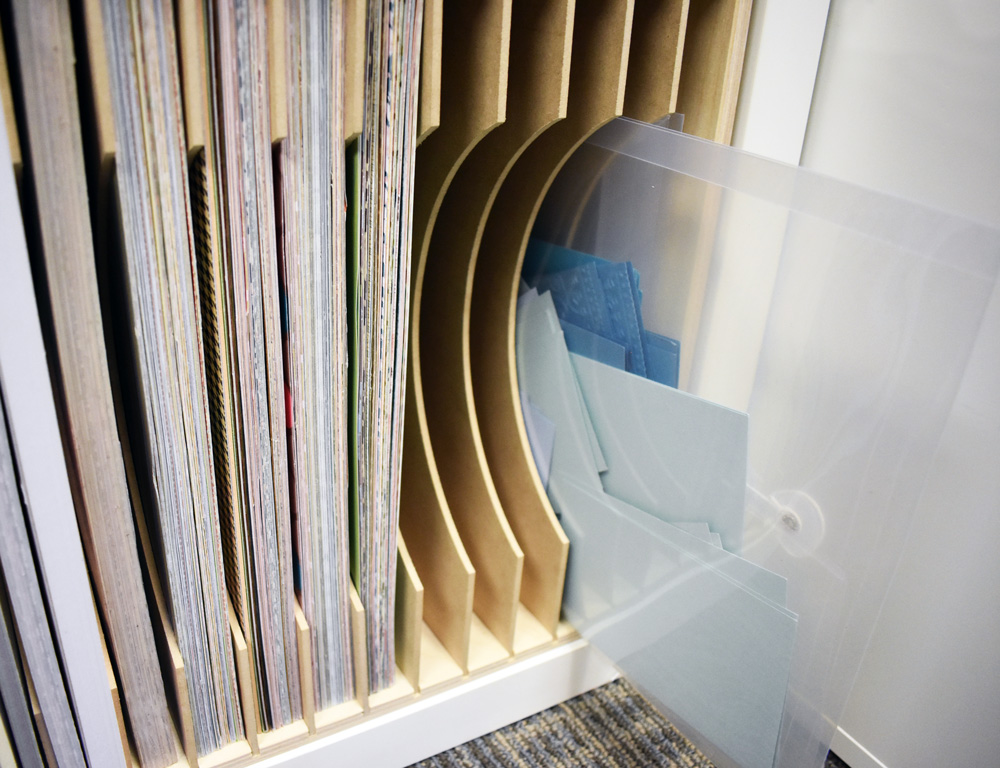 Mission complete! Okay almost. We want to add a few finishing touches to our space. For us it's a favorite card or two, quotes that inspire us, and a place for our stamps (we'll take on organizing those later this summer). Now step back and ooh la la! You have a completely organized craft area that maximizes space, keeps everything visible and easy to access, and looks beautiful.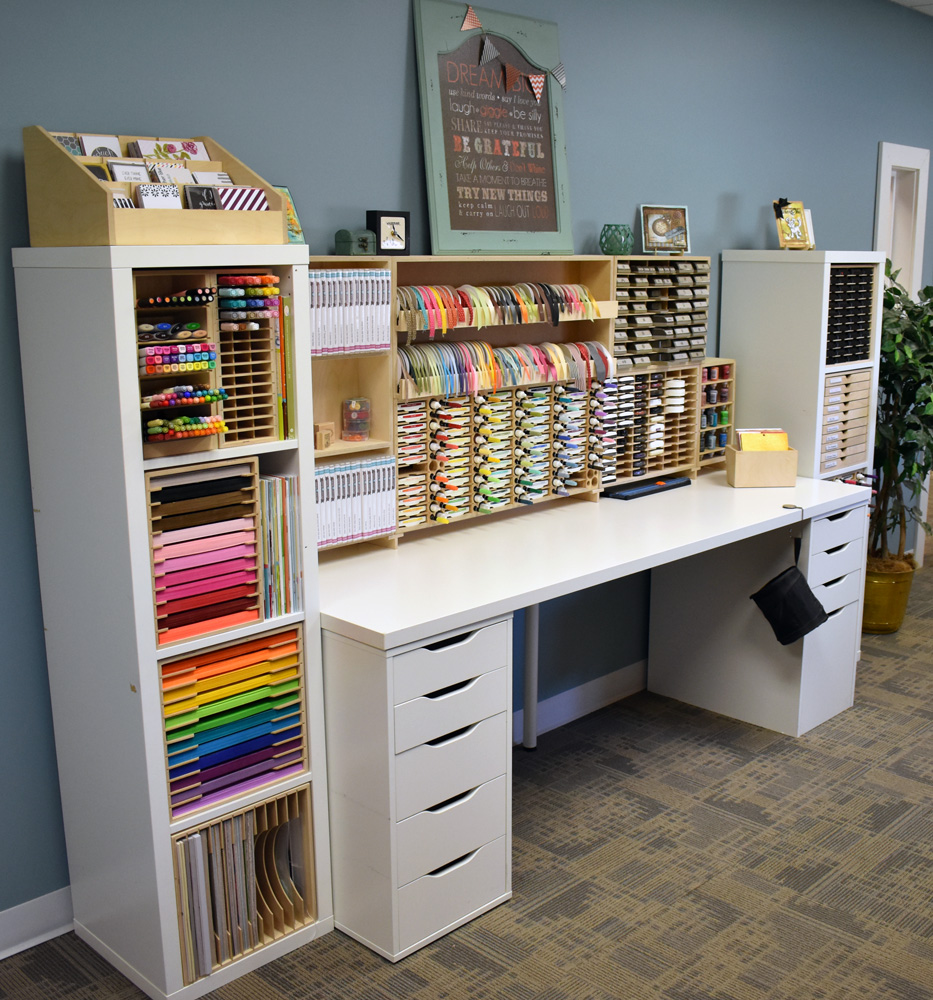 Price Breakdown Day 4
12x12 Paper Holder for IKEA® - $84.75 x2
8.5x11 Paper Holder for IKEA® - $76.75
Small Wafer Die Tote - $32.75
Plastic Envelopes for scraps (We found ours on Amazon) - $21.00
Double Stamp Case Shelf - $67.75
Paper Holder Label System - $16.75
---
30 Day Challenge to Organize your Space!
Join us for a 30 day challenge on Facebook to organize your space in the month of May! This is a great way to stay motivated when organizing your craft space, share ideas with others, and have a little fun doing it. Stamp-n-Storage will offer a daily challenge, organization ideas, and tips from our friends in the paper crafting world. The 30 Day Challenge begins May 1.
---
Time to break it all down!
Organizing your space is a journey and many of our customers take months or even years to complete their space. We wanted to break down the costs for the space we've created the last 5 days, with a budget of $375-400 per month. Here's how it looks.
Month One
Start with your desk and your large ink pad collections
Linnmon Table and Alex Drawers - $207.99
The Combo Holder - $153.75
Small Wafer Die Tote (used for 6x6 papers) - $32.75
Total: $394.49
Month Two
Add your Kallax Shelving units and additional ink pad storage
IKEA Kallax Shelves $45.99 x 2
Slim Ink Pad Holder - $76.75
24 Combo Holder for IKEA® - $82.75
Petite Ink Pad Holder for IKEA® - $64.75
Marker Nook - $52.75
Total - $368.98
Month Three
Let's tackle your paper!
Paper Holder for IKEA® - $84.75 x 2
8.5x11 Paper Holder for IKEA® - $75.75
Double Stamp Case Shelf - $67.75
IKEA Marker Holder for Stampin' Blends(TM) - $59.75
Paper Holder Label System - $16.75
Total $389.50
Month Four
Time to complete your space!
33 Ribbon Shelf - $82.75
Lock-Down Punch Holder $65.75
Stickles Desk - $59.75
Drawer Cabinet for IKEA® - $124.75
Whale-Tail Punch Holder for IKEA® - $55.75
Total - $388.75