September Studio Showcase Winner: Debbie
Our September Studio Showcase Winner has been crafting for over 20 years and has accrued various paper crafting supplies. When Debbie began designing her 12.5 x 15' craft studio, it was essential to have specific stations as she worked through creating her project. Debbie has a stamping station, a paper punch station, a die-cutting and embossing station, and a paper cutting station.
Debbie chose Stamp-n-Storage products to organize supplies she wanted to keep visible and easy to access. She uses plastic storage bins that can quickly move around the room for miscellaneous items she wants to tuck away.
At her stamping station, Debbie has her most used ink pads on her desk in the Standard Ink Pad Holder, Stampin' Ink Pad Holder for Color Families, and Slim Ink Pad Holder. She also keeps a small variety of stamp cases she is using in the Stamp Case Shelf.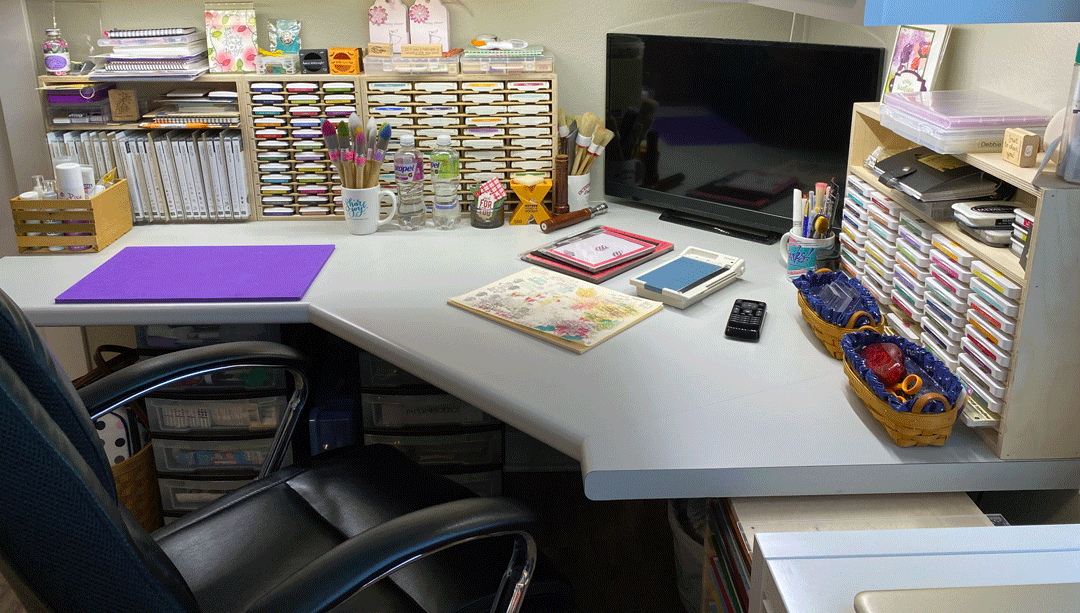 Near her stamping station, Debbie has a 2x4 IKEA® Kallax that she keeps her paper organized in the 12x12 Paper Holder for IKEA® and the 8.5x11 Paper Holder for IKEA®. She also organizes miscellaneous stamp sets in the Stamp Case Drawer Cabinet. Her die-cutting machines are on top of the cabinet, keeping them within hands reach while at her die-cutting and embossing station across the room.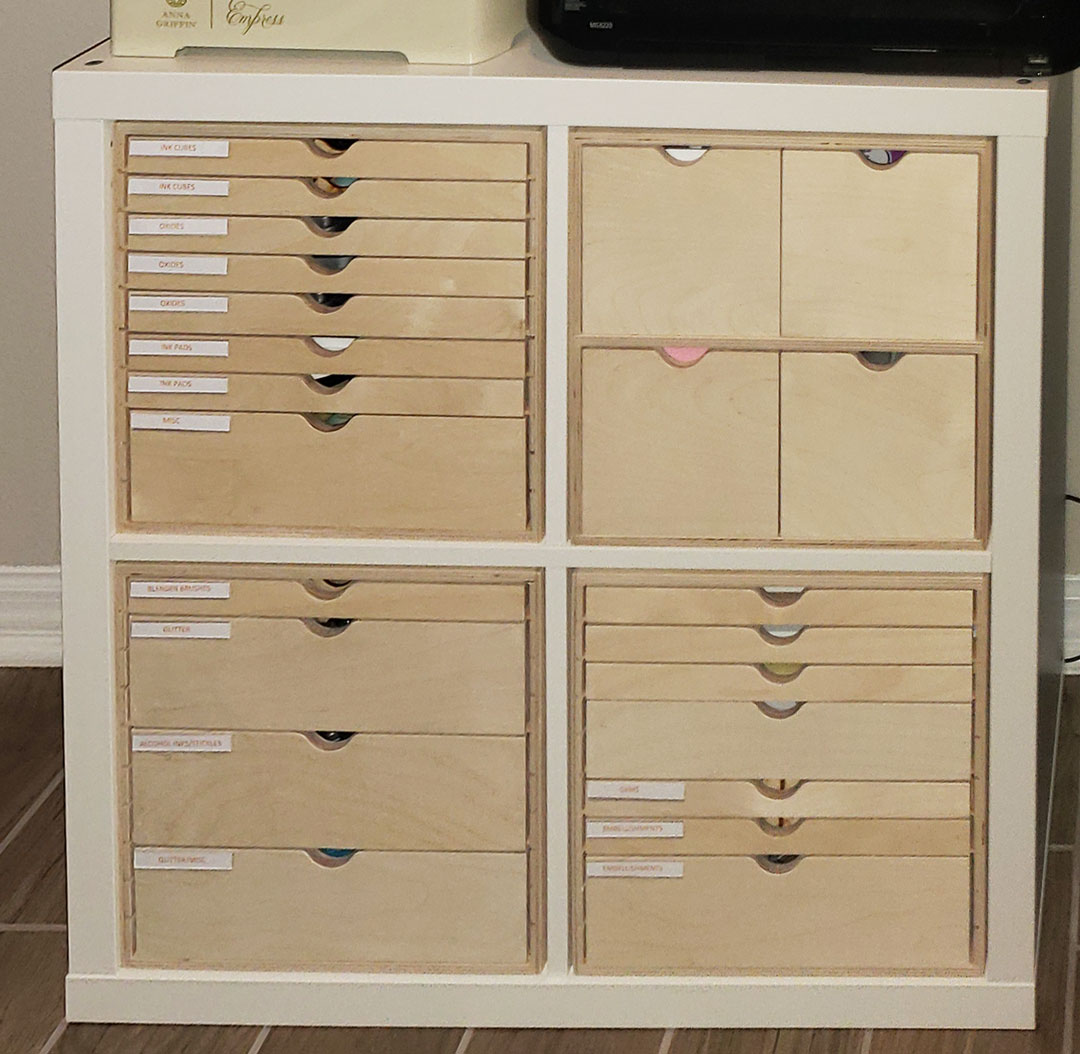 At Debbie's die-cutting and embossing station, she organizes with a Peg Stamp Nook, Large Die Shelf, Corner Shelf, and Six-Drawer Unit (organizing her Nuvo® Crystal Drops). Her embossing powders are organized in the bins below her desk.
Further down the desk, you'll find additional ink pads in her Distress ink Pad Holder and 120 Slim Ink Pad Holder, along with a beautiful collection of ribbon in the Ribbon Shelf and Ribbon Holder. Beneath the desk, bins hold washi tape, embellishments, stickers, glitter, and more. She has a 12x12 Desk Base to organize her designer series paper. The cabinets above the desk hold Debbie's stamp collection, arranged in stamp cases with a matching die set using a 5x7 Magnet Card.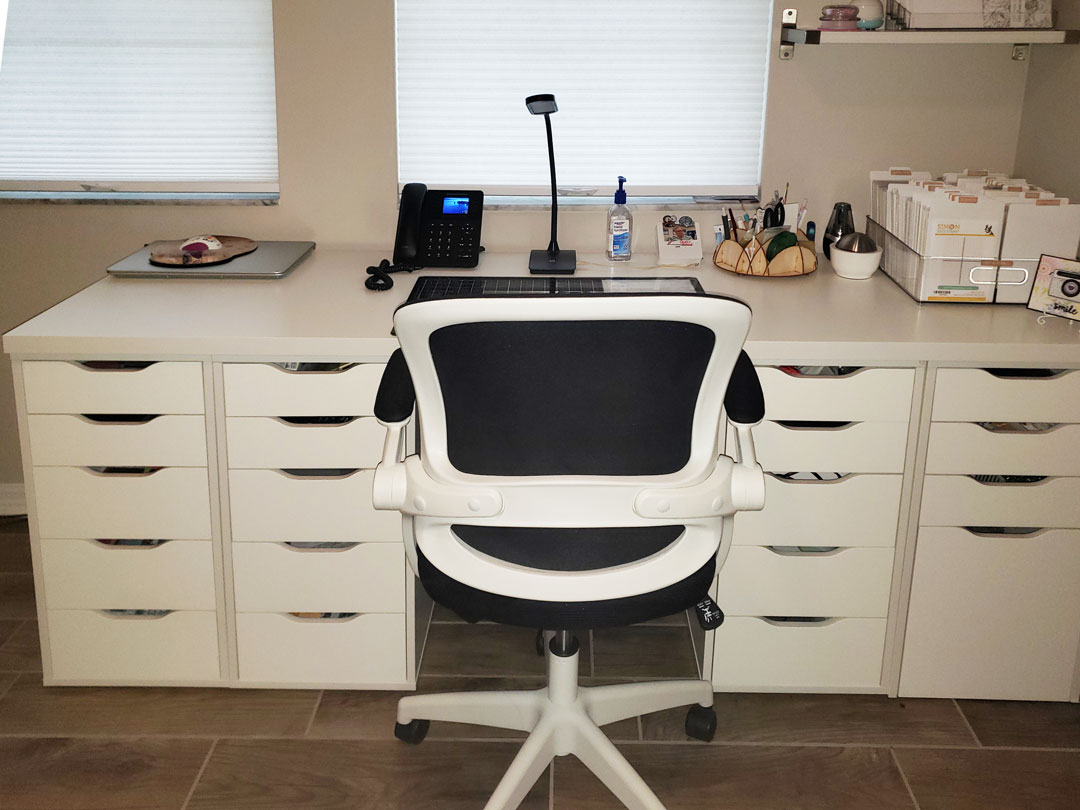 At the other end of the desk, Debbie's paper punch station is organized with a Large Lock-Down Punch Holder, Corner Shelf, Whale-Tail Punch Holder, and a Storage Shelf.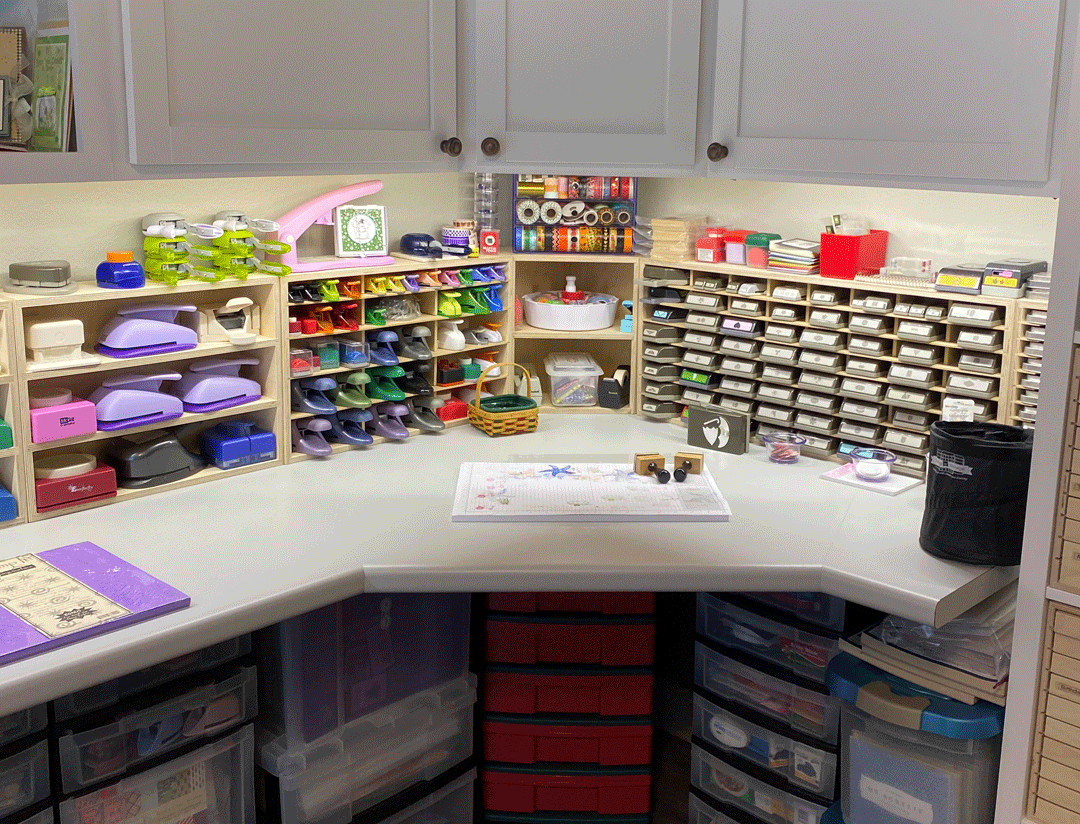 Next to Debbie's paper punch station, she has a large 5x5 IKEA® Kallax unit. She uses Drawer Cabinet's to organize her wood block stamps and the 12x12 Paper Holders to organize paper by company, size, and colors.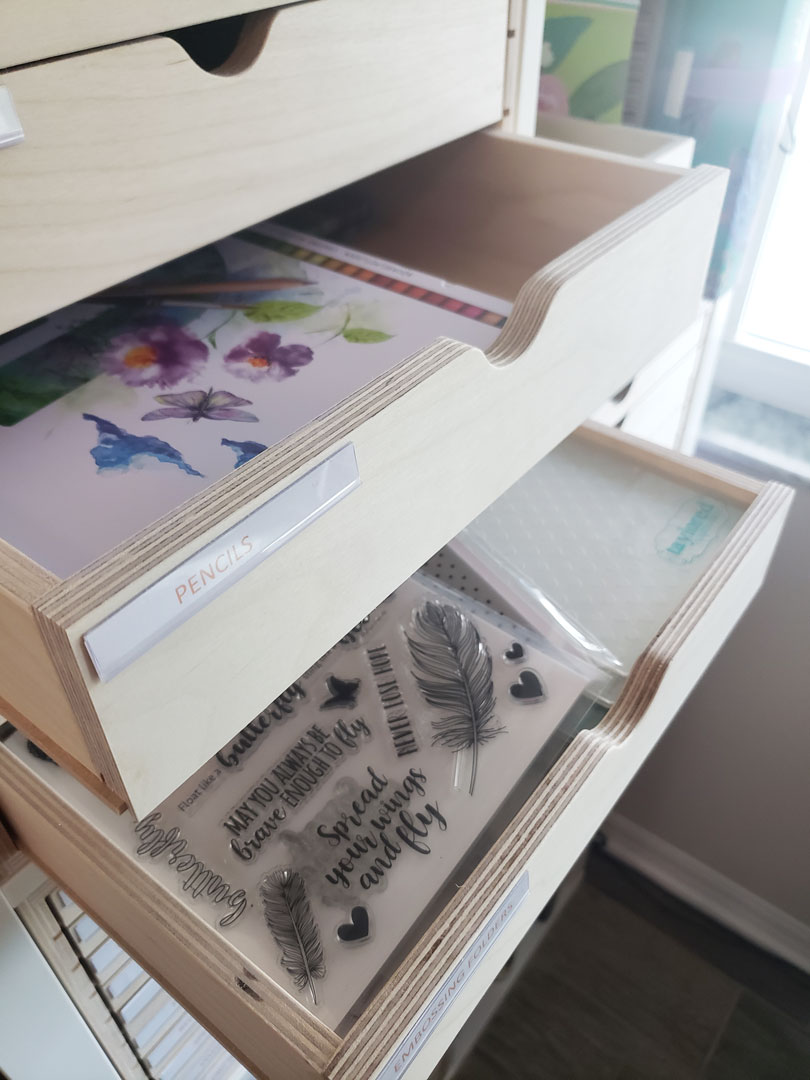 In the center of the room, Debbie has a standing table she uses for her paper cutting. On one side, she has additional storage underneath the table where she organizes a variety of things like completed cards, scraps, paper card sets, and stickers. On the other side, she has die sets and emboss folders organized in the Medium Creative Crate, along with additional die-cutting tools.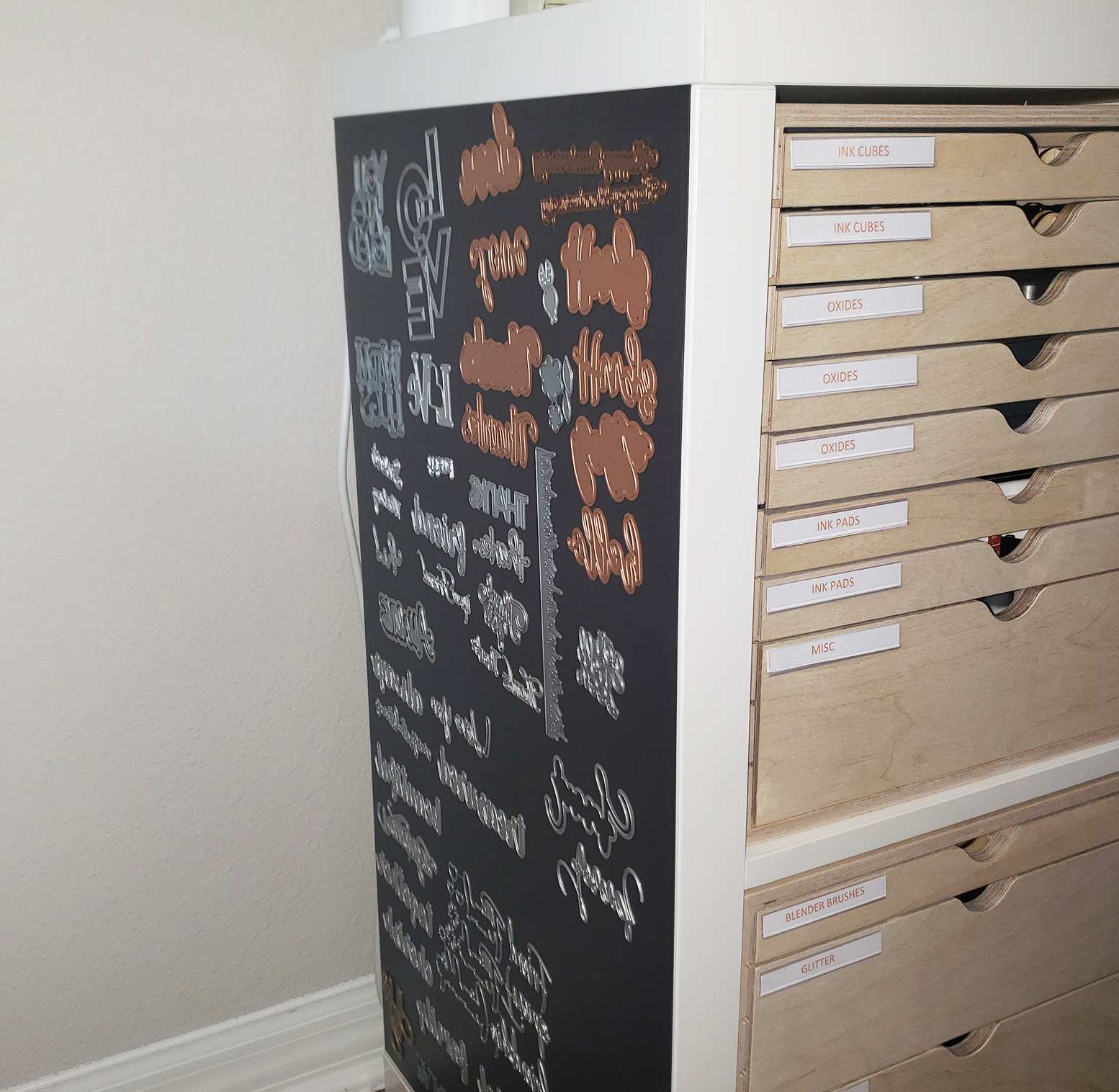 The workflow of Debbie's room is what works best for her. After years of crafting, she was careful to plan a setup that would help her to be most efficient while crafting, while keeping her space organized along the way.
---
If you would like to be our next Studio Showcase winner and have the chance to receive $75 in-store credit, here are a few hints: clean up your space, snap some photos (4 or more) from a few different angles, and include some comments about what you love about your area and your Stamp-n-Storage products. Then, you will be entered into our monthly drawing. Email your entry to: contact@stampnstorage.com.