Our October Studio Showcase has been through a few crafty stages. First, the previous owner turned the garage into a sewing room. When Lauren purchased the home, she turned the sewing room into a craft studio. Lauren loved having a dedicated craft space. However, after a few years she began to get frustrated with the layout and decided to remodel for a more efficient and organized space.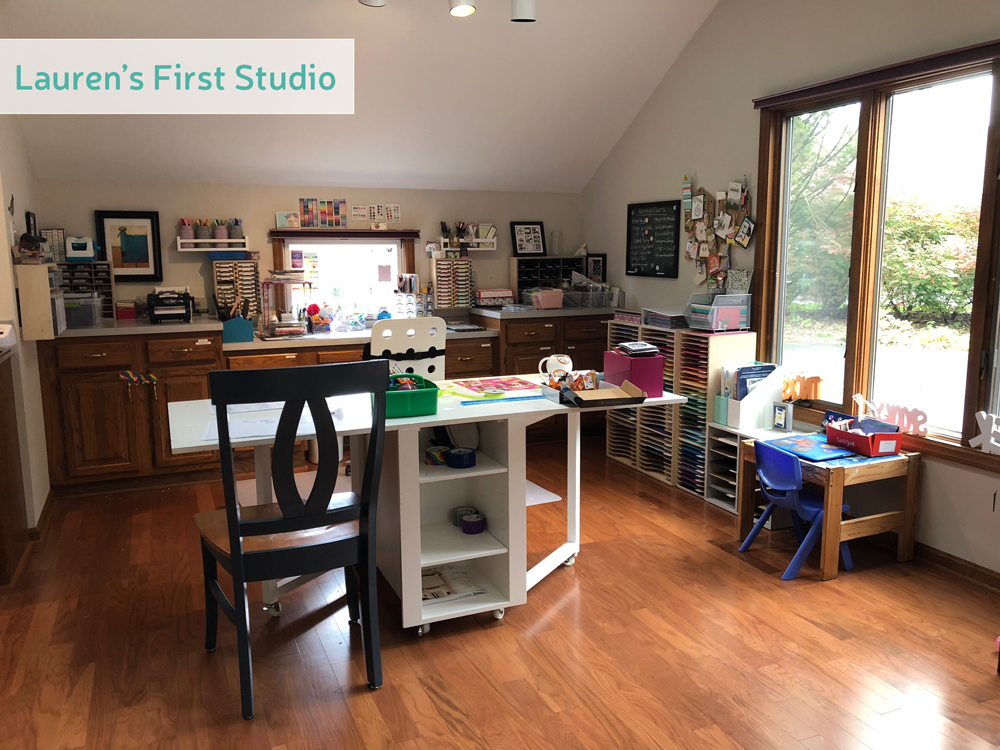 Lauren was also remodeling a bathroom at the same time and hired a designer, Adam from EG Stoltfus, for the projects. "I was lucky to get a designer who really cared about detail and some of the same things I did," she says. They worked on several drawings and Lauren imagined how she would use the space during the design process. She even decided what supplies would go in which drawers. Adam turned her drawings into 3D renderings so Lauren could get a better visual of her ideas.
One of the things that was important to Lauren was having space for her friends to craft with her on the weekends. She designed an island first, and then the rest of the space around it. Adam recommended an island with two different heights and Lauren loved the idea. "I wanted to make sure that my kids could use the space too, but without their art space creeping into my craft space. I wanted clear boundaries. So Adam suggested the different levels so that the kids would have their space and I could still have my space."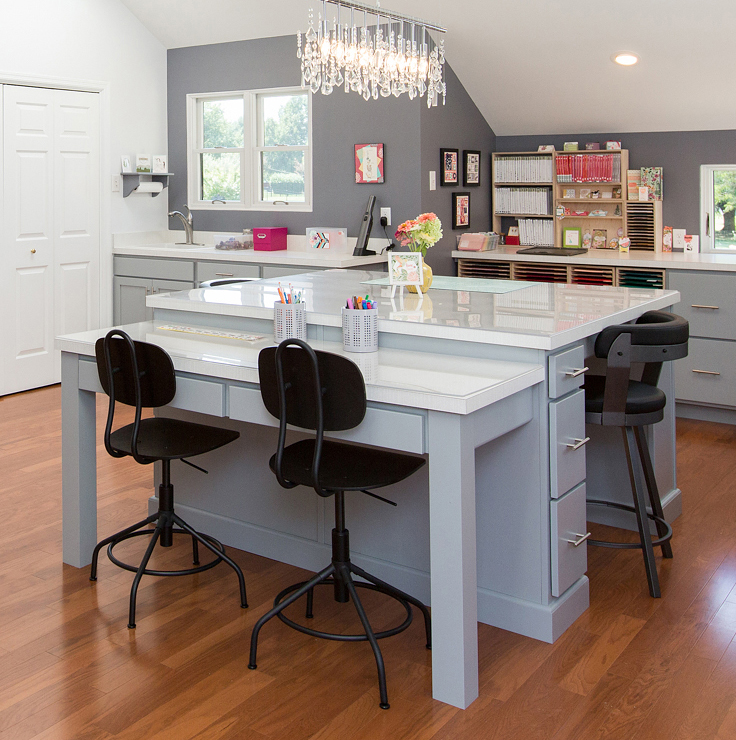 Another issue Lauren had with her previous studio was finding enough room for different tools. She decided to create stations, which included a scoring station, a big shot station and a stamping area. She coordinated what was in the drawers below with each of those stations in mind.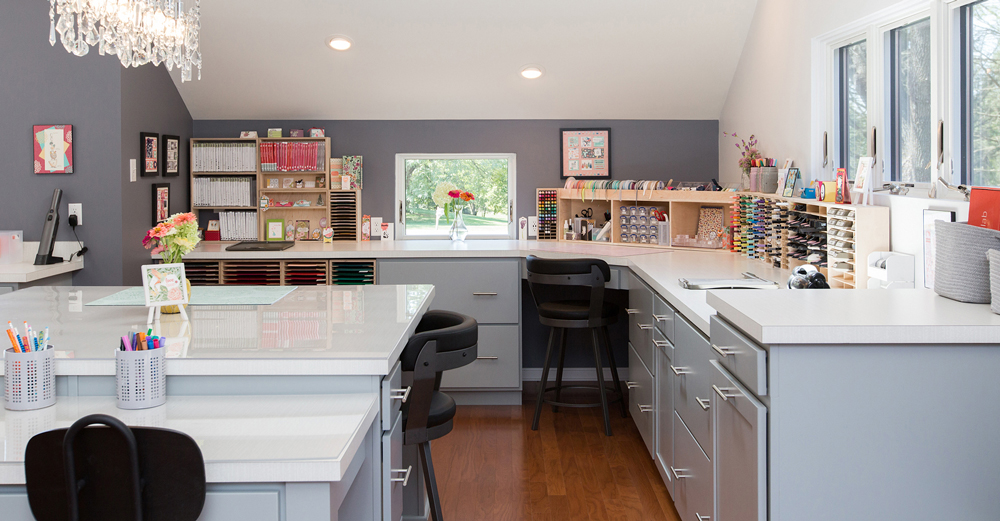 When Lauren selected the cabinets, she went with a kitchen cabinet due to the drawers. "I wanted big pot and pan drawers that were long and deep," she says. Lauren also found some of the drawers had lid shelves that she could use for storing her wood stamps.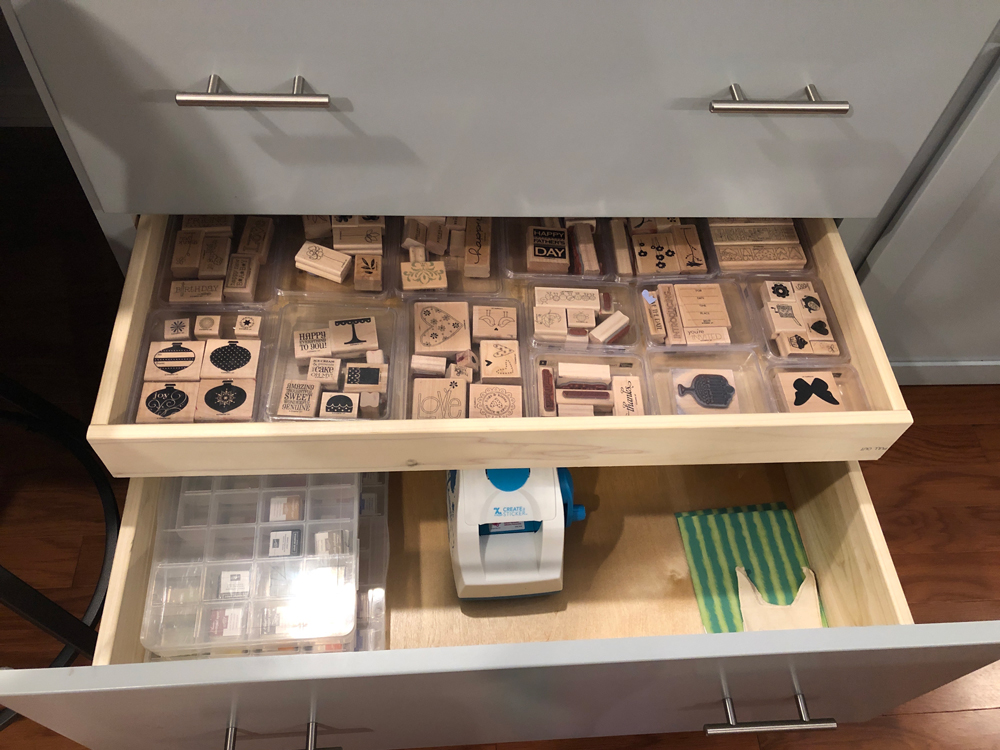 The colors of Lauren's space took a few twists and turns. Initially she wanted a feminine and fresh, but not girly feel. Lauren decided on a purple accent wall to give the room this touch. She then added light gray on the remaining walls and loved it.
And then the cabinets arrived!
She chose a light gray cabinet because wanted something different than the white cabinet craft room. The gray did not look good with the purple and Lauren did an emergency do-over. The cabinets were scheduled to be installed the next day so Lauren painted the walls with a Dior Gray paint she had used in other rooms of her home. "The Dior grey was not something I ever considered for the craft room until that day…but I suddenly remembered that it had a deep purple tint to it even though it was yet another grey." Although the end result wasn't what Lauren had originally pictured, she fell in love with how the colors coordinated together.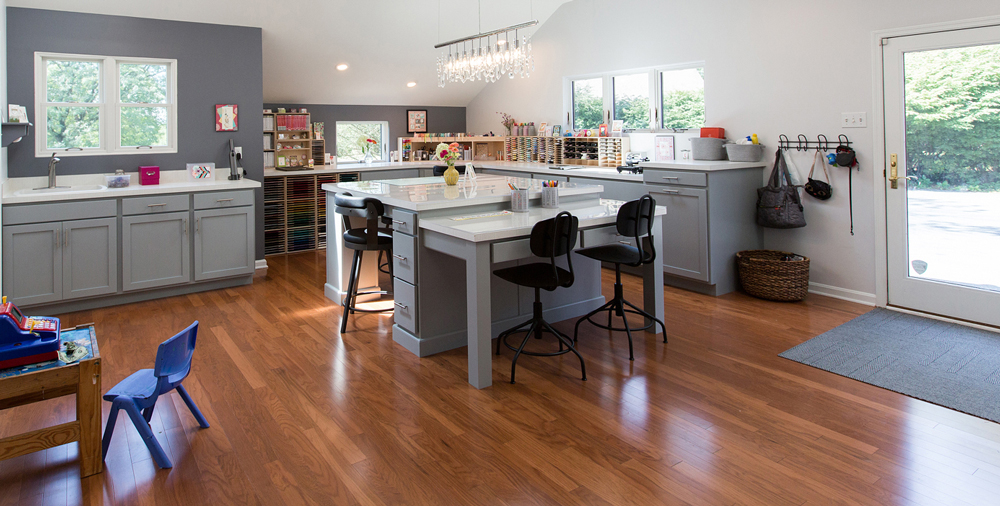 Lauren's space also has a beautiful selection of paper beneath her desk. She uses the Three-Tier Paper Holder to organize her paper by rainbow order. She keeps her card bases stored in a drawer, 4.25" x 5.5" scraps are stored in bins on the counter top, and smaller pieces get stored in cello bags in drawers.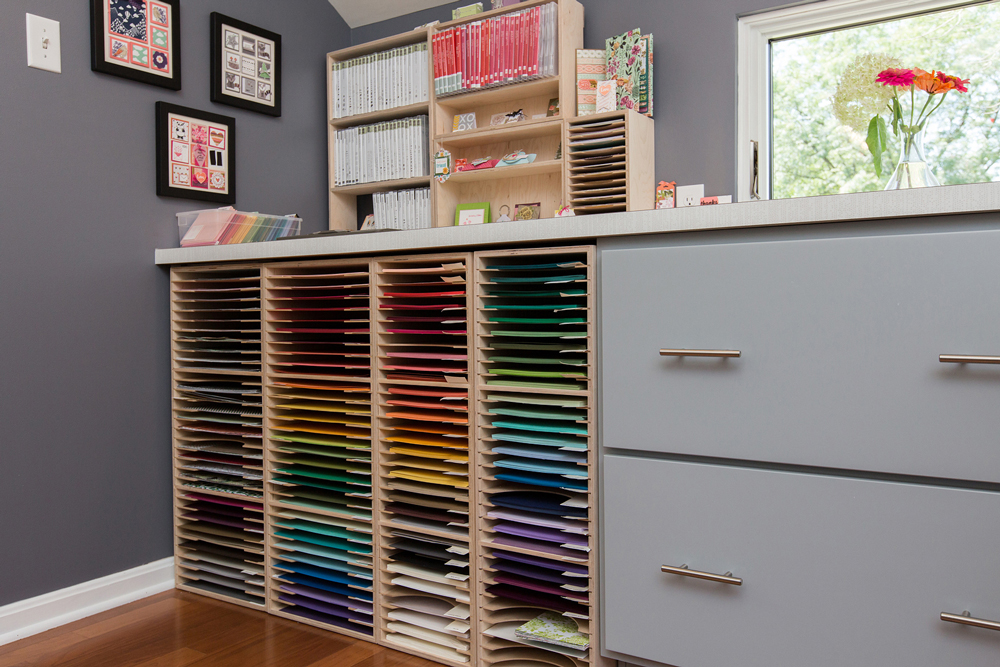 On top of Lauren's desk area, she keeps her stamps stored in the Mega Stamp Case Shelf and two Stamp Case Shelves.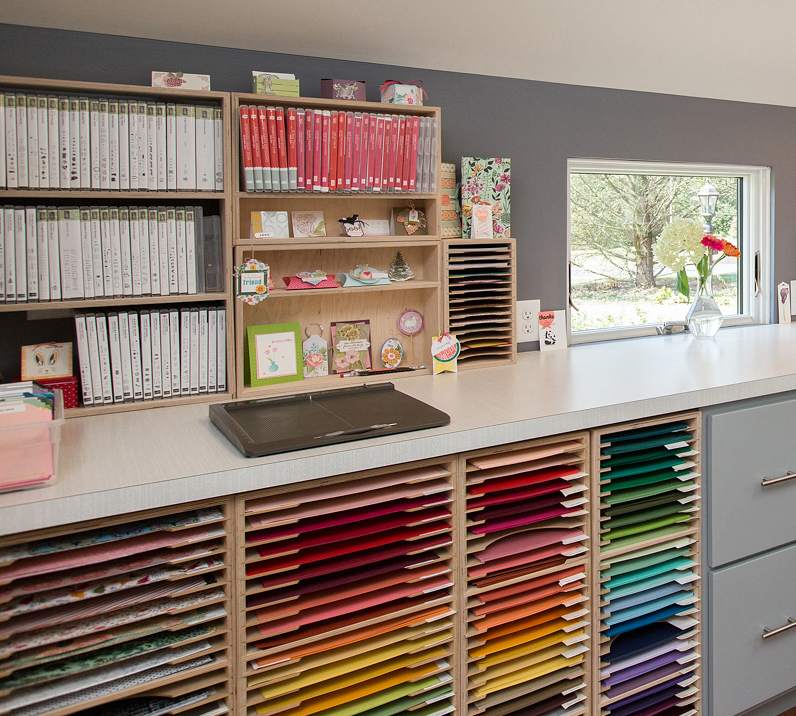 The stamp area was carefully designed by Lauren because during her planning she thought this area would be where she would spend most of her time. She keeps her key supplies in a bin so she can move it around to different stations. After seeing a friend organize ink pads with a Stamp-n-Storage product, Lauren chose the Ink Pad & Marker Holder for storing her ink pads and markers. She loves the Ink Pad and Marker Holder because it allows her ink pads and markers to become a decorative and fashionable organizational feature. Next to her ink pads she keeps her punches in the Whale-Tail Punch Holder and Small Lock-Down Punch Holder.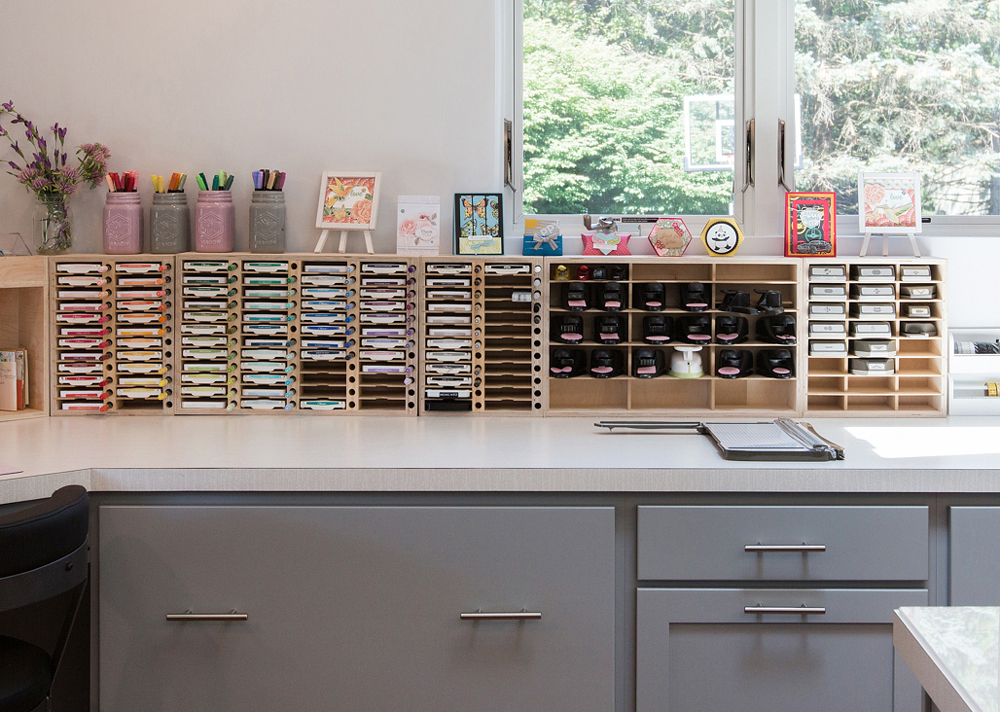 Due to the deep corner, Lauren had a custom piece designed to store supplies including her ribbon on top.She placed her Marker Holder for Stampin' Blends on the side of the corner for easy access to markers.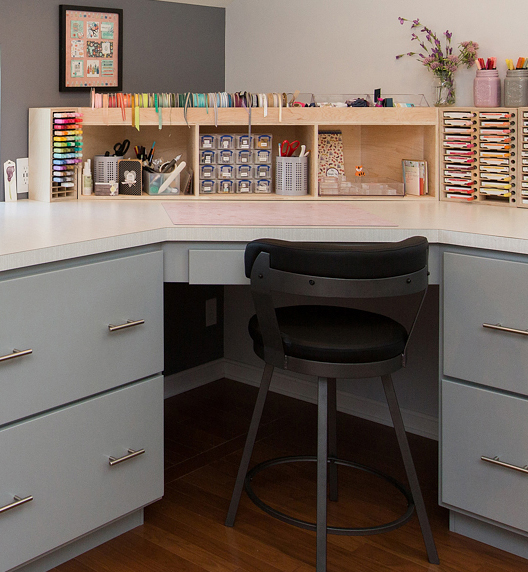 When we asked Lauren if she could share one organization tip with other crafters, she said, "be sure to draw everything out and work with someone who is willing to work with you to understand your use of the space. This was my designer's first craft room and he did a great job of listening and was able to understand why I was asking for the things I was asking. The other thing I think was super helpful was imagining and drawing out where everything would go in every drawer."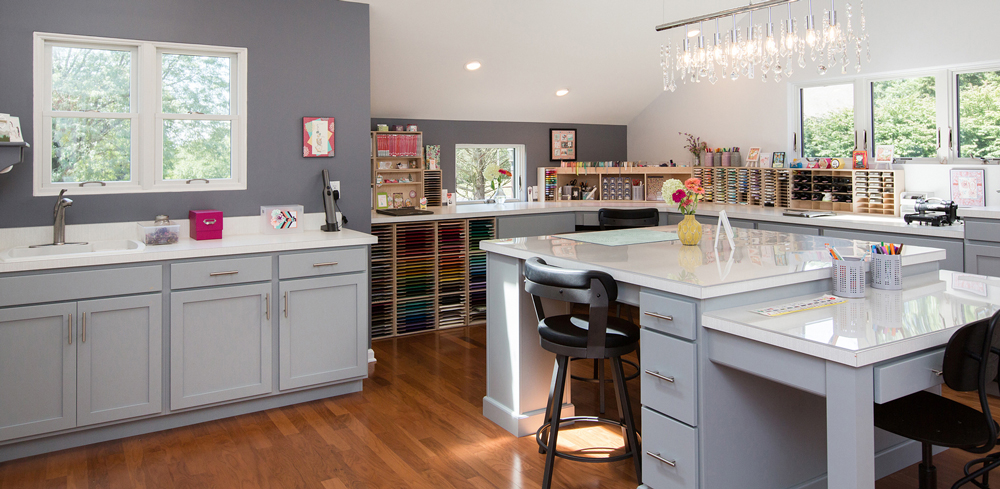 Thank you for sharing your space with us Lauren! We love how you created a space that combines a beautiful design and storage solutions that fit your needs.
---
Would you like to be our next Studio Showcase winner and have the chance to receive $75 in store credit?
Here are a few hints: clean up your space, snap some photos (4 or more) from a few different angles, and include some comments about what you love about your area and your Stamp-n-Storage products. Then, you will be entered into our monthly drawing. Email your entry to: contact@stampnstorage.com.