June Studio Showcase Winner
We love the studio of our June Studio Showcase Winner and how Carolyn designed a craft space in her guest bedroom. The room serves as a place for her grandkids to sleep when they come to visit and a craft room all the other days. No wonder she calls it her "Happy Place!"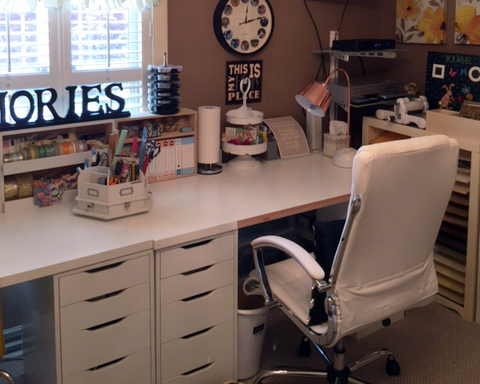 Carolyn has been crafting for 20 years and had made several attempts to get organized. However, it wasn't until the last few years she found a solution. Carolyn came across Stamp-n-Storage on Pinterest and noticed how the storage units organized product while keeping everything visible and easy to access. She became even more excited when she noticed several Stamp-n-Storage products were designed to fit into the IKEA® Kallax shelving units!
Carolyn and her husband, Dan, found the IKEA® Kallax on Craiglist. It was Dan that encouraged her to make the purchase. " We had to bring it all home in the back of a pickup truck and looked liked the Beverly Hillbillies going down the interstate" Carolyn says. She then spent the next two years slowly purchasing Stamp-n-Storage products to organize her space.
The IKEA® Kallax shelving units now hold Carolyn's 12x12 Paper Holder, 8.5x11 Paper Holder, Stacked Marker Holder, Side-by-Side Marker Holder, Standard Ink Pad Holder, Combo Holder, Slim Ink Pad Holder, Drawer Cabinet, and Whale-Tale Punch Holder.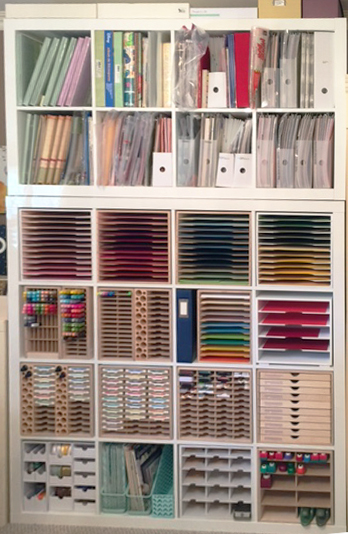 Carolyn's desk is also neatly organized with the Standard Ink Pad Holder, Ribbon Shelf and Stamp Case Shelf. "I love my Stamp-n-Storage products" she says. Another feature we love is the beautiful chandelier hanging from the center of the room. "You just need a girly chandelier in your craft space" Carolyn says.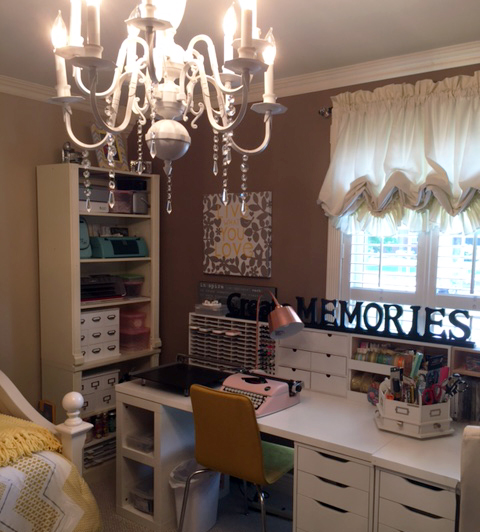 The colors of the room are designed around the daybed. " The yellow in the pictures reminds me of sunshine" she says.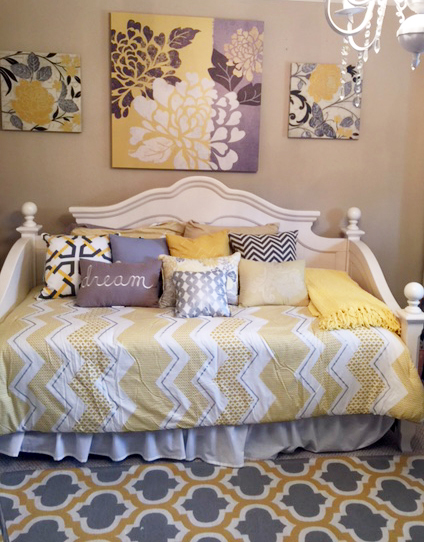 Carolyn's "Happy Place" is a great example of how keeping your craft room organized not only unleashes your creativity but allows you to give the room a dual purpose! "I love how tailored and neat Stamp-n-Storage products make the room. I can do either a large or small product and find space for everything when I'm done. I do not like clutter and it is so wonderful to be able to put everything away in its place when I'm finished" she says. Not to mention, you never know when the grandkids will show up for a night with grandma and grandpa.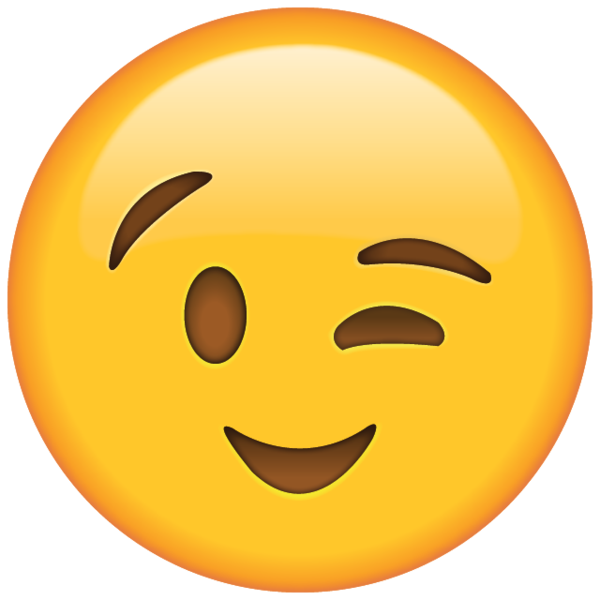 ---
Would you like to be our next Studio Showcase winner and have the chance to receive $75 in store credit?
Here are a few hints: clean up your space, snap some photos (4 or more) from a few different angles, and include some comments about what you love about your area and your Stamp-n-Storage products. Then, you will be entered into our monthly drawing. Email your entry to: contact@stampnstorage.com.