June Studio Showcase Winner: Robin
When Robin purchased her new home to downsize, she made sure to upgrade her craft area. After years of trying to spread out in the dining room and never having enough space, Robin chose one large area in the basement just for crafting. Our June Studio Showcase winner visualized her dream studio in her head and created the perfect Craft Cove.
Robin wanted a bright space and has always been inspired by the ocean and beach. You'll see this with the different shades of blue and sea shell decor. "I designed my space around colors to remind me of being oceanside. I suspect my love of the ocean is because my dad was in the Navy," she says.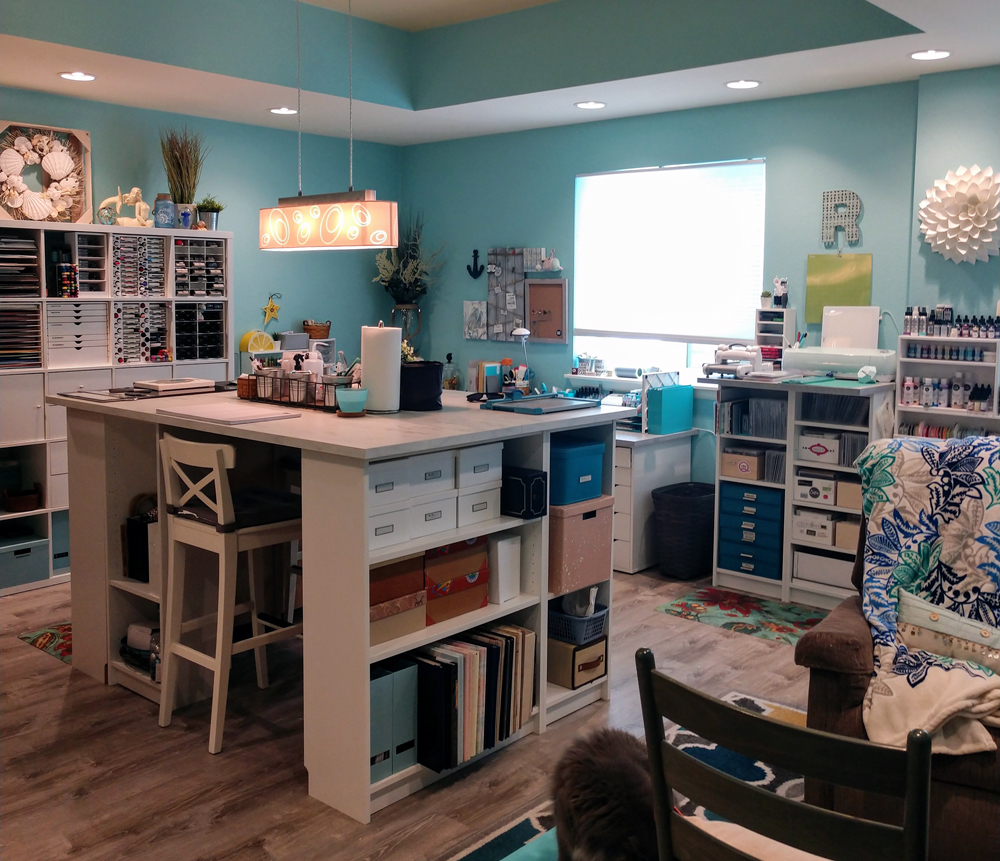 The room uses a variety of IKEA® products, which includes the Billy bookcase, Kallax shelving unit, Alex drawers, and kitchen countertops for a more sturdy work space. Robin chose IKEA® products because she loved how Stamp-n-Storage products fit inside the cubes.
She first saw Stamp-n-Storage when looking for organization ideas on YouTube and came across Crafted Spaces. The Kallax stores Robin's 12x12 Paper Holders, Marker Nook, Drawer Cabinet, Combo Holders, Lock-Down Punch Holder, and Whale-Tail Punch Holder. She painted the Stamp-n-Storage products with a low gloss spray paint to match the IKEA® unit.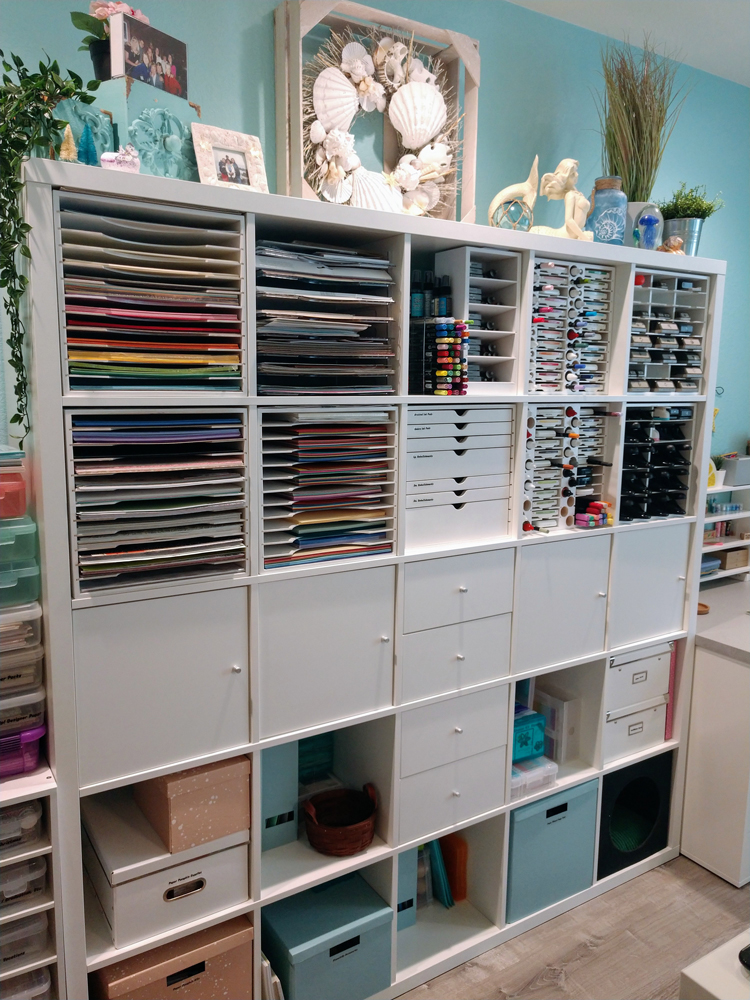 In the past, one of the more challenging products for Robin to organize was her embellishments. She then discovered the Drawer Cabinet for IKEA® and the Accessory Trays. "I was able to get a lot of my embellishments in a central location…now I just need to curb my need for more embellishments...HA." The Drawer Cabinet also stores ombre ink pads, spot size ink pads in the Mini Ink Spot Holder, ink blending refills and daubers.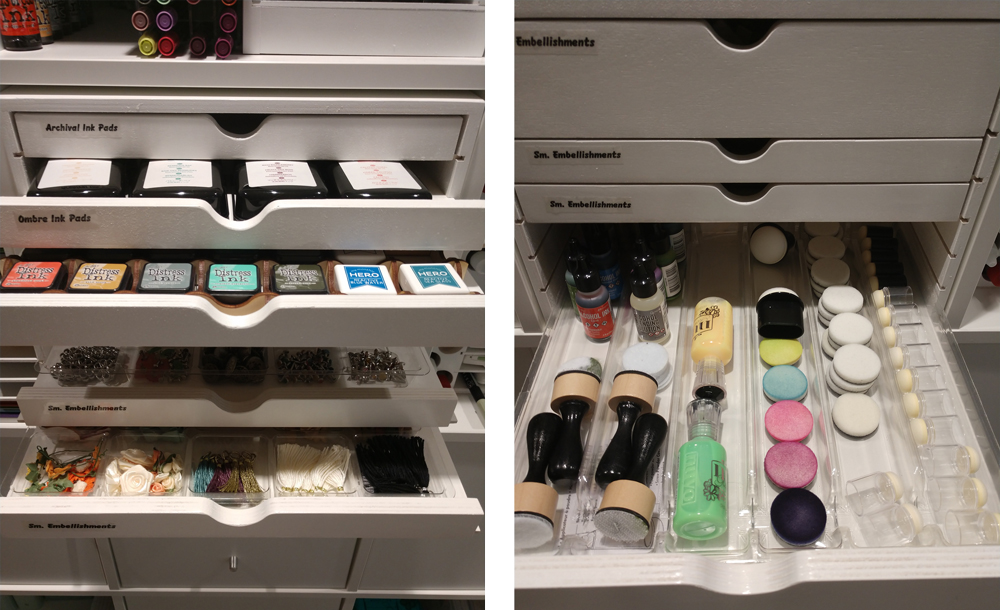 Robin uses one of the IKEA® drawers to keep her Stickles Storage and Nuvo drops.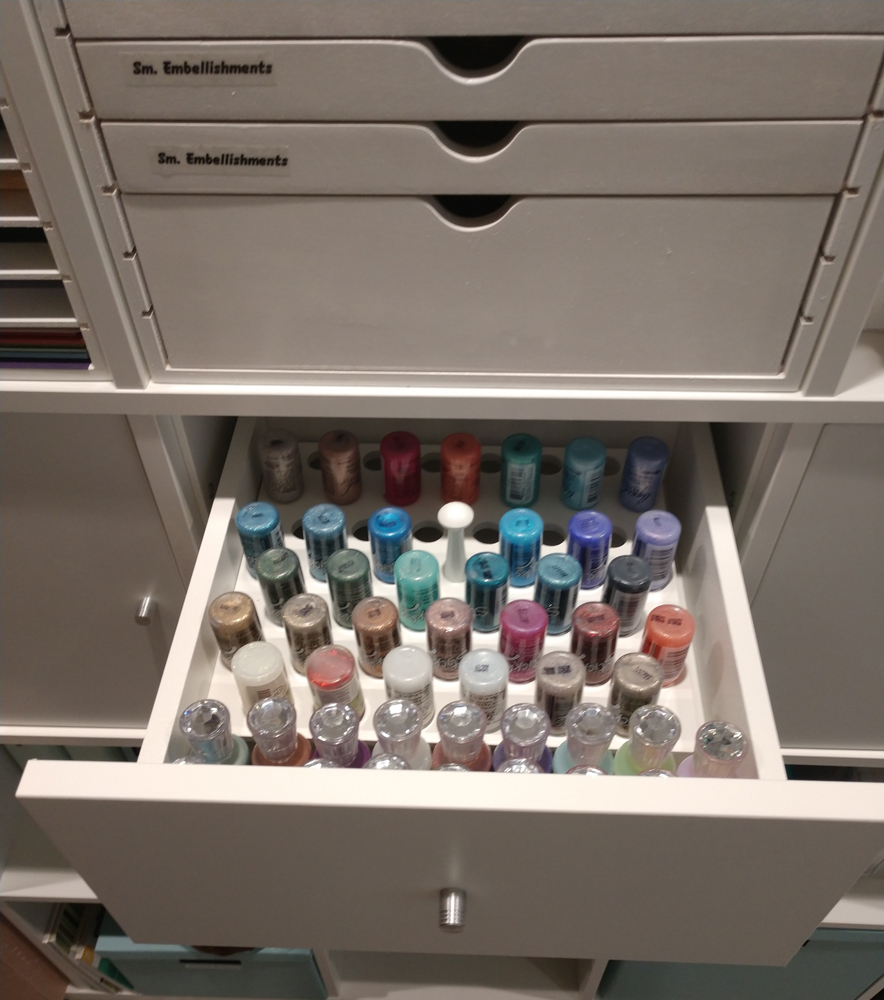 The large island in the center of the space has a work area where Robin keeps her glass media mat, cutting mat, and rotary cutter. The space sits at least 4 people with easy access to the tools in the center.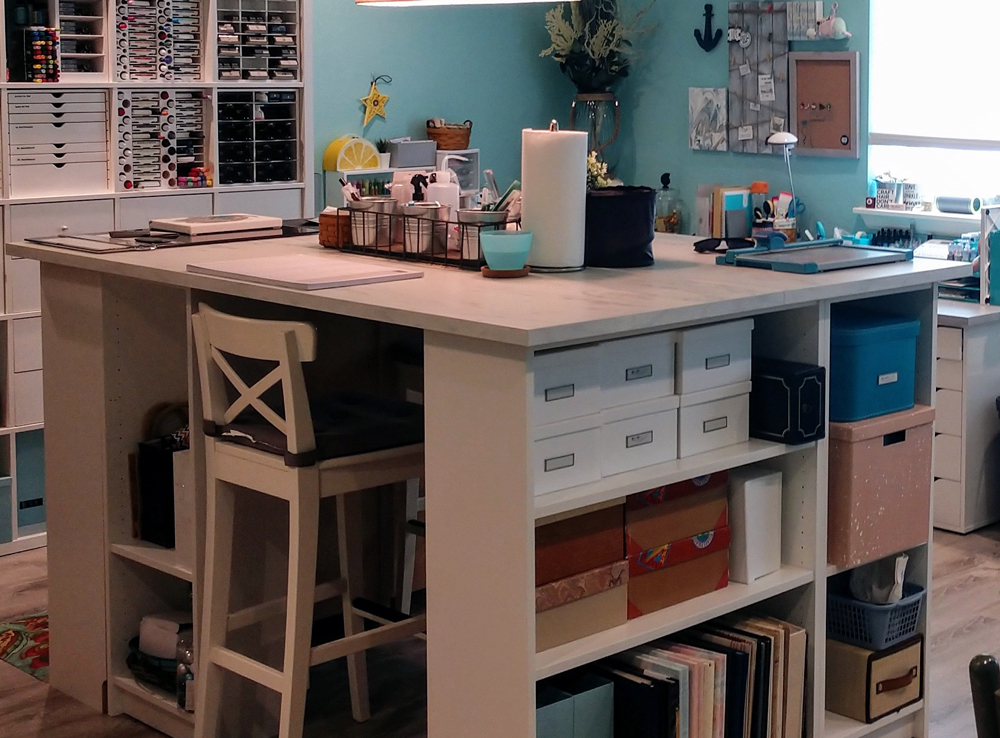 Another desk offers 2 seating areas with easy access to the Kallax unit and Stamp-n-Storage products. Robin uses the Kickstands to allow more desk area and places for tools and accessories.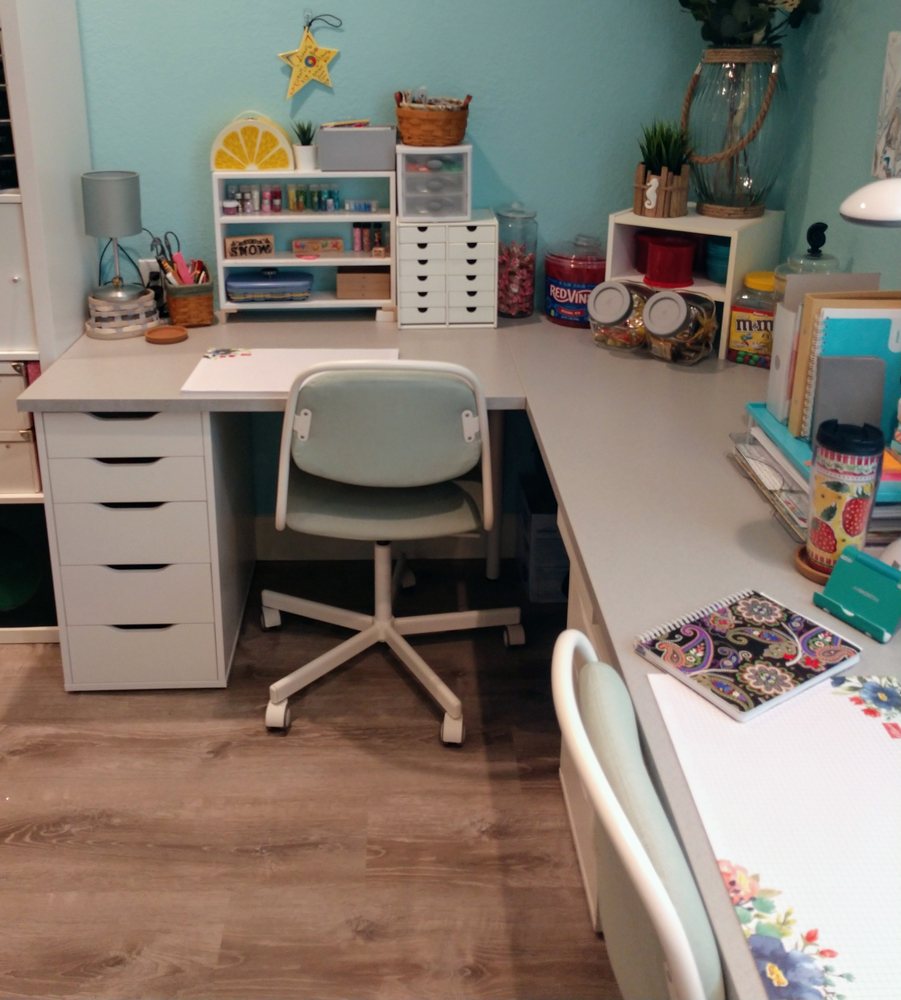 Robin set up a small table with the Storage Shelf for her embossing and glitter station. "I wanted to keep embossing powders and glitters handy along with a laminator for foiling," she says.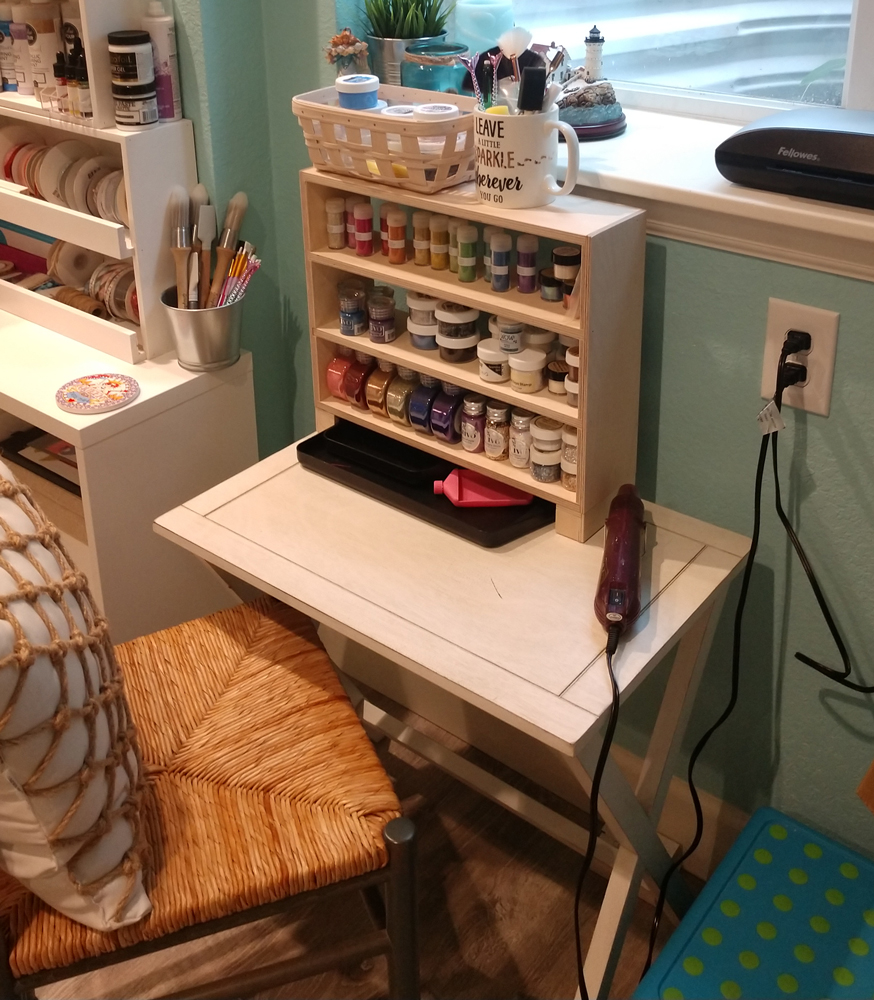 The die cutting area is standing height like the island. On the shelves below, Robin keeps her stamps and dies together using the 5x7 Magnet Cards. She added a memory foam mat for more comfort while standing. The smaller shelf keeps her Ribbon Shelf and Stamp Case Shelf for more paints, inks and glitter.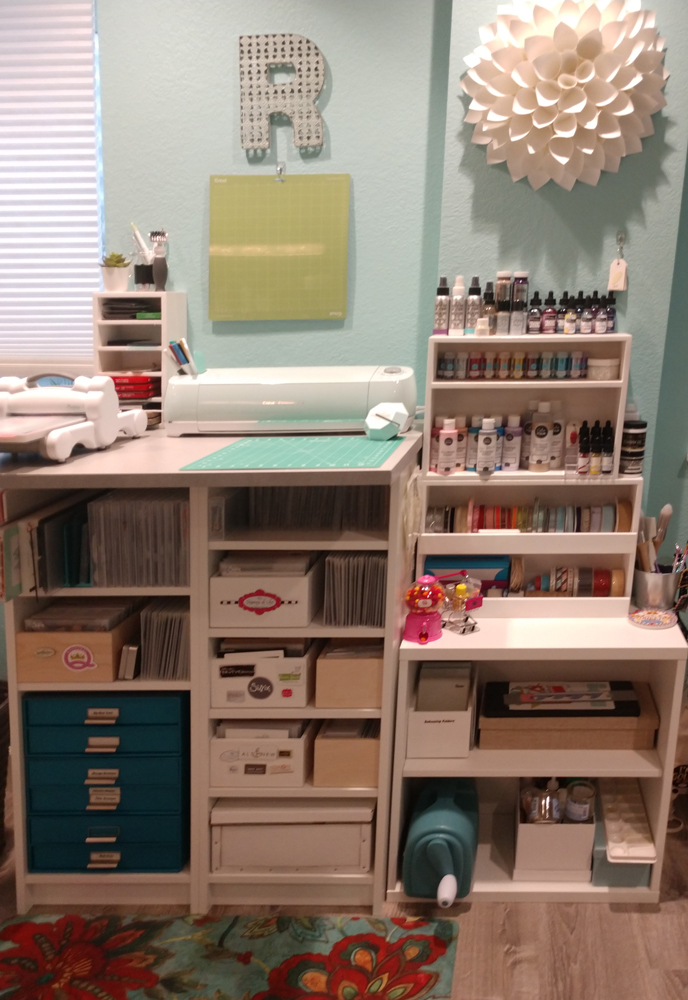 Robin's space is designed to keep her supplies organized and easy to find. "It takes time to plan it out and to do it, but it's worth it and makes for a lot more crafting time," she says. Thanks for sharing your Craft Cove with us Robin!
If you would like to be our next Studio Showcase winner, submit your photos to contact@stampnstorage.com. If your studio is chosen, you'll receive a $75 store credit.