June Studio Showcase: Karen
When our June Studio Showcase winner began her organization journey, she started with the most challenging task, purging! Karen completely emptied a storage room before transforming it into a beautiful and functional craft studio.
"I decided if I hadn't used an item or even thought about it in the past two years, it went in a donate box. The paper was the hardest, but I just really had to think about whether I still intended to use it or even had a use for it (e.g., baby themed paper. I don't have little ones anymore…so donate). Also, duplicate tools or punches were also donated. I literally put my hands on every embellishment, die, tools, paper, etc."
After purging came the electrical and drywall, and then as Karen says, the real work and more fun stuff of planning out her space.
"How do I organize it? I had a pretty good idea what I wanted, but I have to admit I had to change a few things that didn't work out," Karen says.
Karen's room is 12x12 and has custom cabinets with a lot of counter space and drawers. She decided to keep it bright and fun by choosing the aqua color cabinets and a quartz countertop to stand up to stains and scratches. Of course, she also thought they looked beautiful. All of the drawers are full extension so she can use every inch of space.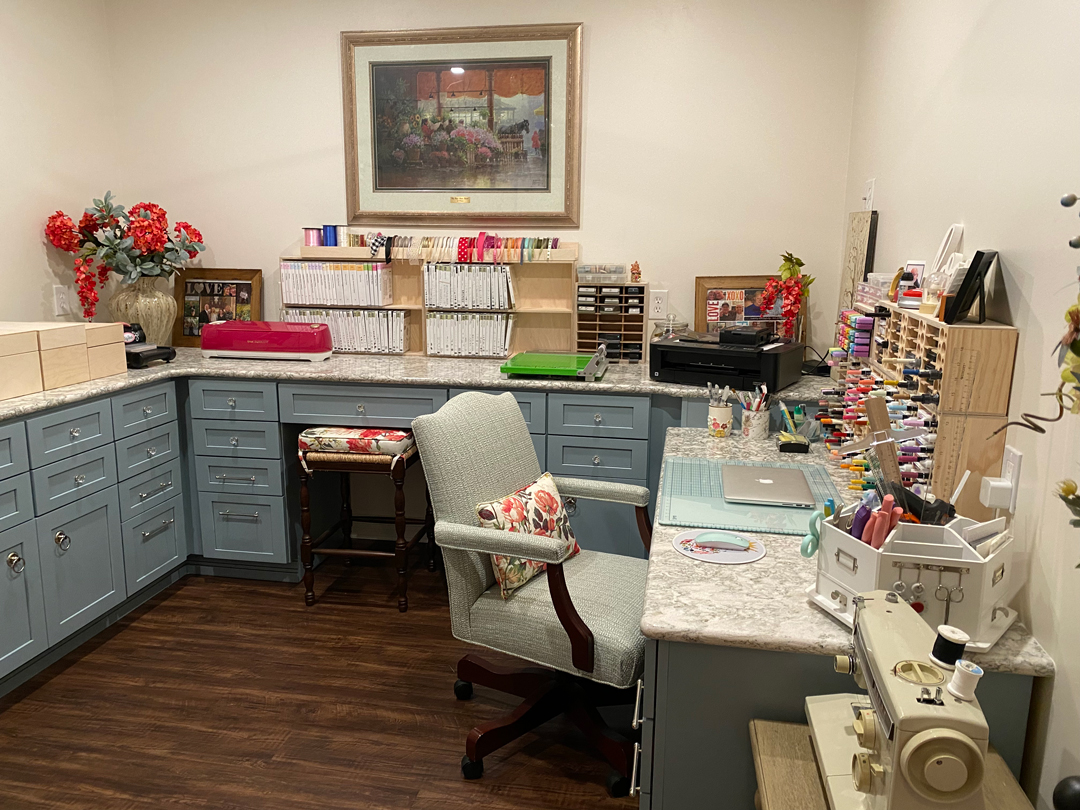 Most of Karen's countertops are standing height except for her scrapbooking and stamping area. She has her ink pads stored in a 48 and 24 Combo Holder with a Half-Height Combo Holder on top. Her Stampin' Blends by Stampin' Up! are organized in the Marker Holder for Stampin' Blends. She also keeps her most used tools close by in a caddy and her desk drawers.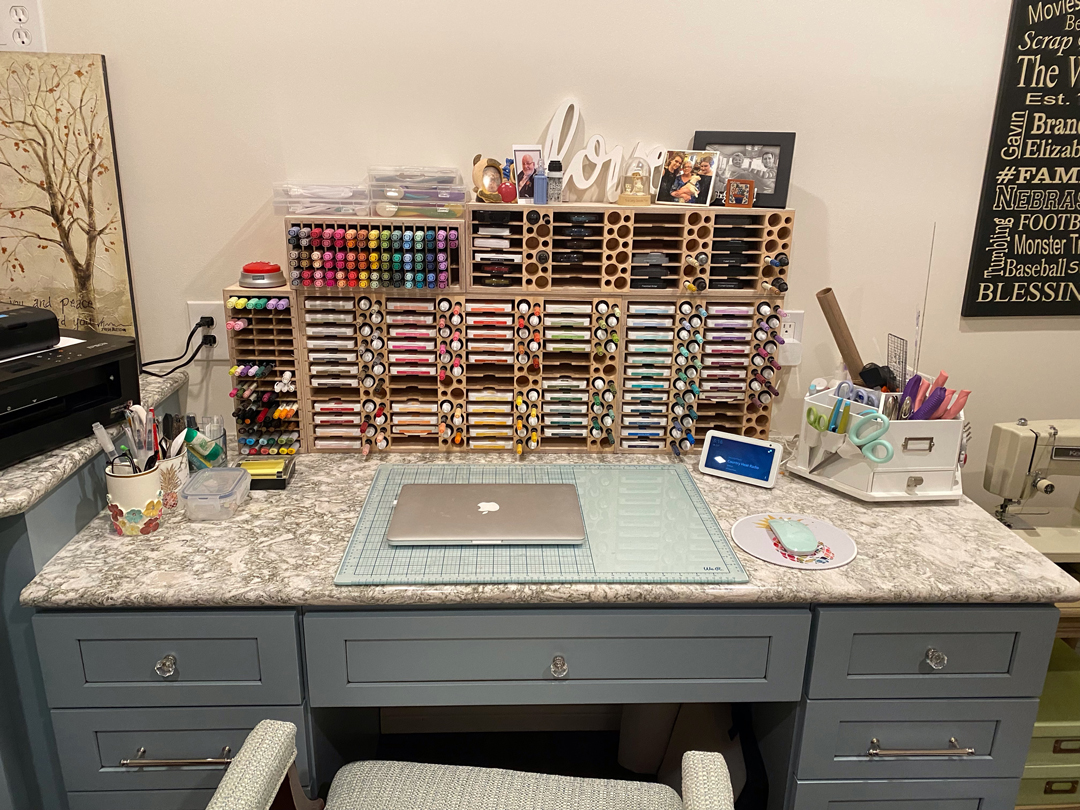 Karen's die-cutting area is across the room, where she has a standing station also used for Cricut® projects. Her embossing folders are stored in a Large Creative Crate (with cover) using Storage Pockets to organize the folders alphabetically. Her dies are stored on 6x7 Magnet Cards in another Large Creative Crate (with cover) organized by theme.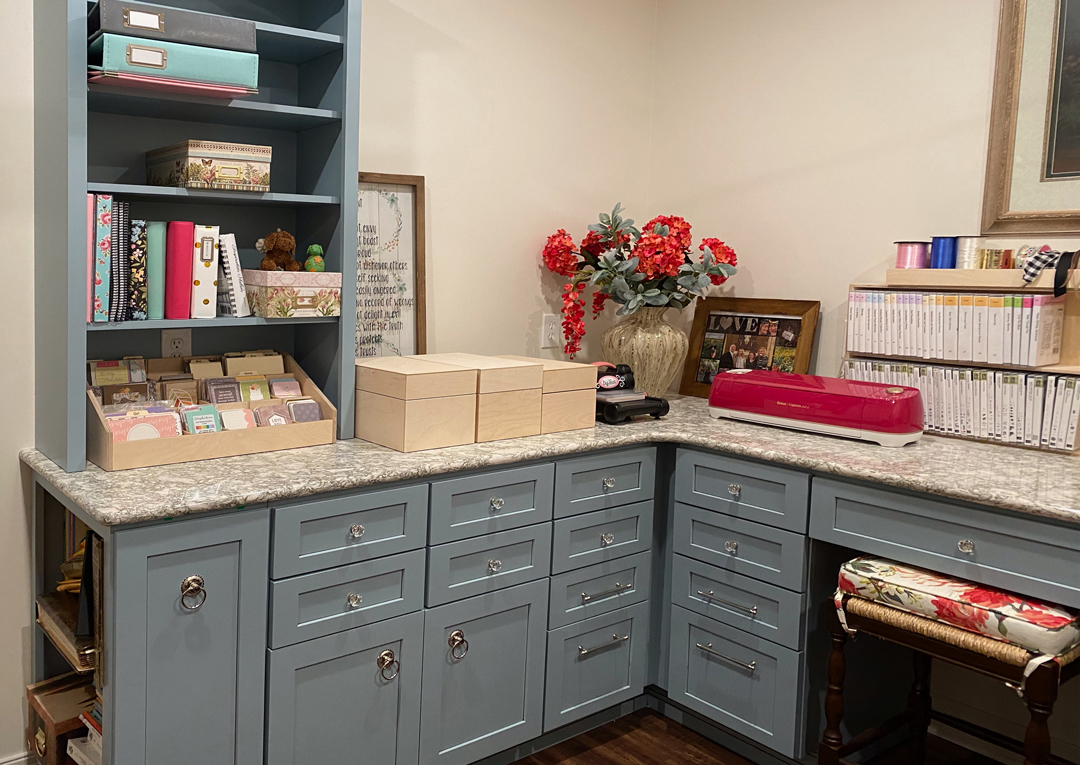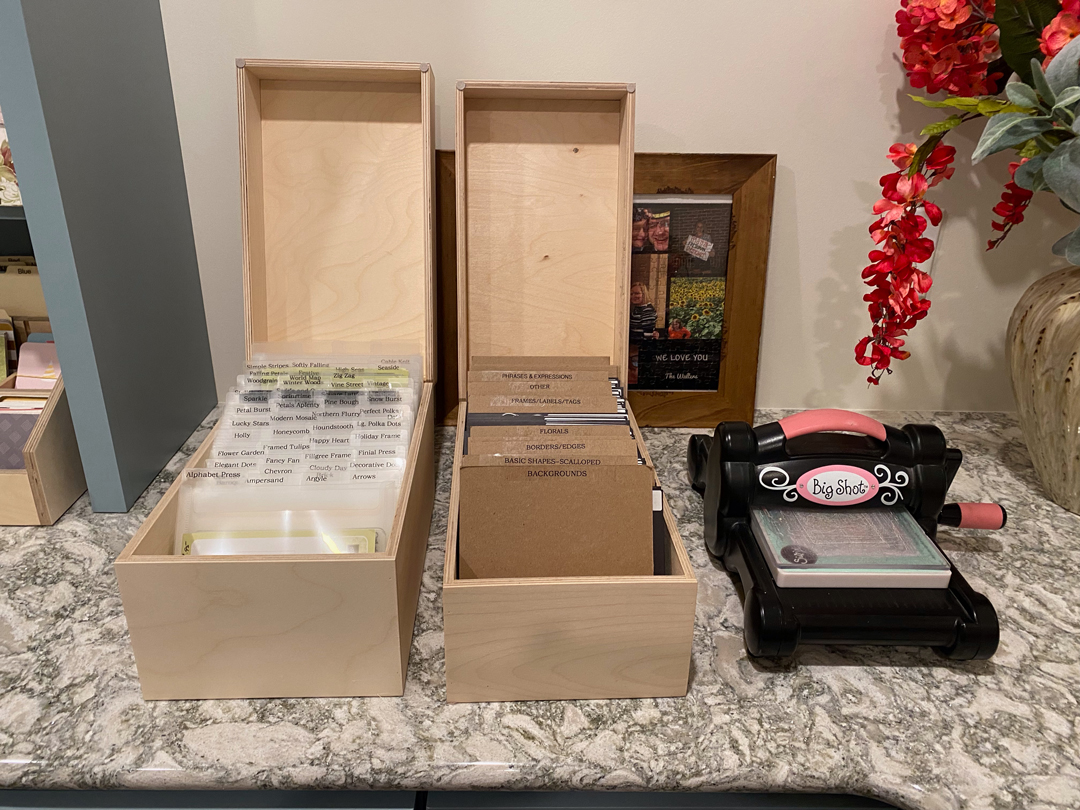 Karen organizes her stamps alphabetically in two Slimline Shelves, with a 48" Ribbon Holder on top. Next to her shelves sits a Small Lock-Down Punch Holder.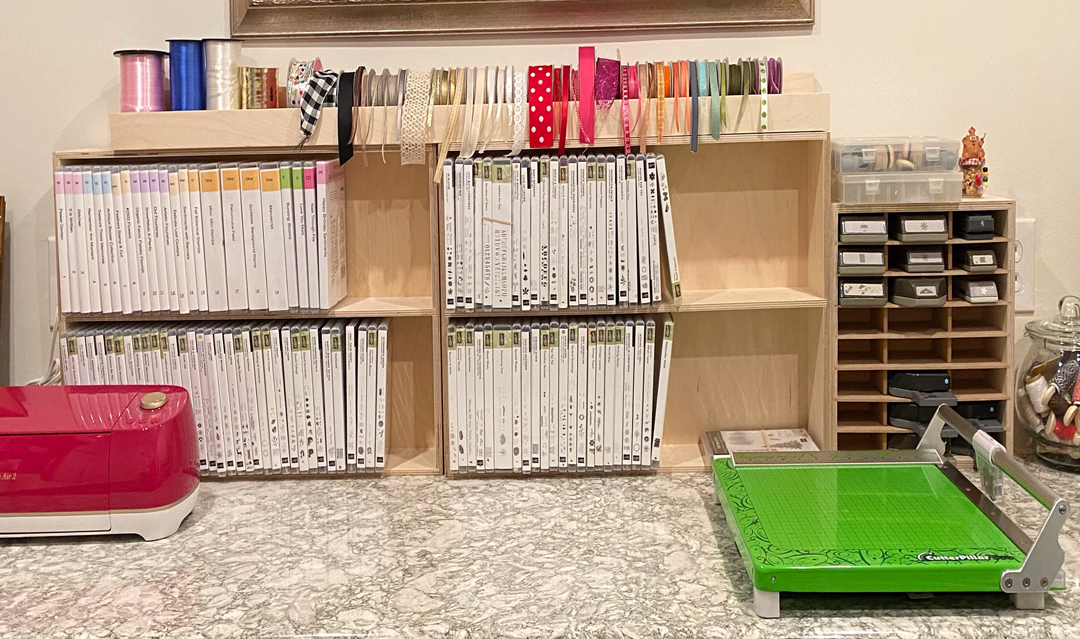 The cabinets hold a variety of tools and supplies Karen wanted to be tucked away. These include large embellishments and stickers, buttons, trinkets, and ribbon pieces.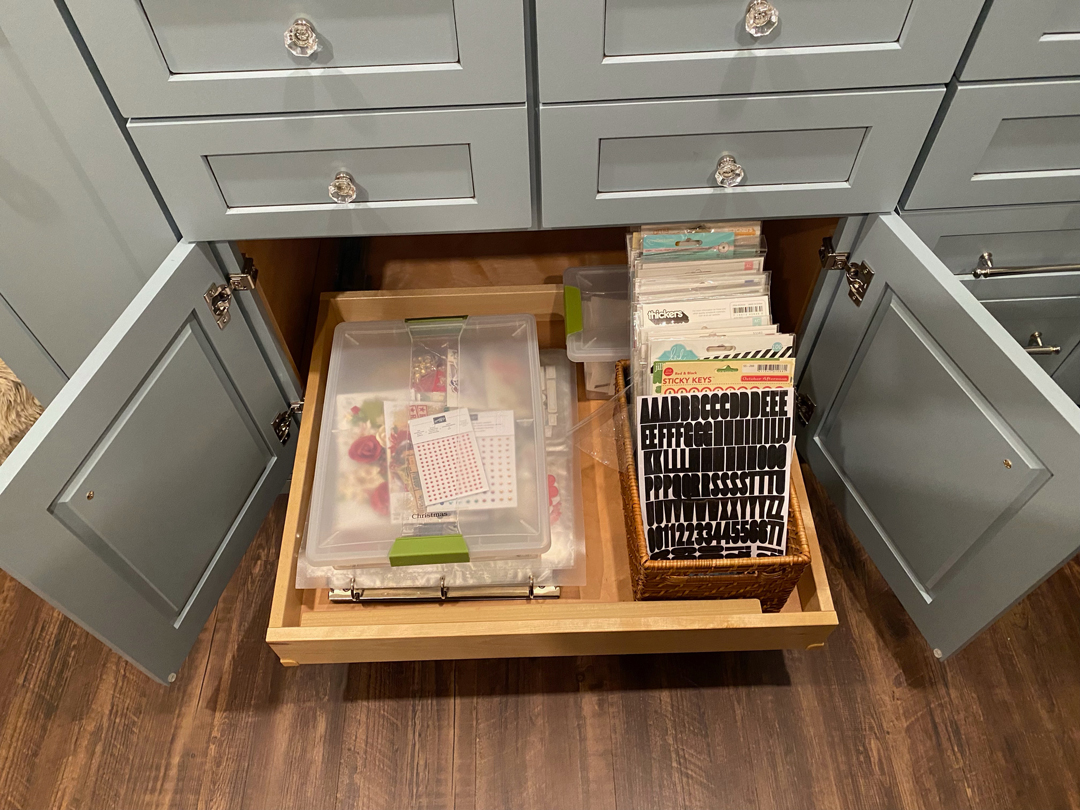 Across the room sits a cabinet Karen adjusted to fit Stamp-n-Storage products designed for the IKEA® Kallax unit. She has four 8.5x11 Paper Holders, an 8.5x11 Paper Holder Add-On, and three 12x12 Paper Holders for her cardstock and designer series paper. Every color is labeled with a Paper Sleeve and sorted by rainbow order.
"I love having each color separate and being able to stash my scraps in the Paper Sleeves."
The Drawer Cabinet (5 Double) holds her small embellishments using the 15 compartment Deep Tray and Crafty Storage Jars.
Above the unit sits a larger binder that holds Karen's embellishments organized by theme and then by color.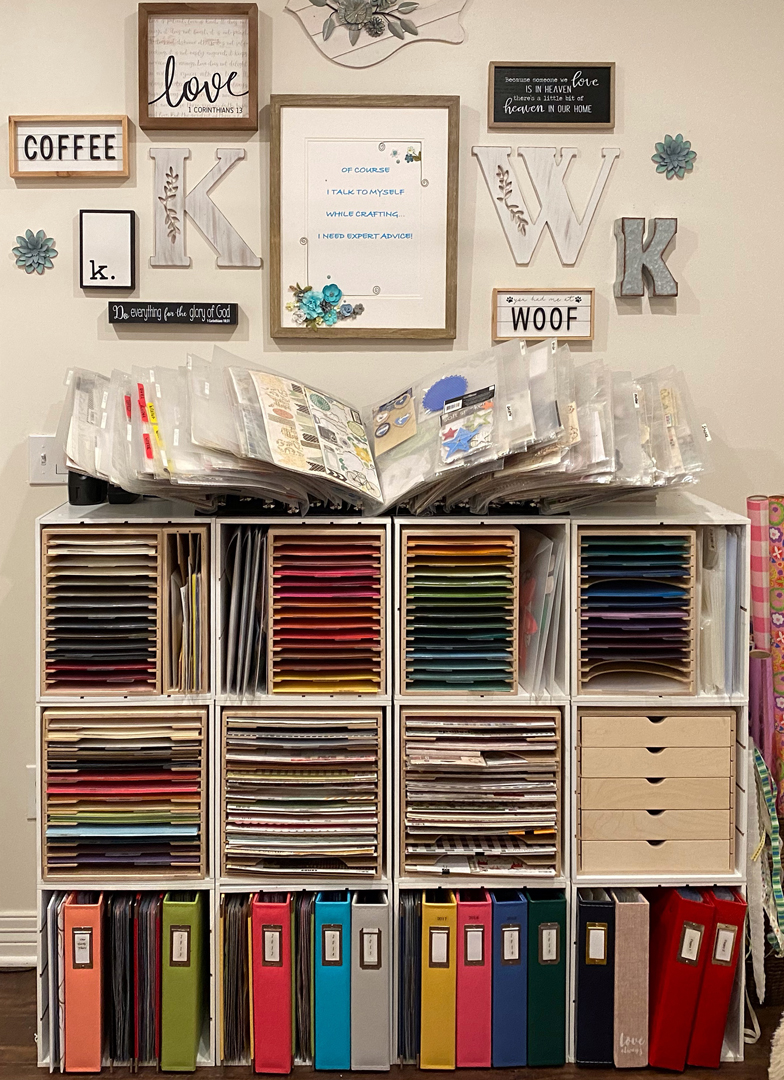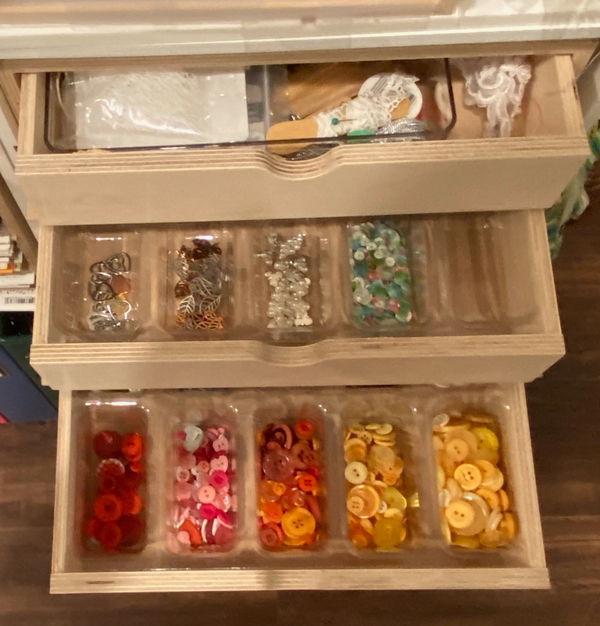 "Being organized is everything to me. I used to spend a lot of time hunting for certain items, or worse yet, I'd forget what I even owned, and I'd rebuy an item. When I was purging, it was not unusual that I had duplicate tools, inks, etc. Now everything has a place, and I can quickly put my finger on what I need—no more wasted time and money. No more searching equals more time creating. I absolutely LOVE Stamp-n-Storage products! It's made a huge difference in storage and organization, and I know your products will stand the test of time".
We hope you enjoyed Karen's studio, and it inspires a few ideas as you organize your craft space. If you would like to be our next Studio Showcase winner and have the chance to receive $75 in-store credit, here are a few hints: clean up your space, snap some photos (4 or more) from a few different angles, and include some comments about what you love about your area and your Stamp-n-Storage products. Then, you will be entered into our monthly drawing. Email your entry to: contact@stampnstorage.com.