January Studio Showcase Winner: Amy H.
Spring is in the air and the flowers are blooming...at least in the craft space of our January Studio Showcase winner! Welcome to Amy's Scrap-land. Her space is not only rejuvenating with its spring-like theme, the color scheme of blue, green and yellow were deliberate to make a person crafting in Scrap-land feel happy and creative.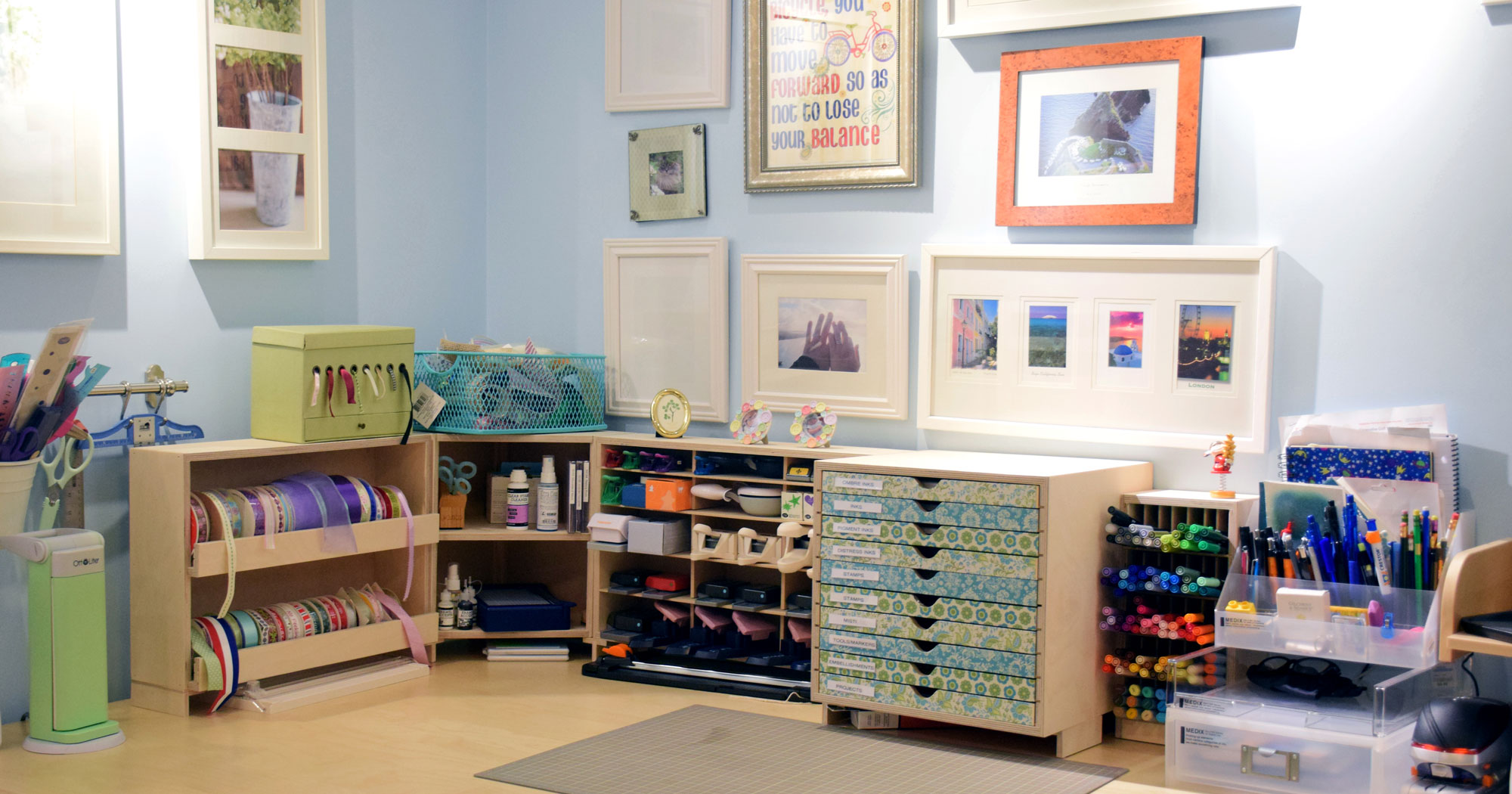 When Amy first started creating Scrap-land in her basement, she described it as an organizational nightmare. The space doubled as her office, her husband's office and her scrap oasis. " I did not want to work in the space because I couldn't see everything and every time I started a project, the mess would just get overwhelming. I just couldn't craft " Amy says.
The Scrap-land makeover began! Amy added an IKEA Gallant desk, Alex Drawers and the Kallax shelving unit. " I then upgraded from my Cropper Hopper style paper sorters to the Stamp-n-Storage Paper Holder, which have been a dream....I can SEE my paper and look for the right color, pattern or texture for my project " Amy says. She also uses the Paper Holder Label System to help with sorting and organizing her papers.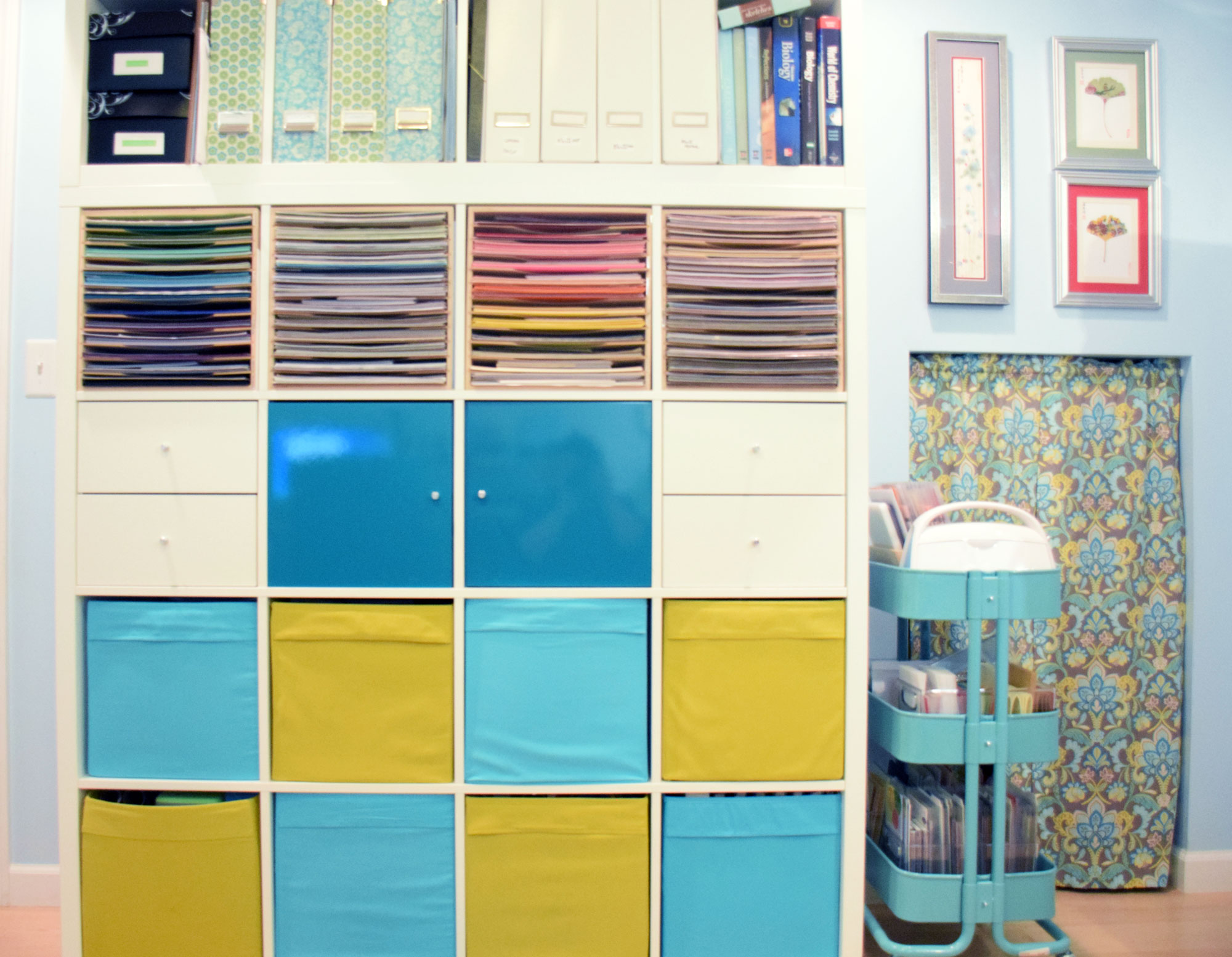 Amy is a wife, mother of two and a high school biology teacher. Life can be stressful and Scrap-land became her haven to recharge. Amy even started a weekly organizer to schedule her house cleaning, grading papers, exercise and craft time. It gave her the ability to have some down-time and refresh so she could be more present with her family. Friday night became craft night, which Amy describes as a reward after a long week. Her 5 year-old daughter even joins her sometimes for some mommy-daughter craft time.

Amy was spending three hours or more creating in her space on Fridays. " Except, once again, my supplies were all over the place! Knowing that Stamp-n-Storage saved me from my messy self last time, I turned to the catalog and videos for the next step to organizing my space" Amy says. She began researching the Drawer Cabinet. "I really debated over the Drawer Cabinets. I thought they were neat but just not for me...what would I put in there? " After much deliberation between and Ink Pad Holder and Drawer Cabinet, Amy went with the Drawer Cabinet. "The Drawer Cabinet has been a Godsend to my crafting " Amy says. She puts her inks, wooden stamps and her MISTI fits in the drawers. She has the 30 Compartment Embellishment Trays, Tool Tray, and even has a drawer dedicated to unfinished projects so she can keep her desk clear of messes.

We love how Amy made the Drawer Cabinets her own by using ModgePodge to glue paper on the drawers. "It makes me happy to see all these bright patterns " Amy says. She also purchased the Kick Stands to increase her work space and place her Ranger CraftMat underneath. "The Kick Stands have changed my life too, because I never could hang my larger paper trimmers to get out of the way, I just never found a solution for them. Now I can have both my favorite trimmers out to be able to use in a moment's notice."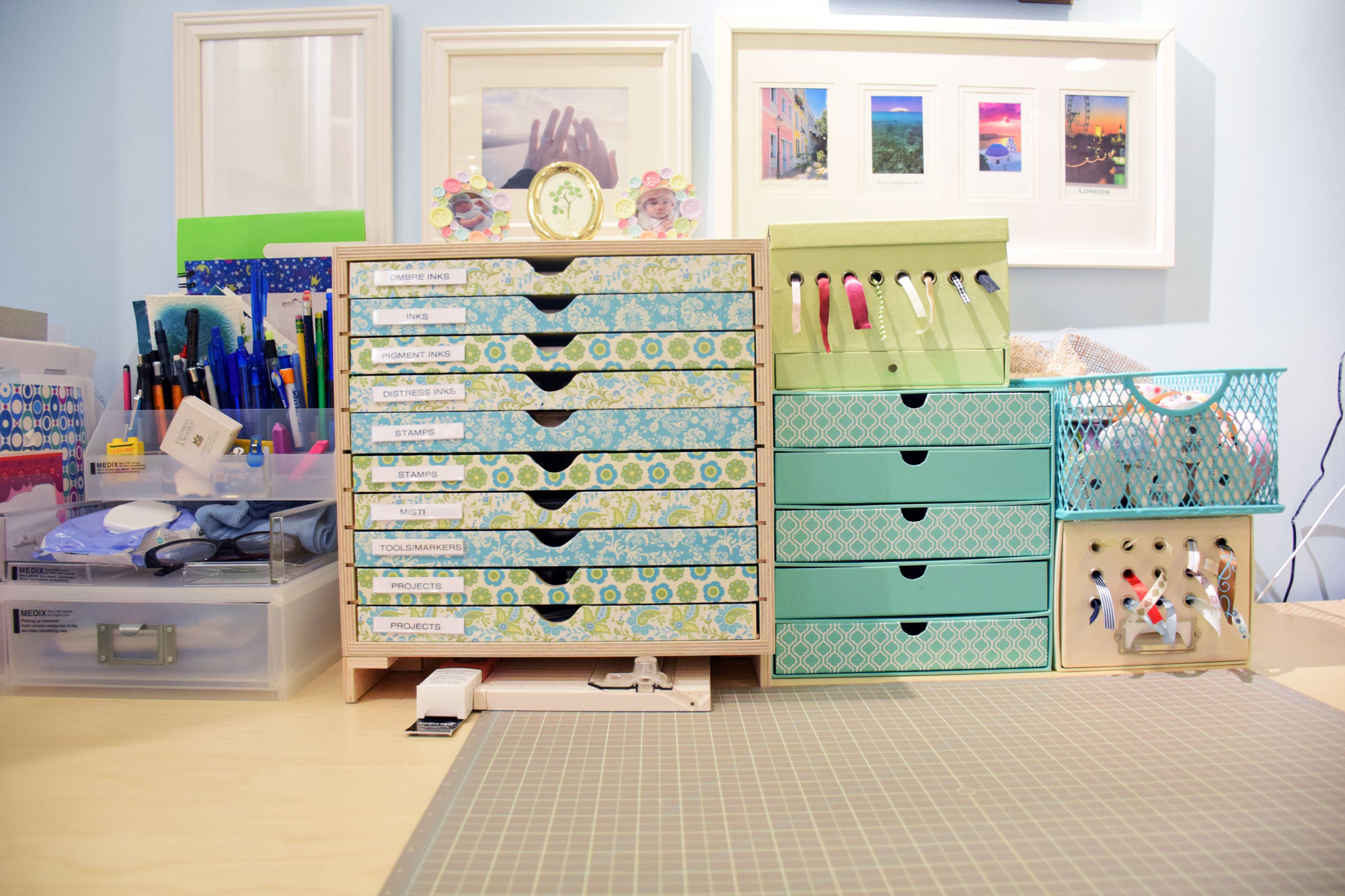 Amy added a Pop-Up Waste Basket that she hangs on her tool wall when she's not using it. "The Pop-Up Waste Basket has been great for small pieces of paper" she says. She stores her dies on Magnet Cards along with embossing folders and a few large stamps in her Medium Wafer Die Tote.
Amy's Scrap-land is a great example of how she has taken it step by step to organize. Below is a photo of how her space looked in December.
Recently she added a few more Stamp-n-Storage products. " I realized that I was using more items when I could see them...I am much more productive now and am not searching and searching for the perfect embellishment for my project, or even just my scissors" she says. Amy added a Corner Shelf, Ribbon Shelf, Whale-Tail Punch Holder and Stacked Marker Holder to her collection. The Corner Shelf holds her glitter sprays, drops/enamel accents and her stamp cleaning supplies. Her punches use to be stored in two drawers and now she can see them in the Punch Holder. She has stored both Spectrum Aqua and Tombow markers in the Marker Holder. "I like to keep my markers in threes so I can easily blend colors" she says.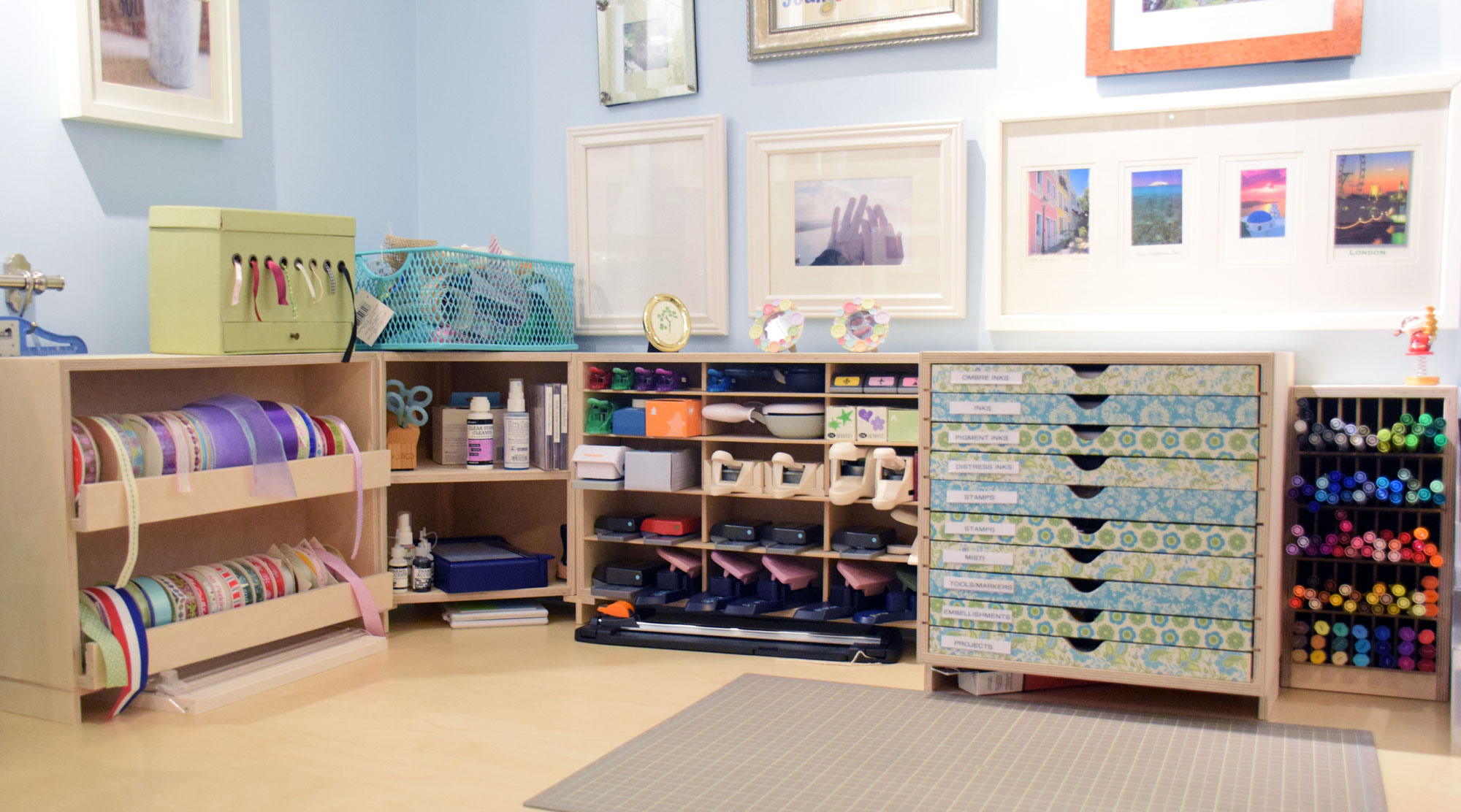 "One thing I have loved about Stamp-n-Storage is how modular the units are. I am slowly building a collection of items because I am expanding what I do and I am learning how to craft within my space. I have realized that when things are in front of me and I can see them, I use them. I also can think clearly and create better which has really helped to reduce stress. Stamp-n-Storage have helped me grow into my space. I am blessed to have found the company and I feel fortunate that I am able to share all the wonderful things I create with people I love and have the opportunity to share my love of crafting with my daughter" -Amy H.
---
Would you like to be our next Studio Showcase winner and have the chance to receive $75 in store credit?
Here are a few hints: clean up your space, snap some photos (4 or more) from a few different angles, and include some comments about what you love about your area and your Stamp-n-Storage products. Then, you will be entered into our monthly drawing. Email your entry to: contact@stampnstorage.com.