December Studio Showcase: Kim
We often see craft studios with white furniture and a splash of color. It's a beautiful look with endless possibilities for decor. However, dark furniture can be equally beautiful, highlighting the rainbow of color even more! Kim's studio does just that. We're going to let Kim take you on her journey of creating a gorgeous space to unleash her creativity!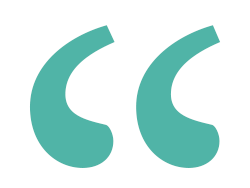 I'm so excited to get the chance to enter the Studio Showcase! I recently remodeled my craft studio and thought it was a perfect time. Of course, as you all know, the craft studio is never done, but I love my space, and I am excited to share it with you.
I've always loved to create and design. About six years ago, I was in charge of planning a monthly craft day with friends. My friends worked full time, and I was lucky enough to stay home with my two children and manage our household. I love organizing and crafting, so it was a perfect fit. After a few months of coordinating colors, papers, and ribbons, I discovered Stampin' Up!®. It made my life so much easier when trying to coordinate products. I decided to become a demonstrator, and now it's been 5 1/2 years, and I just reached my $100k in sales.
To reward my hard work, I remodeled my craft studio! Yay!!!
Once I started getting a nice supply of products, I struggled with keeping things organized. I learned about Stamp-n- Storage from another demonstrator, Mary Fish. I fell in love with her studio and had to get my hands on some of the products that Stamp-n-Storage designs to fit Stampin' Up!® products, which is just brilliant!
My very first purchase was the 12x12 Paper Holders. The cubed organizers (ex. Kallax unit from IKEA®) seemed like it was the best for my space, so all my items from Stamp-n-Storage are the for IKEA® size option.
I love how my colors are in rainbow order. I have job tickets that I store scraps and label the color name. I love having all my colored cardstocks out in the open to help me get inspiration.
My next purchase was the Lock-Down Punch Holders. These punches can be very awkward in size, and it's so nice to have a special place just for them. It keeps them organized and easily seen when I need to find one.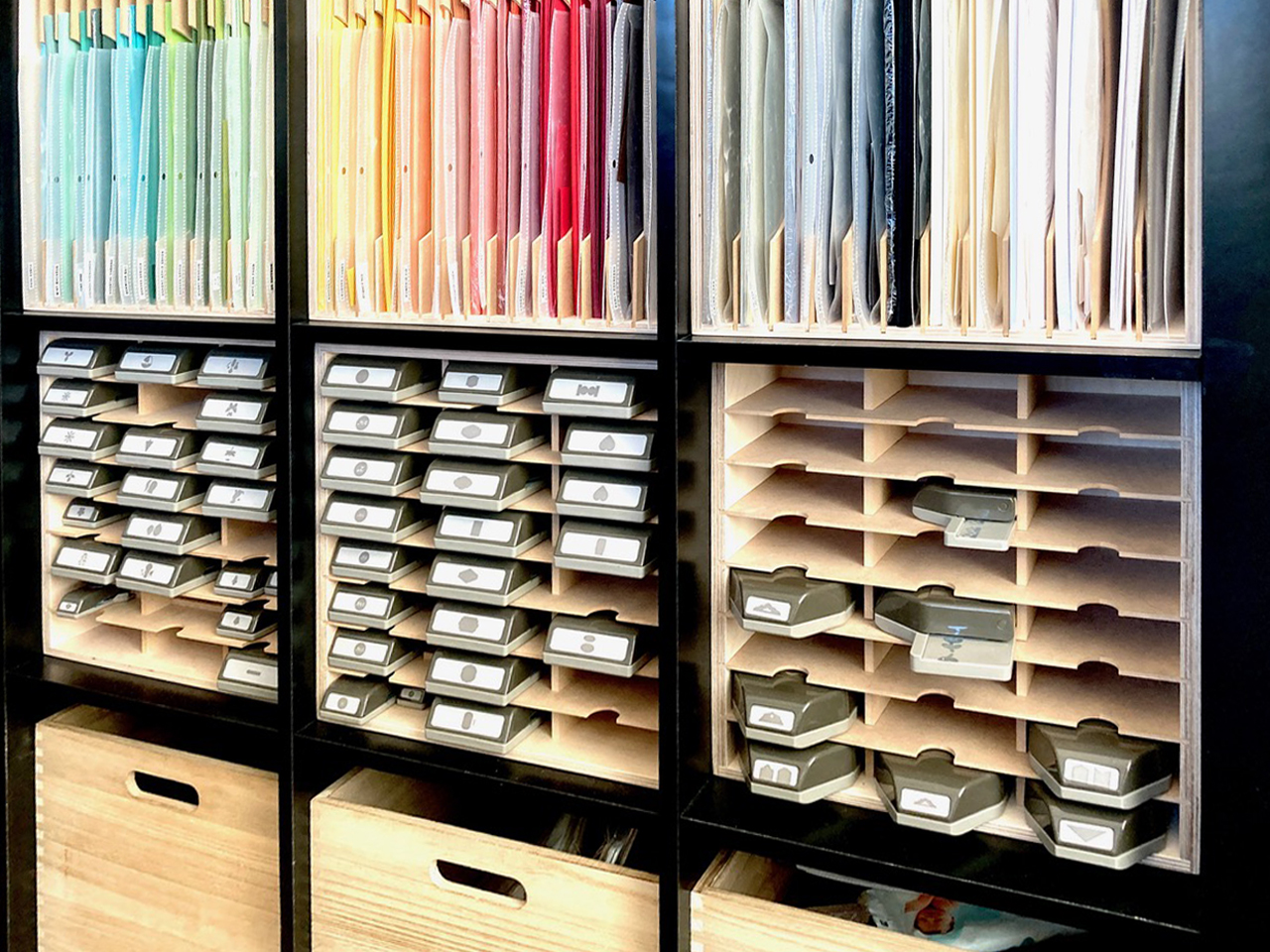 Once I got my hands on some of these amazing products, my list of "wants" grew. I had to get the Drawer Cabinets next. These cabinets are the best things ever! I have three now. I can keep all my tiny embellishments safe in an Accessory Tray, where I can again easily find them. I can keep my ink refills all in one spot without having to dig through a drawer with the Grid Storage System.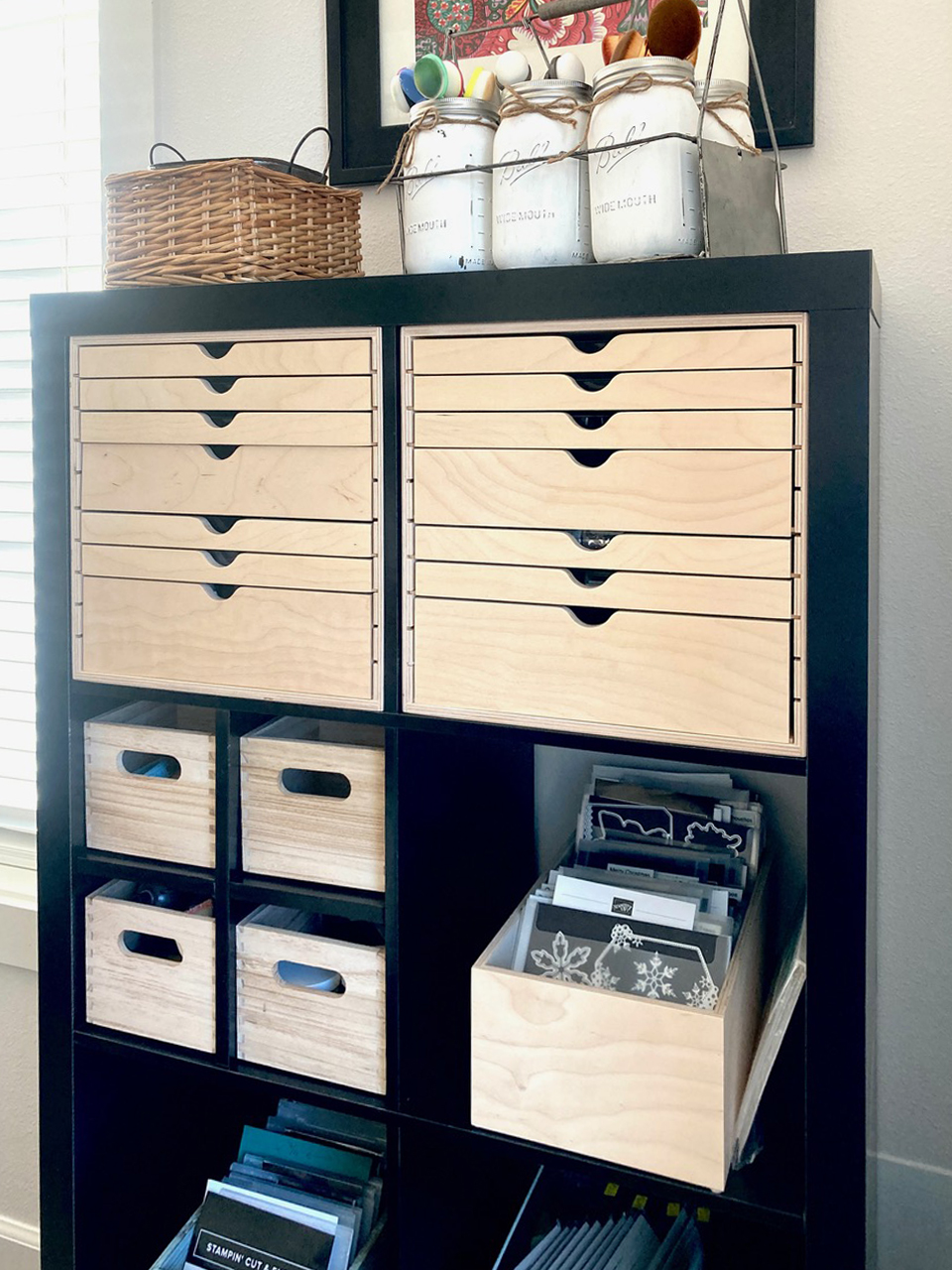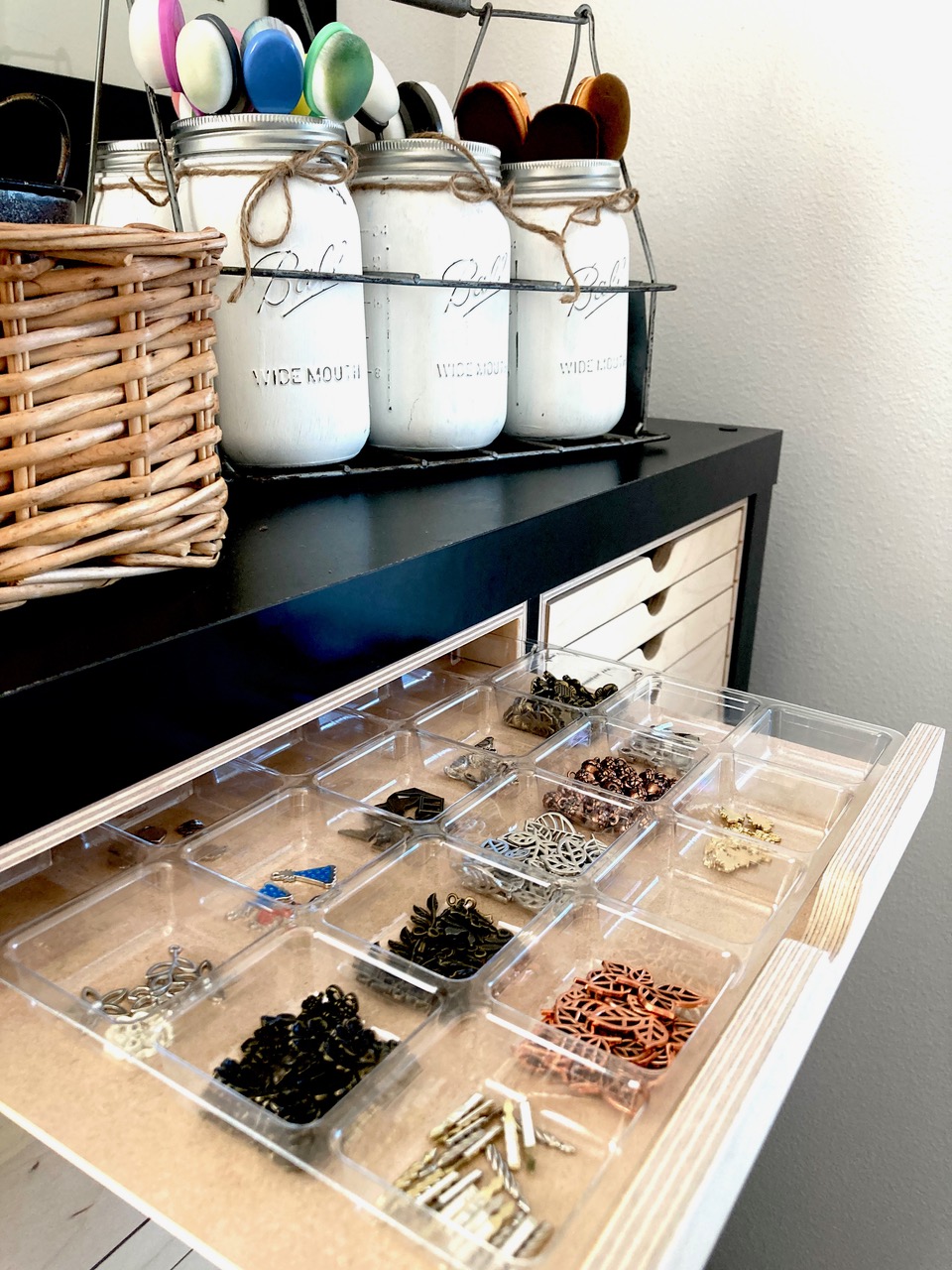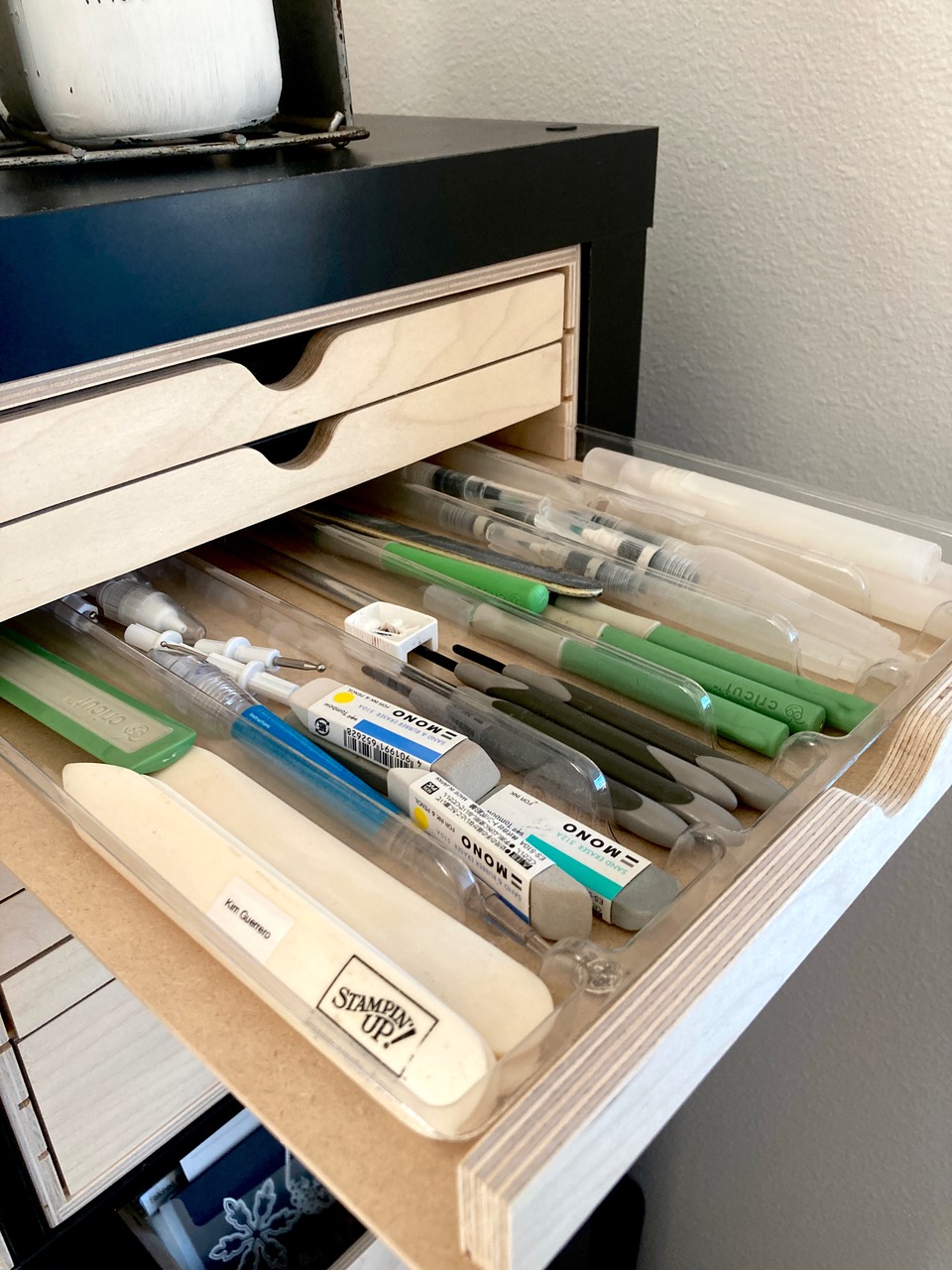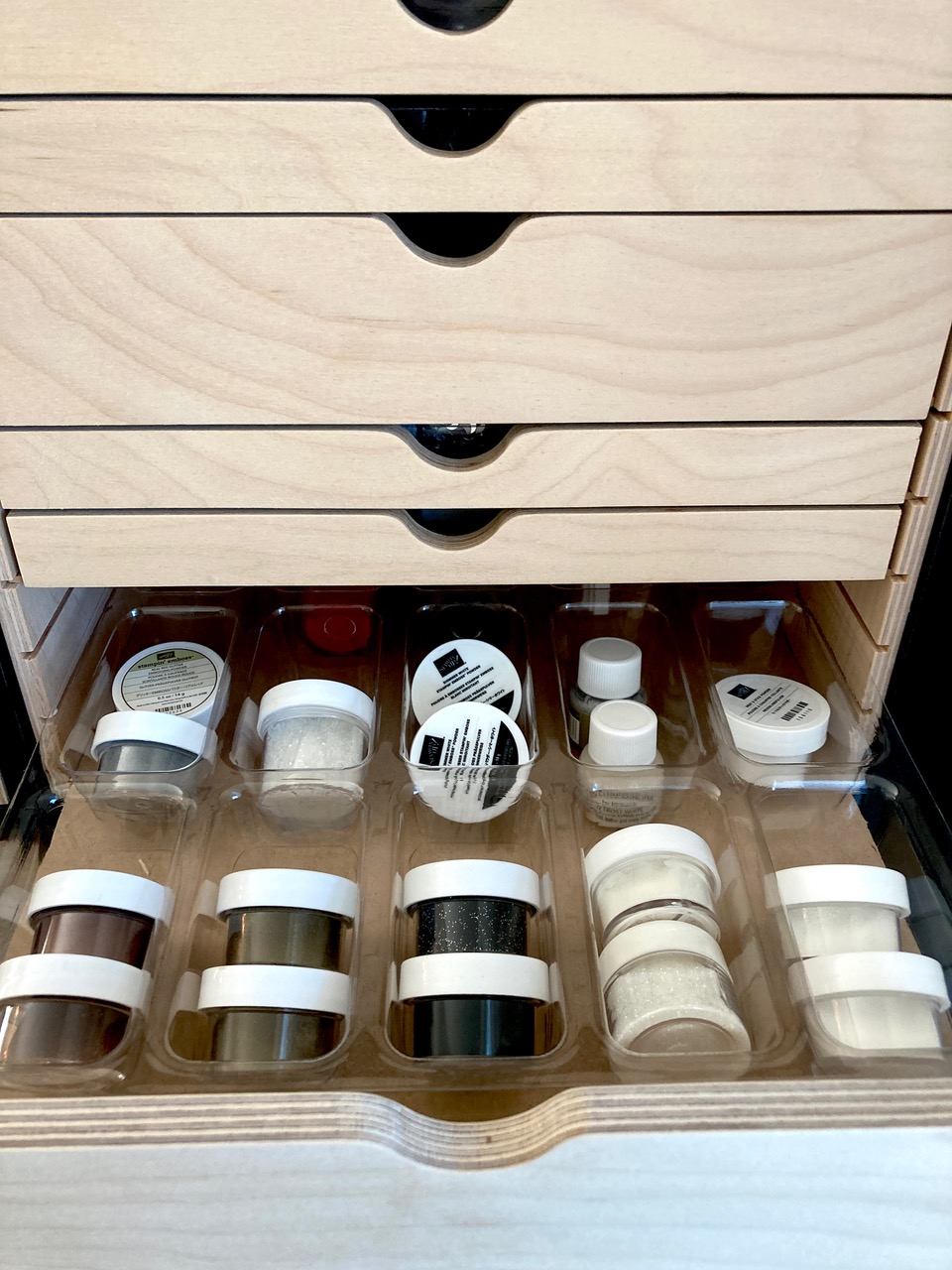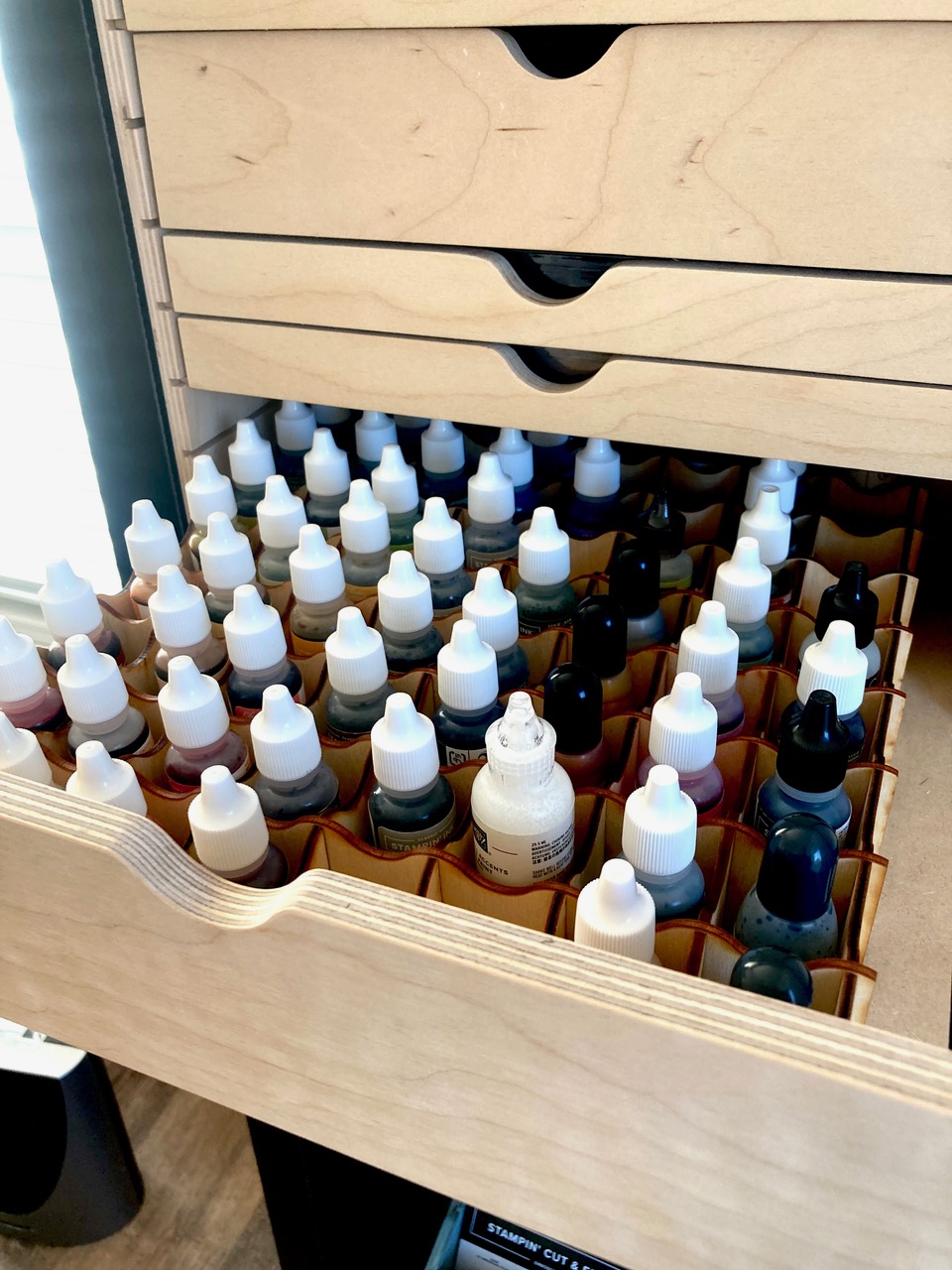 The Creative Crate keeps my dies all organized in one spot too! The box is designed with a slant in the back that helps the Magnet Cards lay nicely and makes them easy to flip through. The Magnet Cards and Storage Pockets are a must!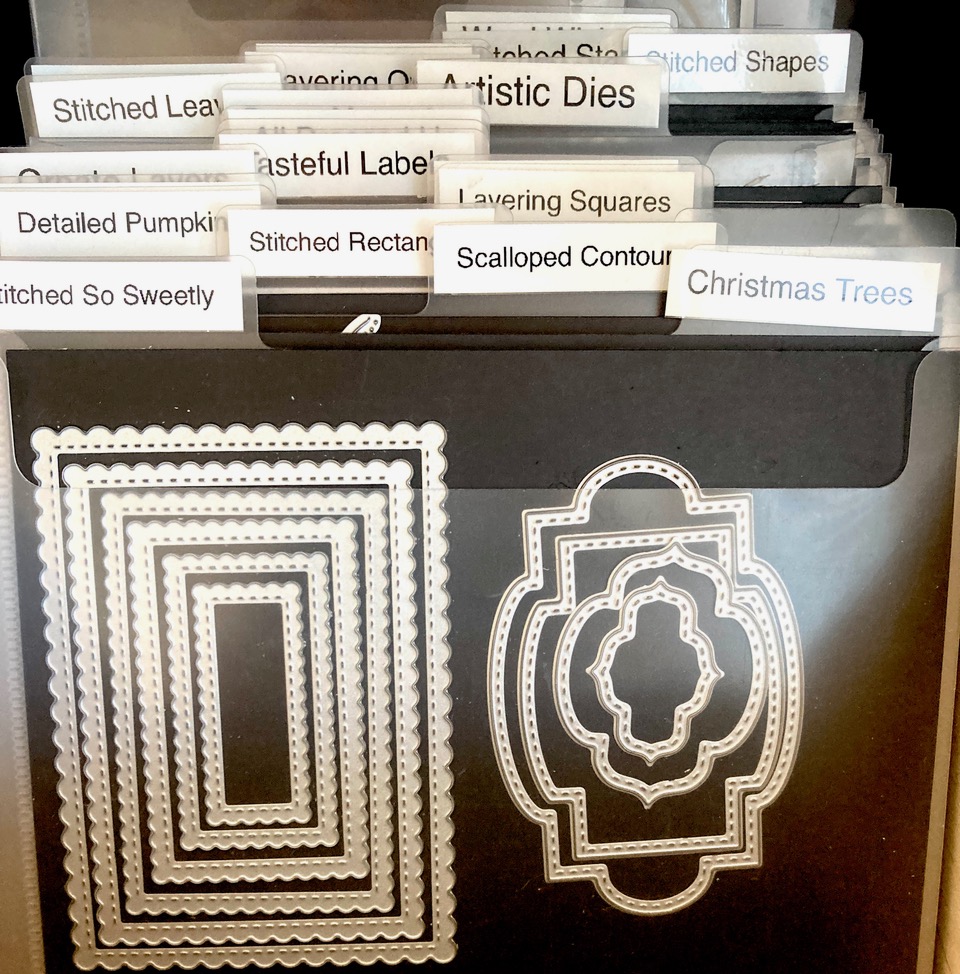 I love the Marker Holder for Stampin' Blends, but I obviously need another one ;-) . Next to it sits a Marker Nook for Stampin' Writes and other markers. I also have a Ribbon Shelf to keep my ribbon displayed.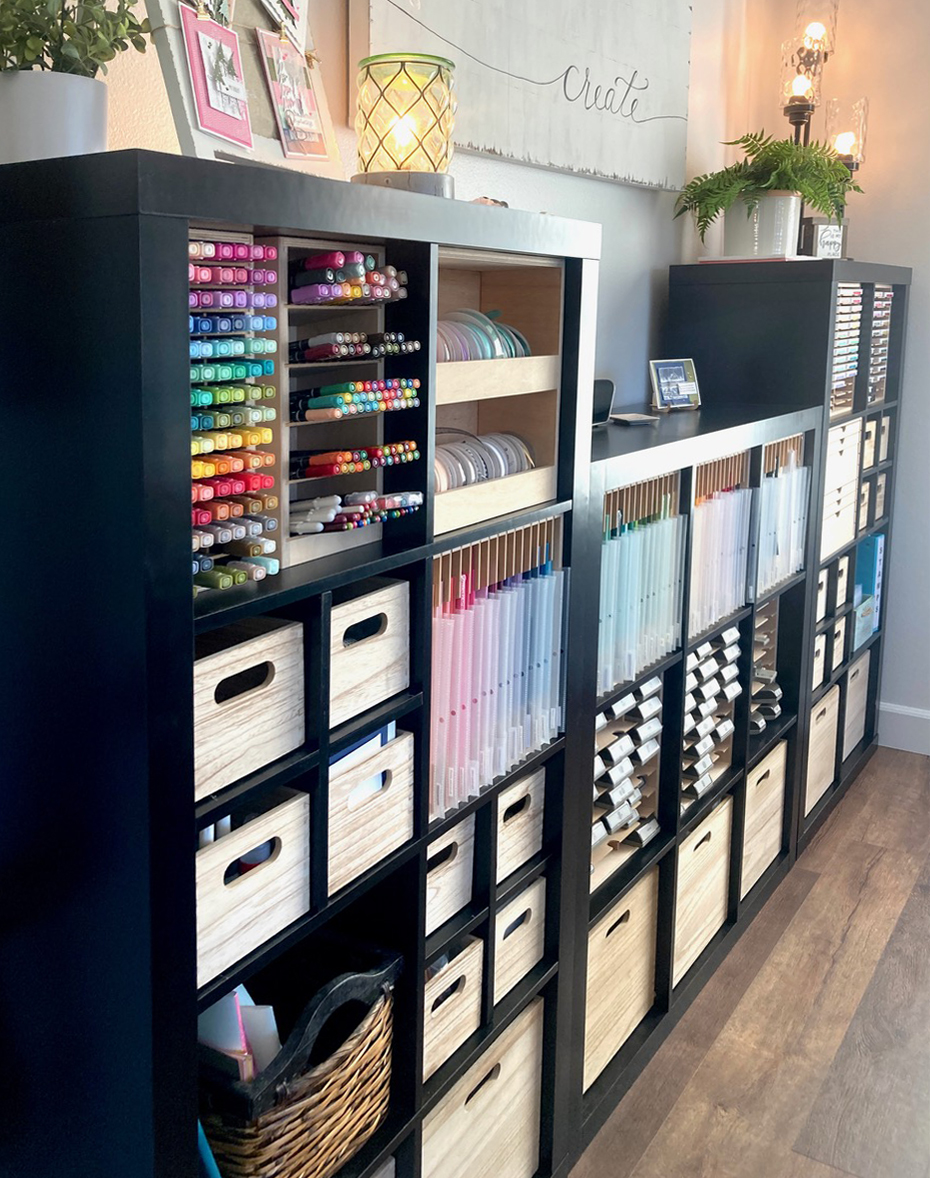 The Desk Caddy is a lifesaver for finding my tools when I need them. It keeps all my necessities nearby, and everything so organized.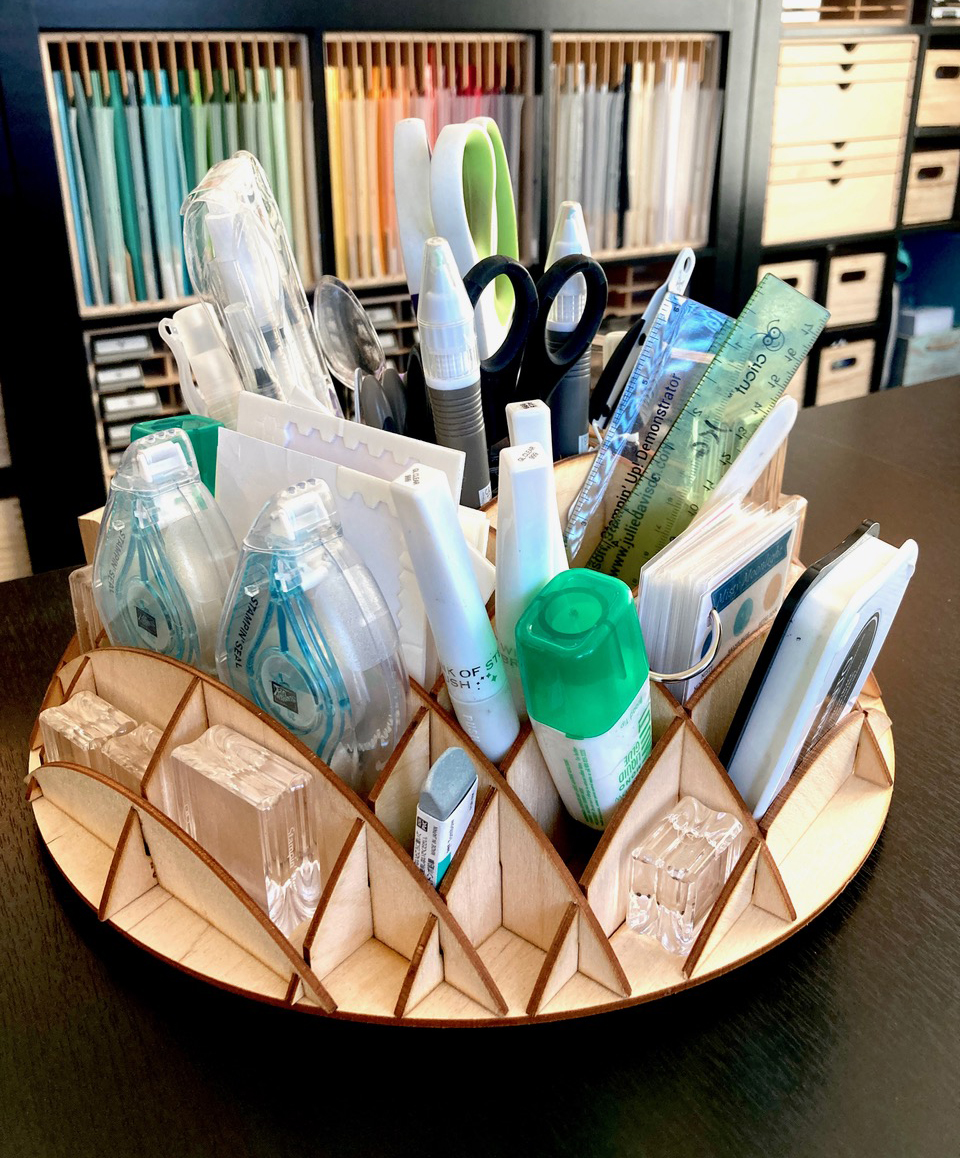 My ink pads are organized in the Stampin' Ink Pad Holder for IKEA® and the Standard Ink Pad Holder for IKEA®.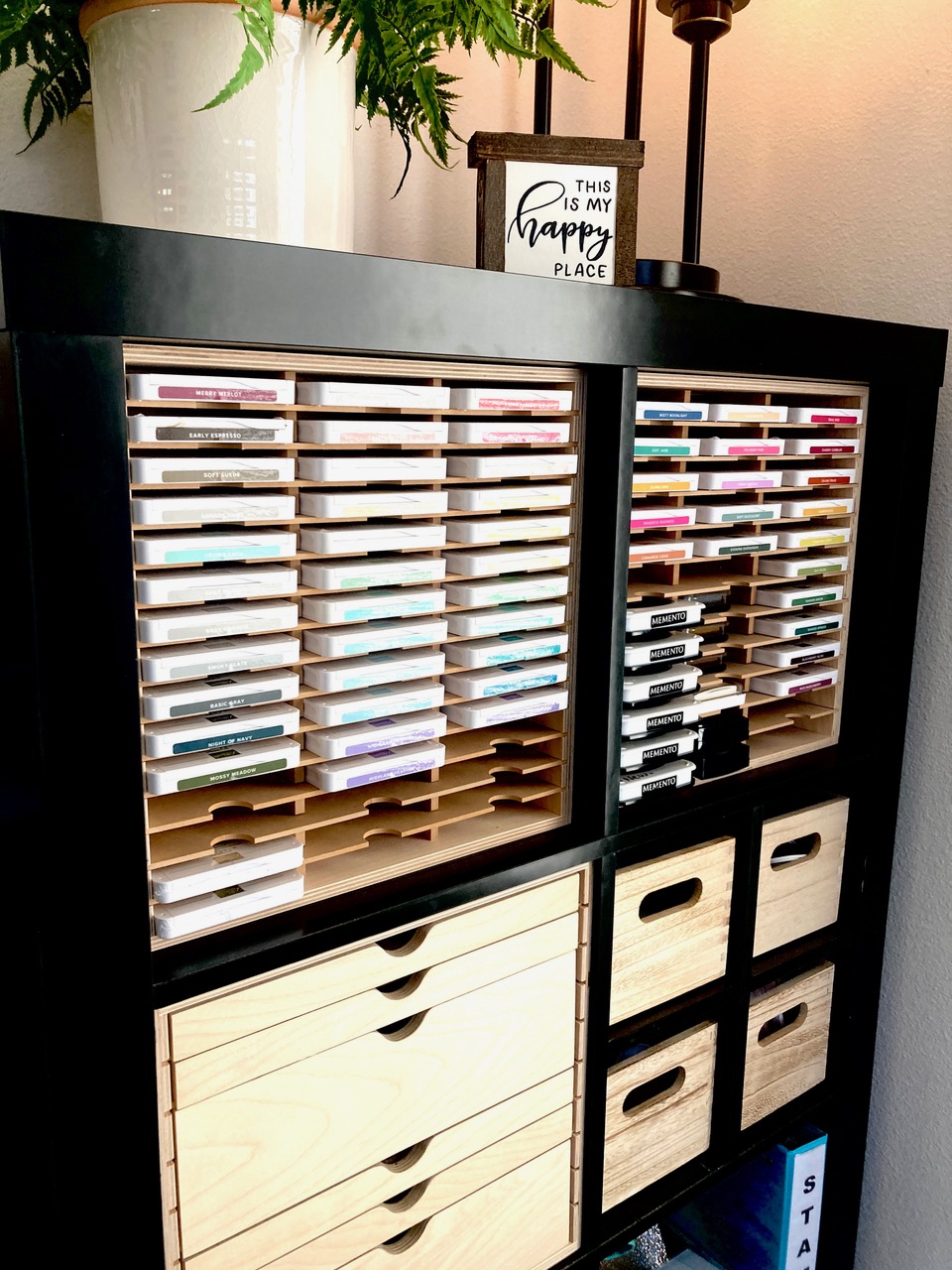 This is my recording corner. I have it all set up to record videos for my take-home kits and YouTube video tutorials.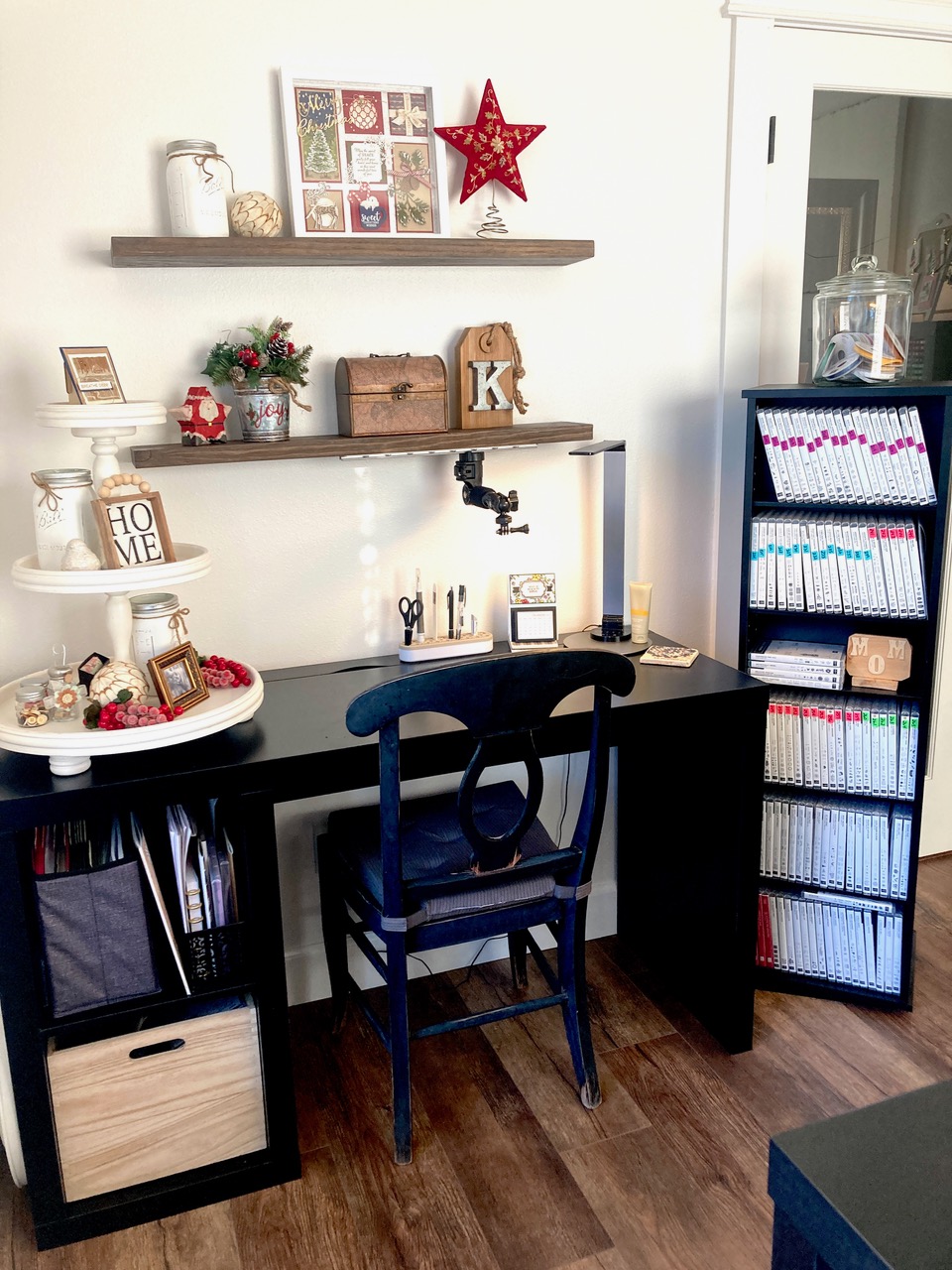 Thank you for taking the time to look through my studio - I hope you enjoyed it. I love this room, and even though I can't always be organized, I think I've got a pretty good start, thanks to Stamp-n-Storage!
Thank you, Kim, for sharing your organized craft studio. If you would like to be our next Studio Showcase winner and have the chance to receive $75 in-store credit, here are a few hints: clean up your space, snap some photos (4 or more) from a few different angles, and include some comments about what you love about your area and your Stamp-n-Storage products. Then, you will be entered into our monthly drawing. Email your entry to: contact@stampnstorage.com.