8 Weeks to an Organized Craft Space | Week 4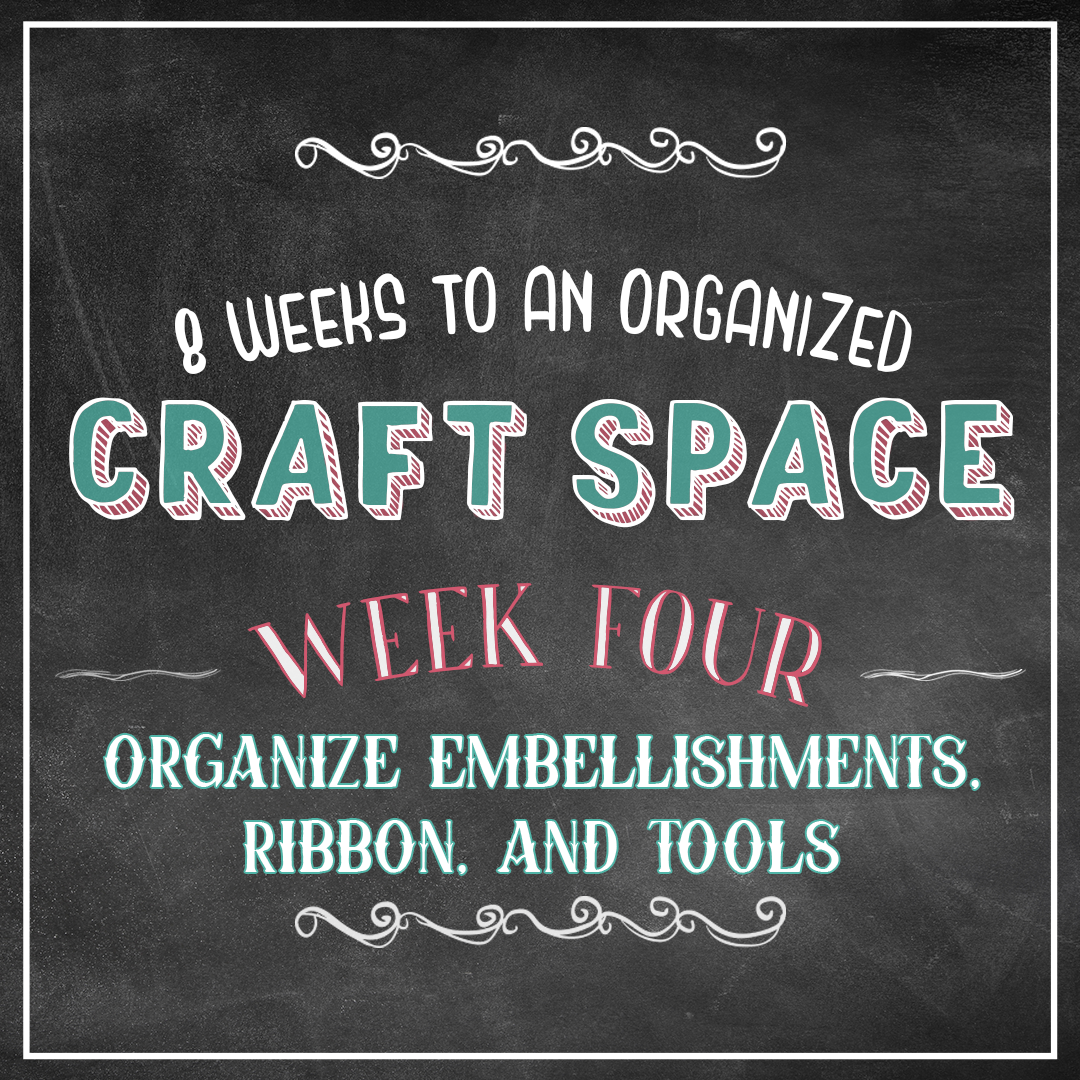 We are halfway there! By now, you've purged your space, created a plan for a functional craft room, and organized your paper, ink pads, and markers! Just think, in 4 more weeks, you'll have an organized space to enjoy and unleash your creativity. Let's get started with week 4.
Challenge 4:
Organize your Embellishments,
Ribbon, and Tools
This week, we will focus on organizing all sorts of embellishments, ribbons, and tools. These are common supplies that are frustrating to find because they get thrown in a bin or drawer. Even worse, they get forgotten because out of sight, out of mind! First, take a step back and identify your embellishments, ribbon, and tools. Sort them out into piles to see everything you have before making a plan.
Organize your Embellishments
Let's start with embellishments. I mean, who doesn't loves embellishments? They are so fun to add to any creative project. However, they can also be the most challenging to organize with those tiny pieces and unique shapes.
Here are a few tips to consider when organizing embellishments:
What types of embellishments do I use? (ex. Stickles® glue, Nuvo® Crystal Drops, buttons, beads, brads, glitter, etc.)
Where will I store my embellishments?
How do I keep my embellishments organized to know what I have?
How do I keep my embellishments easy to access?
How will I sort my embellishments? (ex. by type, color, theme, etc.)
Can I use my embellishments as a decor item in my space? (ex. buttons or flowers in mason jars)
Storage Solutions for Embellishments:
The Drawer Cabinet is a functional craft storage solution that offers 10 square feet (Standard 10 Drawer option) to organize your embellishments. The 1" drawers combined with Accessory Trays and Half Trays make it so easy to keep even the tiniest pieces tidy.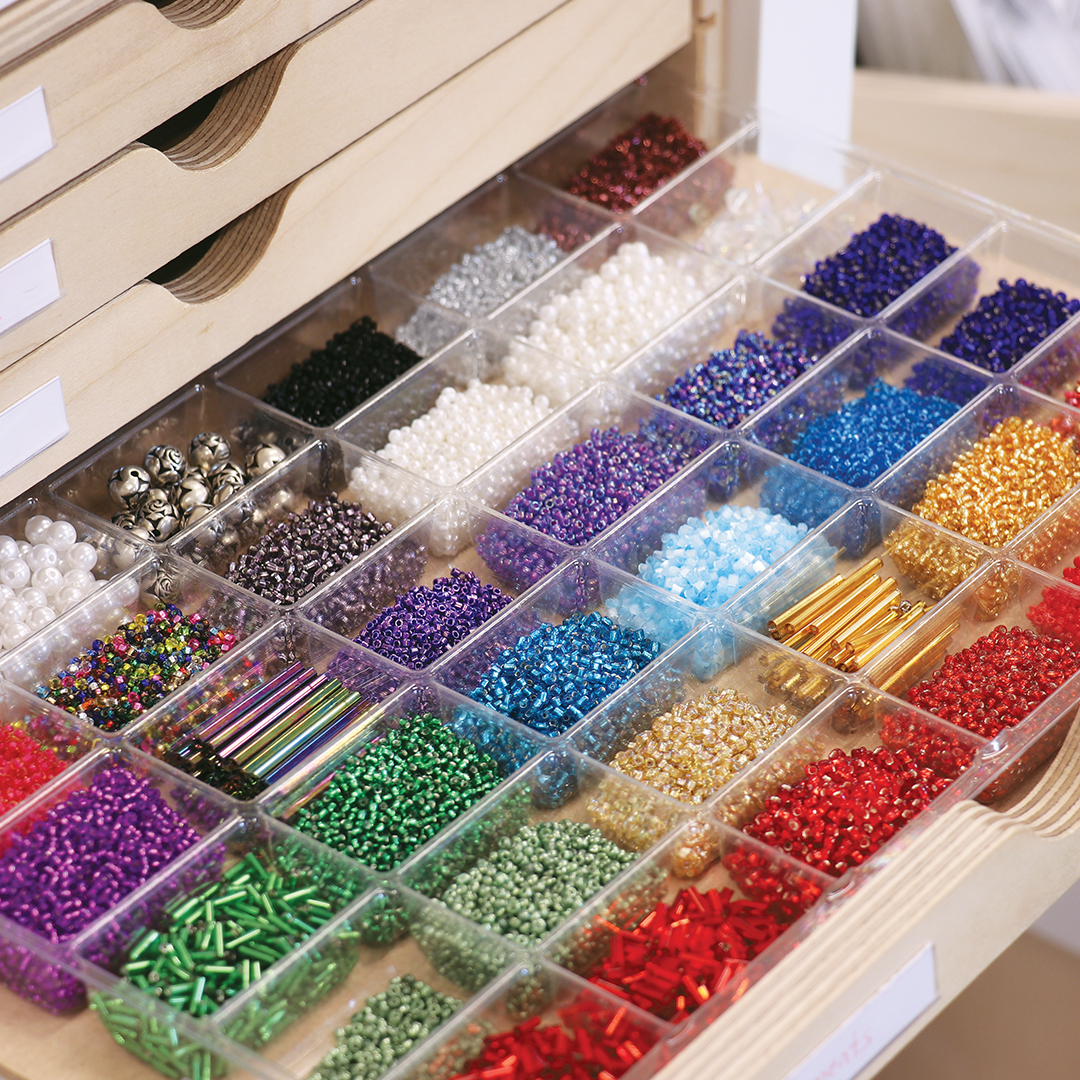 For larger items like Stickles® glue or Nuvo Crystal Drops, choose the Triple Drawers combined with the Grid Storage System to keep your bottles standing in place and easy to access.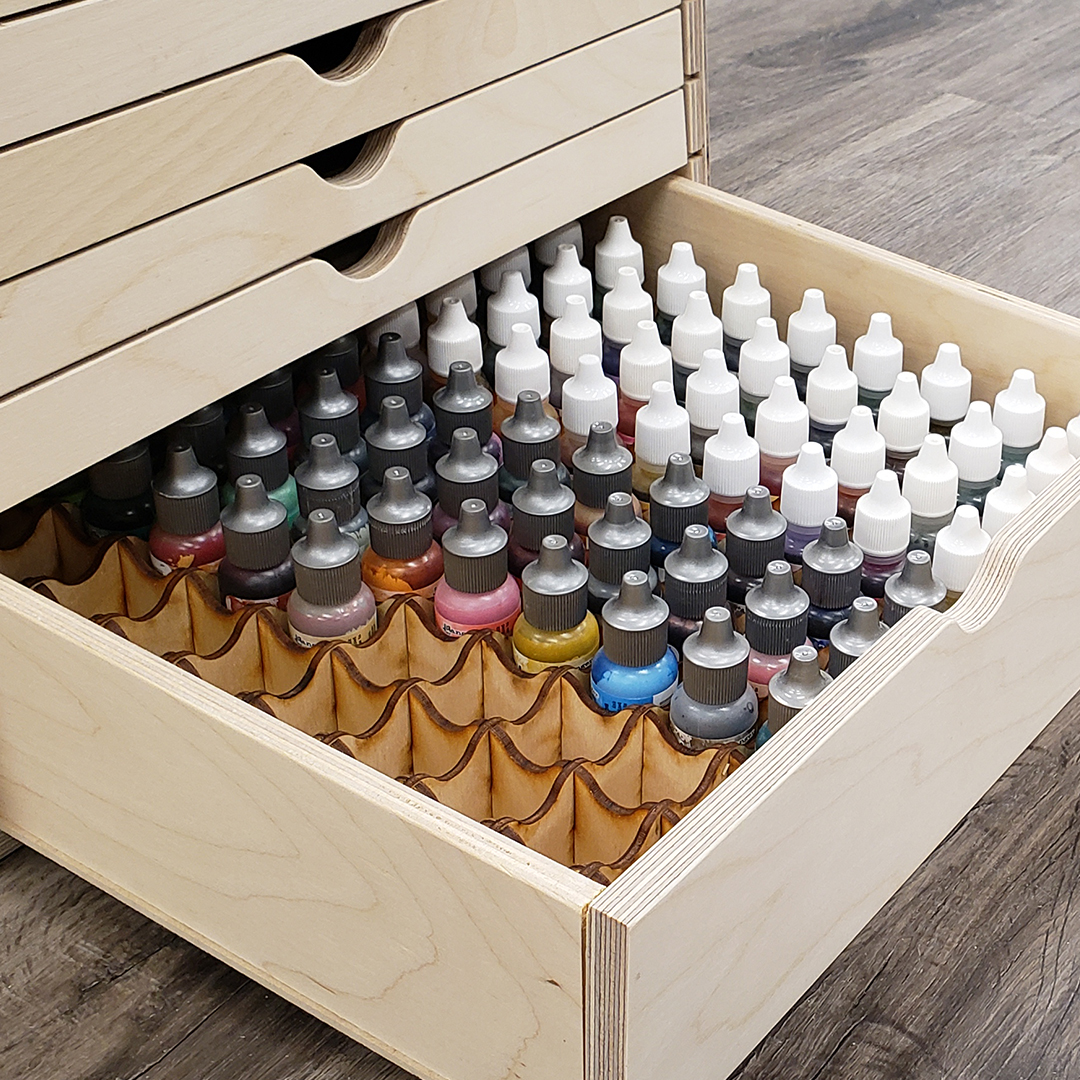 Crafty Storage Jars are perfect for storing embellishments you prefer to take to your creative area. They are also a great option to grab and go to that next craft retreat.
SHOP DRAWER CABINETS AND DRAWER INSERTS
Organize your Ribbon
Ribbon can be one of the most colorful and beautiful embellishments in your space with all the different colors, patterns, and glitter ribbon spools available. However, ribbon is often a supply that gets hidden in a drawer or bin. Why not keep all of that prettiness neatly displayed and easy to access? Here are a few tips for organizing your ribbon.
Sort your ribbon into piles, organized by color, shape, and size (any loose scraps should be in its own pile).
Evaluate your ribbon collection and what type of storage solution fits your space. Avoid storing ribbon in a bin or drawer.


Dowel Storage Units are a great option if you prefer to keep your ribbon in one place and pull a piece of ribbon to cut it off from the spool. Dowels are not the right fit if you prefer to take your spools to your project area.
Ribbon Shelves display your ribbon and keep them easy to access.
Wall-mounted Ribbon Holders help maximize your wall space for organization.
Baskets are great for smaller ribbon collections that can be used as decor pieces.
Mason Jars can be a fun way to store usable small ribbon scraps (be sure it's usable).
Stamp-n-Storage offers a Ribbon Shelf and Ribbon Holder to keep your ribbon neatly displayed and easy to access. You can even wall-mount both options or choose the for IKEA option to add to your cubed shelving unit.
Organize your Tools
Tools are the least pretty items to organize. However, that doesn't mean you can't keep them looking neat and orderly! Here are a few tips for organizing your tools.
Sort through and separate your tools into groups by function, type, etc.
What tools do you need within hands reach?
What tools can you tuck away in a drawer?
What tools belong on your desk?
Tools might include those larger items like the Cricut®, Sizzix®, BigShot®, or other large machines.
TIP: Be sure to have a place for everything. Tools often become the supplies that get tossed in miscellaneous drawers.
The spinning Desk Caddy keeps your most used tools on your desk and easy to access. The 6 compartment Tool Accessory Tray keeps your tools neatly organized in a drawer.
Always remember the organizational journey is personal. Choose options that best fit your needs. Don't be afraid to try something out. If you decide you don't like it, try something else. Create a space that is beautiful and functional for you!