Organize your Embellishments
Organize Your Paper Crafting Embellishments with Stamp-n-Storage Crafty Storage Jars!
As paper crafters, we love embellishments! They add that extra pizazz to your scrapbook pages, create fun shaker cards, and add texture to those mixed media projects. However, organizing embellishments can be tricky. They come in different-sized jars and containers and are thrown in a drawer or bin, where they are often forgotten.
At Stamp-n-Storage, we understand that craft organization is personal. We each have a process and workflow that works best for how we craft. That's why Stamp-n-Storage offers multiple solutions to help fit the needs and space of each paper crafter.
When it comes to embellishments, we offer storage solutions that keep your embellishments tucked away while still organized and easy to access, as well as solutions that keep your embellishments visible so they inspire your creativity! With each of these solutions, maximizing your space is also at the forefront. This ensures you make the most use of whatever space you have available.
Start with Crafty Storage Jars

The first step to organizing your embellishments, regardless if you decide to store them tucked away or visible, is to have one consistent container size. Crafty Storage Jars by Stamp-n-Storage are an excellent option. They provide a 2-1/2" opening, making it easy to fill and easy to access your embellishments.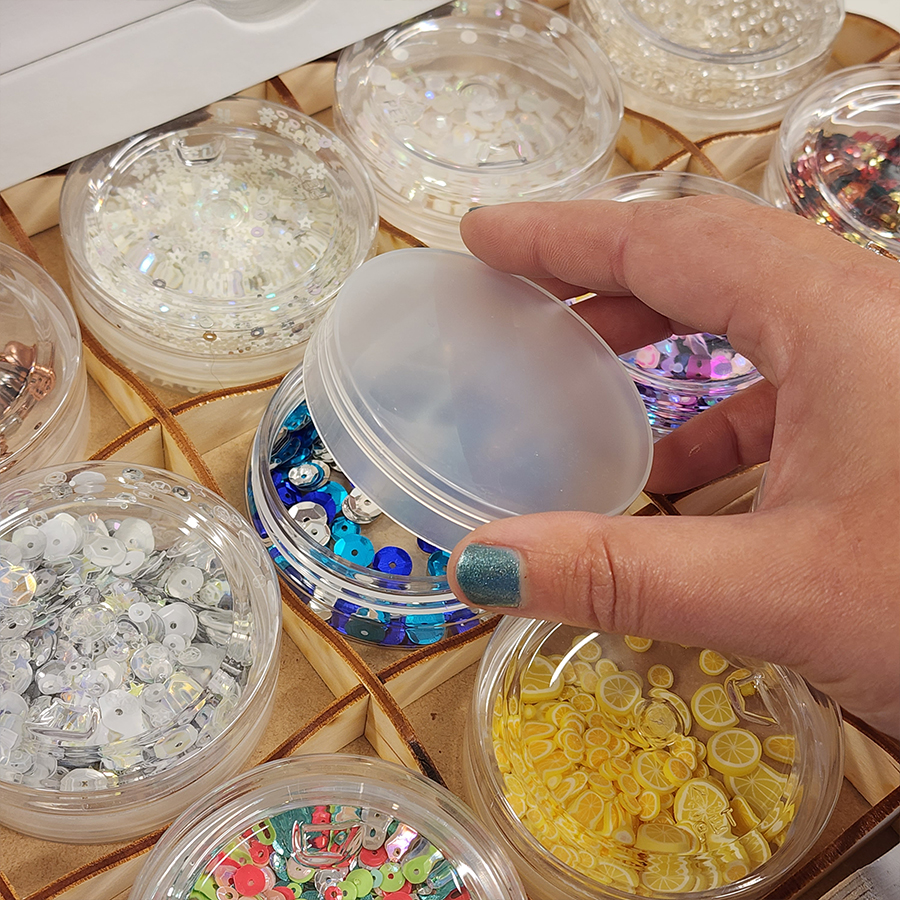 Features:
2-1/2" Diameter Opening for easy access
1" height
1 ounce volume
8 Crafty Storage Jars per pack
Semi-Transparent cover keeping your embellishments from falling out or getting mixed up
Clear bottom allowing you to store your jar upside down so you can quickly see what's inside
Organize Your Crafty Storage Jars Tucked Away
Drawer Cabinet
If you prefer to keep your embellishments tucked away, the Drawer Cabinet is an excellent option! Stamp-n-Storage Drawer Cabinets can be customized to fit your craft room needs. If you have an extensive collection of embellishments, one Drawer Cabinet with 10 Single Drawers can hold 160 Crafty Storage Jars! You can also add the Crafty Storage Jar Grid to keep your jars organized by color without worrying about the containers moving inside the drawer.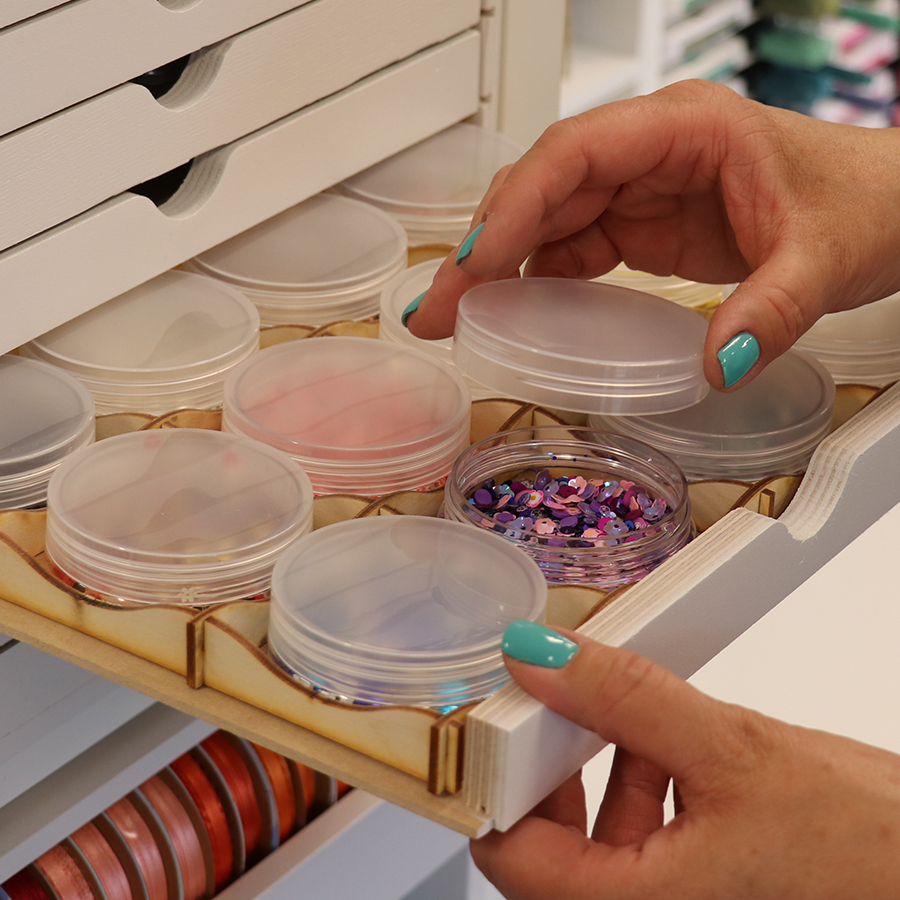 If you have a smaller collection of embellishments, choose a different drawer configuration that provides enough Single Drawers for your embellishments and additional Drawers for other craft items you prefer to keep stored away. For example, a 1 Triple, 1 Double, 5 Single Drawer Cabinet holds 80 Crafty Storage Jars in the 5 Single Drawers.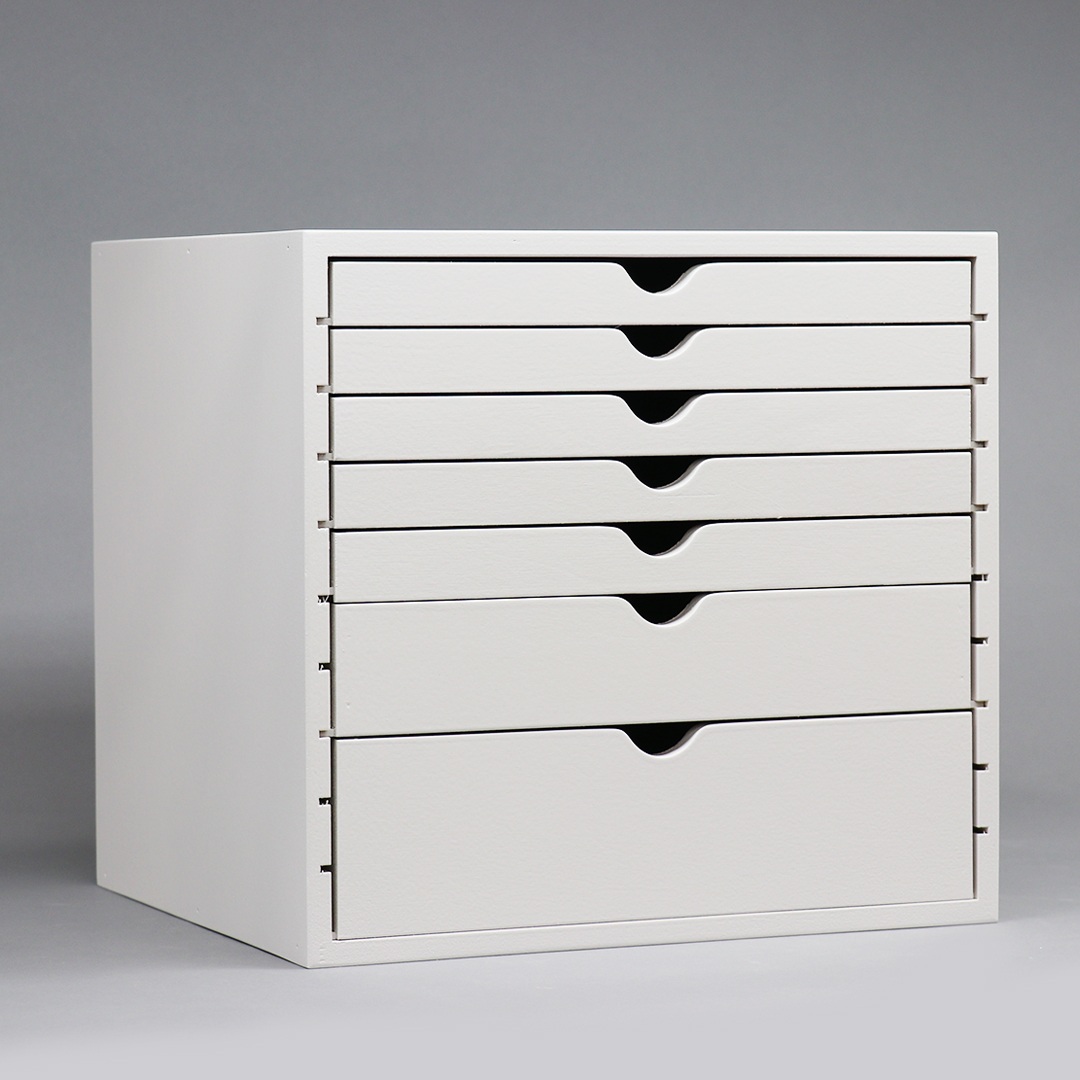 Drawer Cabinet Features:
Multiple drawer configurations are available to fit your needs allowing you to maximize the space in your craft area
Holds up to 160 Crafty Storage Jars (10 Single Drawer configuration - 16 jars per Drawer)
Grids available to keep jars in place
Available in natural wood or painted white
Options available include Standard size or for the IKEA Kallax
Keep Your Crafty Storage Jars Visible
Jar Carousel & Jar Carousel for IKEA® - Large
If you can relate to "Out-of-sight, out-of-mind," then keeping your supplies visible is crucial for your embellishments. The Jar Carousel and Jar Carousel for IKEA is the perfect solution. These Carousels are designed to keep your supplies visible and easy to access.
The Jar Carousel has a smaller footprint and is perfect for your desk. It even allows you to customize your carousel with different sections to meet your needs. If you are looking to store your Embellishments in Crafty Storage Jars, you'll want to choose the Large section, which holds up to 14 Crafty Storage Jars. You can customize one Jar Carousel with up to three Large Sections storing a total of 42 Crafty Storage Jars!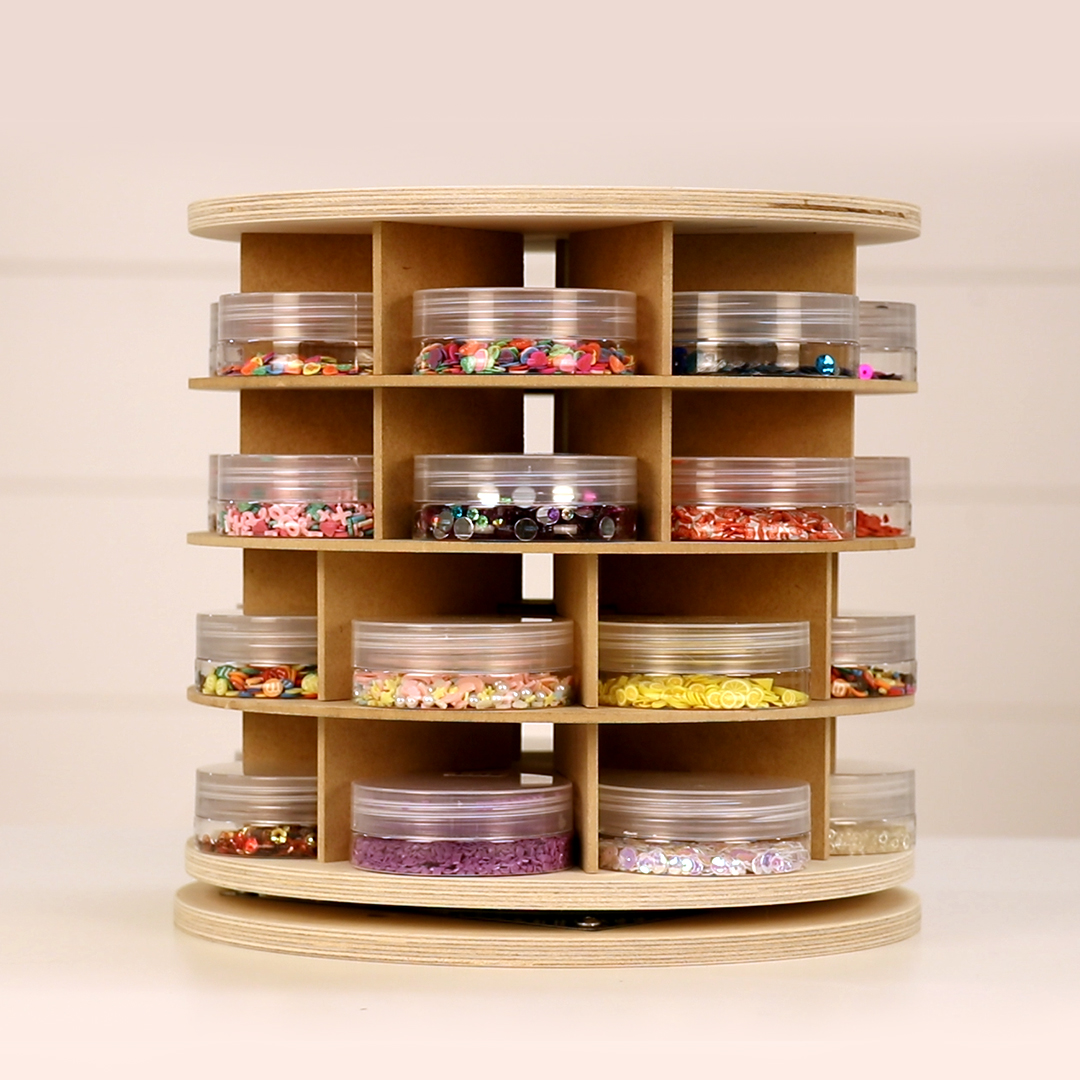 Jar Carousel Features:
Customizable to fit various jar sizes (Large Section fits the Crafty Storage Jars)
Keeps your supplies within hands reach on your desk
9-3/4" in Diameter
Turntable Design
The Jar Carousel for IKEA® is designed to maximize the space in your IKEA Kallax cube. You can now use the entire cube's space for your embellishment storage due to its turntable design. The Jar Carousel for IKEA® is available in various configurations. If you are looking to store your Crafty Storage Jars, you'll want to choose the Large option, which holds 90 Crafty Storage Jars.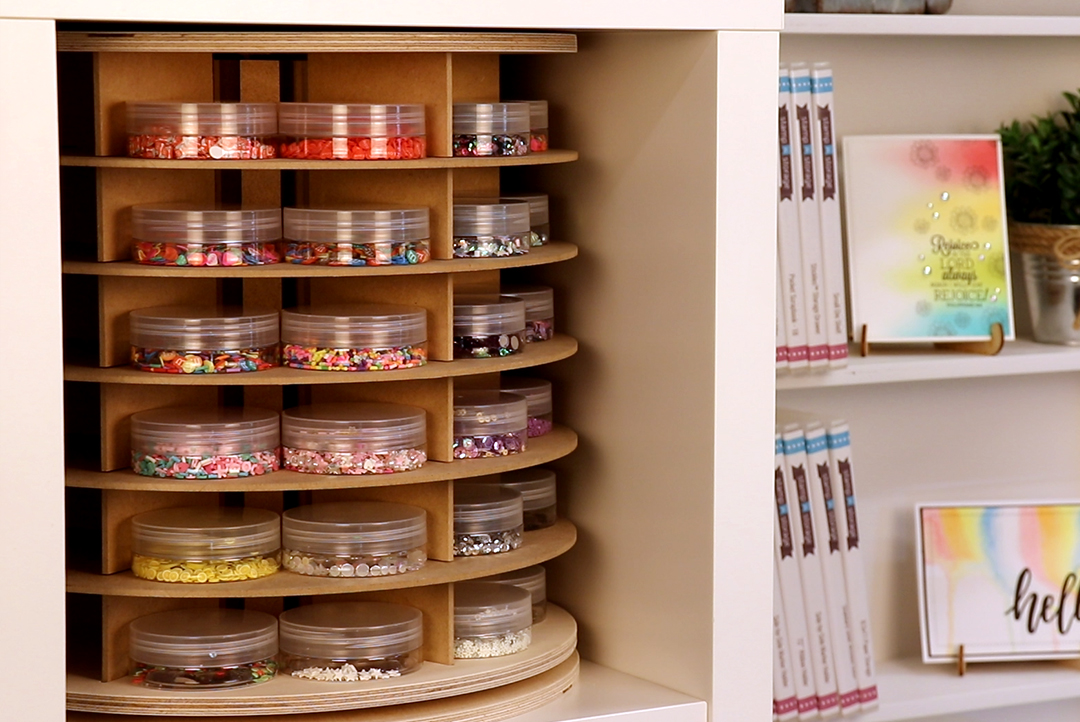 Jar Carousel for IKEA® Features:
Maximizes the cube space of your IKEA® Kallax unit
The Large option holds up to 90 Crafty Storage Jars when you add three jars in each compartment
Your embellishments will be visible and easy to access
Turntable design
Chalk Paste & Glitter Holder
The Chalk Paste & Glitter Holder was designed to store your chalk couture paste and glitter pastes. However, it is also a great option for storing your Crafty Storage Jars filled with embellishments. The Jars fit inside each compartment perfectly, maximizing your space and keeping your embellishments visible and easy to access. Various sizes are also available to fit your embellishment collection.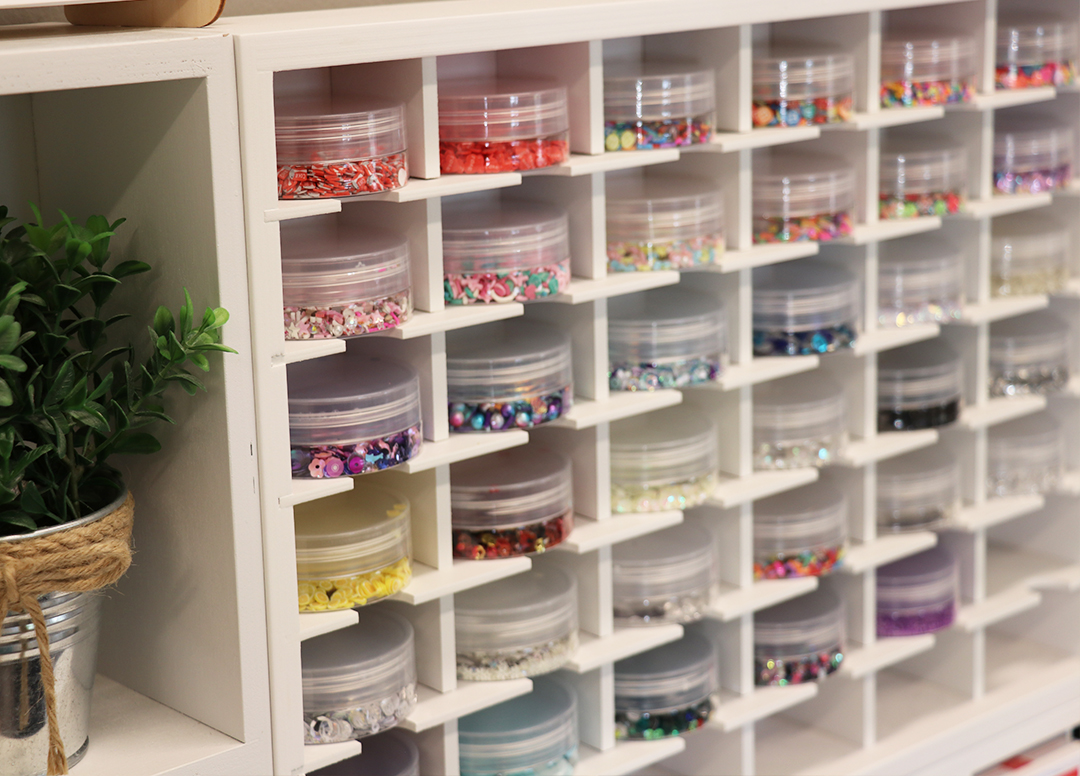 Chalk Paste & Glitter Holder Features:
Maximizes your space
Sits on your desk, keeping your embellishments within hands reach
Keeps your embellishments visible so you are more likely to use them
Various sizes available - Store 63 jars in the Large, 42 in the Standard, and 28 in the small
natural wood and painted white options
In the world of paper crafting, embellishments play a crucial role in adding character and flair to our projects. These small elements make a big impact. Stamp-n-Storage provides craft storage solutions with the paper crafter in mind.
The Crafty Storage Jars provide a simple yet effective way to keep your embellishments accessible and organized. For those who prefer their supplies tucked away, the Drawer Cabinet offers customizable options, neatly accommodating varying collections. The Jar Carousel and its IKEA® counterpart offer visibility and easy access, while the Chalk Paste & Glitter Holder serves as a versatile storage solution keeping your supplies right in front of you while crafting.
With Stamp-n-Storage, achieving embellishment organization becomes a manageable and efficient process, helping you maintain a tidy and inspiring craft space so you can unleash your creativity!
[ SHOP JAR CAROUSEL FOR IKEA ]