This craft room is dreamy & a Studio Showcase winner!
We really love our June Studio Showcase winner's adorable craft room! Thanks, Beth K, for submitting these gorgeous photos, along with your kind words about how Stamp-n-Storage products have changed the way that you craft! Seeing your room and hearing your story makes us so happy.
Would you like to be our next Studio Showcase winner and have the chance to receive $75 in store credit?
Here are a few hints: clean up your space, snap some photos (4 or more) from a few different angles, and include some comments about what you love about your area and your Stamp-n-Storage products. Then, you will be entered into our monthly drawing. Email your entry to: contact@stampnstorage.com.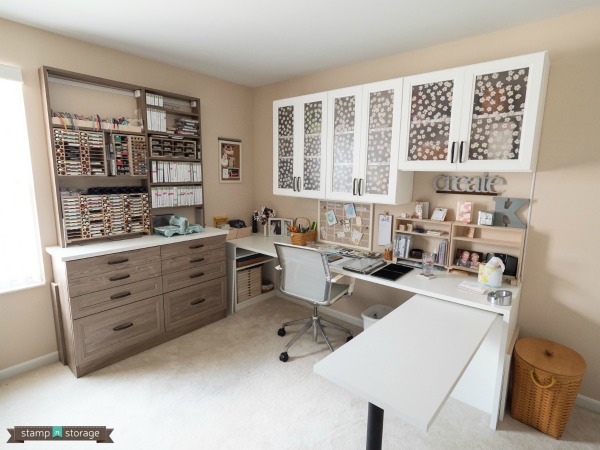 Beth said, "For about 15 years, I have stamped in basement space with hodge podge of storage systems. Last year, we decided to incorporate our guest room and craft room space so that I could come up to the main level of the house. Stamp-n-Storage helped me take two walls of the guest room space and create the organized crafting area that I had been longing for."
The layout of this craft/guest room is simply wonderful! It looks like it's right out of a magazine. Fun fact: there's even a Murphy bed on the wall behind her chair! She and her husband have really thought of everything.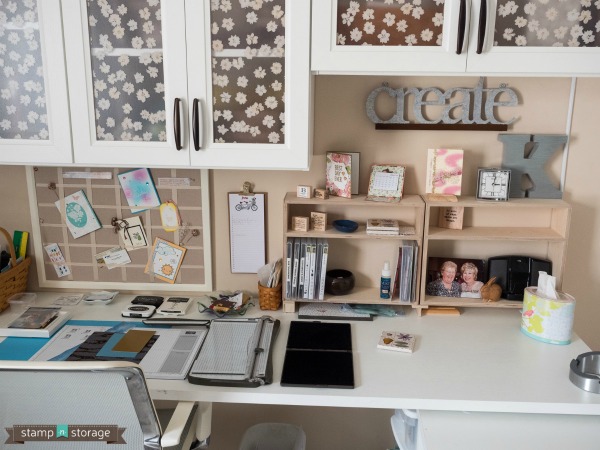 We love the sign that says "Create" right above her desk. That's exactly what she gets to do in this area!
Take a look at her two standard Stamp Case Shelves that are next to each other and raised up by Kickstands. She's able to keep the stamp cases that she needs right in front of her. These shelves work great for displaying cards and other knickknacks too.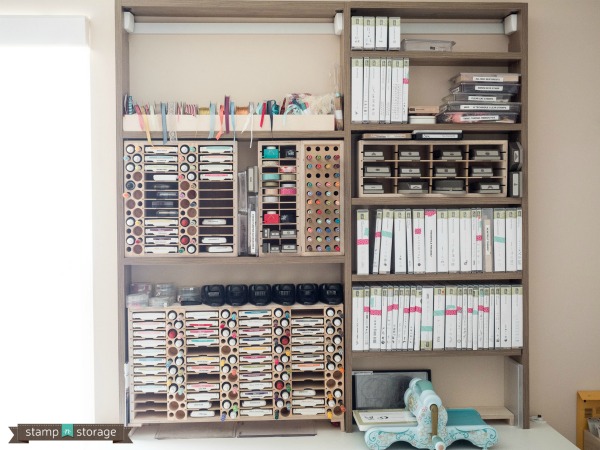 Here's a close-up view of where she stores many of her craft supplies. Don't they look great inside of Stamp-n-Storage units? In the top left, you can see her 24" Ribbon Holder, below that is a 24 Combo Holder, next to that is the Blendabilites™ Holder (now re-purposed thanks to Mary Fish's idea), and it is next to a 48 Marker Holder. At the bottom is the 60 Combo Holder. To the far right, in the middle of her shelving, you can see a small Lock-Down Punch Holder right above her stamp case sets.
Beth really loves the Kickstands! If you look through the pictures, you can see them under her Stamp Case Shelves and Combo Holder. Check out how she stores her Big Shot cutting pads underneath her larger Combo Holder (thanks to the Kickstands) when they aren't being used.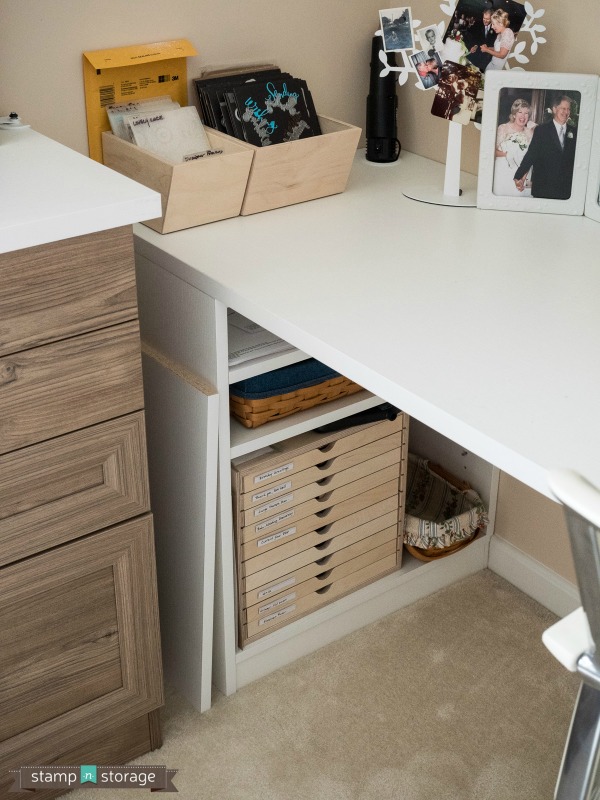 Beth has her embossing folders stored in a Embossing Folder Tote on the left, as well as her Magnet Cards that hold her wafer dies in a Wafer Die Tote on the right. Having those supplies so organized makes it very easy for her to flip through the collection and find exactly what she wants right away.
Did you notice the Drawer Cabinet underneath the table workspace? Here's why Beth loves it. "As you can see it perfectly fills a space UNDER my desk which had been completely wasted space and it now holds all of my "orphan" wood mounted stamps as well as all my 12x12 papers. I appreciate the labels that go on the outside of each drawer and I'm happy to say I still have a few unused drawers yet to be filled!"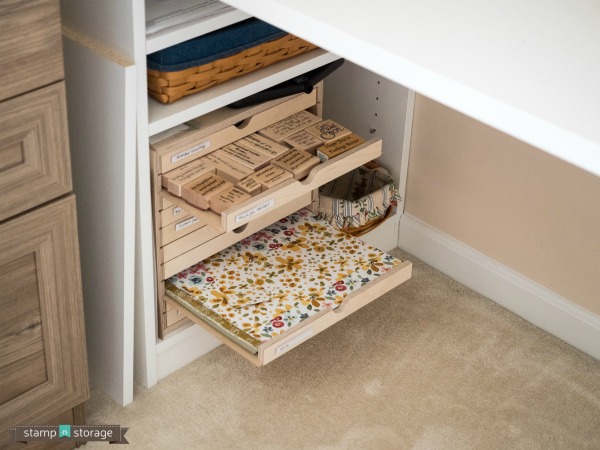 Beth told us, "Every time I get a new Stamp-n-Storage product, I am thrilled, but I think the Drawer Cabinet has to be the most outstanding piece of engineering ever." Wow! That's so nice of her! We love the Drawer Cabinet too.
We're overjoyed that Beth has a place where she can be free to be creative, as well as organized...oh, and for her guests to have a place to stay too! This space is surely one to be treasured for a long time!