Studio Showcase Winner – September 2013 - Donna S
Donna S is the September Studio Showcase contest winner!
(Interested in being considered to win $50 like Donna? There are two ways to win! Check it out whether you're new to Stamp-n-Storage or already a customer.)
As a Studio Showcase winner, she received a $50 refund. That's $50 easy cash!
Here's what Donna had to say in her email:
I am totally in love with my storage items. Makes my life so much easier. Thank you for what you do. Plan on purchasing more when my 16′ X 30′ craft room is finished.
Builder is still working on my Studio, but wanted to send you pictures of my new items I received today. I am determined to be organized before the big Studio is finished being built. I love all of your products and when I do move to my new room I should have my 24 foot counter top filled with all of you storage items. Estimated move in date is late October. Will definitely send you pictures because I will be ordering more, I am sure.
Donna has definitely made the most use of her vertical space and sets a record for most items stacked up! We love this setup because it really shows off how you can mix-and-match the Stamp-n-Storage products to match your collection of supplies.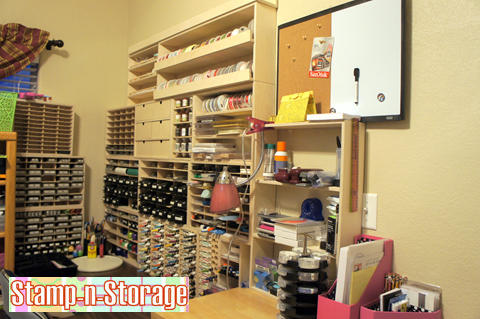 Included in her towering wall of storage and organization beauty are: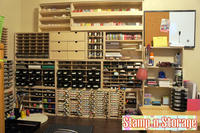 One of the reasons it's so exciting for us to receive your pictures is to see how our products are being used, especially when they're being used for things we never expected. In this close-up, notice how the Lock Down Punch Holder and Double Stamp Case Shelf are being used to store lots of things that aren't punches and stamp cases!