Studio Showcase Winner - Pam
When Pam, our Studio Showcase winner, designed her dream craft space, little did she know that space would also be her miracle room! Pam spent years crafting in a small walkway space between the family room and her husband's office. She quickly outgrew the space, and her paper became part of the family room decor.
In early 2020, Pam was in the process of changing her upstairs carpeting, and her daughter convinced her to move the craft space to an upstairs 10x10 room. Together, the mother-daughter duo planned the design of the new studio, creating a beautiful and functional craft space for Pam to unleash her creativity. The timing of the studio was also perfect, but we'll talk about that a little later.
"When I walk into my studio, the first thing that I enjoy is the large window that lets in the natural light and beautiful view of the bluffs outside. The next thing that takes my attention and I never tire of seeing is the colorful card stock, all nicely aligned in my Stamp-n-Storage Paper Holders," says Pam.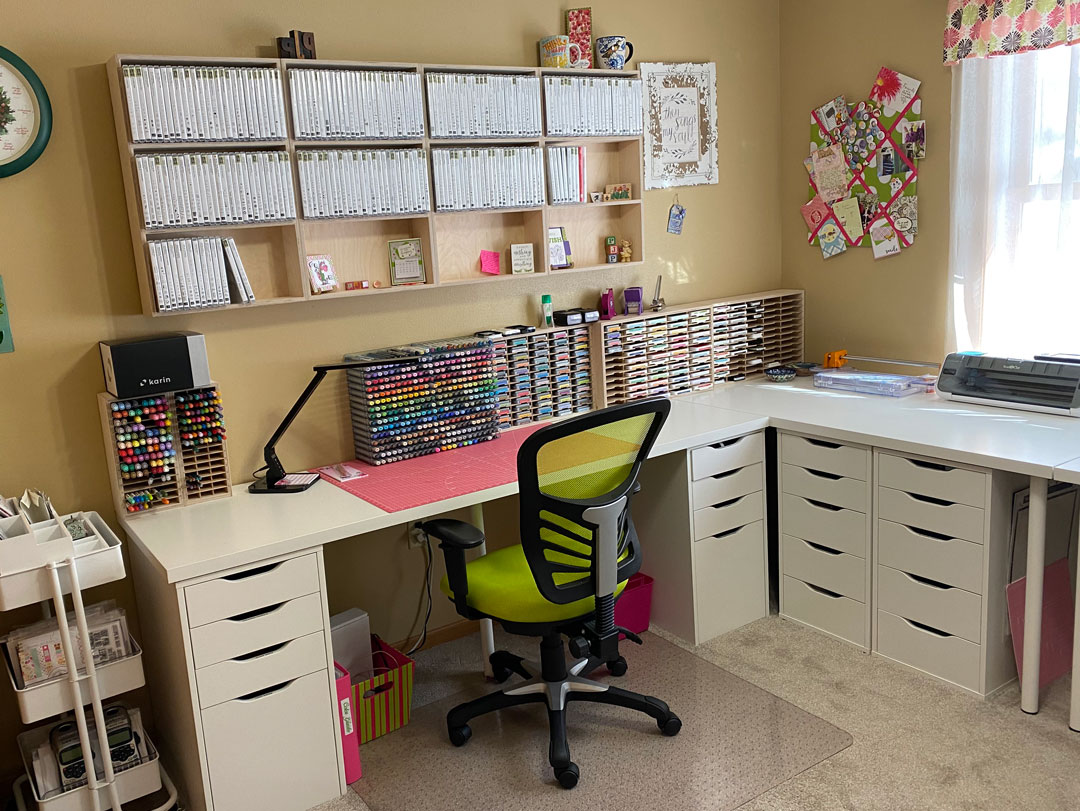 Pam organizes her cardstock in the Three-Tier Paper Holder and one 12x12 Paper Holder. Her DSP paper is stored in Sleeves, and everything is organized by alpha order. On top of the paper storage she organizes her punches in the Lock-Down Punch Holder. Pam keeps the punches stored upside down because she feels it's easier to see the image when looking up.
"Before I purchased my Lock-Down Punch Holder, my punches were all stashed in a drawer and seldom used. Now they set front and center and get used on many cards. It was an excellent purchase that has helped me get value out of my punches."
On the shelves below Pam's paper she organizes her stamp sets in alpha order by manufacturer. She uses the Avery Elle storage (similar to Storage Pockets) and clear containers to keep her stamps easily accessible.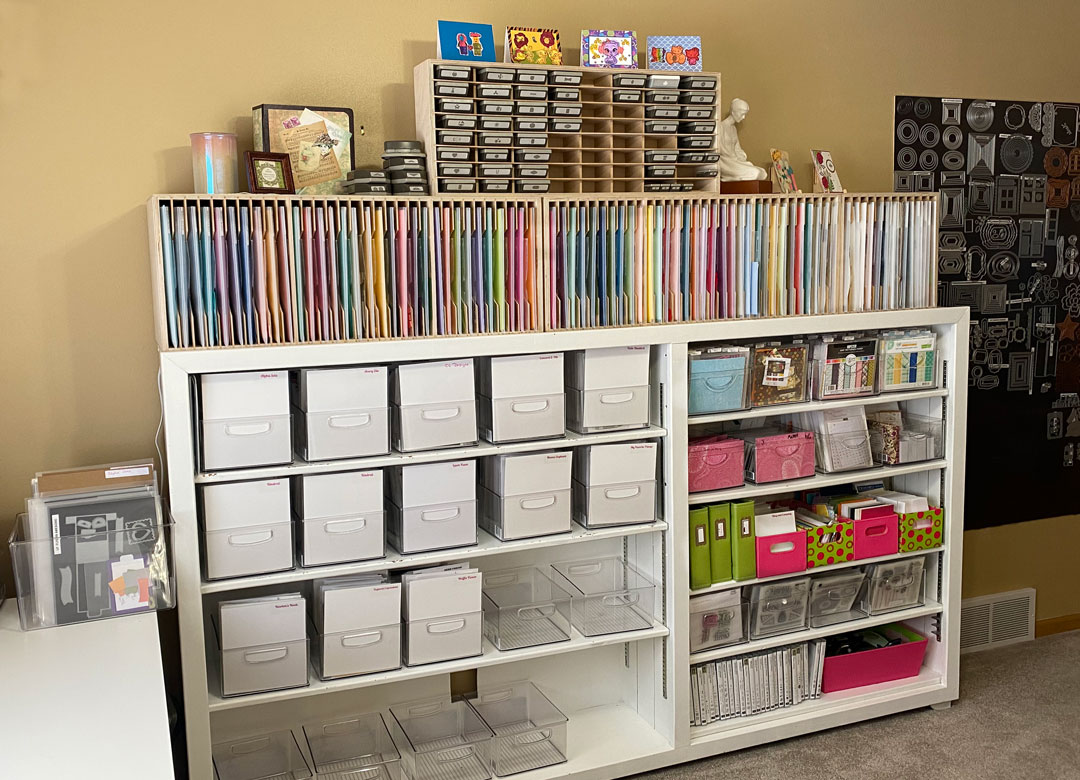 Pam's desk has two workstations. Her first station, and main work area, is where she keeps her inks. She stores her Stampin' Up!® ink pads in the Standard Ink Pad Holder, and her Distress® inks in the Distress Ink Pad Holder. She had a few overflow Distress® ink pads and stores them in the Standard Ink Pad Holder using the Distress Spacers. Pam's markers sit nearby on her desk. She stores her Stampin' Blends in the Marker Holder for Stampin' Blends, and her Stampin' Writes in the Side-by-Side Marker Holder.
Above Pam's work area, she has four Mega Stamp Case Shelves filled with Stampin' Up! stamp sets organized in alphabetical order.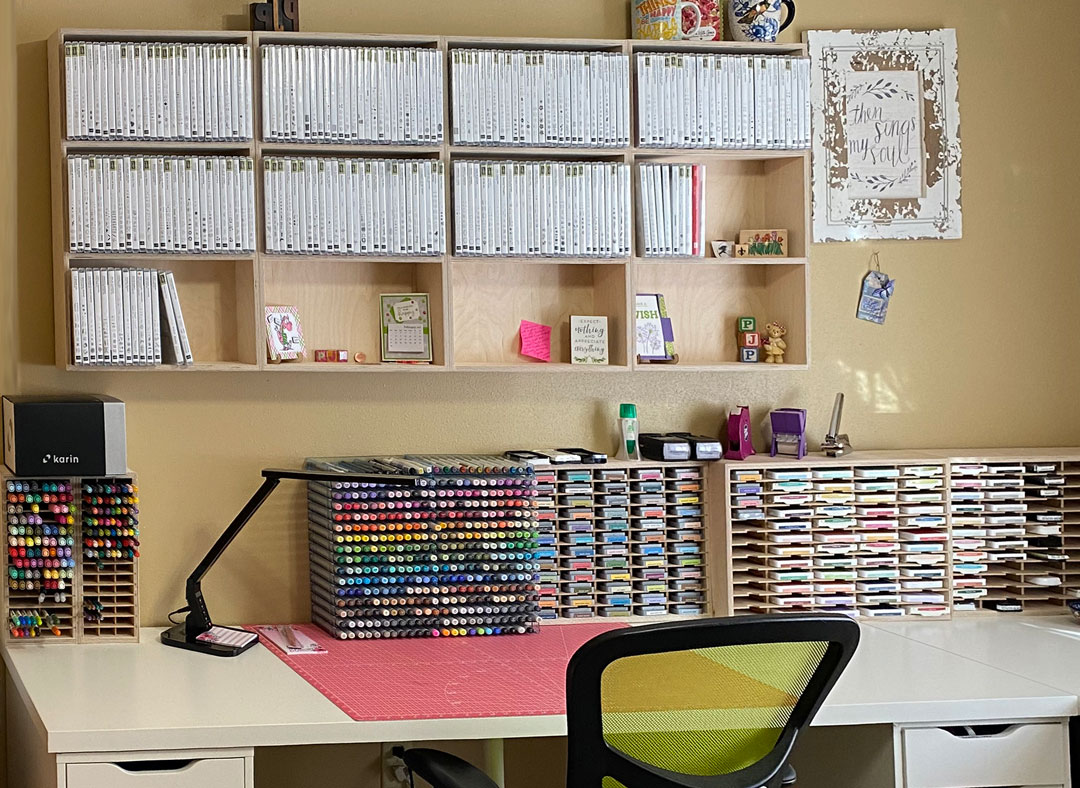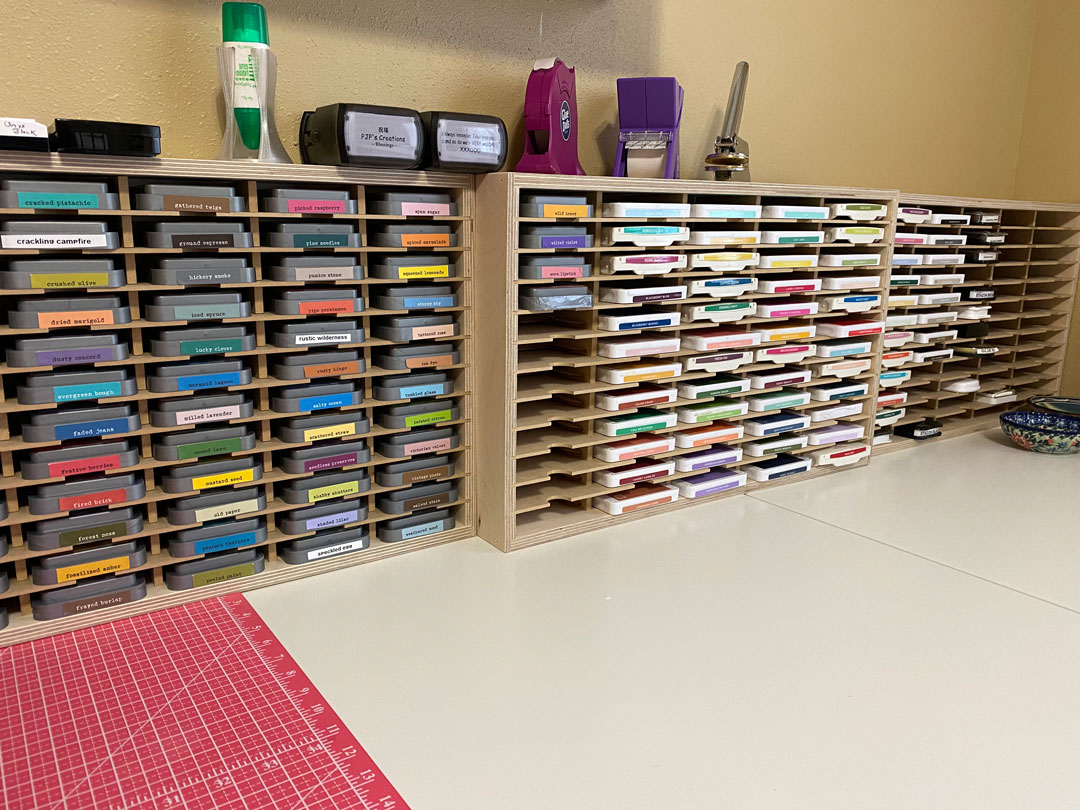 The second workspace doubles as a guest work area and Pam's die-cutting station. She keeps her specialty dies and dies that match stamp sets on Magnet Cards.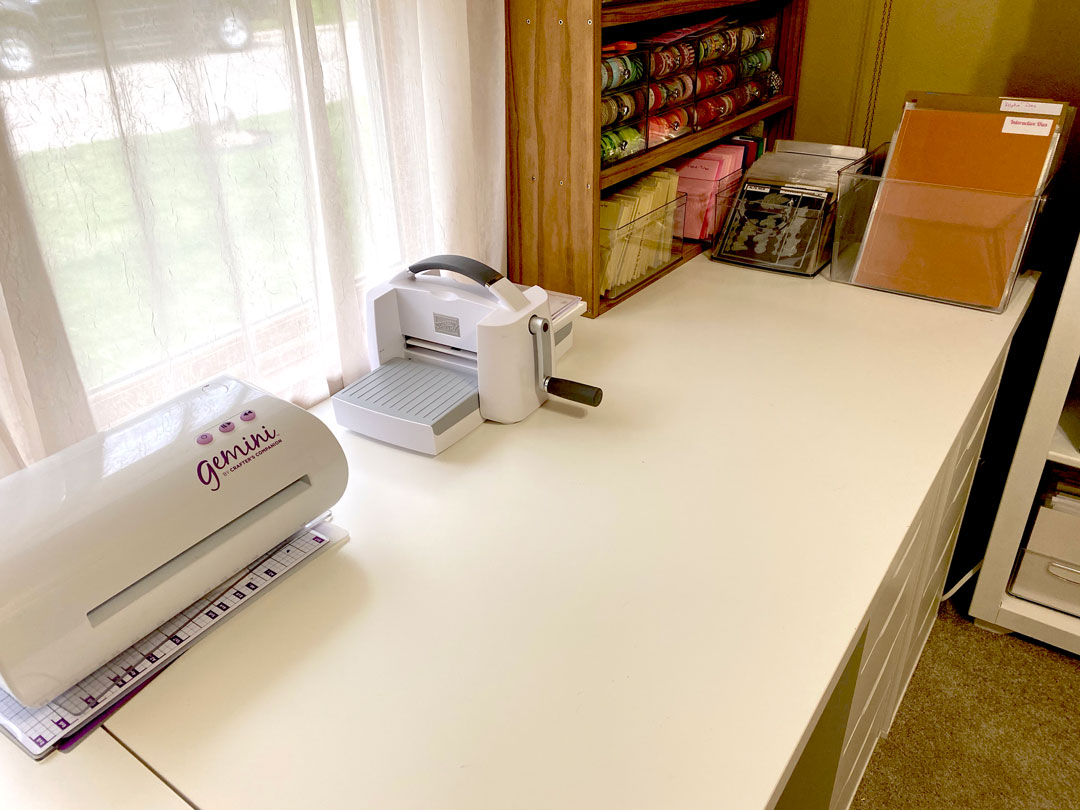 Across the room Pam also has Magnet Sheets to organize wafer dies. "I like storing cover dies this way because it's easy to see for inspiration while crafting. It also helps me not buy duplicates of the same dies," she says.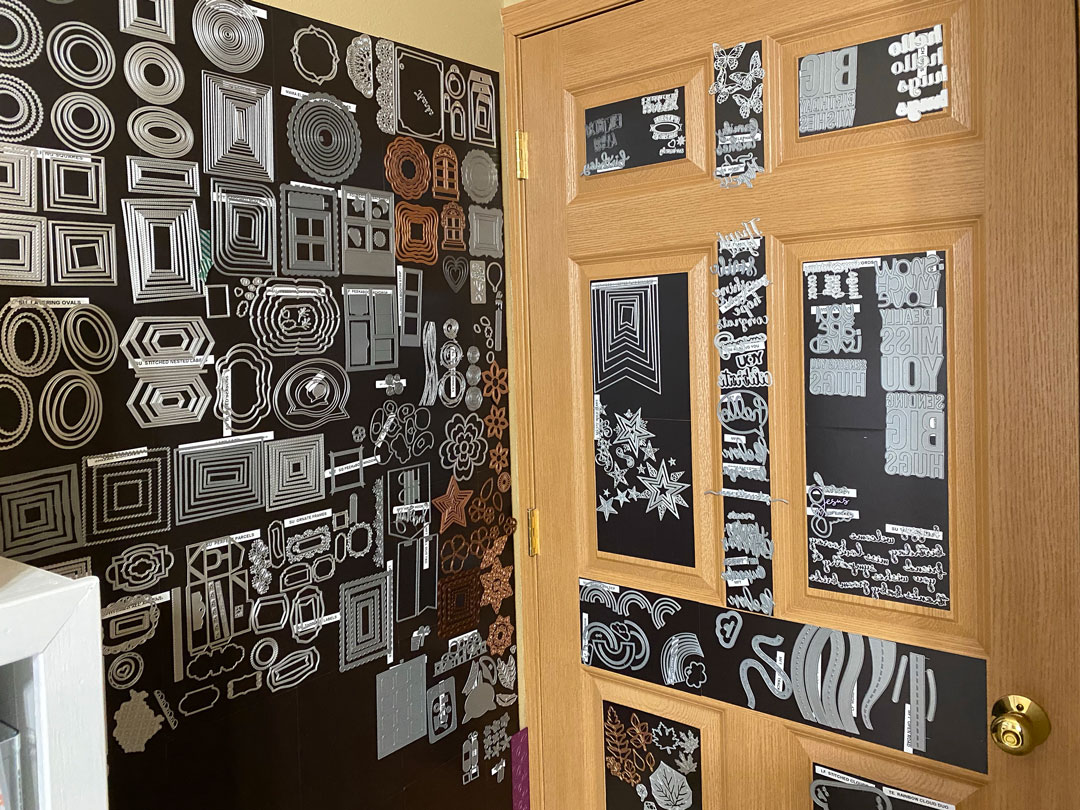 When we asked Pam what would be her favorite tip to share with others on the craft room organization journey, she said...
"Take time to evaluate what is and is not working in your current space. Don't just jump on the bandwagon of what others are doing. Make your area a place that makes you happy and works for you! Stamp-n-Storage really does think of all the details for my crafting storage needs. Not only did they help me get my miracle room organized, but they also help me keep it that way."
So why does Pam call her studio a miracle room? Shortly after the space was completed, Pam had a fluke accident that prevented her from walking downstairs for over four months. She spent much of her rehab time doing what she enjoyed, making cards to share with others.
Thank you, Pam, for sharing your special craft studio with us! If you would like to be our next Studio Showcase winner and have the chance to receive $75 in-store credit, here are a few hints: clean up your space, snap some photos (4 or more) from a few different angles, and include some comments about what you love about your area and your Stamp-n-Storage products. Then, you will be entered into our monthly drawing. Email your entry to: contact@stampnstorage.com.