Studio Showcase Winner - Kristy
Our February Studio Showcase Winner, Kristy, started paper crafting 20 years ago. However, she took some time off after her daughter's birth to focus 100% on being a mom. When she returned to the paper crafting world three years ago, a lot had changed. There were so many new techniques and exciting tools to unleash creativity. Kristy quickly returned not only to paper crafting but also added vinyl projects to her crafting hobbies.
Kristy first created a craft space in a small spare bedroom. However, the room just wasn't a great fit for her needs. In 2020, Kristy convinced her husband to move her craft space to the upstairs loft. The 14x16' space wasn't being used and allowed Kristy to add additional furniture to organize her craft supplies.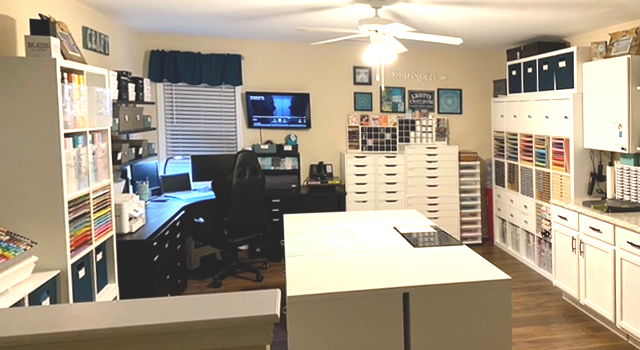 When planning out the design, Kristy viewed craft studios on Facebook, Pinterest, and YouTube for inspiration. She decided to use IKEA products combined with Stamp-n-Storage for organizing her studio. Kristy keeps her cardstock at eye level in three 12x12 Paper Holders and two 8.5x11 Max Paper Holders. She stores her less used patterned paper at the bottom of the Kallax unit in plastic containers. Kristy keeps her Distress® and Oxide inks organized in 4 Distress Ink Pad Holders, and other supplies organized in the Standard Drawer Cabinet, two Marker Nooks, a Stacked Marker Holder, and the Taylored Expressions Simple Strips Storage.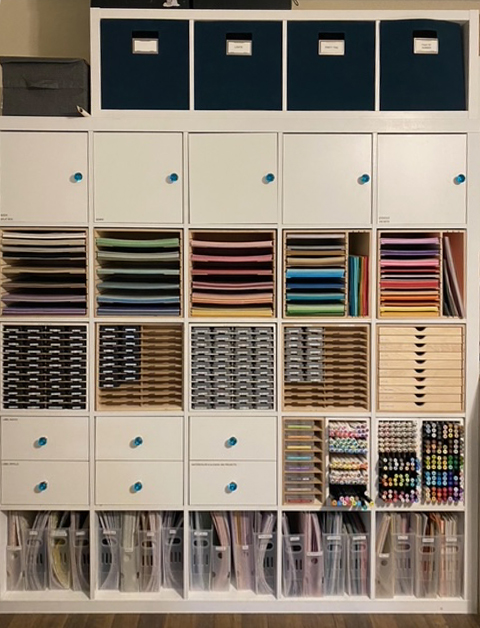 Next to the Kallax is part of Kristy's paper crafting work station. While creating a project at the center island, she can quickly turn around and access a large collection of inks stored in three Slim Ink Pad Holders. She also keeps her trimmer and die-cutting machines here to keep her project assembly area as clutter-free as possible.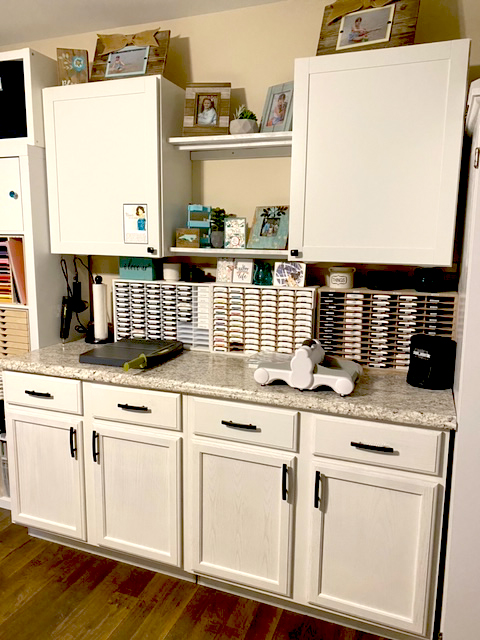 Across the room is another Kallax shelving unit. Kristy uses the Kallax to organize her vinyl in a 12x12 Vinyl Holder and plastic storage bins. She keeps her Copic® Markers organized in a tray system that her husband built a box around for keeping the tray on a tabletop instead of a cart.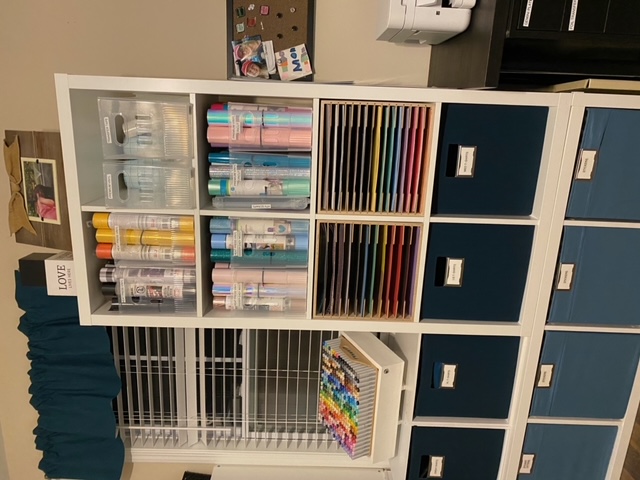 Next to the vinyl storage area is Kristy's desk for designing vinyl projects. Here she keeps her computer, printer, and Cricut® machine.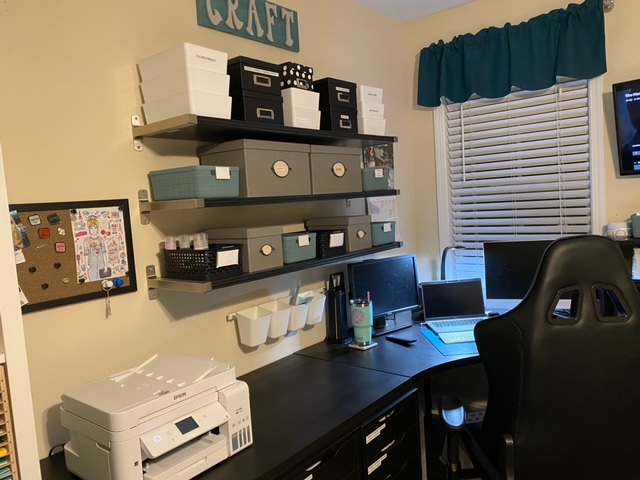 For a more in-depth look at Kristy's studio and how she organizes her drawers, check out her video studio tour.
Thank you, Kristy, for sharing your space with us! If you would like to be our next Studio Showcase winner and have the chance to receive $75 in-store credit, here are a few hints: clean up your space, snap some photos (4 or more) from a few different angles, and include some comments about what you love about your area and your Stamp-n-Storage products. Then, you will be entered into our monthly drawing. Email your entry to: contact@stampnstorage.com.