Studio Showcase Winner - Debbie
Our April Study Showcase Winner understands how life's journey can bring changes to one's craft space. In 2002, Debbie was inspired to begin scrapbooking to capture the memories of life together with her family. She eventually branched out into making cards and other paper crafts as both a hobby and stress reliever. "I Can go into my little world, and it brings me happiness, especially when what I make brings joy to others," Debbie says.
When Debbie's kids left the nest, she and her husband downsized into a new home. One requirement for the new house was a craft studio. Both Debbie and her husband created hobby rooms. A craft room for Debbie and a Ho slot car room for her husband. However, life threw another curveball when Debbie's mom needed additional care and moved in with the couple. The two separate hobby rooms would now be combined into one shared 9x9' space for Debbie and her husband's hobby and work. Debbie's craft area would be approximately 3x9' with a small area for a 2x2 Kallax.
"My craft room was changed into a craft corner. All I could think was how was I going to fit all my supplies into a corner!" -Debbie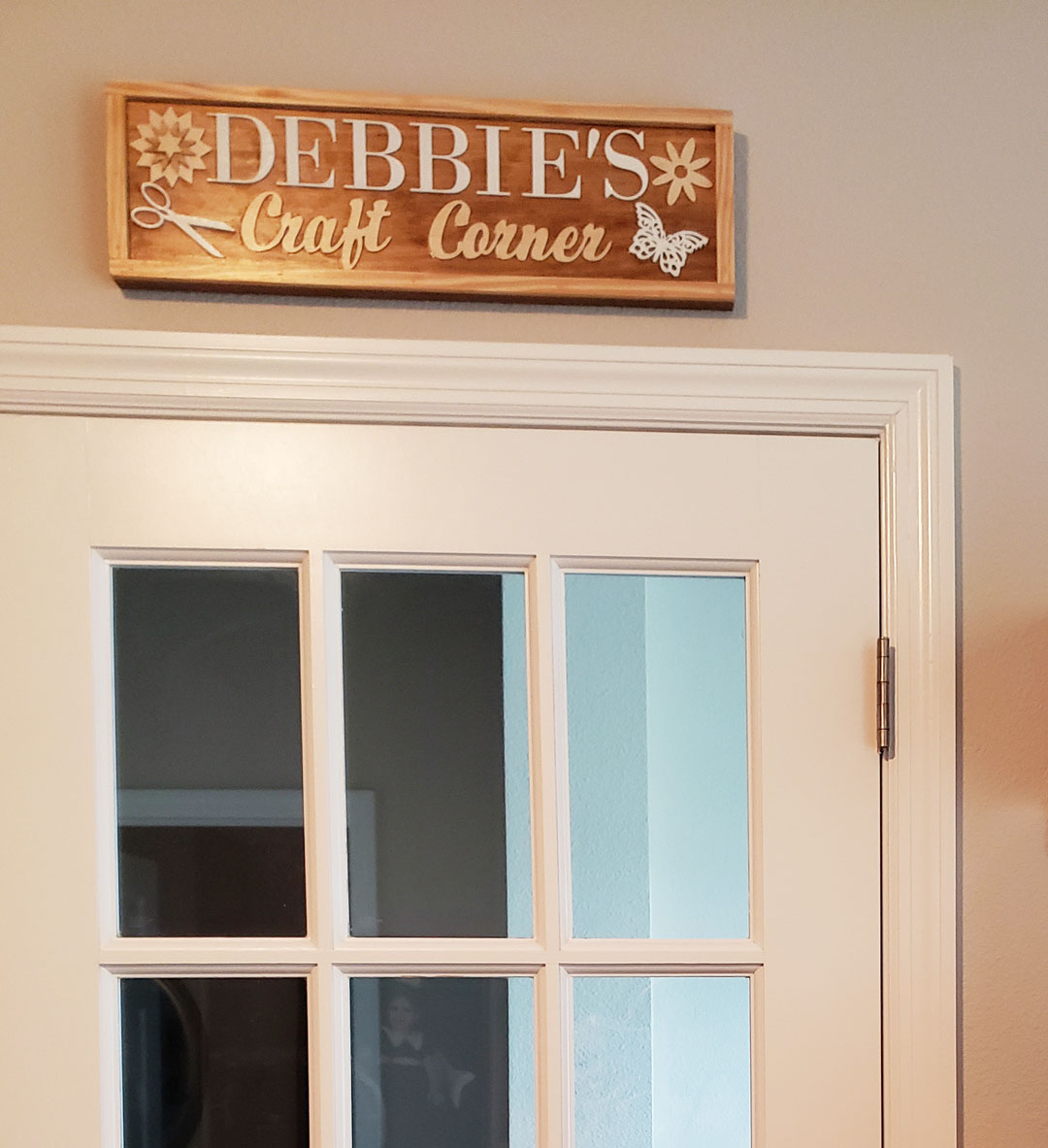 Debbie began redesigning her craft corner and focused on being comfortable when crafting, accessibility, and how to organize the most supplies in a small space. "I wanted my crafting to continue being enjoyable and not stressful because I was cramped" she says. Debbie began searching the internet for craft spaces to find inspiration and discovered Stamp-n-Storage and IKEA® products.
Debbie organizes her paper in the 2x4 Kallax unit using the Stamp-n-Storage Drawer Cabinets with 10 Single Drawers. She stores her 12x12 scrapbooking paper, 8.5x11 cardstock, watercolor paper, holographic, and opulent paper organized by type in the drawers. She also keeps a large Creative Crate in the top right cube for overflow stamp and die sets.
The 2x2 Drawer Cabinet holds Debbie's flowers, ribbon, lunar paste, vinyl, and washi tape. Her Drawer Cabinet with 5 Double Drawers organizes her white cardstock, pencils, foils, embossing folders, and large background stamps.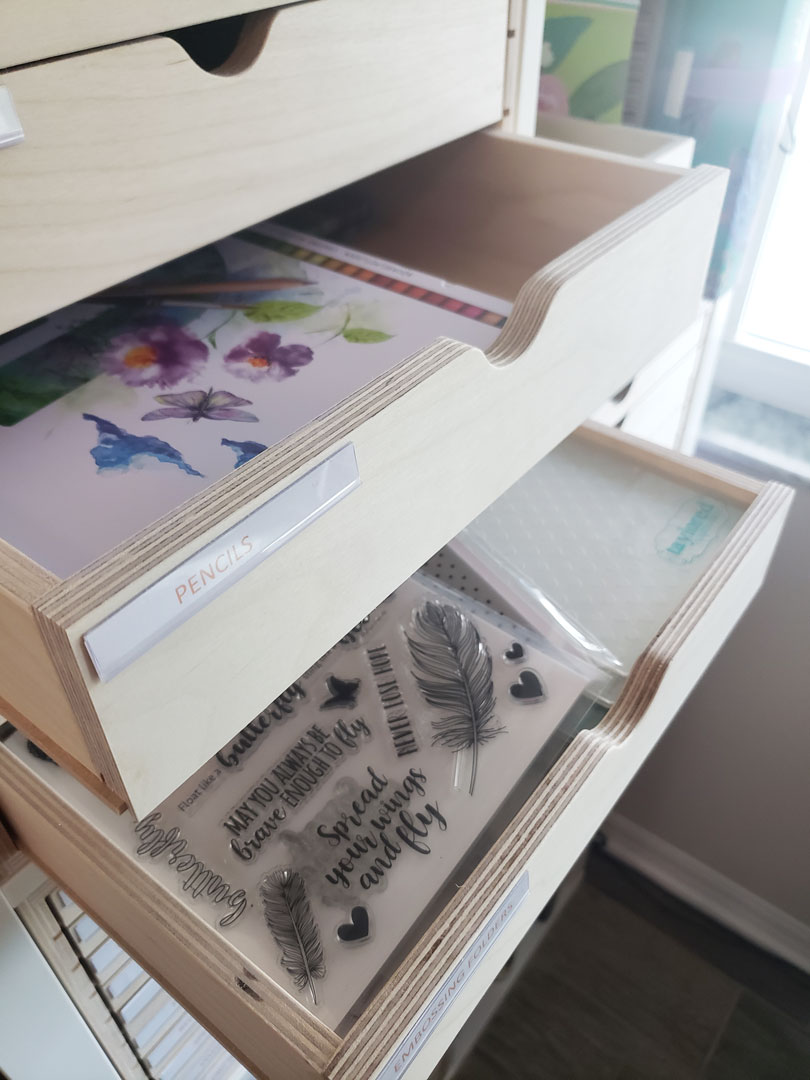 Next to Debbie's paper storage area sits her desk with 4 IKEA® Alex drawers. She uses the drawers to organize her markers, glue gun, trimmers, stamp platforms, blocks, embossing powders, heat tools, washi tape, adhesive, and more. She keeps tools used on every craft project in the small Desk Caddy. In the far right corner of her desk, Debbie organizes stamps and dies by company and then alphabetically.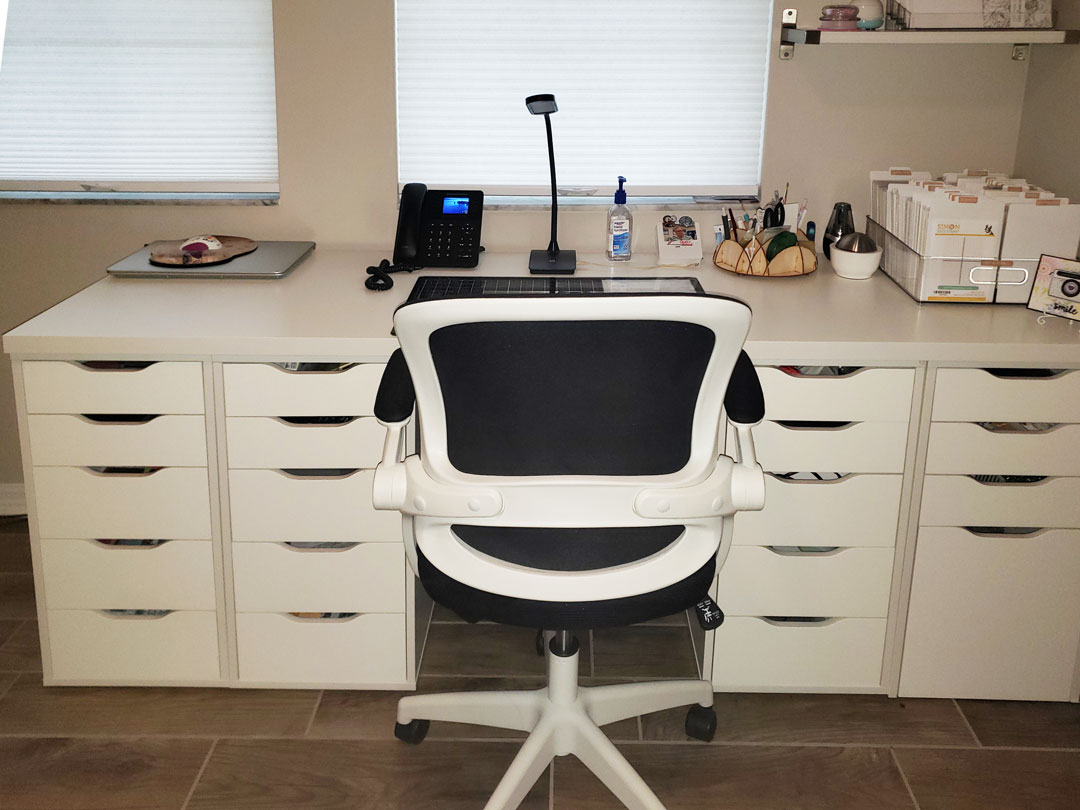 The last area of Debbie's corner is her 2x2 Kallax. She has a Magnet Sheet adhered to the side of the Kallax for storing wafer dies. Inside the Kallax cube Debbie utilizes the Drawer Cabinet for IKEA®. She organizes ink cubes and blending pads with the Mini Ink Cube Grid, Stickles® glue in the Grid Storage System, and embellishments with the Crafty Storage Jars and Grid. In the 2x2 Drawer Cabinet, she organizes her card bases, envelopes, and adhesives.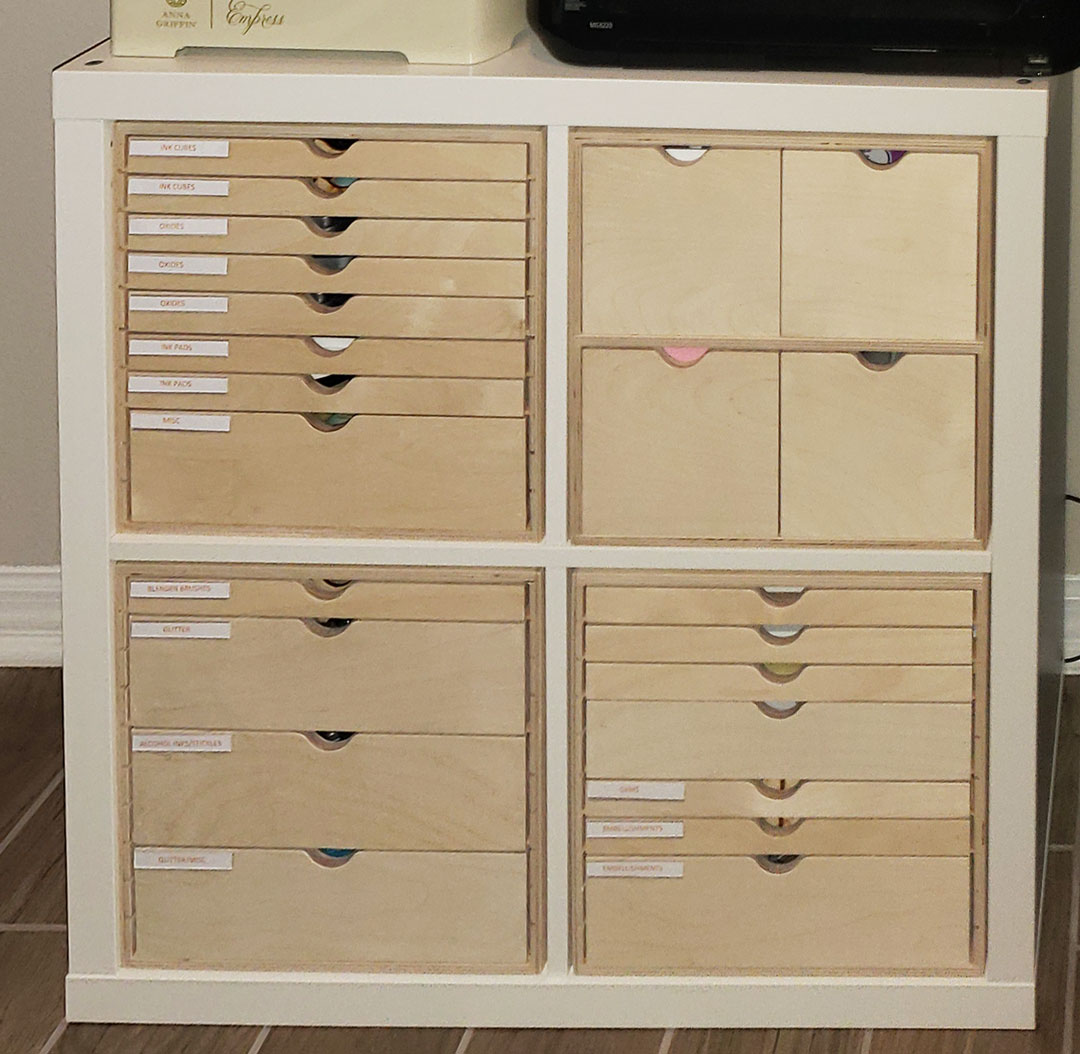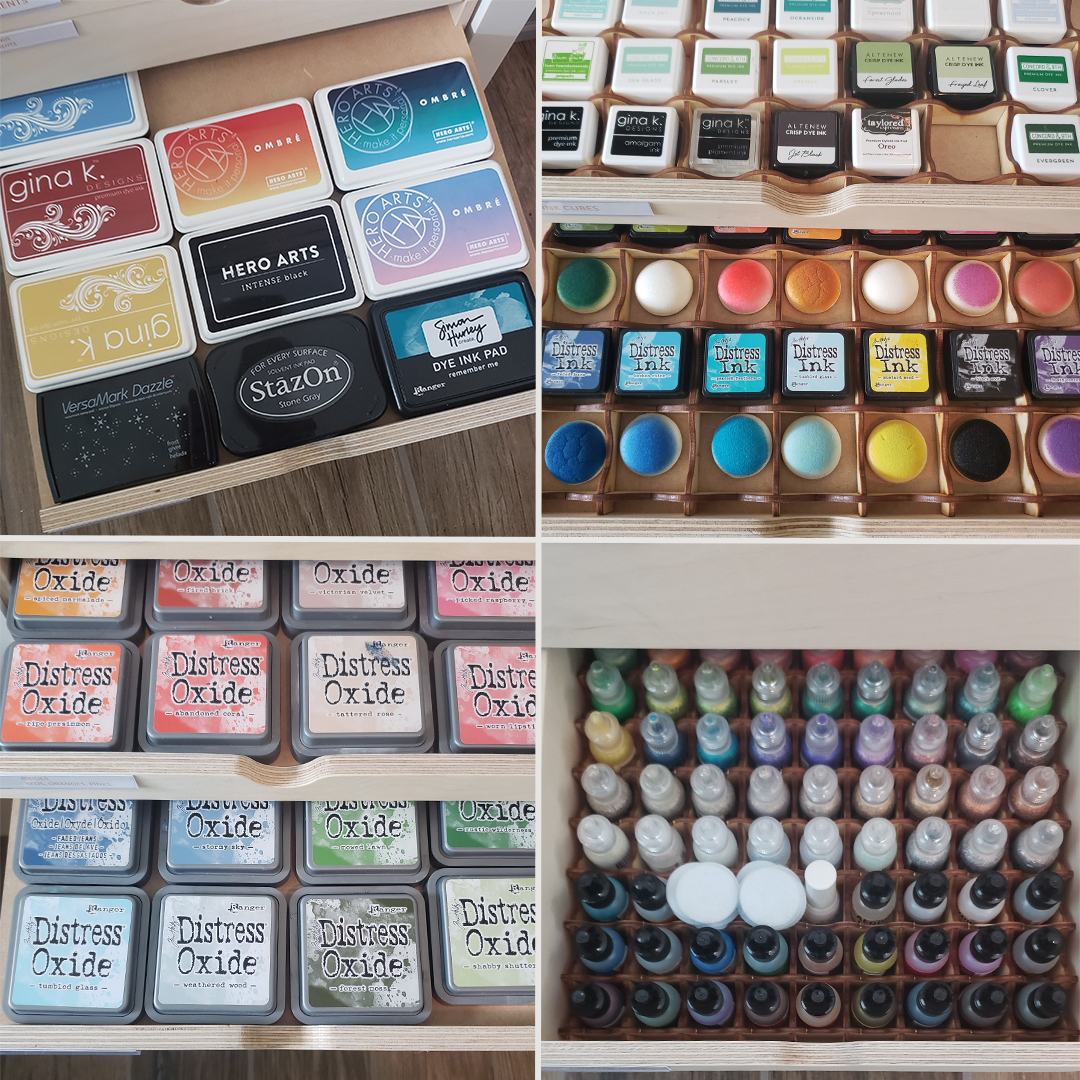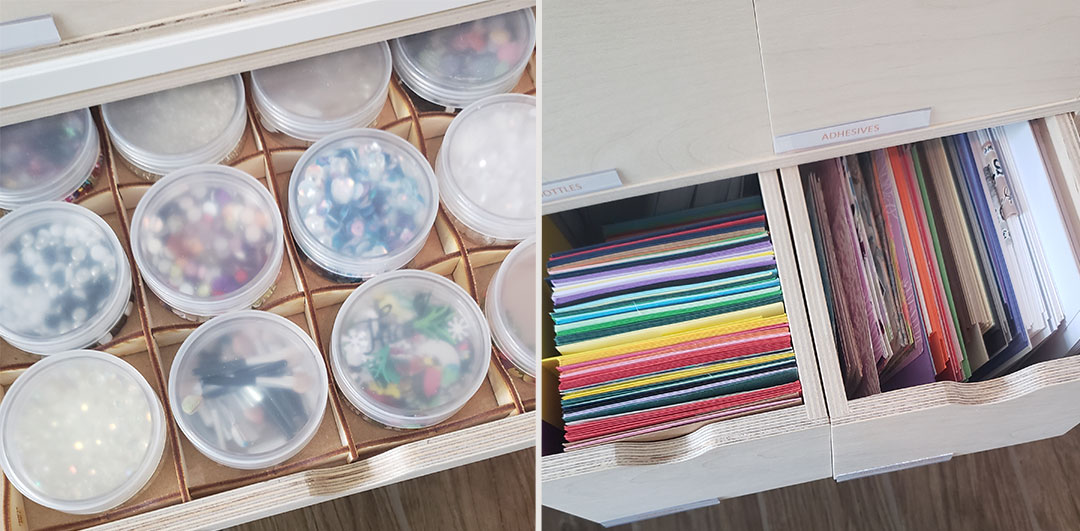 Debbie's space is an excellent example of how you can maximize your craft area with the proper storage solutions.
"I did not want to give up my supplies because of space. I use everything I have. I also knew my crafting would expand in the future. If I were to continue enjoying my hobby, I had to find a way to maximize my small area with storage to keep as much workspace open to craft. Stamp-n-Storage products have been a lifesaver. I can not believe how much I can store in such a small space.
Because of being organized, I am less stressed, enabling me to have more fun crafting. It really helps me focus on what I am creating rather than wasting time locating what supplies I need. Now that my craft corner is organized, I have more time to learn new things and do what I love." - Debbie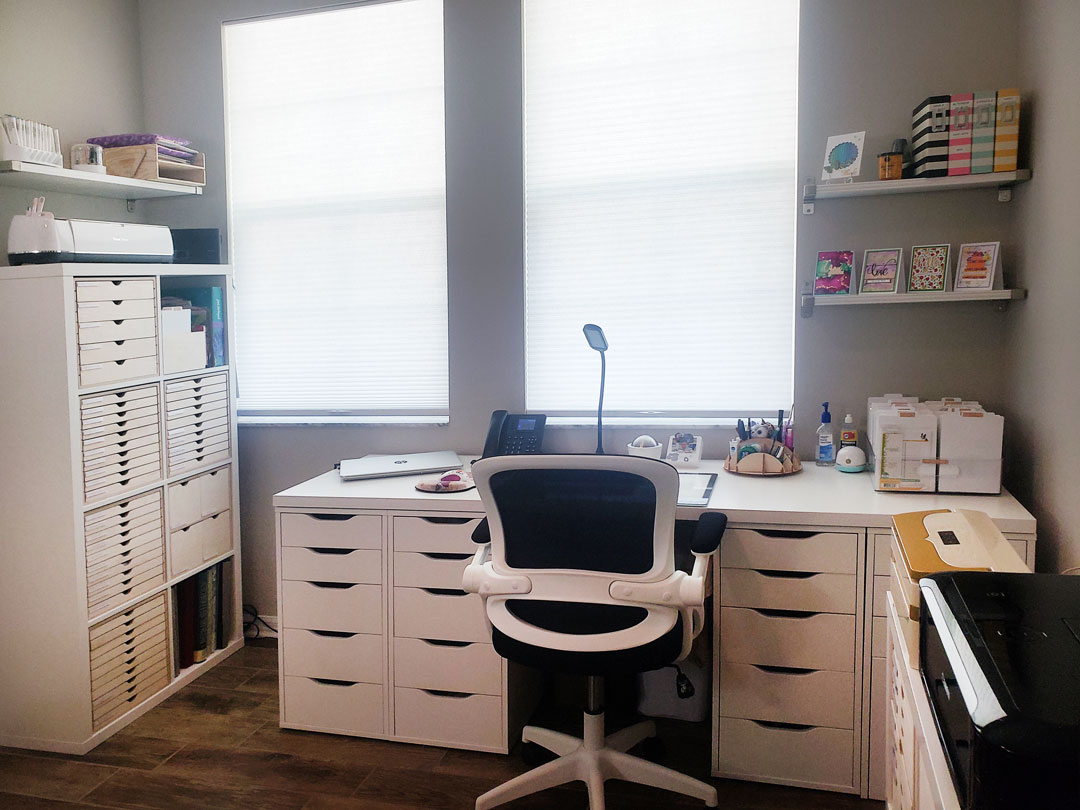 Thank you, Debbie, for sharing your beautiful craft corner!
If you would like to be our next Studio Showcase winner and have the chance to receive $75 in-store credit, here are a few hints: clean up your space, snap some photos (4 or more) from a few different angles, and include some comments about what you love about your area and your Stamp-n-Storage products. Then, you will be entered into our monthly drawing. Email your entry to: contact@stampnstorage.com.