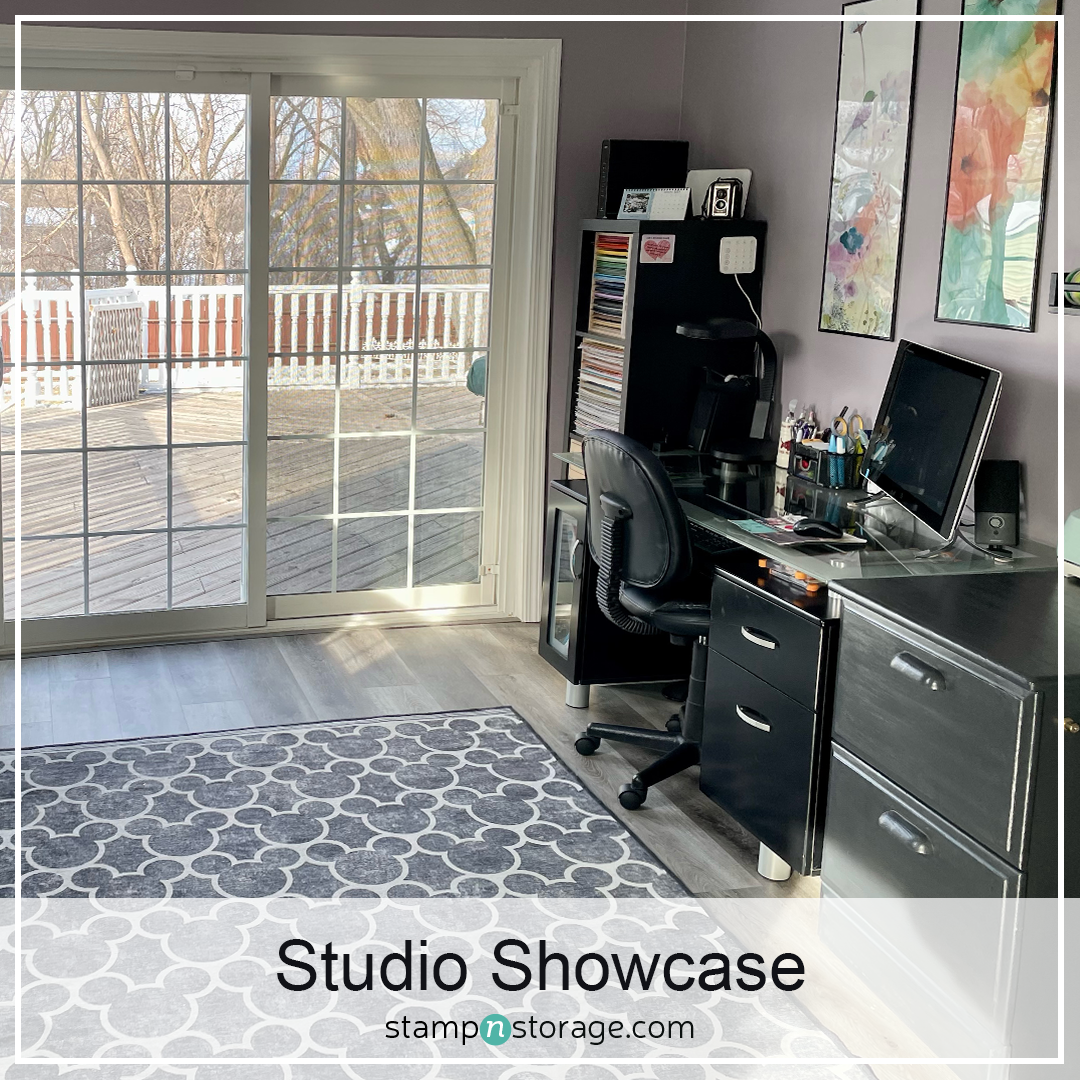 Our latest Studio Showcase winner, Brenda, shares her journey of transforming her daycare toy room into a crafting haven. Organization was an important part of the process because the space was the first room you can see when you enter Brenda's home.
Let's meet Brenda and learn more about her Craft Room!
SnS: Tell us about your crafting background.
Brenda: For me, scrapbooking began when I was a child. My Grandmother would help me cut out pretty pictures from magazines and cards to put in a paper album. The big turn came about 25 years ago when I began scrapbooking at a different level with the memories of our three children. That has continued throughout their marriages and with the addition of 3 Grandchildren.
From 1995 - 2021, I got behind on scrapbooking due to a lack of a designated space and time constraints from running my Daycare business. For years I scrapbooked on a dining room table or the dreary basement spending most of the time searching for supplies or just the right paper! When I retired from childcare in 2021, my 9x11 foot main-level toy room became my craft room!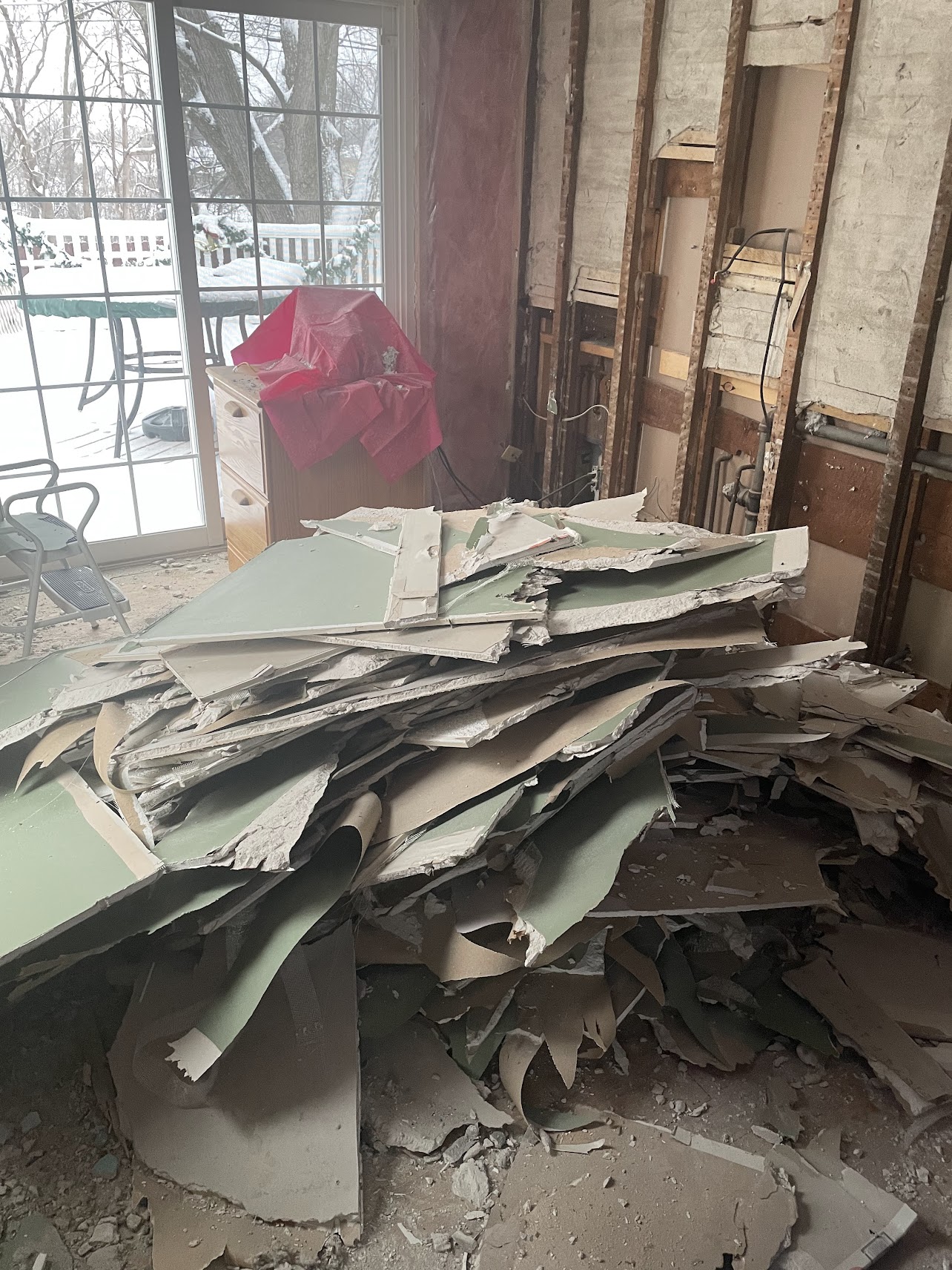 SnS: What was the process of creating your space?

Brenda: When planning out my space, organization and easy access were the key! It had to look organized without looking messy since it's the first room you see when entering the house! Finding furniture that would fit was also a challenge. My husband remodeled my room and helped me move the desk and cabinet from the basement. It also had to be purple !!! I painted and incorporated some marketplace furniture items to add to the room.
Stamp-n-Storage cabinets were something I had always dreamed of, so I decided to bring in IKEA Kallax units to hold the Stamp-n-Storage products.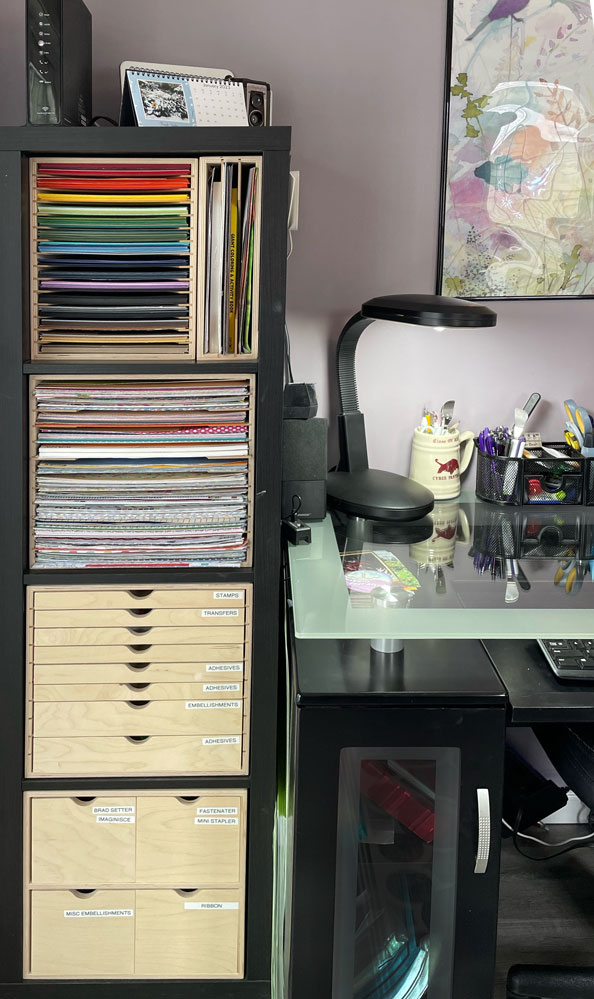 The Drawer Cabinet and 2x2 Drawer Cabinet keep my favorite adhesives, stamps, punches, and embellishments close by!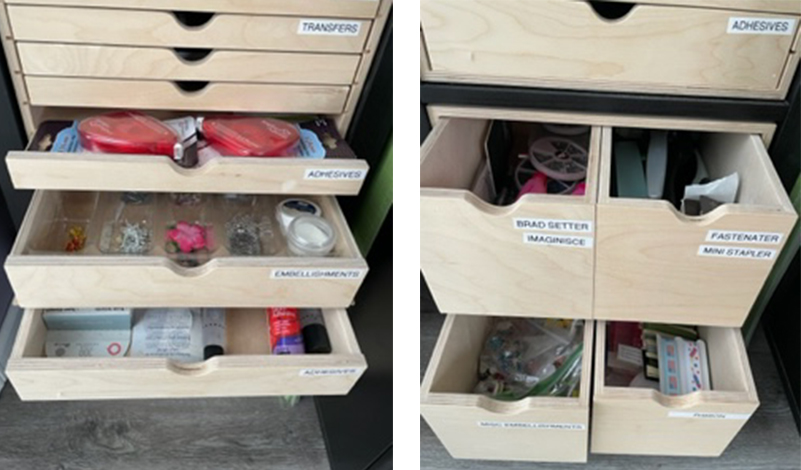 My glass-top desk is great because you can tuck paper trimmers and photos of the current project underneath for easy access! The drawers on the desk and file cabinet hold extra photos waiting to be scrapbooked, adhesive, and folders containing my scraps of HTV, vinyl, and paper!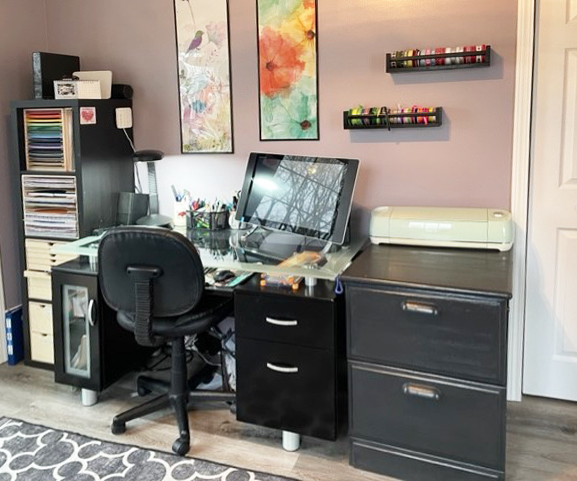 This process has been ongoing, but it took about 2-3 months to get it right where I wanted it!
SnS: How do you organize your paper?
Brenda: Paper storage in the Kallax units has been a dream come true. I currently have 4-12x12 Paper Holders and an 8.5x11 Paper Holder with an Add-on in the Kallax (shown above)! I store my most used solid color paper in the Kallax units! This makes the paper so easy to find and an arm's length away!!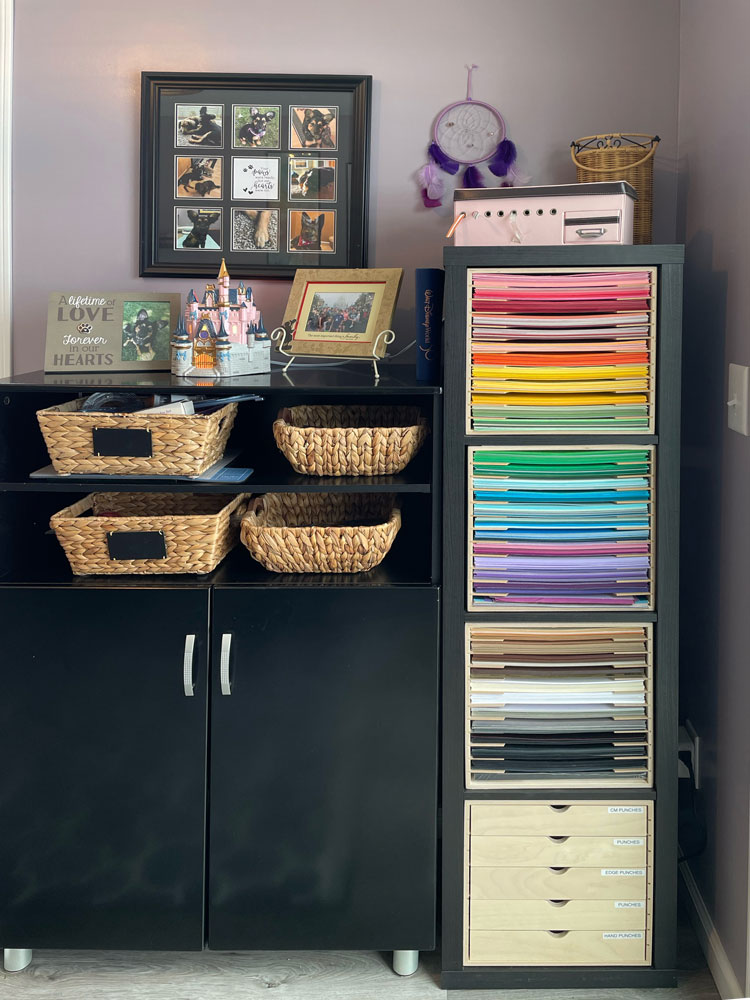 My closet also contains 2-12x12 Paper Holders and an 8.5x11 Paper Holder. I also have some vertical paper storage. These are mostly organized by patterns and events. This is a deep closet, so the less used supplies get put in the back to keep it more organized, along with my new and completed albums up on top! My Granddaughter claimed the bottom space for Polly Pockets!!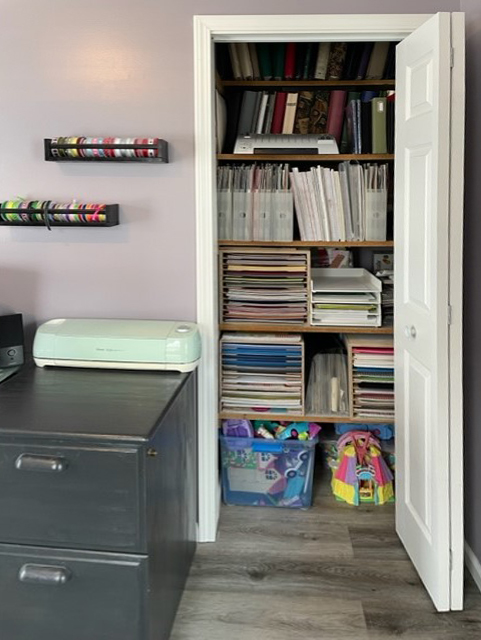 SnS: How has being organized unleashed your creativity?

Brenda: Having a designated workspace has been a game-changer for me! Having a setup where everything is close and organized has been amazing, and you don't have to spend crafting time looking for things you know you have but can't find! It's also challenged me to use more patterns and combinations in my paper crafting because I can locate them easily.
SnS: If you had one tip to share with other crafters about to start the organization process, what would it be?
Brenda: What I would highly recommend to crafters is to find a dedicated space, no matter the size, and make it truly your own. Invest in some organizational products that fit your needs, and make time to have fun!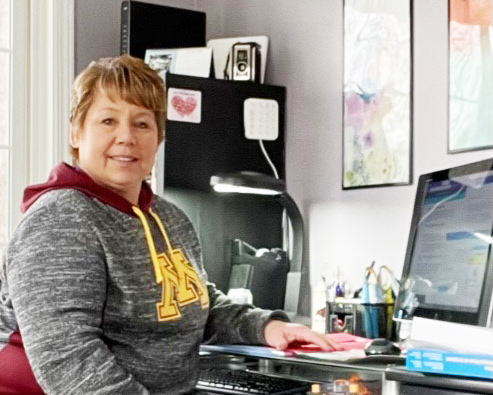 Thank you, Brenda, for sharing your beautiful craft studio and ideas on using your closet for craft storage. If you would like to be our next Studio Showcase winner and have the chance to receive $75 in-store credit, here are a few hints: clean up your space, snap some photos (4 or more) from a few different angles, and include some comments about what you love about your area and your Stamp-n-Storage products. Then, you will be entered into our monthly drawing. Email your entry to: contact@stampnstorage.com.