September Studio Showcase Winner: Sheila B
September's Studio Showcase winner is Sheila B! With the addition of a few Stamp-n-Storage pieces in her craft room, she has a place for all of her paper crafting supplies to be neatly stored. It's easy to see that she has put a lot of time into planning the layout of her studio and really loves spending time in her cheery, yellow space! Thanks, Sheila, for entering our contest!
Would you like to be our next Studio Showcase winner and receive $75? Here's a few hints: clean up your space, snap some photos from a few different angles, and include some comments about what you love about your area. Then you will be entered into our monthly drawing. Email your entry to contact@stampnstorage.com.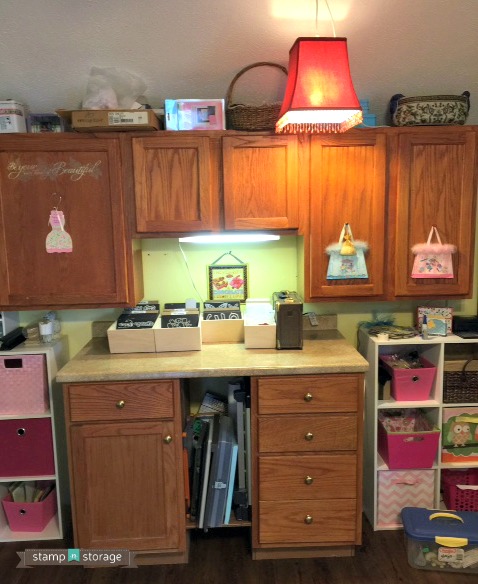 Above is a view of Sheila's studio where she stores her Magnet Cards inside of the Wafer Die Totes. She never has to spend any time looking for the matching pieces from her wafer die sets because they are conveniently stored altogether!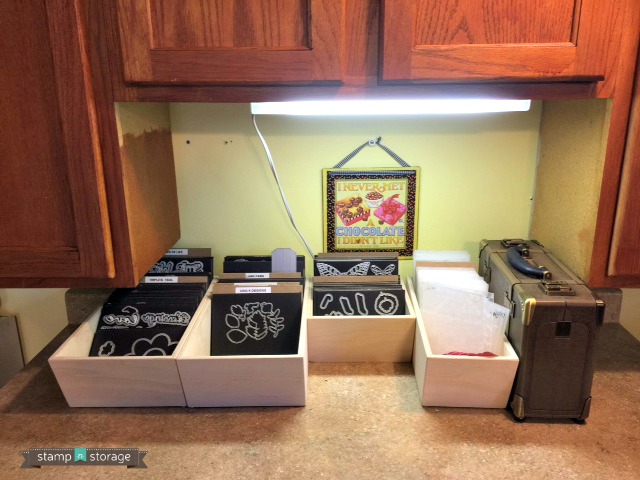 "I've tried just about everything for my Framelits. These Magnet Cards are awesome."
Sheila's 5x7 and 6x7 Magnet Cards in her large Wafer Die Totes also have Magnet Card Dividers between them. This keeps her large collection of wafer dies VERY organized! She has a Stamp-n-Storage Emboss Folder Tote on the far right. With the work light right above this area of her craft room, it makes it even easier to find just the right wafer die or embossing folder for her projects! Good lighting in a craft room is important.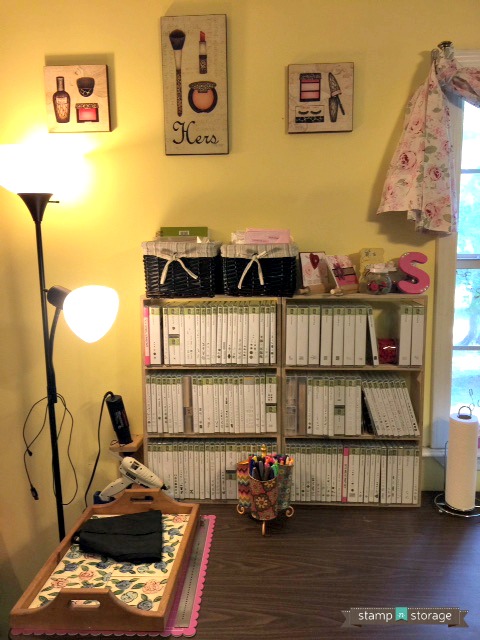 Above, she has two Double Stamp Case Shelves without backs that are filled with her favorite stamp sets. Sheila can find exactly which stamp set she's looking for when they are organized right in front of her crafting area. The Stamp Case Shelves give her extra room to let her store some baskets and other decor on the top.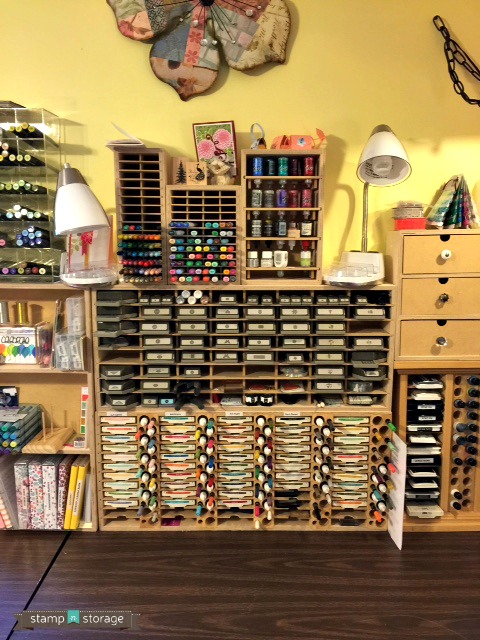 Here's the main "command center" of Sheila's Craft Room. We can see her Double Stamp Case Shelf with a back on the far left. Next, she has a 60 Combo Holder holding a Large Lock-Down Punch Holder on top of that. Above the Lock-Down Punch Holder, Sheila has 2 Side-By-Side Standard Marker Holders (the second one is a discontinued style), and stacked to the right is a Stickles™ Desk for all of her favorite Stickles™ glues! We can even see a corner of the Six Drawer Storage at the far right.
Look at how pretty all of her supplies look when they're grouped together by color and style!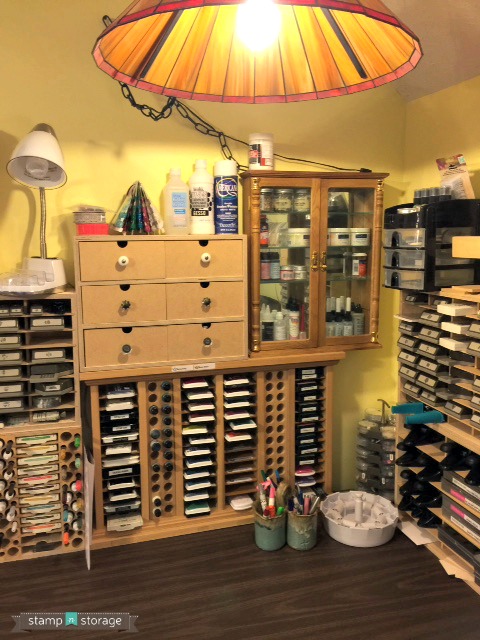 In the corner of Sheila's craft room, we can see more of the Six Drawer Storage. This is the perfect option for storing many tools and accessories. She's even added some knobs onto hers! What a great way to personalize it! To the right of the corner, she has another Lock-Down Punch Holder and it's stacked above a Whale-Tail Punch Holder.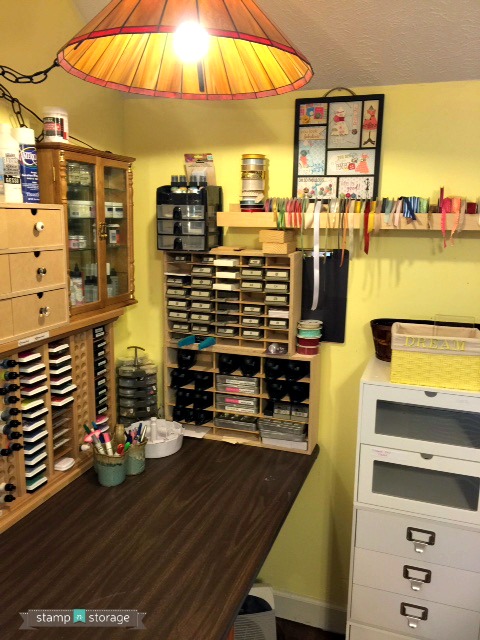 Above her Lock-Down Punch Holder, Sheila has added a Stamp-n-Storage Ribbon Holder. This is a wonderful way to get tangled ribbon out of drawers and neatly organized on a wall. A Magnet Block holds the ribbon spools in place and each color is easy to grab when Sheila needs it!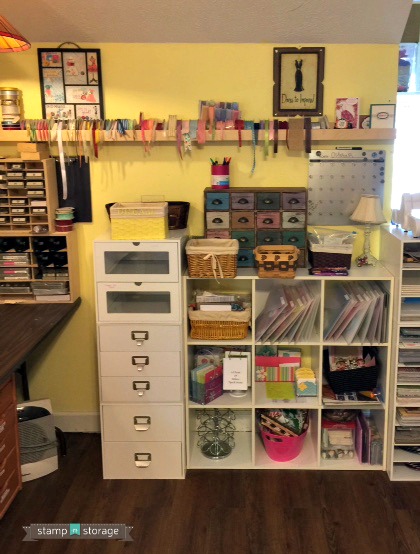 This final picture shows a view of her Ribbon Holder from further away. Not only can she store her ribbon on it, she can use the ledge to display some of her favorite cards.
Sheila's craft room is the ultimate getaway for an afternoon of working on paper crafting projects. We hope you were inspired by this space. There are many great ways that she incorporated Stamp-n-Storage products to make her studio even more functional and organized.