September Studio Showcase Winner - Cori J
We're always excited to see how our products get used and the wonderful spaces where you all get so creative! You can send you pictures in any time, and you will be considered for our Studio Showcase contest. One winner is selected each month, and that fortunate person receives a $75 refund against their most recent purchase. That's like a $75 bonus on your credit card bill or PayPal account!
This month we're congratulating Cori J for being September's winner of the Studio Showcase contest.
Here's what Cori said in her email:
My space is very limited for crafting supplies. The room I use is a bonus room that has slanted ceilings and not much usable wall space. I used to have tons of plastic drawers lining one low wall. Never could find anything. It definitely made me not feel like being in that room. So, I decided to clean house and get organized. I stumbled across your website through a storage search. Loved the products and the awesome Studio Designer!! I have painted most of the items I have purchased. The drawer units and the Large Die Tote have a cute chevron print. I distressed it and put a wax over it. Really like the way they turned out. Thank you! You are a much appreciated christian retailer!!
We appreciate you, too!
In her first picture you can see just how much storage Cori has managed to include at her desk area!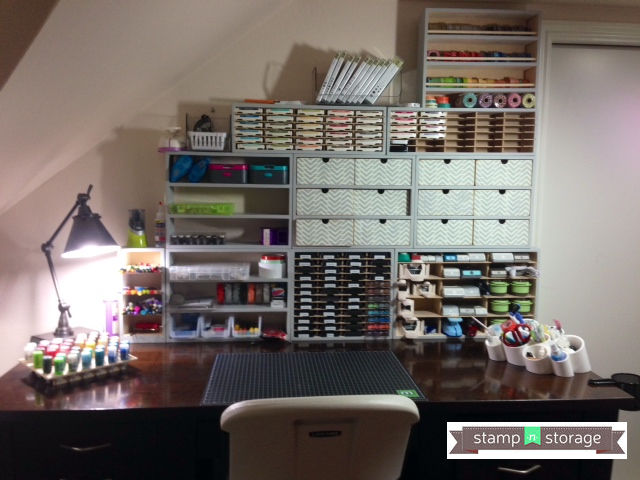 Drawer Units (2)
Notice how she stacked her products to fit under the angled ceiling. And she's right - the chevron pattern looks great on her drawer unit!
Along the base of the slanted wall Cori added some IKEA shelving with six Stamp-n-Storage Paper Holders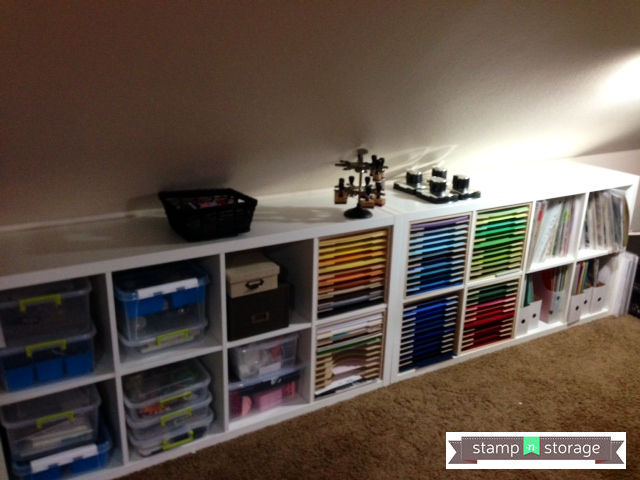 The shelving looks great, and her paper colors really look sharp!
On another table she has her supplies organized in a Pocket Scrapbook organizer and her dies are stored in a nicely painted Large Die Tote.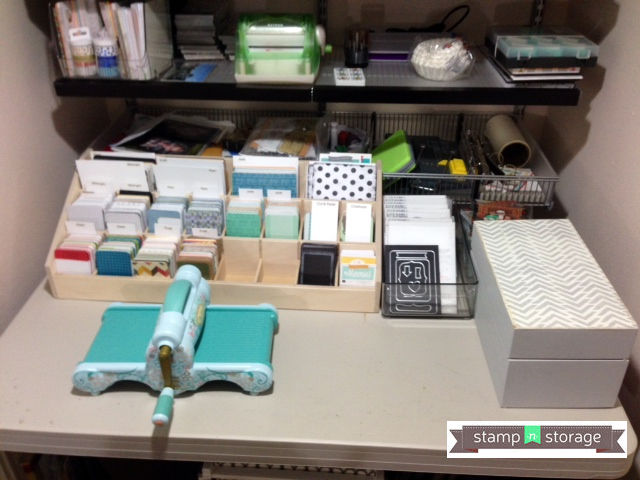 Well done, Cori! Your space looks great and I bet it's much more fun to spend time here now that it's all organized so beautifully.