Paper Craft Storage in IKEA Shelving
We continue to receive pictures of so many great studios and the challenge to pick a single winner increases from month to month.
Thank you to all who are sending in your pictures! Each of you have such great spaces to work in, and they are an inspiration!
October's Studio Showcase winner is Jeanne S. Her pictures are great, and she's really making efficient use of her IKEA Kallax shelving. All of the Stamp-n-Storage products for IKEA are tucked in there very nicely!
She included a nice note with her pictures:
I just wanted to submit the pictures of my newly organized craft space, showcasing Stamp-n-Storage products! Thank you so much for such great products, they are the best storage items I have ever found!
Again, thank you!
Jeanne S
Jeanne has a 1x4 Kallax unit stacked on top of a 4x4 Kallax, giving her 20 compartments of storage. She's filled 13 of them with Stamp-n-Storage paper craft storage products.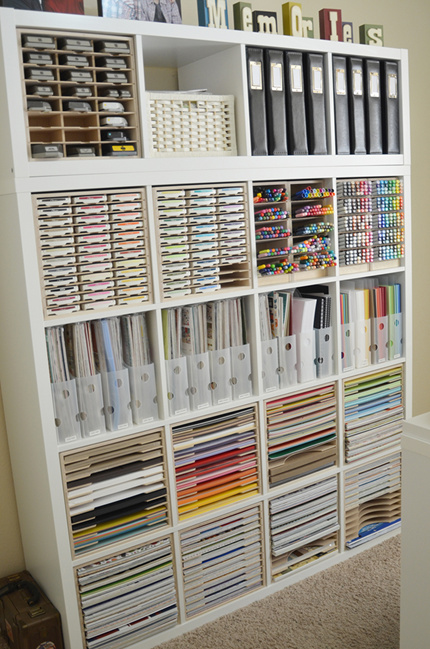 Starting in the upper left corner, there's a Lock Down Punch Holder.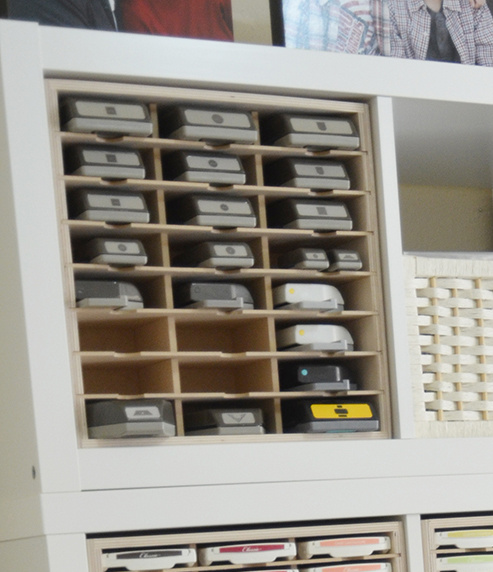 The three sections to the right of the punches contain a nice basket and binders, and the row below that has a great collection of ink pads and markers.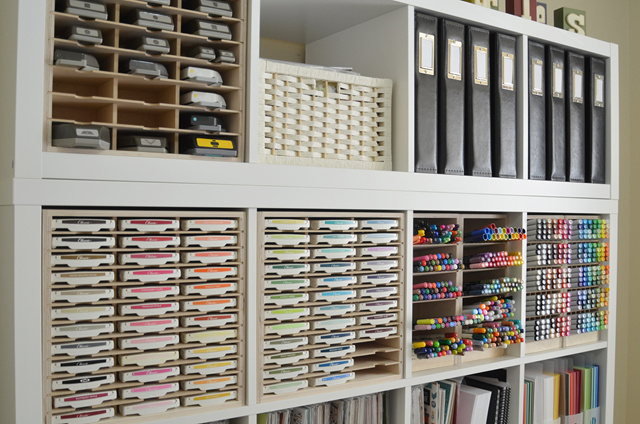 Jeanne is using two 36 Ink Pad Holders for IKEA to store her collection of Stampin' Up! ink pads.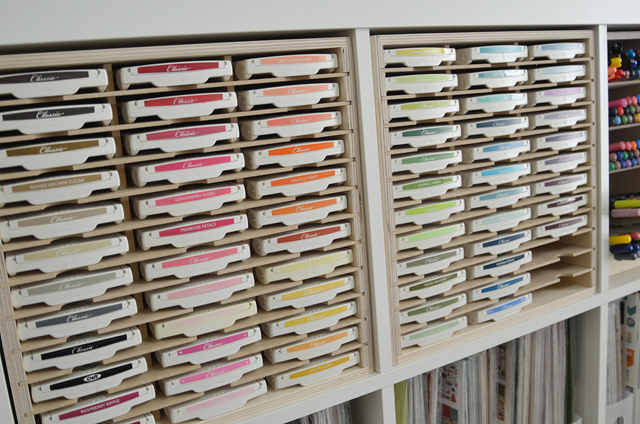 In this close-up above, you can see her two Marker Nooks for IKEA and Stacked Marker Holders for IKEA.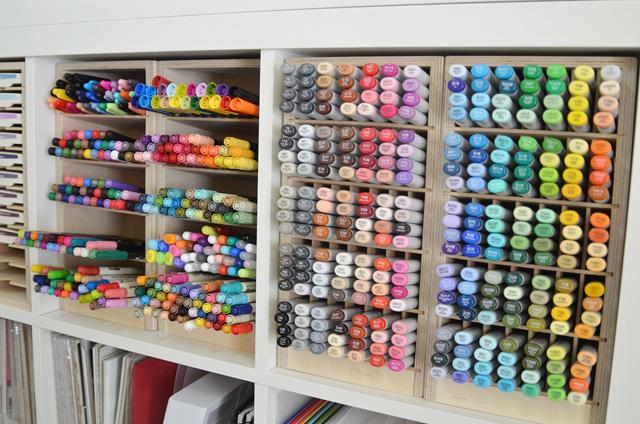 She's filled the bottom two rows in her Kallax unit with Stamp-n-Storage Paper Holders for IKEA. Her specialty papers and card stock are all on beautiful display, easy to find AND easy to use.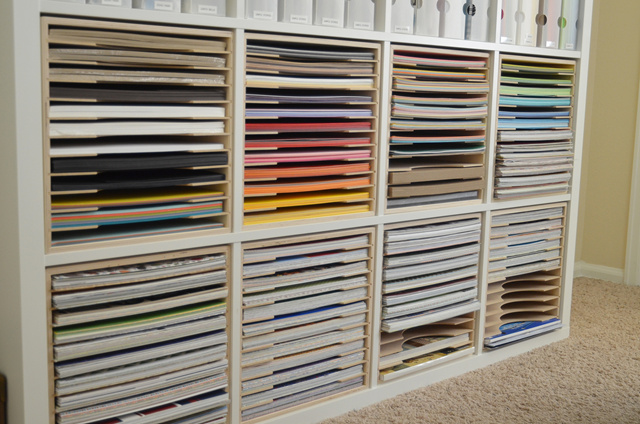 More of her papers are stored upright in the center row.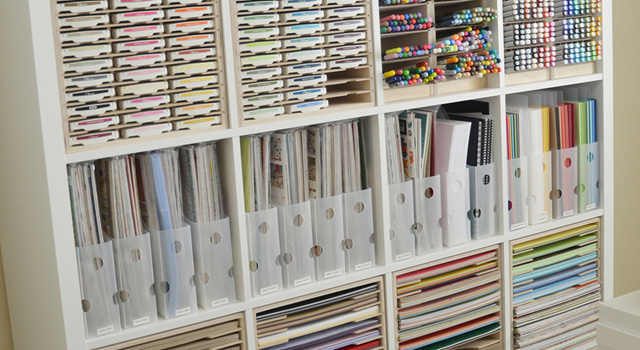 Here's a view of another section of her studio with more punches stored on the wall. Her punches and dies are stored on the cabinet.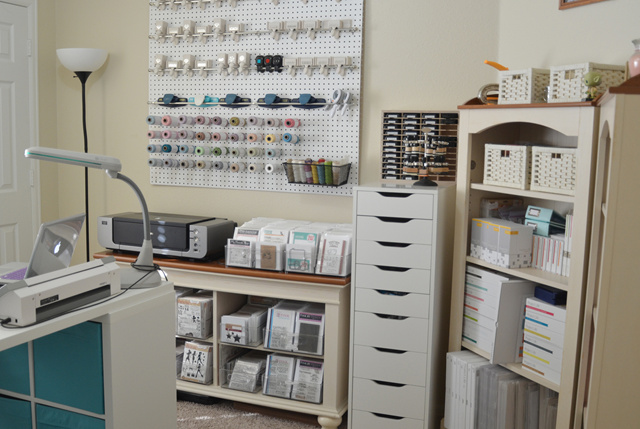 Here are a couple more pictures of her studio and the IKEA Kallax craft room storage shelves.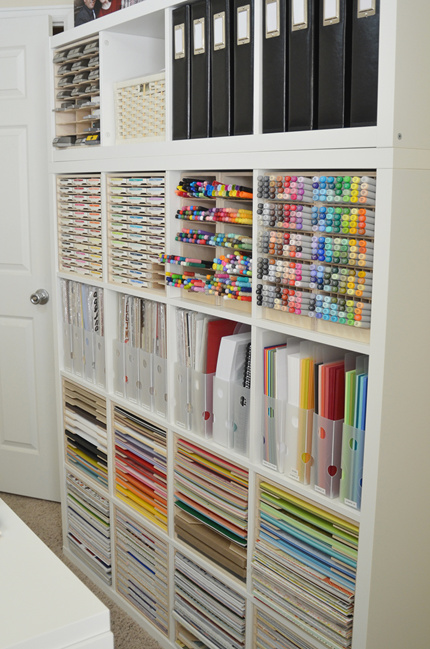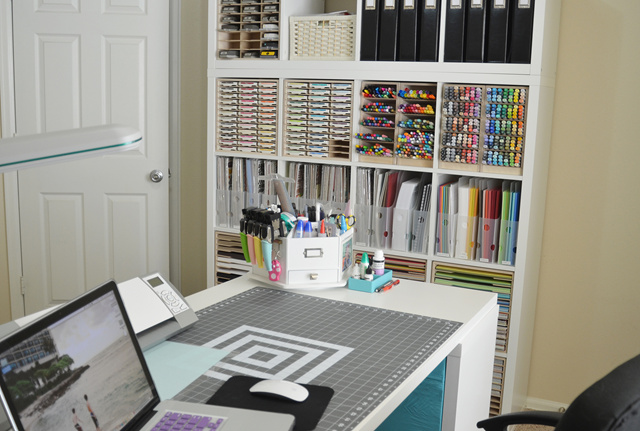 Jeanne has a beautiful studio. By pairing her IKEA Kallax shelf and Stamp-n-Storage products, she sure has a winning combination for her paper crafting storage!