Our October Studio Showcase touched our hearts because it shows how paper crafting brings healing and joy not only to the recipients of handmade cards, but also to those who create them. Although our October Studio Showcase winner, Mary, is a longtime crafter, it wasn't until her family experienced a significant loss that she began paper crafting.
"My direction in crafting turned to paper crafting when I finally wanted to work on a scrapbook for my late daughter, Rachel. I would collect so many embellishments, card stock, etc., as I spent whatever free time I had browsing through craft stores. It was like therapy for me in doing so. However, I always put off starting that scrapbook."
Mary would eventually meet a lovely Christian woman who was also a Stampin' Up!® demonstrator.
"She suggested, without pressure, that I try going to one of her card-making workshops with the intent that it would help me start paper crafting and eventually get to my scrapbook. Well, without intention, I was eventually receiving great joy in making those cards and sending them to people, bringing them joy."
With her newfound passion for paper crafting, Mary began to create a plan for organizing her space. "With all the product I bought over the years, my attempt at storing it in clear containers on industrial shelving did not work for me. I still had to get up and down from my workspace to search for items I needed to complete my crafts. After much thought and planning, I gradually purchased several Stamp-n-Storage items that worked perfectly for me."
Mary's husband also helped her set up a craft space utilizing the IKEA® Kallax units and Alex Drawers. This new layout allowed her to have even more organizational products at her fingertips or nearby without searching through plastic containers.
When you enter Mary's craft studio, you'll find several Stamp-n-Storage products mounted on the wall. She has two 60 Combo Holders, two Standard Lock-Down Punch Holders, a Whale-Tail Punch Holder (she uses for embossing powders), and a Side-by-Side Marker Holder used for markers and smaller punches. Mary keeps her most used markers on her desk in the Marker Holder for Stampin Blends.
Mary organizes her Stampin' Up!® inks alphabetically and other inks according to how she uses them. Most used inks are within the closest reach. Punches are organized by similarity (animal, Christmas, labels, etc.).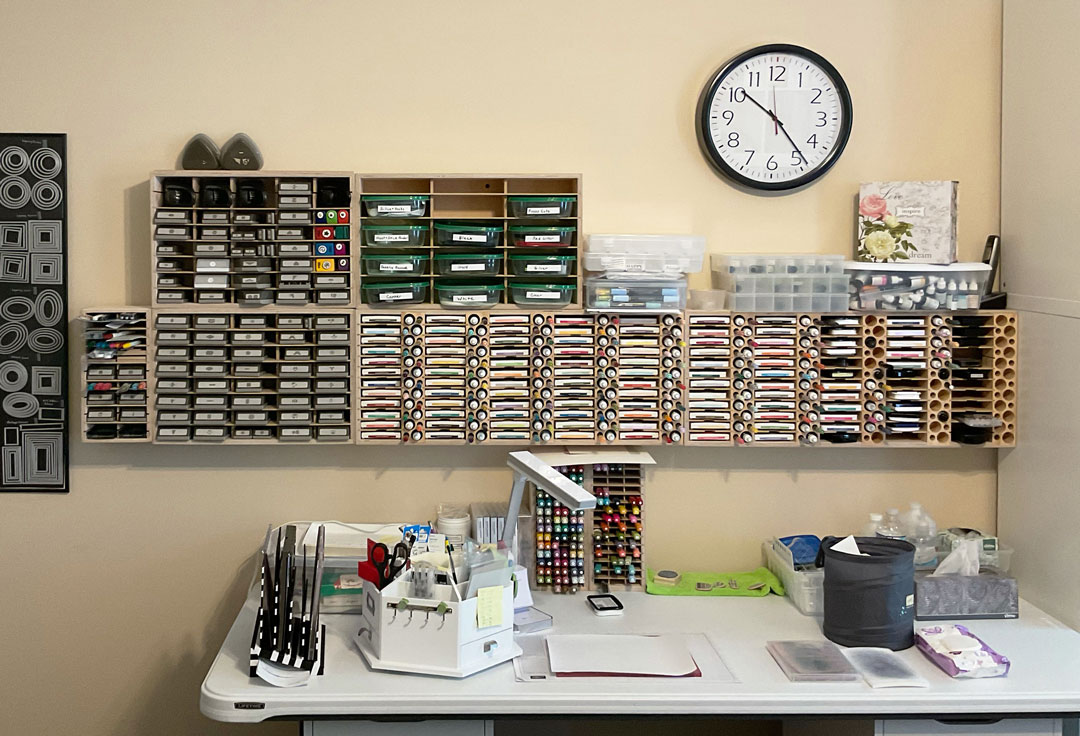 Mary keeps her embellishments organized in the Alex Drawers using the Stamp-n-Storage Accessory Trays. She stores her round containers in the Deep Tray and lose embellishments in the 30 Compartment Embellishment Tray.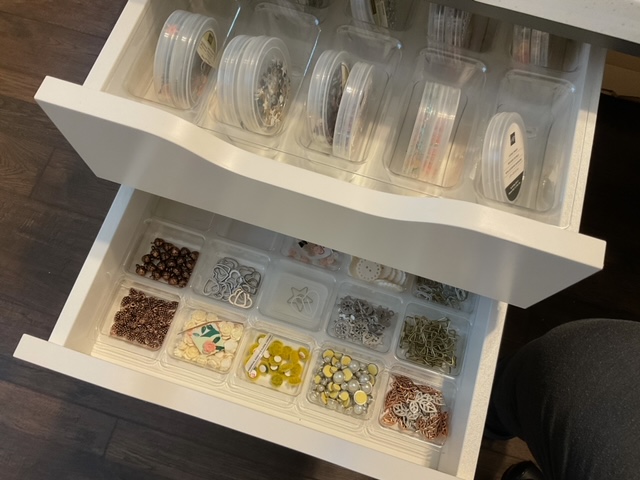 Two IKEA® Kallax units (4x4 and 2x4) sit next to Mary's desk. She has a Drawer Cabinet with two double drawers and six single drawers filled with woodblock stamps. Cardstock and photos are organized in cubes. Mary keeps her 8.x11 cardstock arranged alphabetically and her 12x12 designer series paper organized by category (Christmas, fall, love, etc.).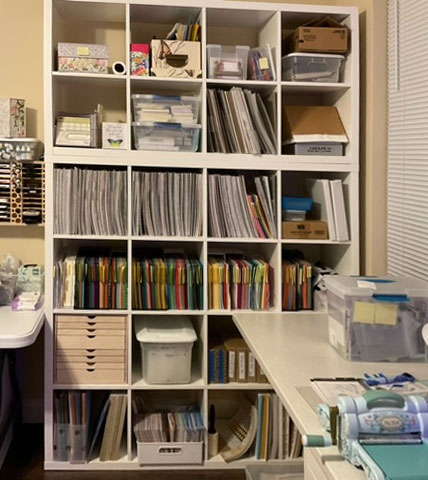 In front of the windows, Mary keeps her die-cutting workstation with her dies and embossing folders nearby. Her husband built the beautiful ribbon unit for Mary's ribbon collection, and this is also where she keeps her sewing machine for other craft projects.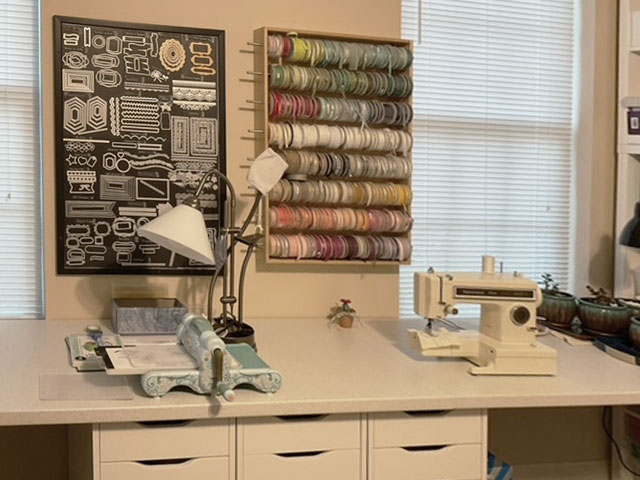 To the right of Mary's die cutting workstation is another Kallax unit with a 2x2 Drawer Cabinet filled with finished cards. She uses other cubes for miscellaneous craft tools and cardstock. The two larger Alex drawers are used as a heat embossing station, and the shelf holding the plastic containers store her scrapbooking supplies.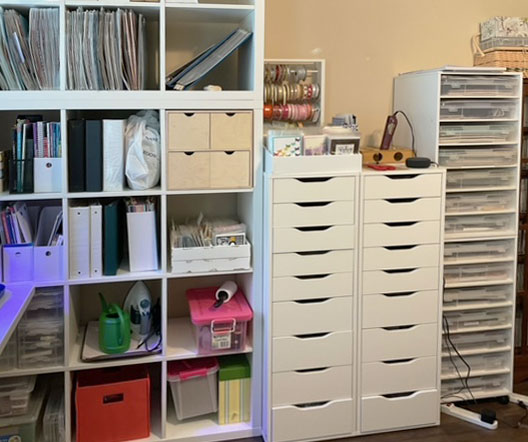 Mary's stamps are stored in categories and then alphabetically in three CD/DVD cabinets.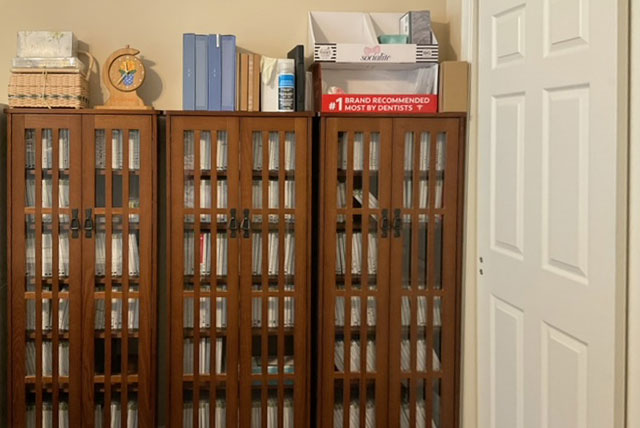 A vital feature Mary wanted in her space was the ability to have two desks back to back. She stamps, embosses, and colors on one desk and then turns around to assemble her projects on another desk.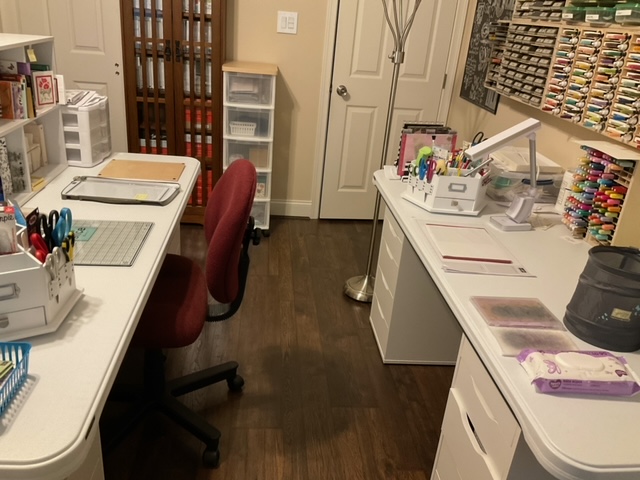 "I am so blessed to have my craft room set up to my liking and needs. Being organized allows me to have more fun and be less stressed to do my crafting. It helps me focus more on my crafting in order to get that joy and satisfaction from completing projects faster. Stamp-n-Storage has greatly helped me in this area!"
Thank you, Mary, for sharing your organized craft studio. If you would like to be our next Studio Showcase winner and have the chance to receive $75 in-store credit, here are a few hints: clean up your space, snap some photos (4 or more) from a few different angles, and include some comments about what you love about your area and your Stamp-n-Storage products. Then, you will be entered into our monthly drawing. Email your entry to: contact@stampnstorage.com.