November Studio Showcase - Lee T
We're excited to show you this month's studio showcase winner. Lee T sent in her pictures in November, and she's built a very efficient work area around a really nice desk.
But first: You could be chosen, too! Take a few minutes to straighten up your work area, take a few pictures like Lee did and send them to contact@stampnstorage.com. The result? You could have your studio featured here AND win $75. We'll refund $75 from your most recent purchase to your credit card or PayPal account.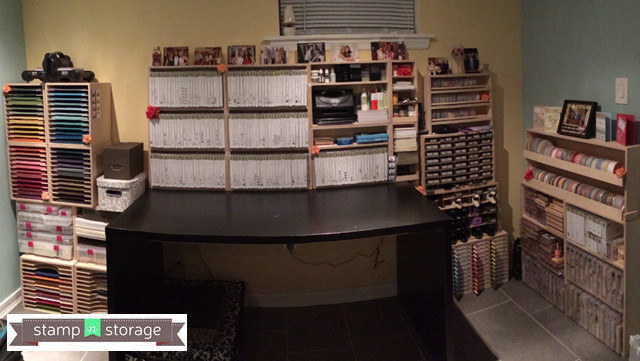 Above you'll see a panoramic view of Lee's entire studio wall, with a beautiful black work desk in the center. Let's work from left to right and explore her setup!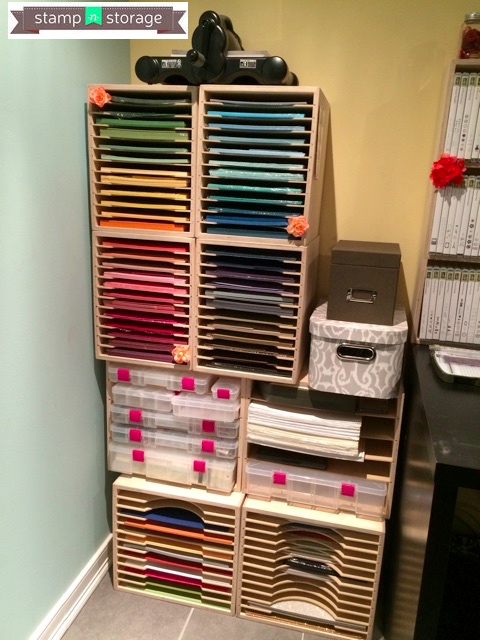 Against the left wall Lee has built a stack of Paper Holders, two 12x12 on the bottom and four 8.5x11 on top. (In the middle is a discontinued product - the Accessory Holder.) Don't her paper colors look great??!!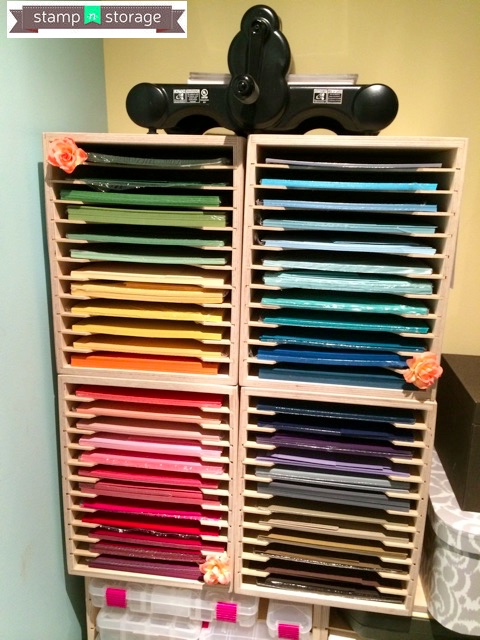 Here's a close-up of her 8.5x11 papers. The flowers are a great touch - they really dress things up nicely!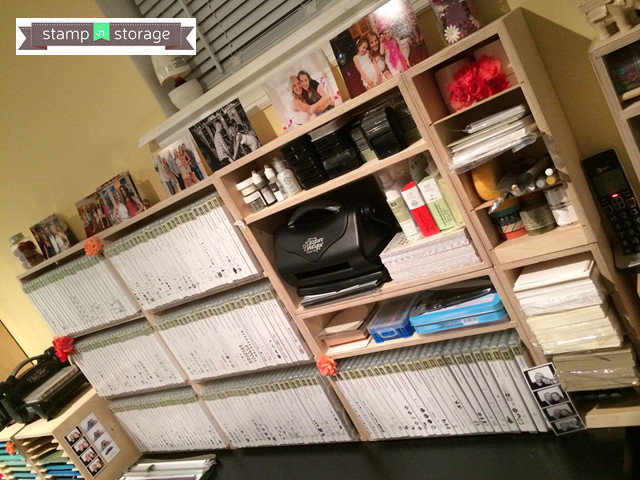 Here's great view of what's stacked on Lee's desktop: Lots and LOTS of stamp sets, all stacked and organized in Stamp Case Shelves. The two selves on the left are Double Stamp Case Shelves. They're called "Double" because they're twice as tall as the standard height Stamp Case Shelf, two of which are stacked to the next to them. On the far right in the above picture are two Marker Nooks. The interesting thing? There's no markers in them! She's using them to store a variety of other items, including Washi tape and envelopes. Clever!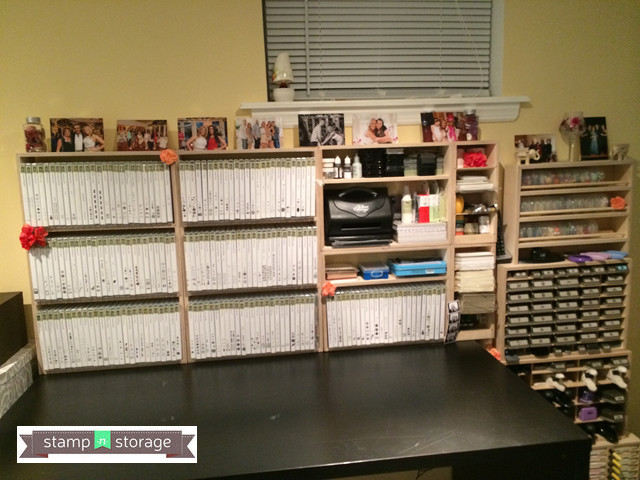 Above is a wider view of the desk top - it's really nice and deep! Lots of exposed work area to spread a project out. The flowers continue, tying the space together. To the right of the desk is a tower of organization goodness. Let's take a closer look.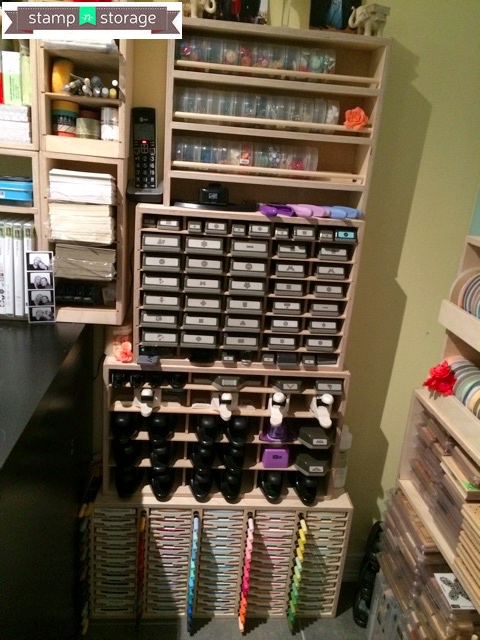 Starting from the top is a Washi Tape Holder, then two Punch Holders and at the bottom is a 60 Ink Pad & Marker Holder. Lee took such great pictures we can zoom in on each section to see what she's storing there.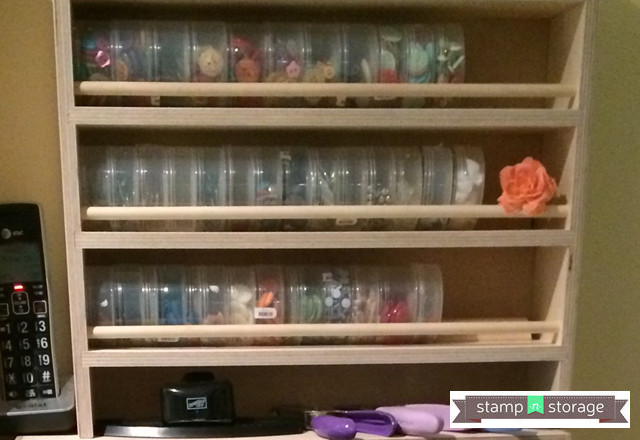 Instead of Washi Tape Lee is storing her buttons and brads! That's a great use of this cabinet, and they won't roll out because of the dowel. Nice re-purposing!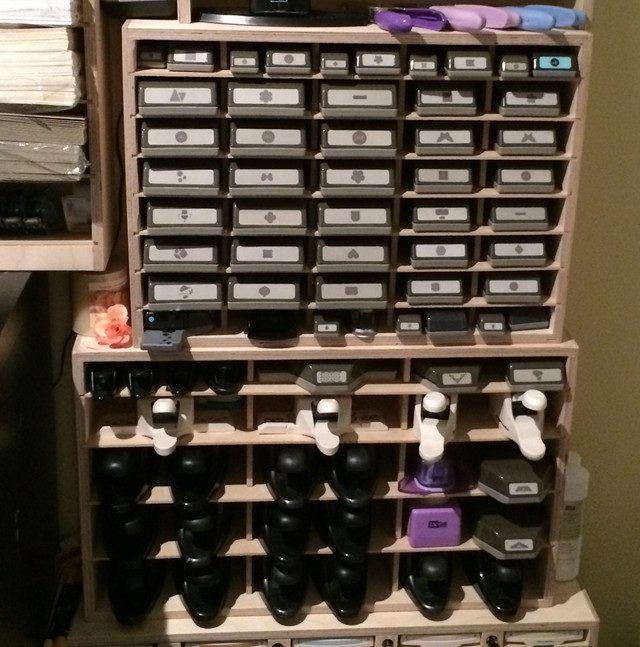 Next are the Lock Down and Whale Tail Punch Holders. She's storing some border punches in the Whale Tail Punch Holder. They fit perfectly with hardly any wasted space.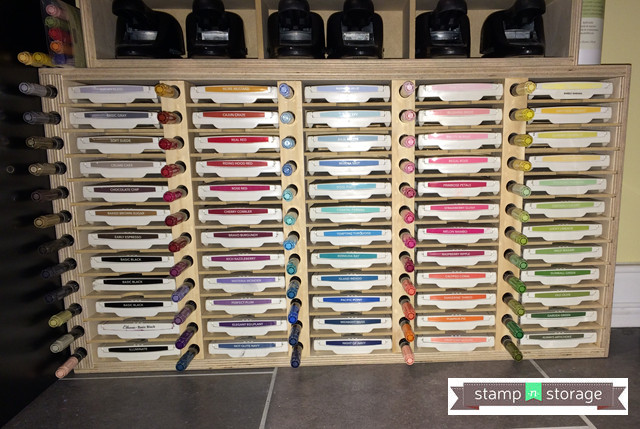 At the very bottom is a 60 Ink Pad & Marker Holder. All of her inks are stored beautifully here, with the color coordinating ink pads and markers right next to each other.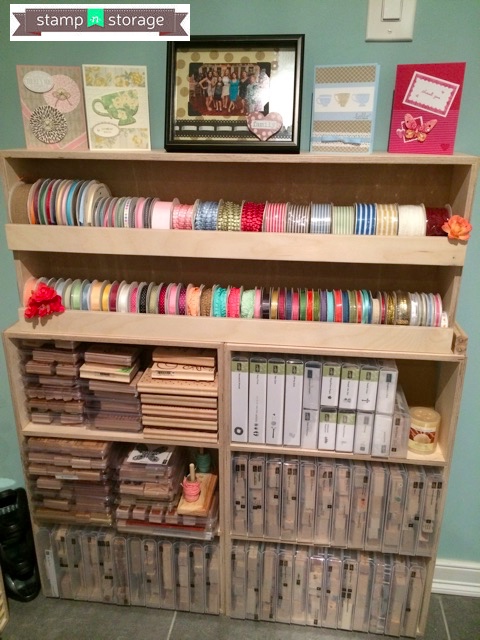 On the far right wall she's built a tower with two more Double Stamp Shelves as the base with a 33" Ribbon Shelf on top. LOTS more stamp storage and over five feet of ribbon shelf space. Nice! (With a few more flowers to as a nice finishing touch.)
Lee has done a great job of picking just the right storage cabinets for her studio, and has put it all together to work perfectly for her. It's a great studio for us to showcase this month!
Congratulations to Lee!