May Studio Showcase: Ginny S
These days, Ginny S has made a drastic change when it comes to where she spends her time being creative. For years, she's been crafting in her basement laundry room that also housed her furnace and water heater. After her son moved away from home, she was able to renovate his bedroom and turn it into a gorgeous craft studio! We love the results of this change, and we know that you will too!
Would you like to be our next Studio Showcase winner and receive $75 store credit? (Of course you do!)
Here are a few hints: clean up your space, snap some photos (4 or more) from a few different angles, and include some comments about what you love about your area and your Stamp-n-Storage products. Then, you will be entered into our monthly drawing. Email your entry to: contact@stampnstorage.com.
- GINNY'S STUDIO BEFORE -
From cold and crowded basement laundry room...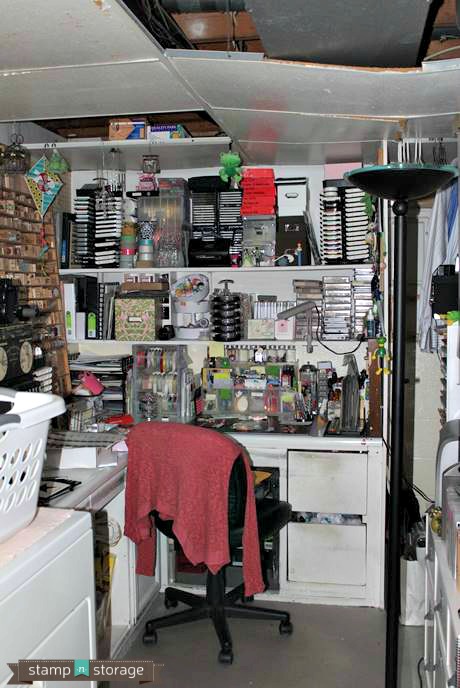 - GINNY'S STUDIO AFTER -
...to a cozy, pink paradise with lots of natural lighting!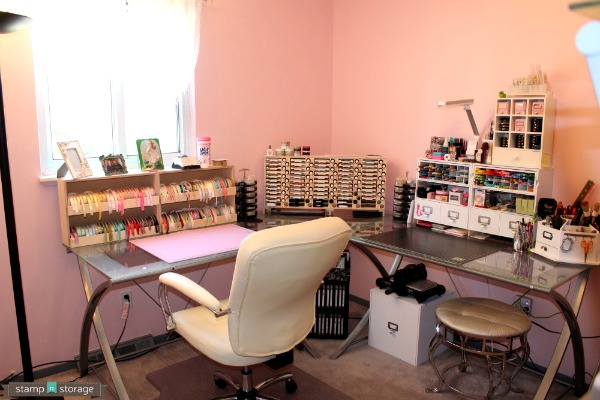 Above, we see Ginny's adorable, new craft room setup. To the left, she has two identical 20" Ribbon Shelves from Stamp-n-Storage. Next, she has placed a 60 Ink Pad and Refill Holder to the right. It's very easy for her to access her supplies from where she's sitting. She never has to rummage through all of her belongings to find the perfect embellishment or tool for her projects!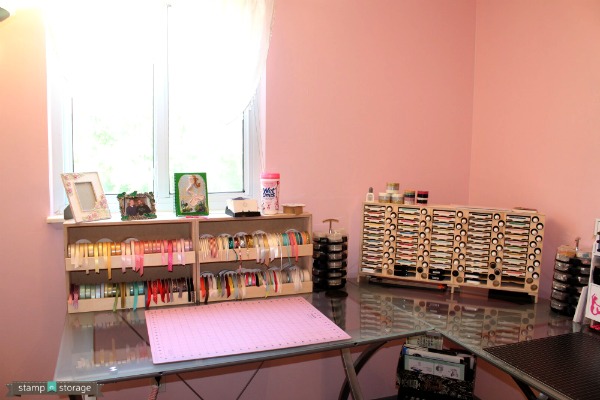 The photo above shows a close up view of Ginny's "command station" for crafting. We love how organized her space is and that she can also decorate her desk with cards and photos that rest on top of the 20" Ribbon Shelves. She still has more space to stack other Stamp-n-Storage products on top of her 60 Ink Pad and Refill Holder too! If you look closely, Ginny's Kickstands from Stamp-n-Storage are visible under her 60 Ink Pad and Refill Holder and help raise it up higher so she has extra room underneath.
How fabulous that Ginny is able to look outside her window here. It sure is different than when her craft room was in her basement laundry room!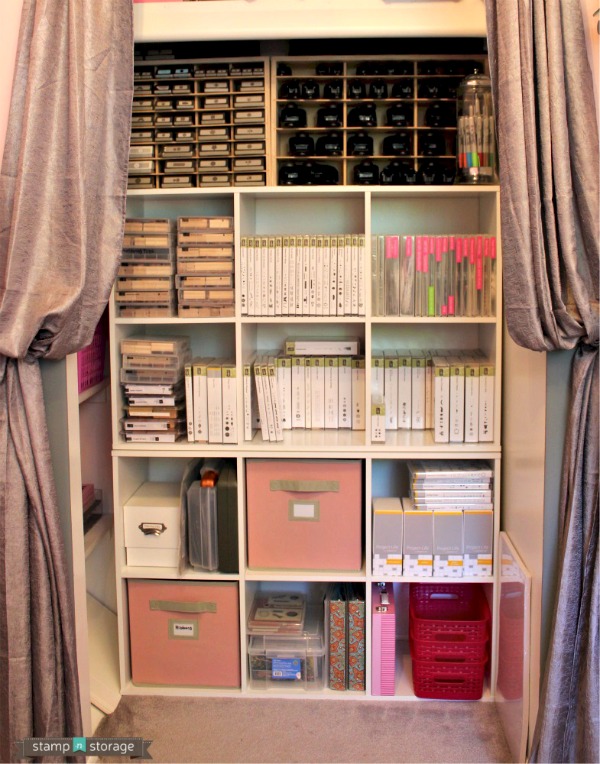 Above, Ginny has maximized the space of her closet to efficiently store various types of stamping supplies, such as stamp cases and paper punches. The top of her closet organizer is where her punches have found a home in a Stamp-n-Storage Lock-Down Punch Holder. Her Whale-Tail Punch Holder is next to it on the right.
Aren't the beautiful purple curtains a lovely touch to this room? Ginny can disguise this area if she closes the curtains. What a wonderful design idea!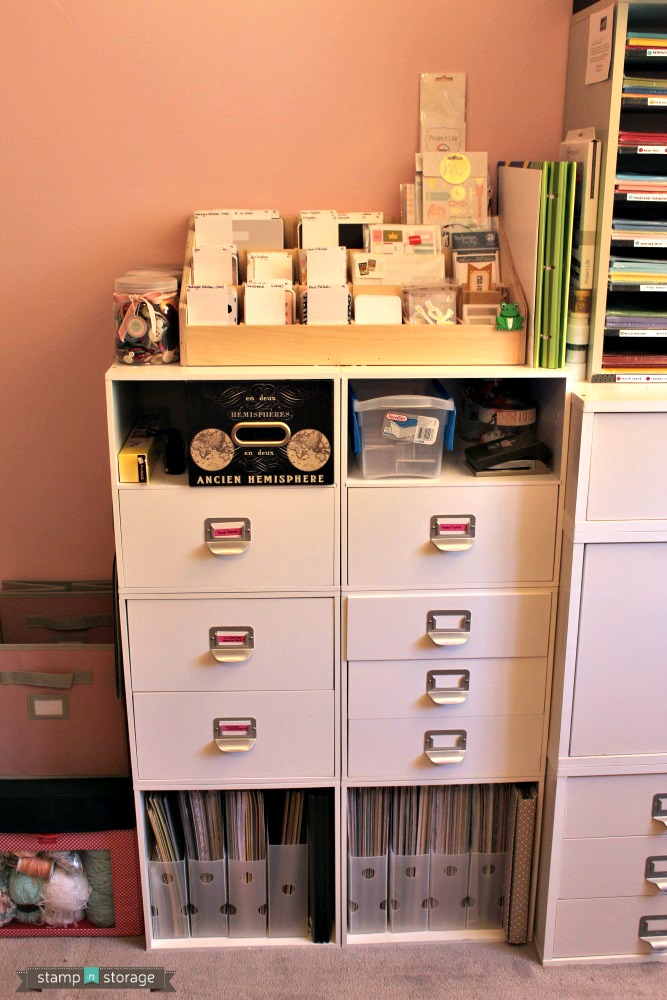 Those who craft with Project Life™ scrapbooking would probably love to have a spot in their craft room dedicated to this type of organization and easy access of their Project Life™ supplies. We really like seeing that Ginny has a Project Life™ area that's neatly organized with a Stamp-n-Storage 18 Pocket Scrapbook Holder!
Ginny told us, "I LOVE my new space and your products have been helping me organize beautifully."
We're very happy to hear that Ginny is delighted with her new craft room and that Stamp-n-Storage has been able to help her love her studio even more! We here at Stamp-n-Storage always enjoy a good "before and after" story, and this one definitely tops the list! Congrats to you, Ginny.