July Studio Showcase Winner: Christina
When our July Studio Showcase Winner, Christina, started down the road to organize her space, she utilized Pinterest for ideas. It was there she discovered the combination of the IKEA® Kallax and Stamp-n-Storage products. "I saw all the amazing craft organization and it was everything I needed to make things come together" she says.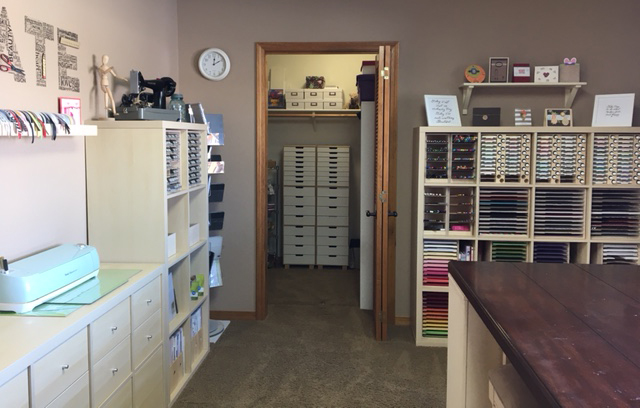 Christina chose the natural colored IKEA® Kallax shelving to keep the room bright and neutral. She used a horizontal Kallax to allow for more space and to condense her desk area. Doors and drawers were added to hold adhesives, glitter, cutters, cleaners, and Sizzix accessories. She added the Stamp-n-Storage Ribbon Holder with a wall mount to the space above.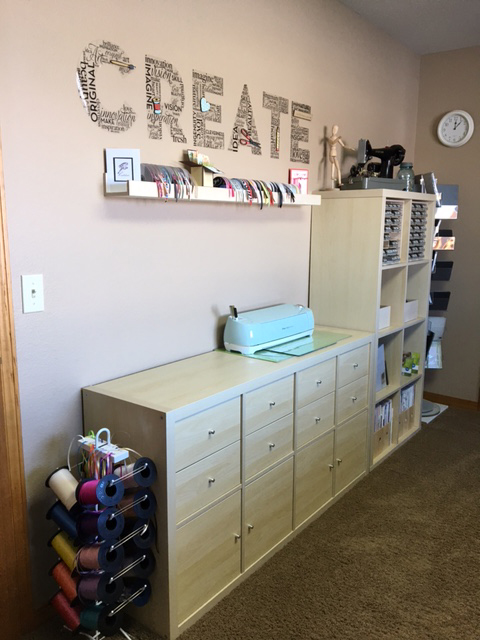 Christina added a second vertical Kallax shelving unit to store punches in the Stamp-n-Storage Lock-Down Punch Holder. "It's much easier taking a few steps and finding just what I need" she says. This is also where Christina stores her Wafer Die Tote and Magnet Cards. "I will admit in the past I had bought heat register magnetic covers and tried to use those for dies. FAIL. Miserable fail. The Magnet Cards from Stamp-n-Storage are amazing!" she says.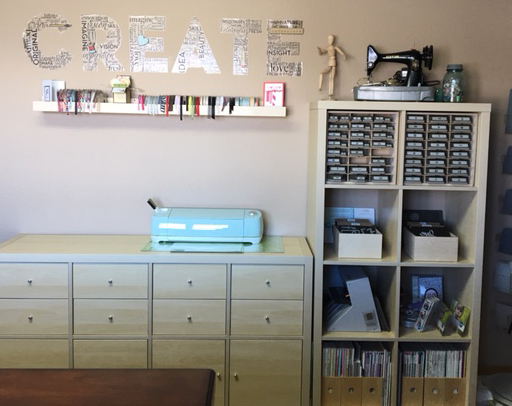 Turning the corner you'll find the large 16 unit Kallax full of Stamp-n-Storage products. "It has been beyond useful to have everything within eye shot for color coordinating and inventorying" Christina says. You'll see the Marker Nook for IKEA®, Ink Pad & Refill Holder for IKEA®, the 12x12 Paper Holder for IKEA and the 8.5x11 Paper Holder for IKEA. Nearby are two Double Stamp Case Shelves stacked on top of each other for storing her stamps. You'll also notice a space for Christina's girls (ages 2, 4 and 6) to craft.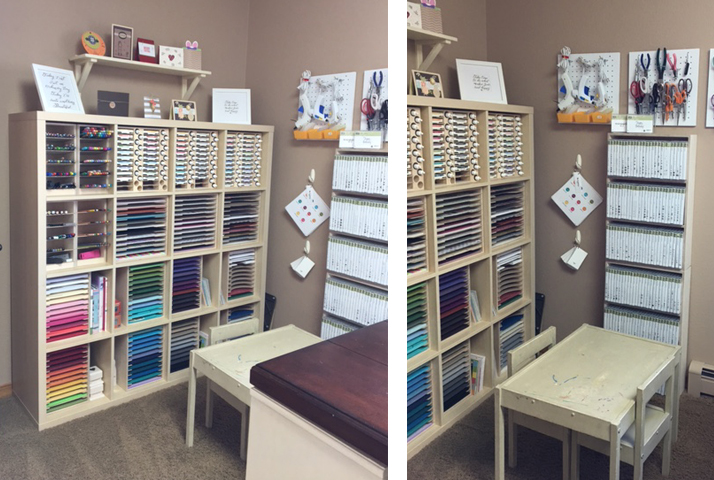 "Being organized has helped me be much more functional in my craft room! Having easily recognizable ink pads, punches displayed, dies labeled and at ready is phenomenal!!! And another added bonus is that the space is so much easier for my girls to navigate (or assist me) when they create!" says Christina.
We love how Christina is teaching her daughters the importance of celebrating life and friendship through a card.
"My daughters and I have the best time in my craft room making fun creations to share. Being they are 6, 4, and 2...make no doubt it becomes a carefully prepped and supervised orchestration, but fun for sure" she says.
Thank you Christina for sharing your space with us and your passion for paper crafting with your girls!
---
Would you like to be our next Studio Showcase winner and have the chance to receive $75 in store credit?
Here are a few hints: clean up your space, snap some photos (4 or more) from a few different angles, and include some comments about what you love about your area and your Stamp-n-Storage products. Then, you will be entered into our monthly drawing. Email your entry to: contact@stampnstorage.com.