February Studio Showcase: Elaine S
Elaine S. is the winner of our February Studio Showcase contest. She has a very organized space in her craft room, complete with a few Stamp-n-Storage pieces that she loves. Not only does she have a great counter-top space for when she works on all of her projects, but she also has awesome storage areas that give her peace of mind about where all of her crafting supplies are located. This really helps keep her creativity flowing!
Would you like to be our next Studio Showcase winner and receive $75 store credit? Here are a few hints: clean up your space, snap some photos (four or more) from a few different angles, and include some comments about what you love about your area. Then you will be entered into our monthly drawing. Email your entry to contact@stampnstorage.com.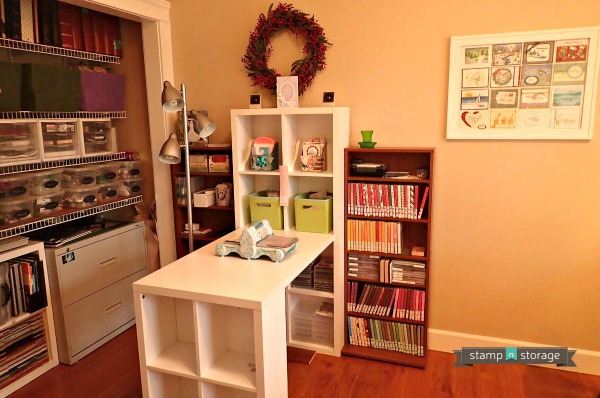 Look at how pretty this room is! Above, we can see that Elaine has a station where she can use her wafer dies, as well as keep a majority of her supplies organized on shelves. The great thing about how her room is set up and how open it is, is that she's able to have a place for everything, and showcase her favorite crafting accessories.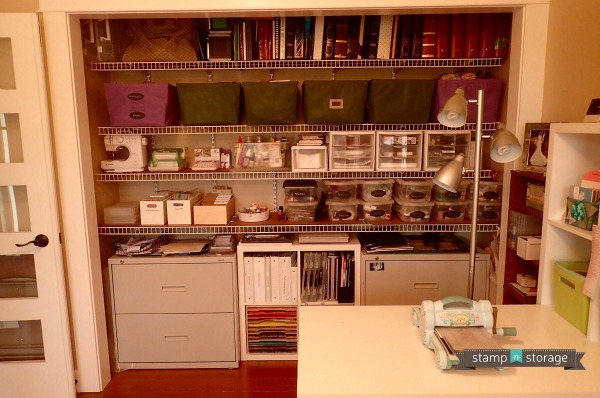 Above, Elaine has transformed a closet to become a storage area for all of her embellishments. Her Stamp-n-Storage Paper Holders for IKEA® fit in a small 2x2 IKEA® Kallax at the bottom of the shelving. We love seeing how Elaine likes to keep everything efficiently labeled and organized. Wouldn't you just love to spend some time crafting in this room?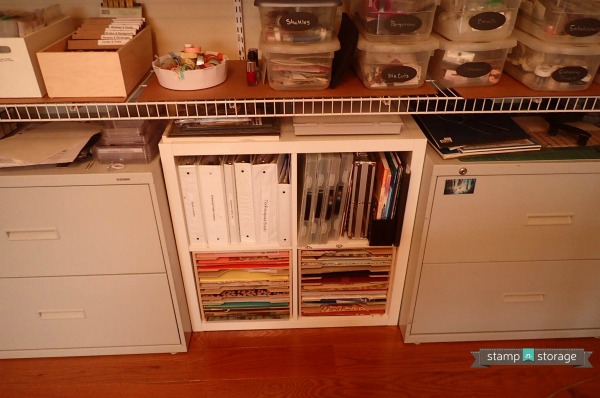 Here is a close-up of the two Paper Holders for IKEA® inside of the Kallax. These paper storage units don't take up much space do they? That's the great thing, all of her paper is organized by color or design and they fit inside of the open space in her Kallax cubes!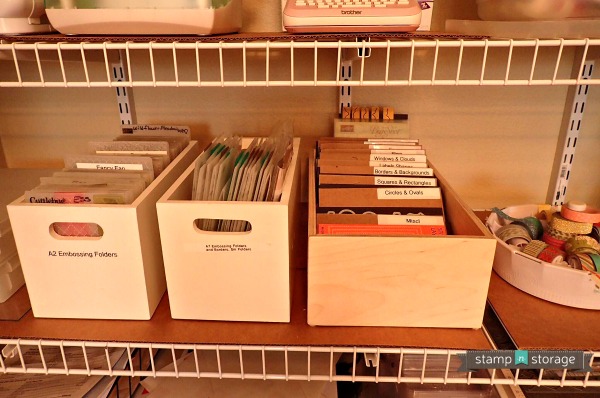 Above, we can see how Elaine has organized her embossing folders and wafer dies. To the far right is a Large Wafer Die Tote which holds her Magnet Cards. Wafer dies magnetize to each Magnet Card and Elaine has them categorized by theme. How nice that she can easily find any wafer die that she might be searching for when making her next project!
Elaine said, "The Wafer Die Tote and Magnet Cards are my favorite! I previously had my dies in stamp cases that took up a whole shelf on the bookcase. Now they fit in the box with room to spare."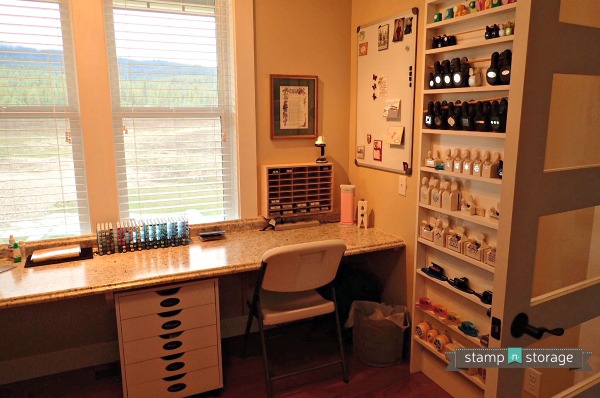 Wow! Isn't the wall of punches on the far right wall amazing? Elaine's punch storage area is complete with a Stamp-n-Storage Lock-Down Punch Holder. It's located above the counter-top and next to where she sits to craft. This makes it very handy for her when she needs just the right punch!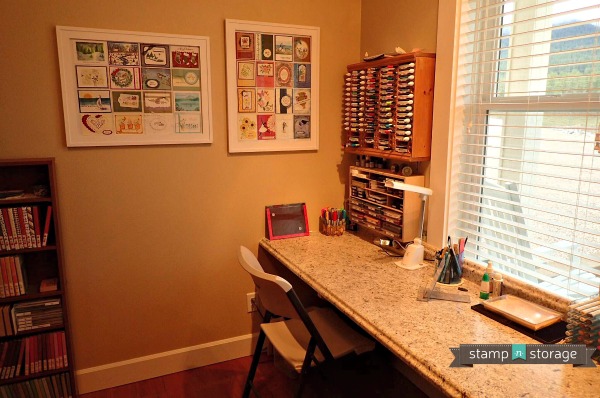 Above, we can see the rest of Elaine's counter-top space. She has so much room to be creative! To the far left near the counter-top, is a Stamp-n-Storage Whale-Tail Punch Holder. Instead of keeping punches in it, Elaine likes to use it for odd sized inks and paper scraps.That's a great idea!
We love the artwork on her wall! What a beautiful collage of hand-made cards. It's the perfect decor for any craft room!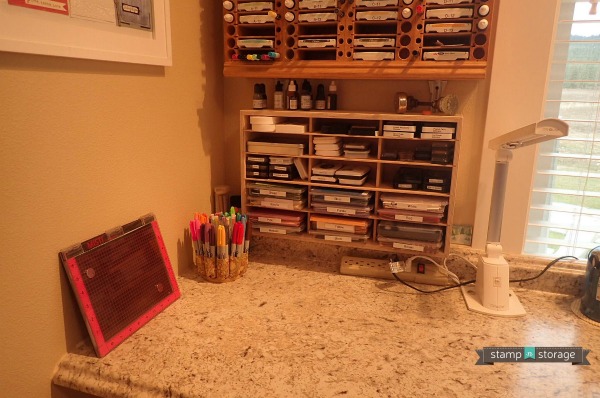 Here's a close-up of the Whale-Tail Punch Holder that she stores various inks and other supplies. It looks like it's the perfect little compartmentalized storage unit for her!
Elaine has done such a wonderful job decorating and organizing her adorable craft studio. We're so happy to hear that she is pleased with her Stamp-n-Storage products and enjoys spending time unleashing her creativity!