Crafted Spaces Episode 14: Keisha's Studio Tour
The time has come to release our last episode of the Crafted Spaces series. We're finishing off with a tour of Keisha Charles' beautiful studio.
Click "play" on the video below for an all-access tour of Keisha's studio. She's a well-known paper crafter and she also has a company called The Paper Mint. She is able to create cards and stationary for customers in her well-organized craft room.
Here's what Keisha says about the Stamp-n-Storage products that she has in her room: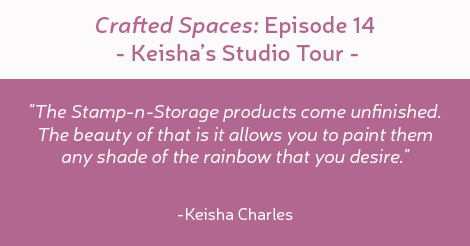 Watch now and be sure to share this one-of-a-kind craft room tour video with all of your crafting friends. You'll all be able to learn some great tips and tricks for how to plan, store, and use your room at it's fullest potential.
Be sure to visit the full studio tour page HERE for even more content.
Sit back, relax, and let Keisha take you on a tour of her studio. You won't want to miss seeing this gorgeous room!