Crafted Spaces Episode 13: Mary's Studio Tour
Stamp-n-Storage is so excited to share the latest episode of Crafted Spaces with you! We have released 13 episodes so far, including the first tour video of Mackenzie's space. Next up, Mary's studio, and in a few weeks, you can watch Keisha's video tour too!
Click "play" on the video below for an all-access tour of Mary Fish's studio. She's a well-known paper crafter and she also manages a blog called Stampin' Pretty.
Here's what Mary has to say about giving you an exclusive tour of her craft room: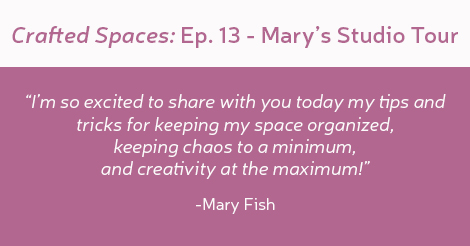 As you can tell, she can't wait to let you all in on the secrets behind how she organizes her studio!
Watch now and be sure to share this one-of-a-kind craft room tour video with all of your crafting friends. You'll all be able to learn some great tips and tricks for how to plan, store, and use your room at it's fullest potential.
Be sure to visit the full studio tour page HERE for even more content.
So, get a hot cup of coffee, sit in your favorite comfy chair, and take a "trip" to Arizona with us as Mary opens up her home for all of us!
What did you think of the episode? Make sure to leave a review on our social media pages such as Twitter or Facebook. You can even leave comments on the YouTube video page.