Craft Organization for Embellishments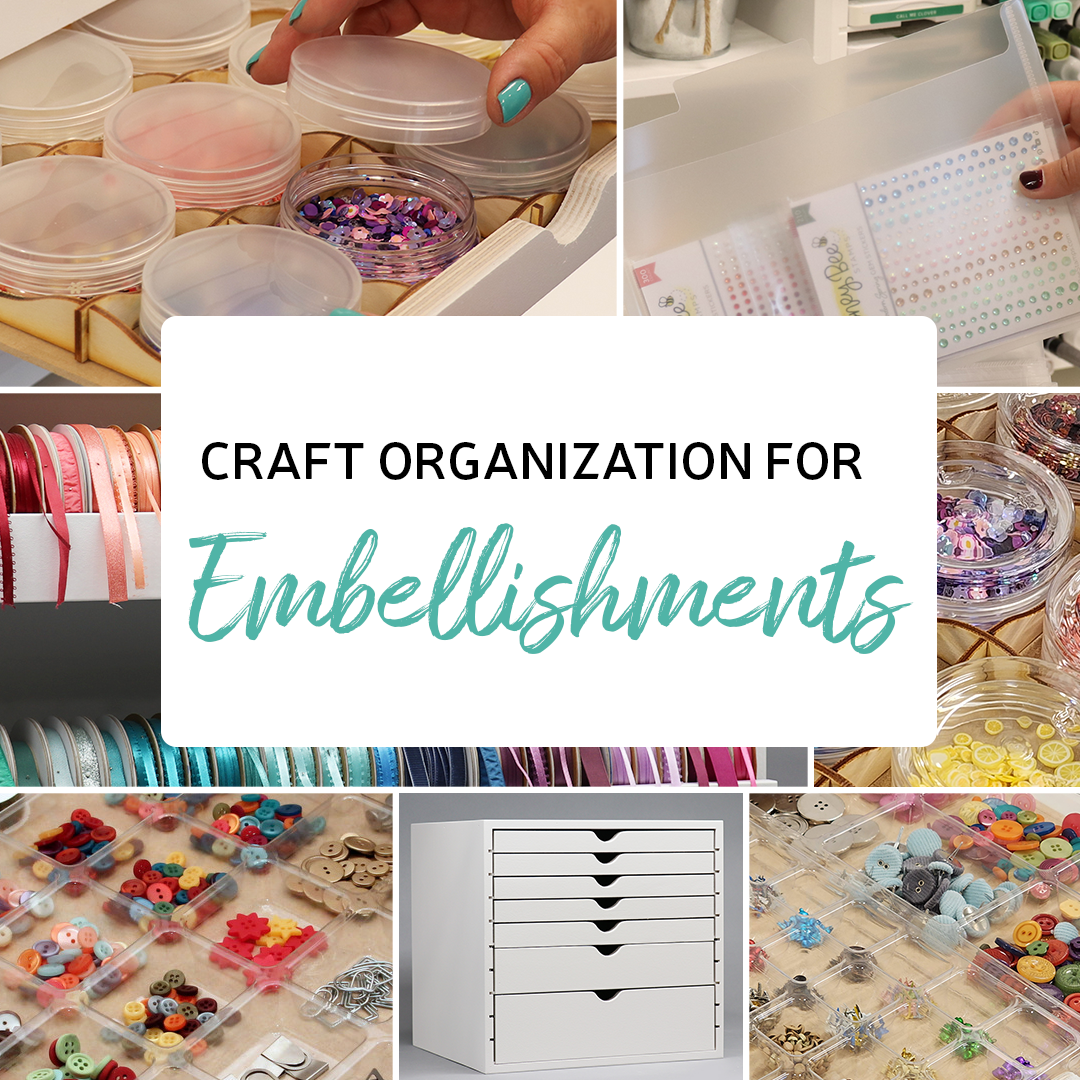 When we asked customers what craft supplies they struggled with organizing the most, the popular answer was embellishments. Embellishments encompass a wide range of products, from ribbons to tiny gems. It's no surprise that many of us struggle with finding an organizational solution.
Our goal at Stamp-n-Storage is to organize your paper crafts to maximize your space while keeping your supplies visible and easy to access. When it comes to embellishments, this was no exception. We also knew the importance of being able to see your embellishment options so you can quickly find what you need to add that extra flair to your handmade card or scrapbooking pages.
Let's take a look at embellishment storage solutions by Stamp-n-Storage!
Crafty Storage Jars
These handy clear storage jars work wonderfully for organizing your confetti & clay mixes, baubles, rhinestones, sequins, sprinkles, pearls, and more. The jar's wide opening provides full access to the contents, allowing you to pick the right size baubles or spoon out the mixes for your shaker cards. The jars are easy to stack, and the clear side lets you see the contents. The low profile of the jar also makes them easy to store and organize in a single drawer with the optional Grid. You can add a label to the top of the jar or flip them over to view your embellishments through the clear bottom.
Accessory Trays
Accessory Trays are a best seller at Stamp-n-Storage and offer various options for organizing your embellishments. The 60 and 30 Compartment Trays fit inside Single Drawers and are ideal for smaller embellishments like beads, brads, gems, sequins, drip drops, and confetti. The 15 Compartment Deep Tray fits inside a Double Drawer and is an excellent option for larger embellishments like buttons.
Half Trays
The Half Trays come in a variety of different size compartments, making it easy to mix & match trays to manage any size collection of chipboards, buttons, beads, brads, precut die-shapes, etc. The trays are the perfect size to fit a desk drawer (6" wide by 12" long by 1" deep), and adding a cover makes them easy to transport to your work area. Because of their smaller size, Half Trays are a little sturdier than the full Accessory Trays and easier to take in and out of your drawers. Half Trays are also a great grab-and-go option for crafting with friends at craft retreats.
Drawer Cabinet
The Drawer Cabinet is one of our most versatile cabinets and the perfect solution for organizing your embellishments. Crafty Storage Jars, Accessory Trays, and Half Trays fit inside the drawers, helping you maximize your space and keeping your embellishments organized and easy to access. Its compact design sits nicely on a desk, shelve, or in an IKEA Kallax unit.
Recommended Drawers for Embellishment Storage:
1" Drawers provide ample space to organize embellishments in your Crafty Storage Jars, Accessory Trays (excluding the 15 Compartment Deep Tray), and Half Trays.
2" Drawers are an excellent option for organizing embossing powders, glitter jars, and pastes.
3" Drawers hold your Stickles® Glue, Nuvo Crystal Drops, Pops of Colors, and Refill bottles when combined with the Grid Storage System.
Storage Pockets
Storage Pockets, another best-seller, store and organize many different types of supplies, from stamps, dies, and adhesives. These nifty pockets are also an excellent option for your embellishment sheets. Organize your packs of stickers, gem adhesive sheets, hemp Cord, enamel dots, and ephemera. Just place the embellishments sheets in a pocket and add a label, making them easy to locate. Our Storage Pockets come in sizes 6x7, 9.5x7 Portrait, and 9.5x7 Landscape and pair beautifully with our Acrylic Crate, Creative Crates, Creative Crate - Wide, and Crate Dividers.
Ribbon Shelves & Ribbon Holders

Ribbon is a must-have when it comes to embellishing those cards. Ribbon also makes a beautiful décor piece in a craft room when all the beautiful colors are displayed. Stamp-n-Storage offers two ribbon storage organizers to fit your needs. Both the Ribbon Shelves and Ribbon Holders organize your spools of ribbon, keeping that gorgeous array of colors visible and easy to access.