August Studio Showcase Winner: Linda
If you are a card maker, scrapbooker, and quilter, then you are going to love our August Studio Showcase winner. Not only is the view from the craft studio one of the most incredible views we've seen, but Linda's studio was designed to organize multiple craft hobbies in a 16'8" x 16'4" space.
The goal of Linda's studio was to utilize the entire room without feeling cluttered. The design of her space was inspired by Martha Stewart's craft furniture (now discontinued). After ten years of eyeing the furniture in a catalog, she purchased a few pieces at Home Depot.
When Linda started the design process, she drew out the space. "I was an engineer before I retired, so I drew out my entire room design on graph paper, including the design for my 5 x 9 closet." She then worked with a cabinet designer for the center island.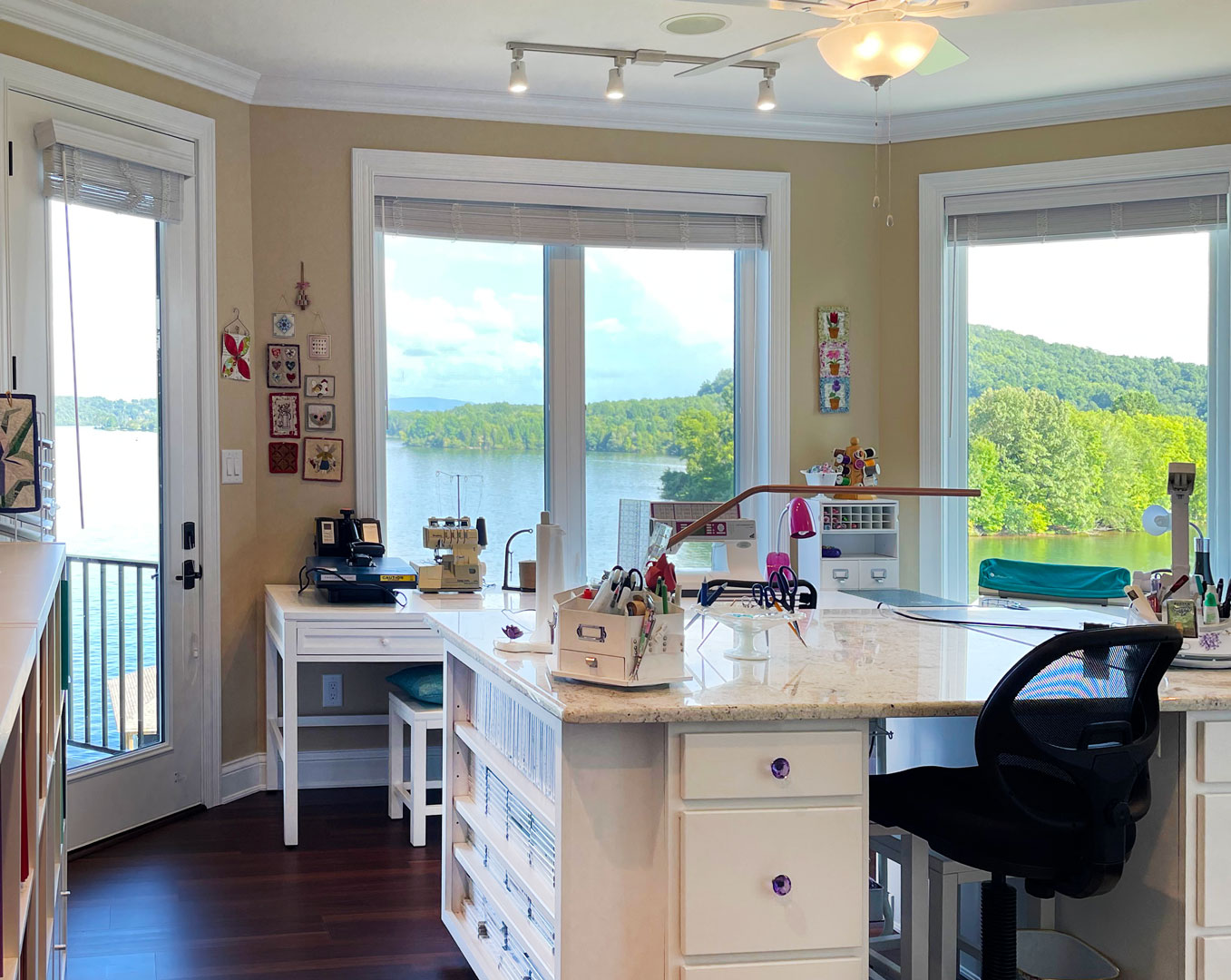 An important tip to note for Linda's organization journey is that even though she planned out a place for everything, it wasn't until she started utilizing her space that she created the final system. "There are always those things that need to be changed once you live in your space. I originally had all my ink and paper on shelves in the large closet and had a large ironing station where my paper cubes are now. The ironing station took up too much space depth-wise, and I didn't like not being able to view my paper and ink selection as I was crafting. So I just recently redesigned the paper and ink wall. It made such a huge difference both in looks and functionality." Linda's ironing station became a portable station her husband built to put away when she isn't in quilting mode.
Linda's paper and ink wall display a beautiful rainbow of color. She organizes her cardstock in 12x12 Paper Holders for IKEA. The bottom shelves organize her designer series and printed paper. She also utilizes a paper rack for additional DSP next to her shelving unit.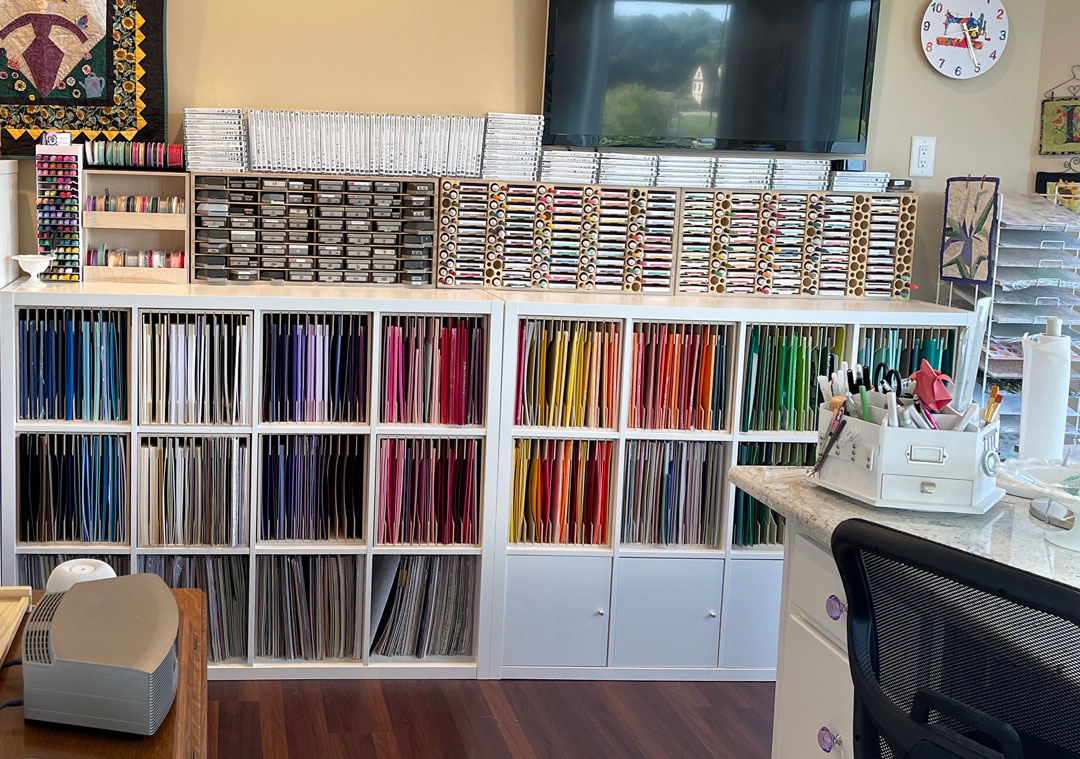 On top of the cube shelving unit, Linda keeps supplies she wants visible and easy to access. She organizes her ink pads, markers, and refill bottles in two 60 Combo Holders. One Combo Holder contains her new Stampin' Up! ink pads, and the other organizes her older pads. She keeps her punches stored in the Lock-Down Punch Holder and ribbon in a Ribbon Shelf.
Linda's SU stamp sets are organized alphabetically on top of the holders. She labels the stamp cases with a dot if the set has a coordinating die set. Inside the stamp case, she keeps the dies organized on a 5x7 Magnet Card. Holiday-themed sets are labeled with a red dot. Retired stamp sets are organized across from the cube shelving unit on the side shelves of the center island.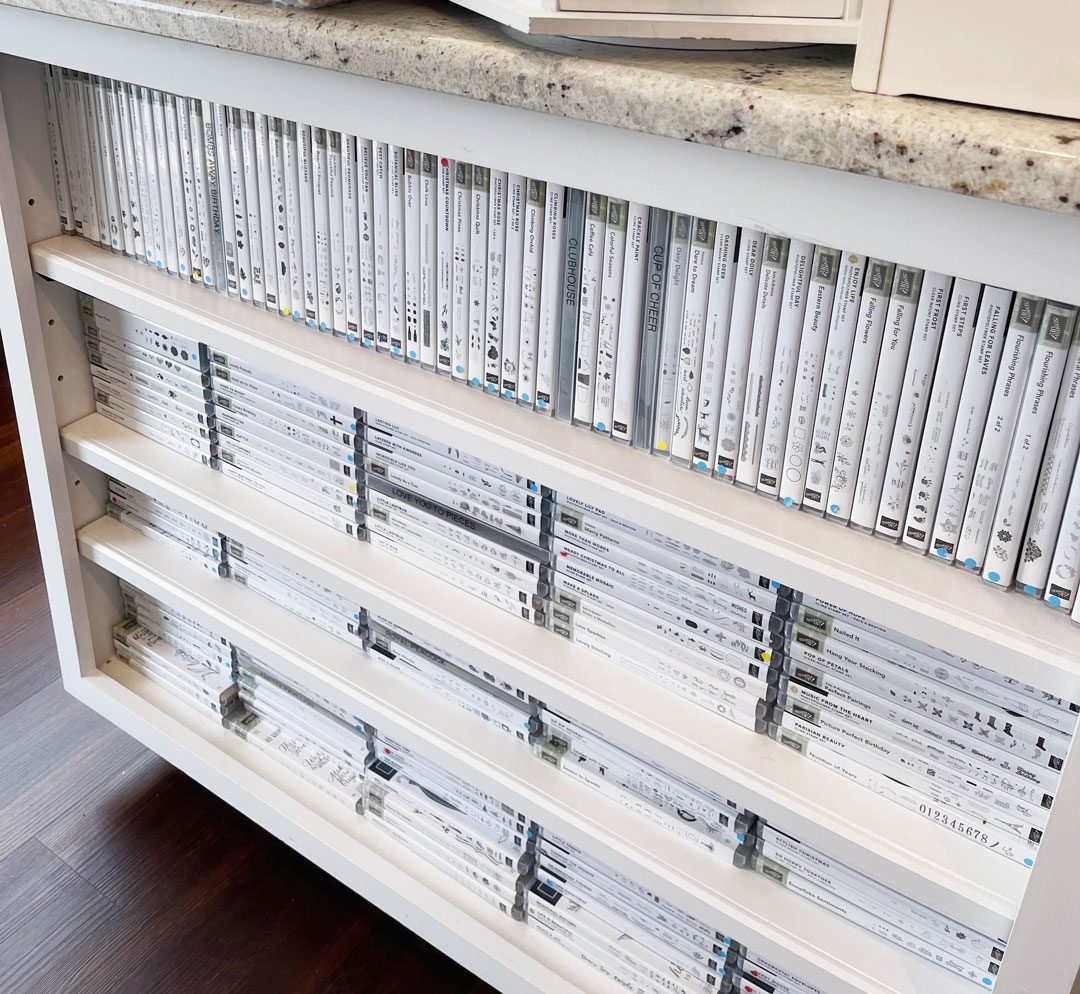 Linda's center island is 72" x 46.5" and has shelves on the outsides of the cabinet and drawers on the inside. The sides of her cabinets stores card-making supplies (stamp cases, stamp blocks, wipes, cutters, adhesives, embossing gun, etc.). The drawers organize miscellaneous sewing supplies.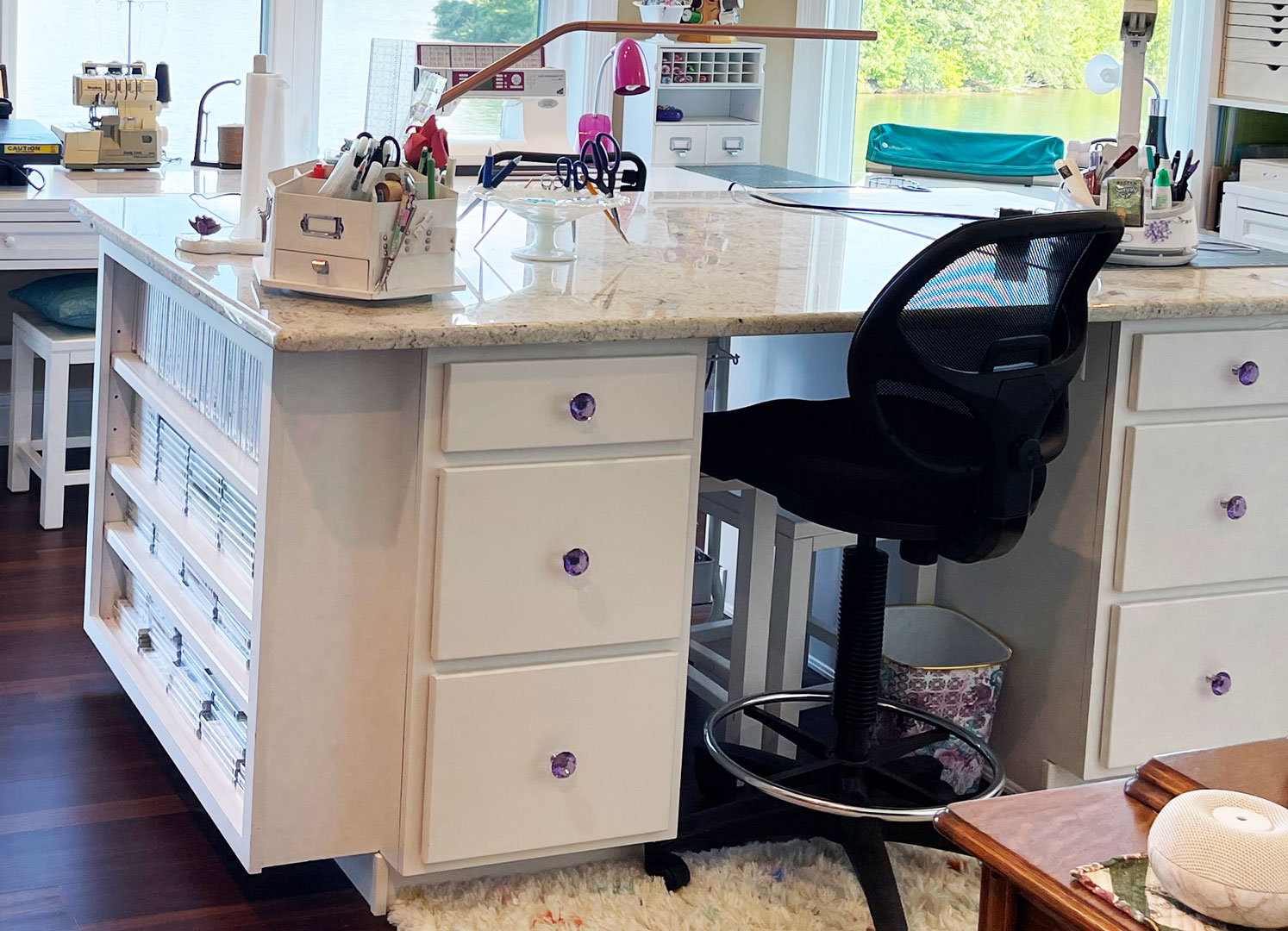 Near a cutting station, Linda organizes her miscellaneous die sets and emboss folders in Creative Crates (with cover). "I chose the covers primarily because it gives flexibility on storage options. You can stack them, and you can also use the top as storage." She utilizes the Drawer Cabinet to organize miscellaneous inks, mini ink cubes, boxes, and bags.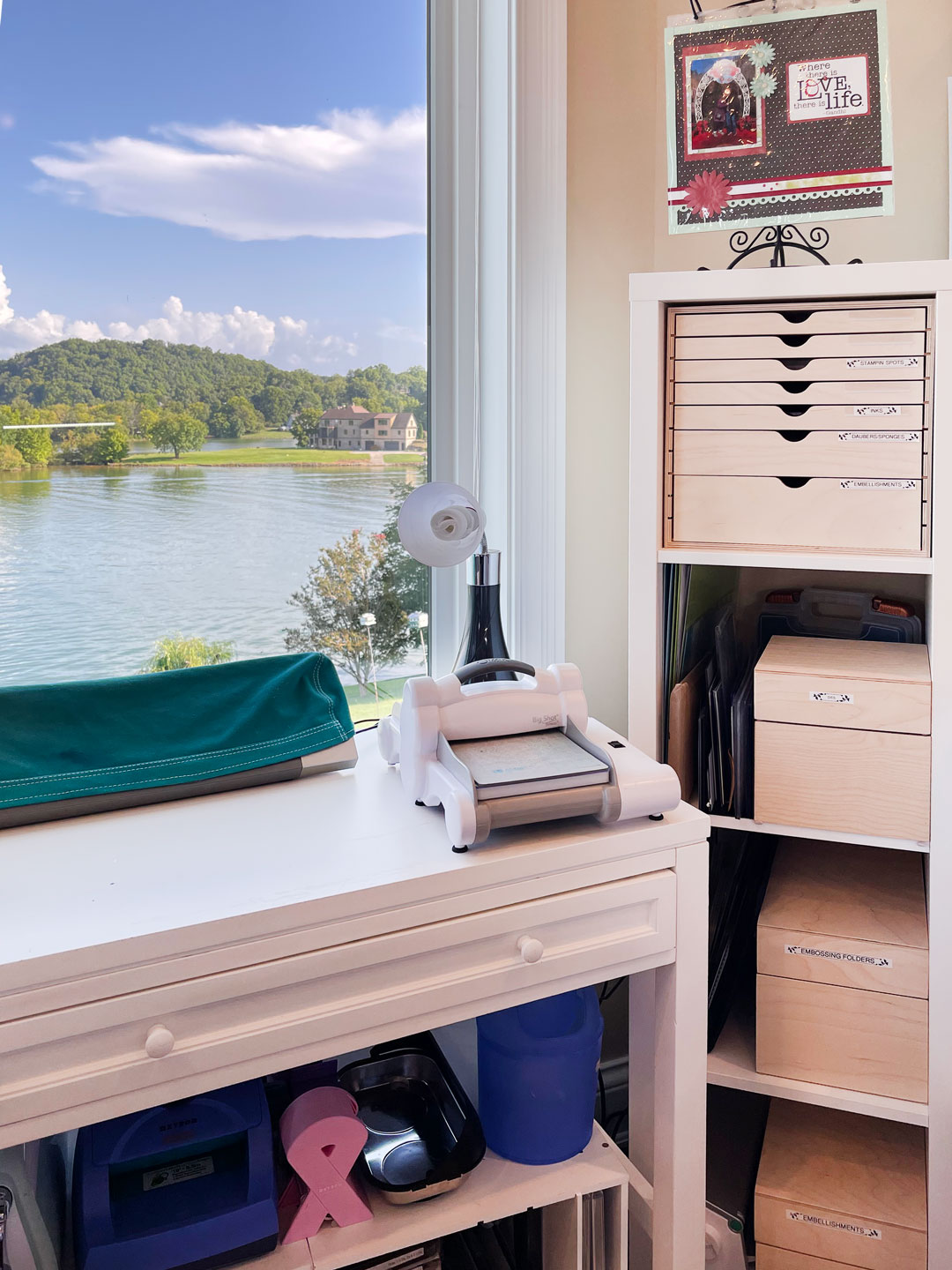 Another thing you might notice in Linda's space is her beautiful quilts. Some are made by Linda and others were made by her friends. Linda even has a quilt rack hanging on the wall that she changes to coincide with the different seasons.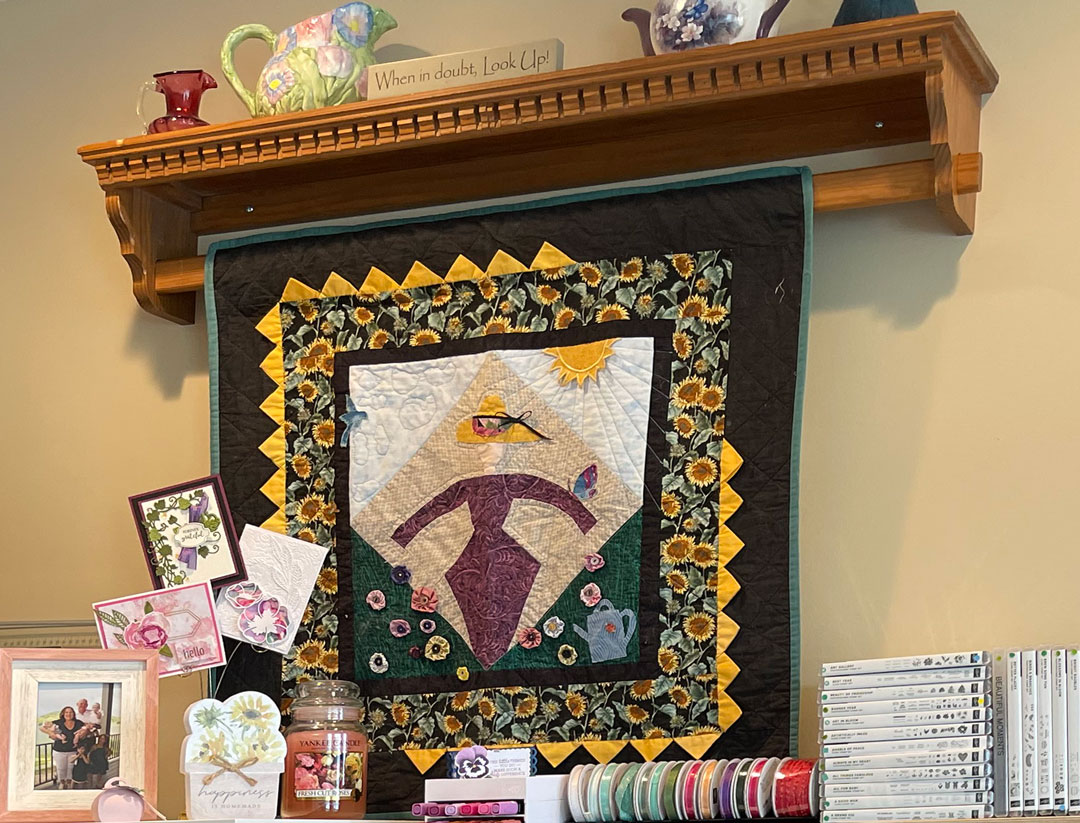 Much of Linda's other storage cabinets and her closet contains her quilting supplies. She keeps her fabric organized in the closet and utilizes Martha Stewart furniture pieces to organize rulers, templates, and other quilting supplies. The other cabinet is reserved for less used paper crafting supplies.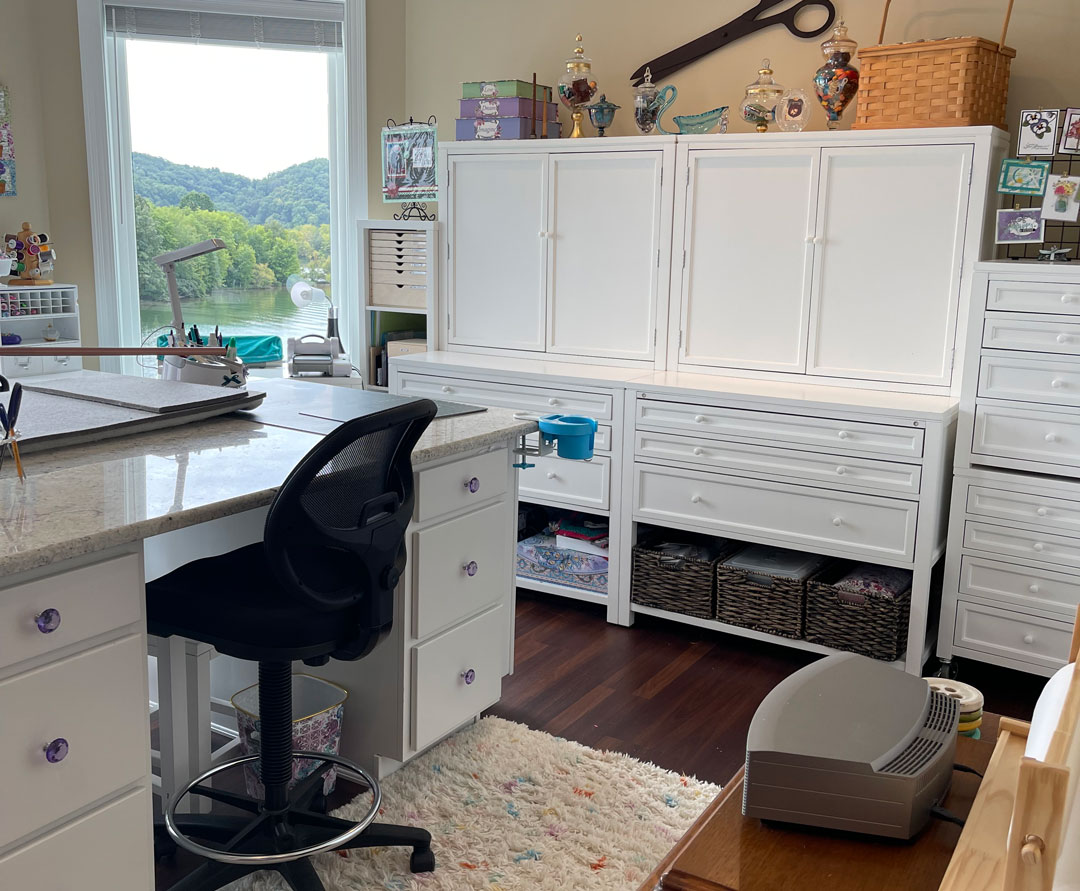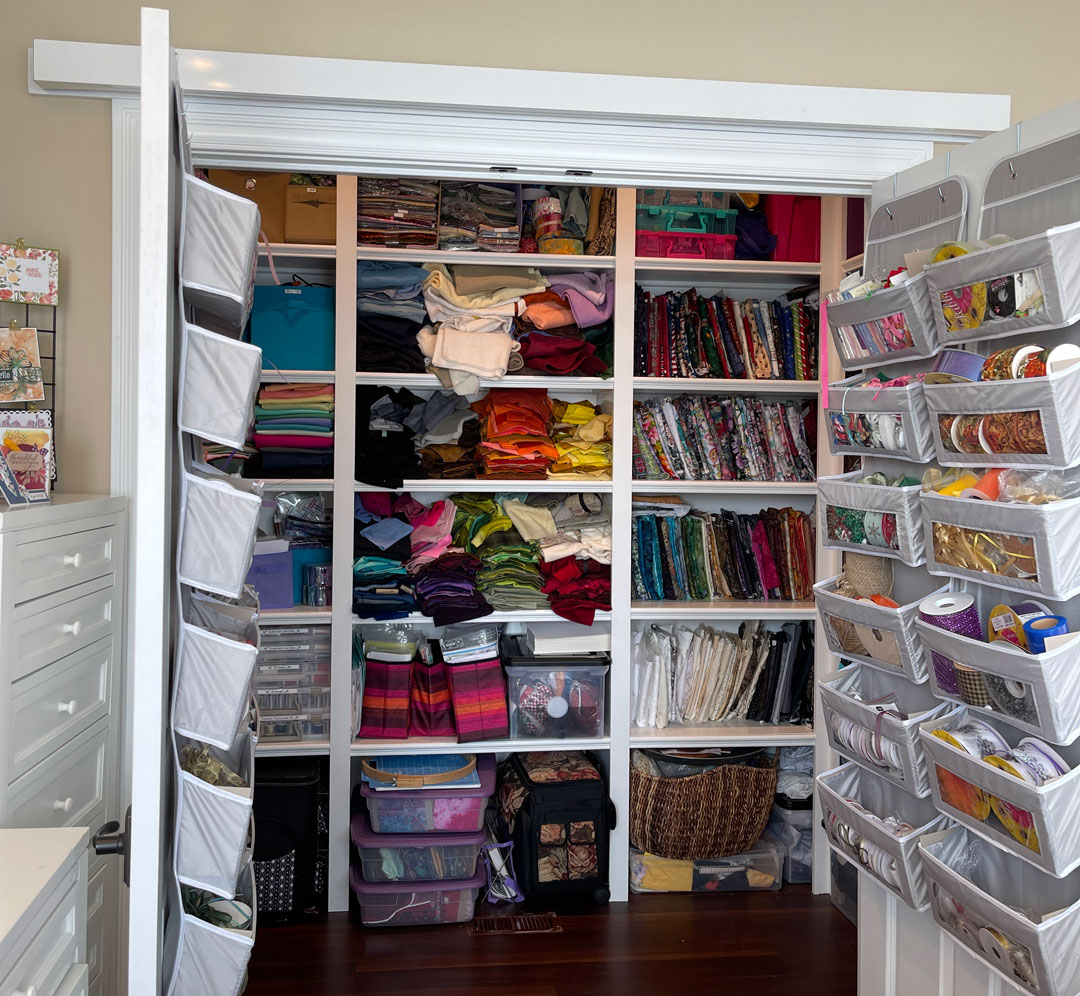 The last Martha Stewart furniture piece holds Linda's sewing machine and sits in front of the window where she can enjoy the gorgeous view. Her little crafting buddy also loves to take in the views.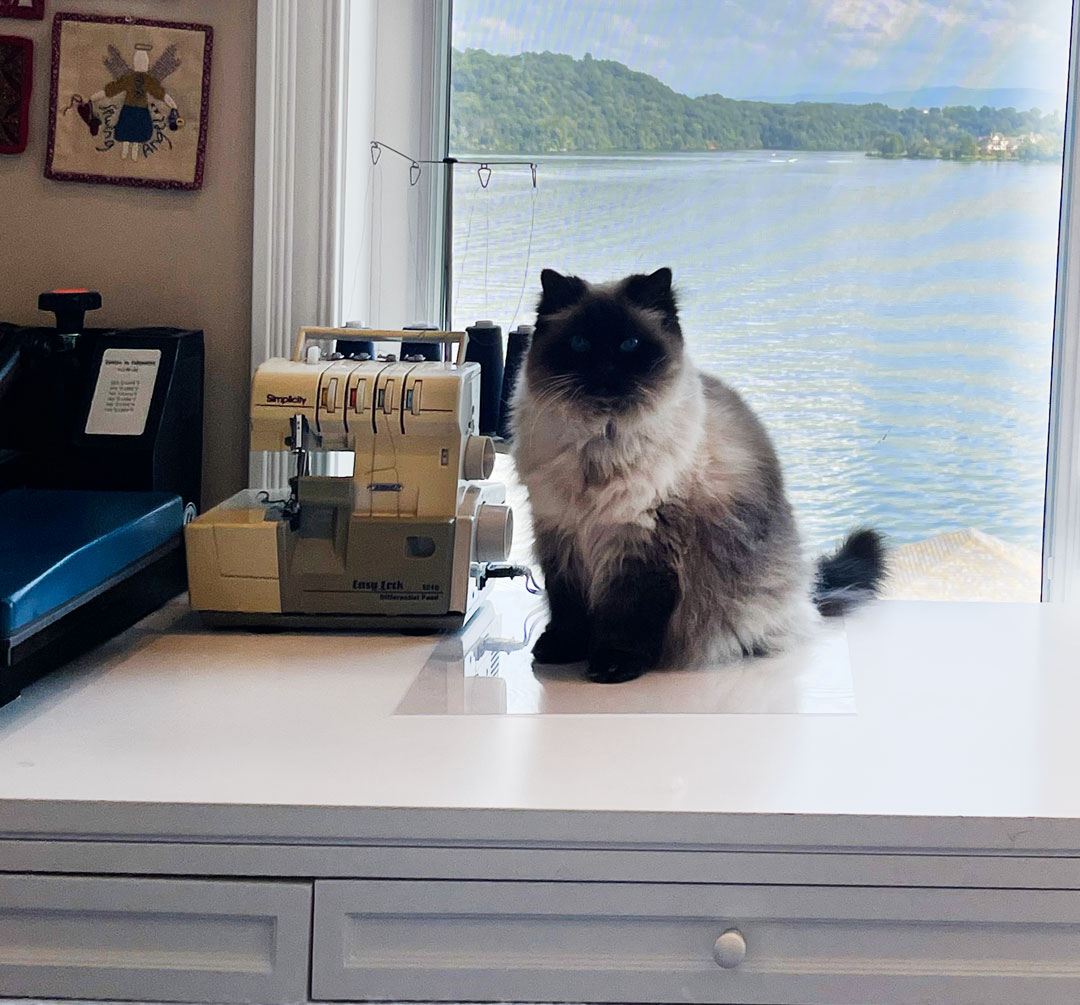 "I work and think best in an organized space. Having a colorful room with my supplies all in view has made me more productive. Being organized in a beautiful room also helps keep me motivated to put things back in place at the end of each crafting day. When organizing your space, focus on what is important to you and where you spend the most time crafting. Save for quality products, and don't forget about lighting!" - Linda
Thank you, Linda, for sharing your beautiful craft studio. If you would like to be our next Studio Showcase winner and have the chance to receive $75 in-store credit, here are a few hints: clean up your space, snap some photos (4 or more) from a few different angles, and include some comments about what you love about your area and your Stamp-n-Storage products. Then, you will be entered into our monthly drawing. Email your entry to: contact@stampnstorage.com.