April Studio Showcase Winner: Shideh
If you love all types of crafts, you will love our April Studio Showcase! Our winner, Shideh, has created a space that incorporates her passion for encaustic painting, scrapbooking, card making, photography, knitting, and sewing.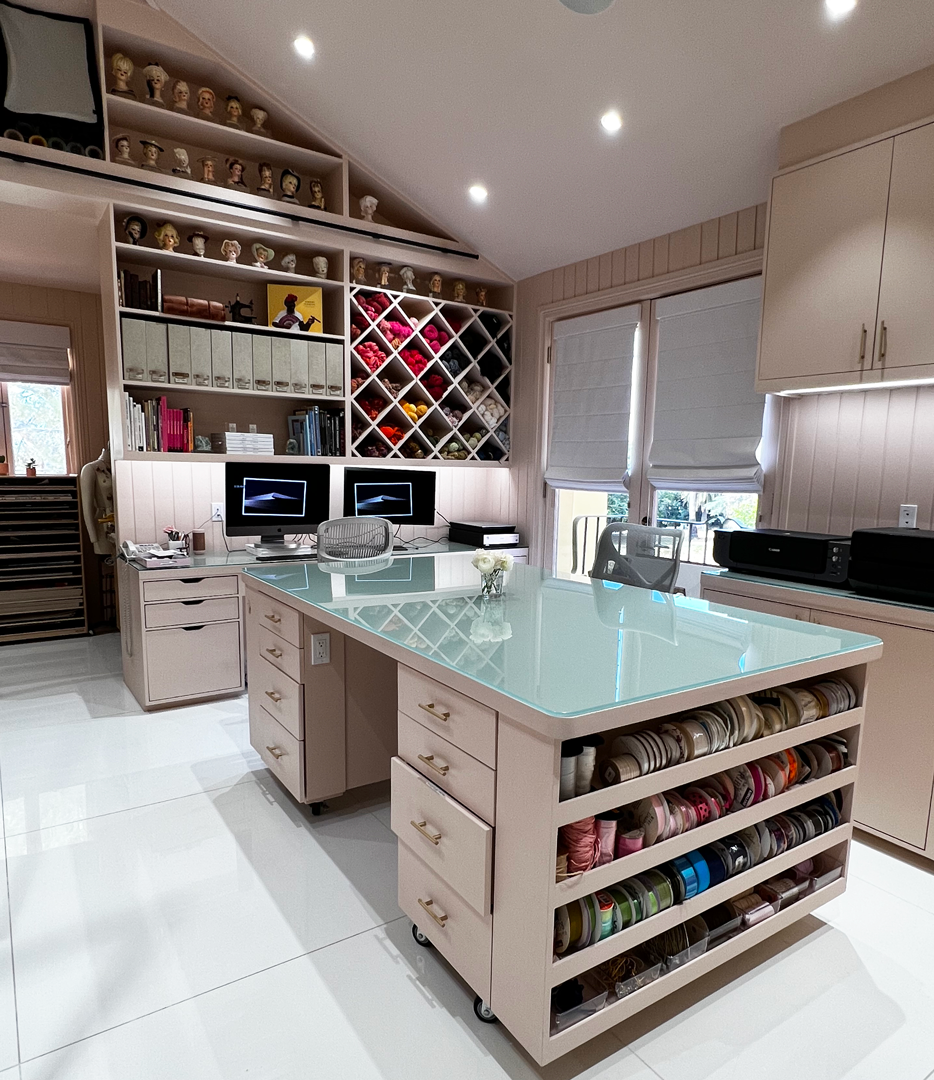 Shideh began paper crafting 35 years ago when she purchased a rubber stamp for her daughter Shauna.

"The reality was that I was overflowing with excitement to get home and make some cards with it myself!! And I did. After that, I started collecting rubber stamps and made cards for many occasions," Shideh says.

Shideh and her daughter's creative journey would continue through the years. The two would create all kinds of jewelry together in Shideh's art space. "There was no organization...just play, but it was our happy place," Shideh says. In 2014, Shauna published a book called Penny Chic using photographs taken by her mom, Shideh. The book received an award of excellence in the digital world due to the creativity of this mother-daughter duo!

A lot of creativity was unleashed in Shideh's art studio. However, it was not until her kids went off to college and an unfortunate catastrophe that she transformed her art studio into an organized craft studio. Three years ago a pipe burst, destroying half of Shideh's home. Shideh was skeptical about moving back to the house after the experience. Her husband was able to convince her by creating a new craft studio. It was a 2-year project that involved renovating the ceiling and adding the attic to the room to give more natural light and more storage space.

Shideh began researching studios and came across Stamp-n-Storage. "I honestly built the studio around the cabinets I purchased from Stamp-n-Storage. We gave measurements to our cabinet maker, and I worked with Tancred Vilucchi, a talented designer, on many sketches to organize the room to make sense for me and my many projects."

While designing the space, Shideh made a list of all her supplies and equipment and broke down the different sections she would need for paper, photography, sewing, knitting, and painting.

On the left side of Shideh's studio is most of her paper crafting supplies. Her paper is organized in rainbow order in the 8.5x11 Paper Max for IKEA®, the 6x6 Double for IKEA®, 5.5x8.5 Paper Holder for IKEA®, and 12x12 Paper Holder for IKEA®. She uses the Marker Nook, Side-by-Side, and Stacked Marker Holders to organize her markers and pens. Shideh's washi tape is stored in the Ribbon Shelf Three for IKEA®. She has various ink pad brands, so she uses the Standard Ink Pad Holder with larger slots to keep them all organized in one place.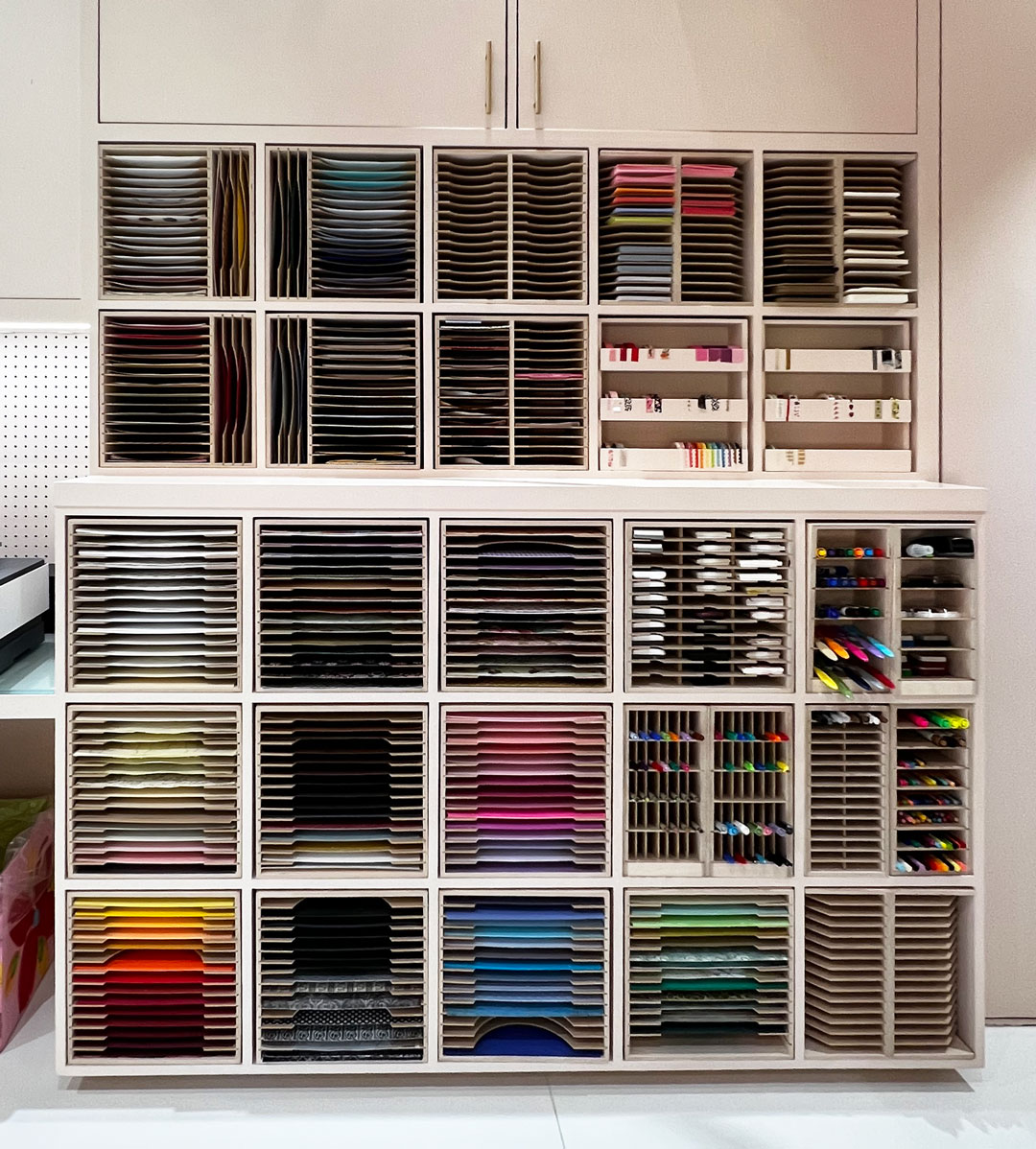 Further down, Shideh organizes her stamps by subject (i.e., floral, heart, invitations, alphabets and names, household items, musical stamps, etc.) in various Drawer Cabinet configurations including the 2x2 Drawer Cabinet. She keeps each drawer labeled with the subject to quickly find what she needs for a project. Above and below her Drawer Cabinets, Shideh keeps various embellishments and beads. She organizes and labels her cards in the larger drawers.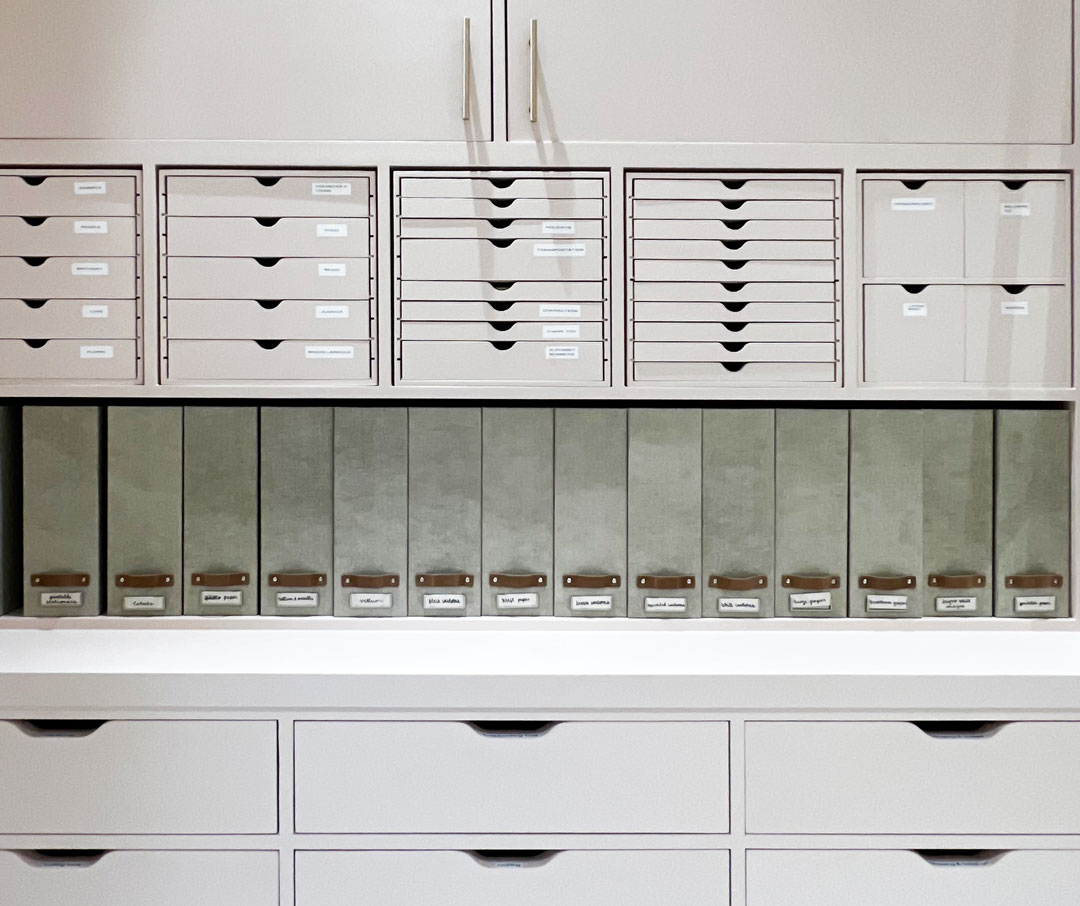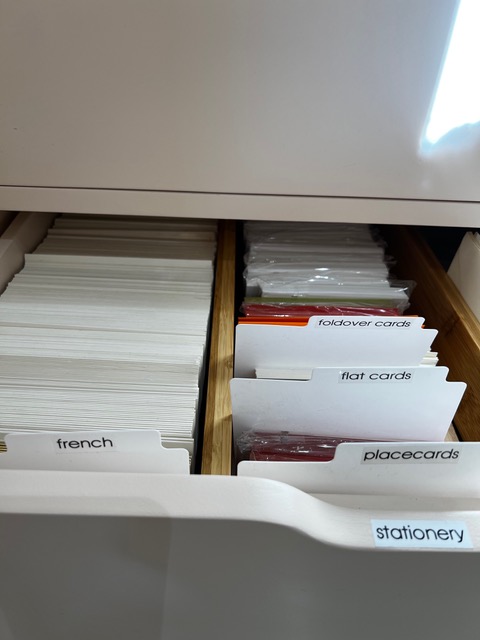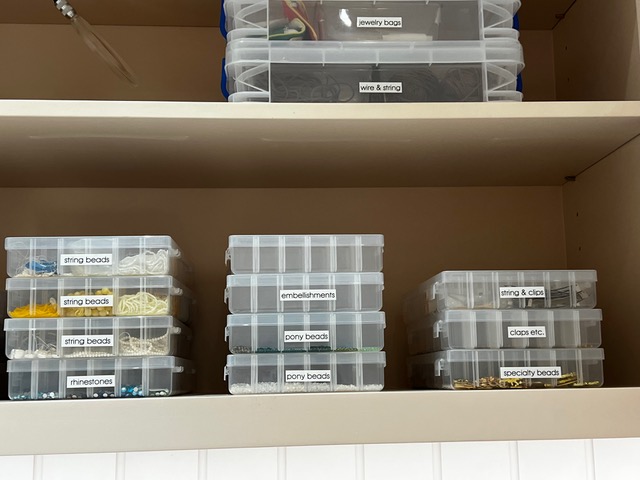 On the right side of Shideh's studio, she keeps her large printers and sewing machines. This side of the room also displays her beautiful rainbow color of yarn.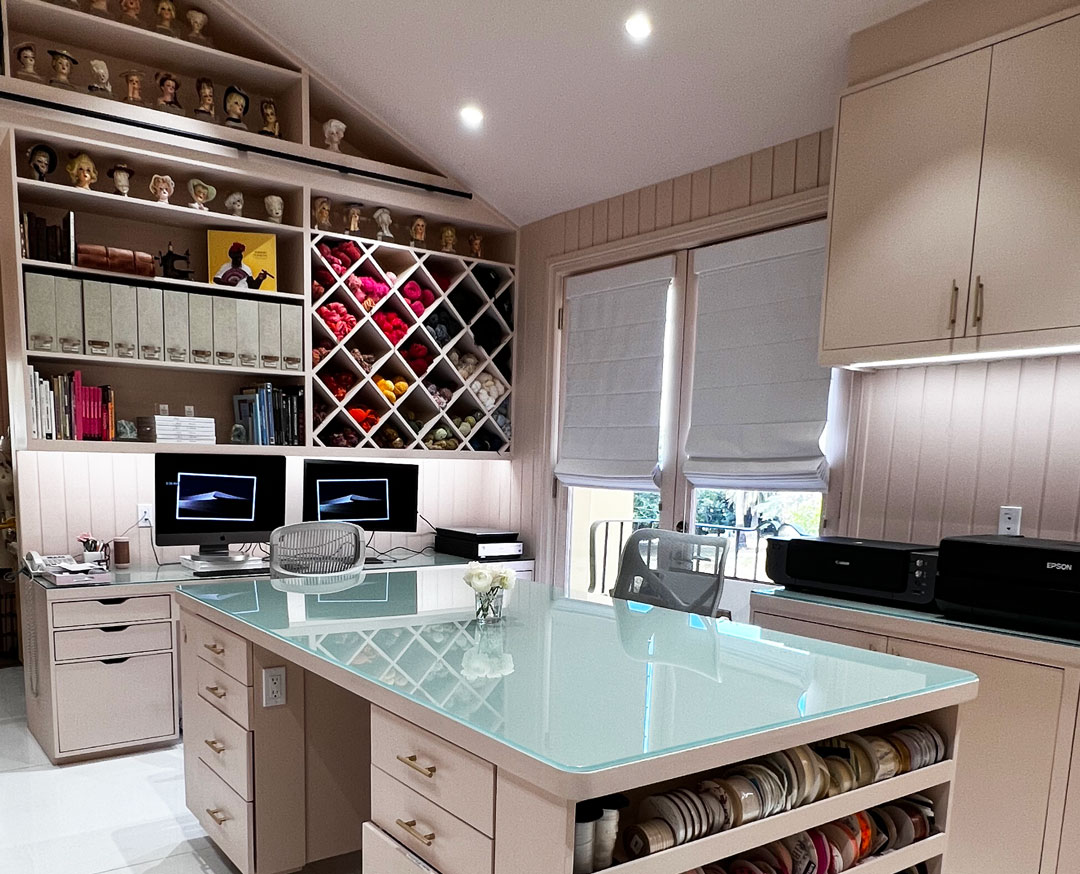 Shideh's center island is 4'x7' with a glass top and wheels.

"The island needed to be big enough to have space for wrapping papers or my sewing machine and yet small enough to have ample room to move around."

There are drawers and a sitting area on both sides of the island, which works great when friends are over to craft.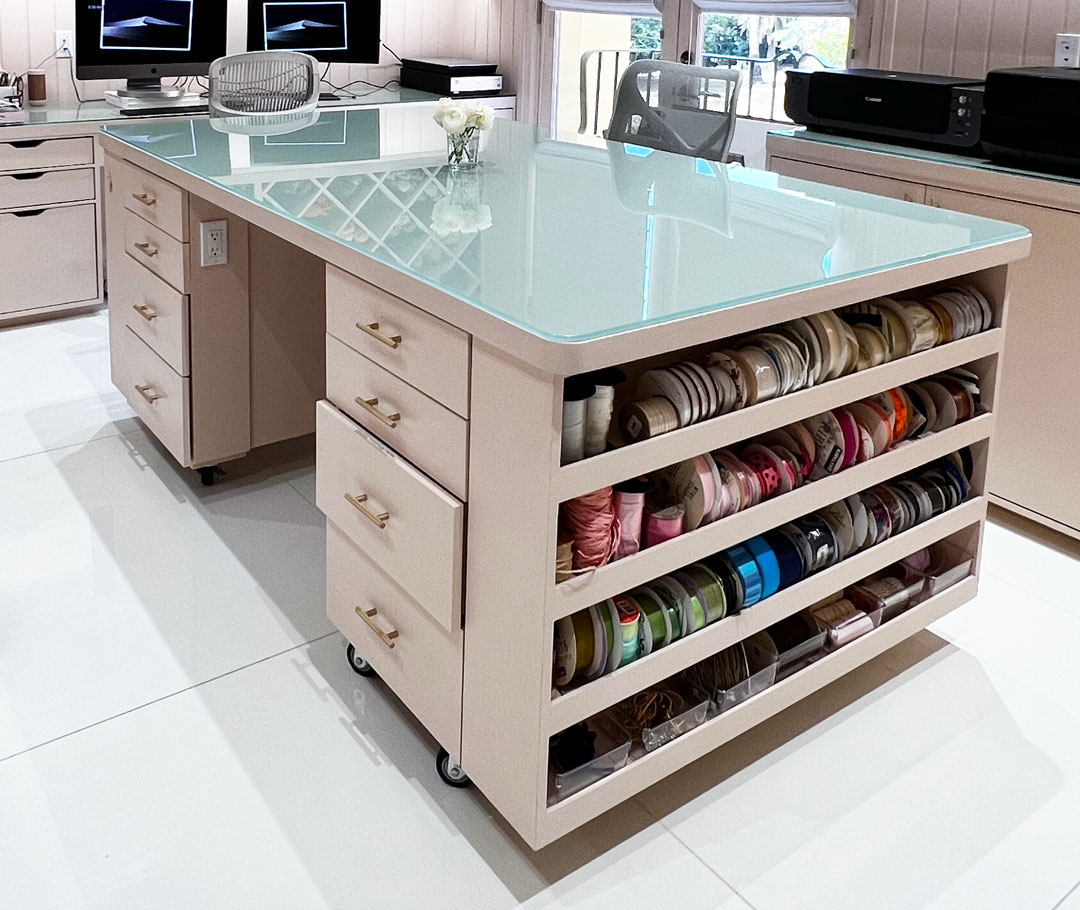 "I love that I can find exactly what I am looking for at any given time, whether I am working on my encaustic painting, scrapbooking or card making, photography, knitting or sewing."

Another unique feature of Shideh's studio is the sentimental toys you will find throughout the room.

"I have kept many of my kids' dolls and toys over the years and now display them in glass jars in my art room as they remind me of them and our life growing up."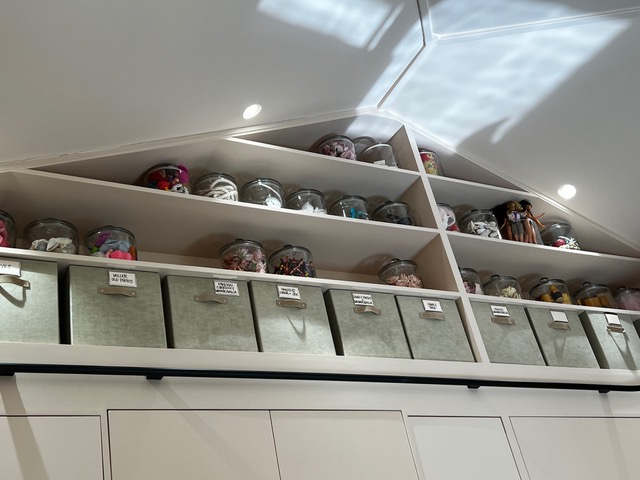 When we asked Shideh what tips she would share with other crafters, she said, "My helpful hint to you in developing a craft area/studio is to write down your ideas, rewrite, and re sketch. It is always a good idea to sleep on it and wait a little longer before giving your final ideas to the cabinet maker or whoever will help you get organized. Often you will have additional ideas once you let the original concept bake. Also, leave empty spaces for future needs, and don't overcrowd or over-design your area with color. It's nice to start your art with a calm/ clean canvas. I am a bit of a perfectionist, and having my workspace in order is very important to me; I always clean up at the end of each project so every time I walk into my studio, I can feel inspired and begin my art."
Thank you, Shideh, for sharing your beautiful studio with us! We loved your story and how crafting with your daughter created exciting opportunities for you both.
Follow Shideh @momsicphotos and @ShidehPhotography on Instagram.
If you would like to be our next Studio Showcase winner and have the chance to receive $75 in-store credit, here are a few hints: clean up your space, snap some photos (4 or more) from a few different angles, and include some comments about what you love about your area and your Stamp-n-Storage products. Then, you will be entered into our monthly drawing. Email your entry to: contact@stampnstorage.com.