April Studio Showcase Winner: Millie T
We absolutely love our April Studio Showcase winner's 14' wall of storage. It was set up to keep everything within arms reach. Millie broke her back and pelvis four years ago so a storage solution that was easily accessible was extremely important. "I was in a wheel chair for several months and still haven't totally healed. I roll around in my computer chair, and can literally reach everything. When I say that Stamp-n-Storage has been a blessing in my life, it's the truth" Millie says.

Millie's youngest daughter moved out last year and Millie turned her 14' x 10' bedroom into a craft room. The space has wood floors and a huge window for light. "This craft room of mine absolutely excites me, it's a blessing in my life" Millie says.
When designing her space, Millie took her time planning it out. "Plan ahead, so that when you have the finances available you can be ready to purchase the next Stamp-n-Storage item on your list. It's what I did! I also made sure to measure the wall space and check the dimensions of the Stamp-n-Storage units, it was really helpful during planning" Millie says. She also made sure the bottom row was where her most used supplies would be, making them the easiest to reach.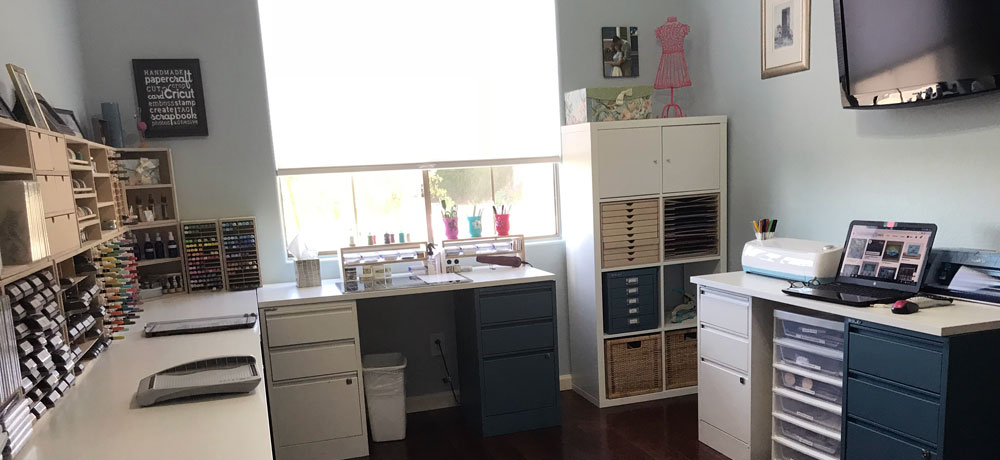 "When I first saw how you put the ink pads, markers and refills so beautifully in one place with the Combo Holder, well, as you can see, I had to have it. l already had so many of the Stampin' Up!® color sets so the 60 Combo Holder was one of the first things I purchased. Everything in one place, easily accessed and replaced, is an amazingly efficient and brilliant act of engineering!" In this space you'll also see two Corner Shelves, a Standard Ink Pad Holder, Washi Tape Holder, Standard Storage Shelf without a back, Six Drawer Storage and Whale-Tail Punch Holder.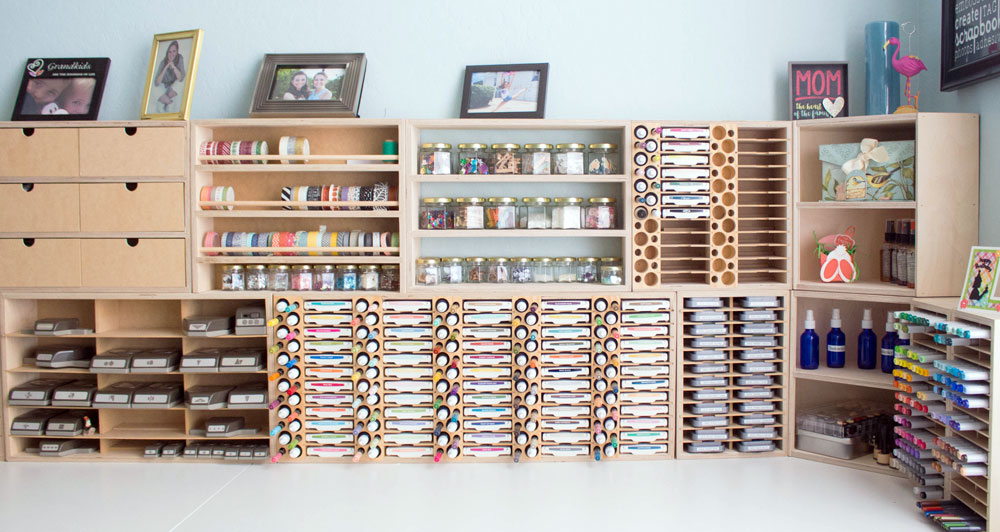 Millie's next purchase was the Standard Lock-Down Punch Holder and the Whale-Tail Punch Holder that she filled with her Stampin' Up!® punches.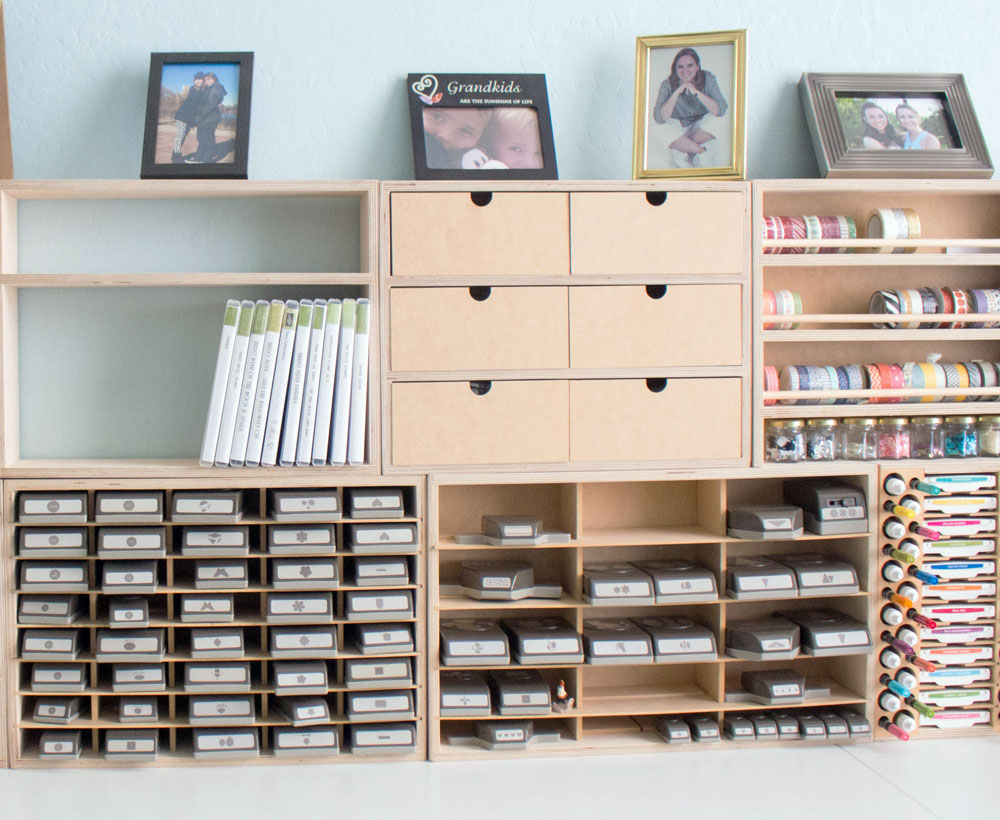 Another early purchase for Millie was the Stamp Case Shelf without a back. "As you can see I really needed them" Millie says.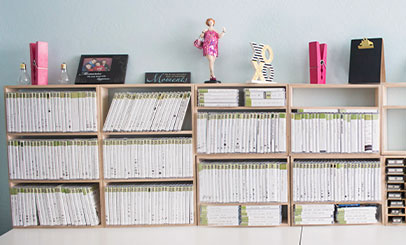 Millie originally had the two Ribbon Shelves on her 14' wall. However, once she discovered she could mount them, Millie added them to the wall behind the entry door. She also added the Punch Rack, which is home to her random punches that were stored in another guest room closet.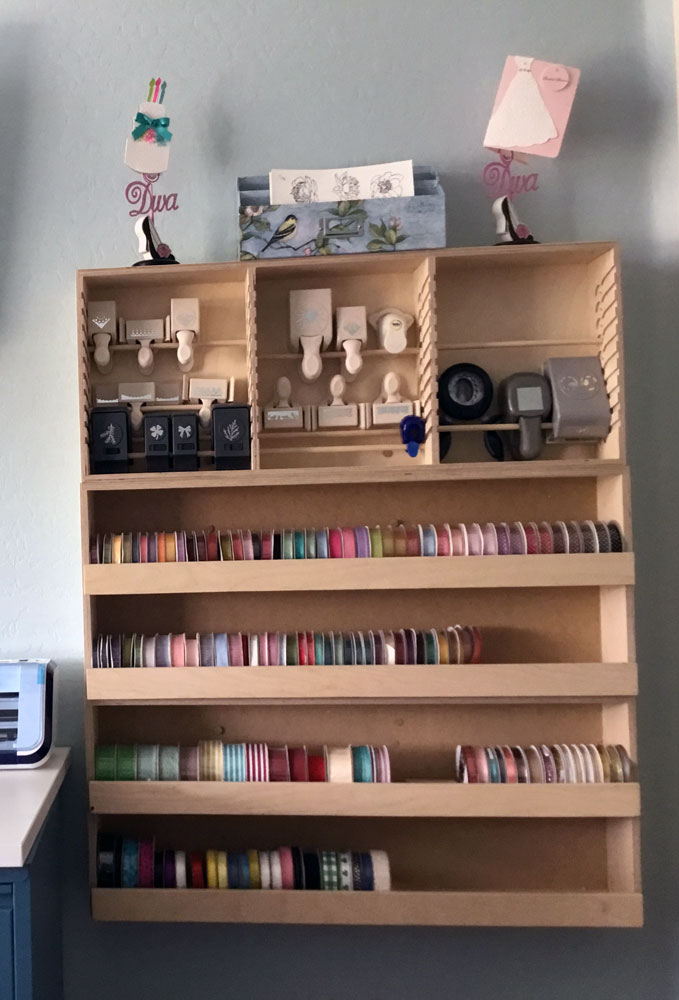 For marker storage, Millie chose the Side-by-Side Marker Holder. "The fact that I could fit 240 Copic markers neatly in such a small space was amazing. I am working on my goal of filling them up too" Millie says.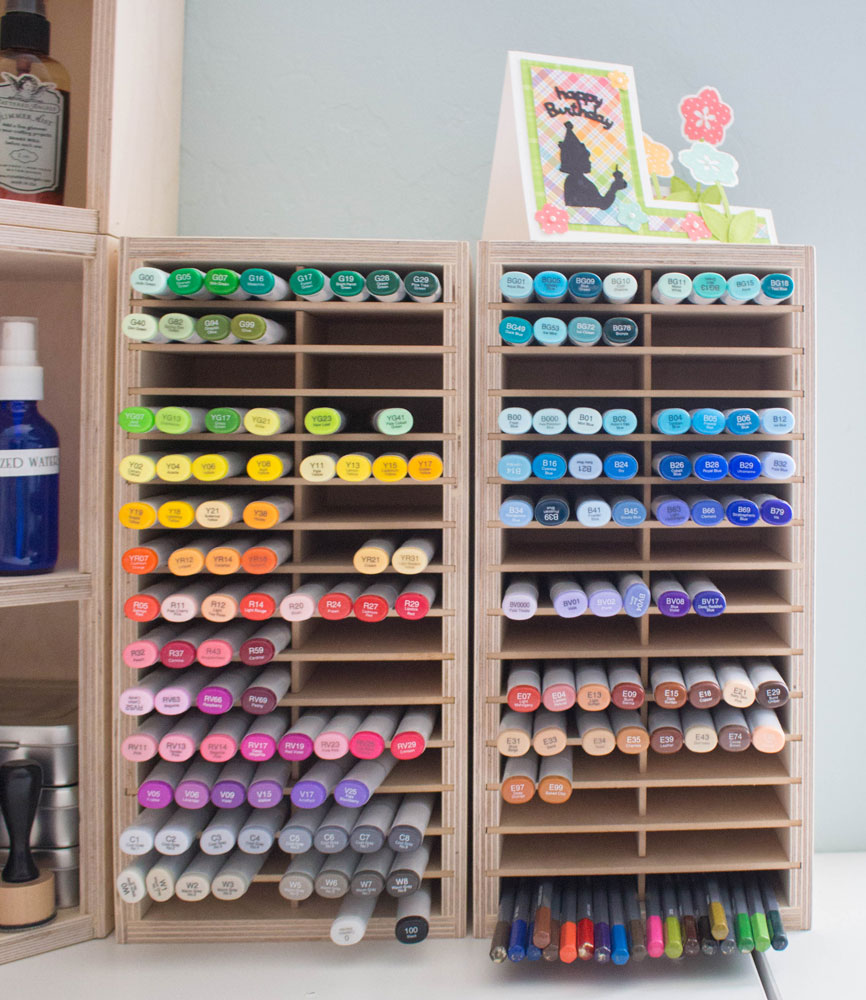 Millie also added an IKEA® Kallax shelving unit to her space and placed the Drawer Cabinet and Paper Holder in the second row cubes.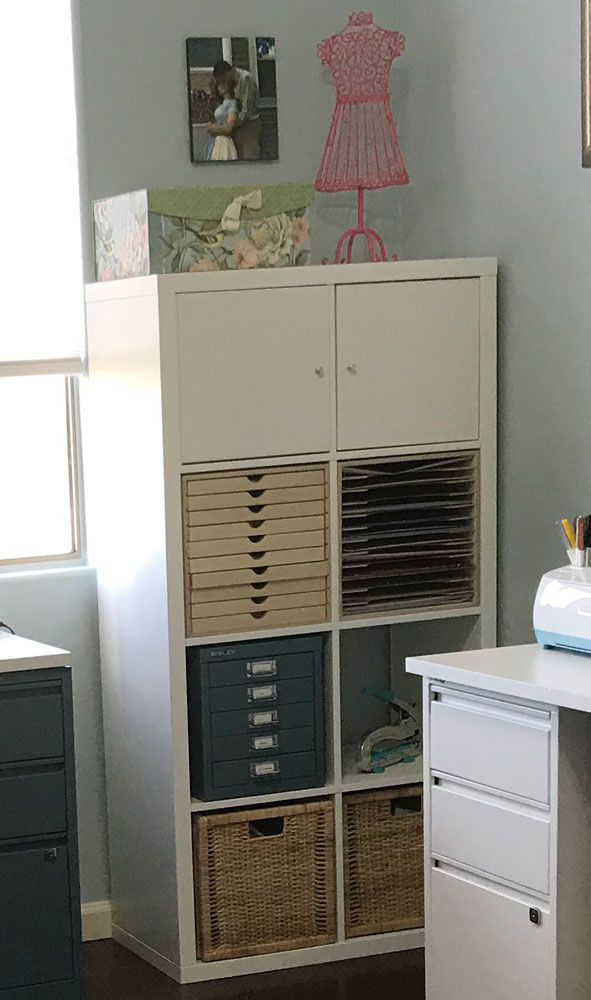 She stores her wafer dies on the Stamp-n-Storage Magnet Cards in the Medium Wafer Die Storage without a cover.
Millie says she draws her inspiration from her room. "Everything is at my fingertips. This makes it so easy to create and clean up in a jiffy. I cannot stand clutter and if things were put away in boxes all over my house, I'd never get things done. But with everything at my fingertips, I am able to produce so much more than ever possible prior to discovering Stamp-n-Storage. When my friends see this room, they think I'm the neatest person they know. Not so! Just the proud owner of the greatest craft room in town. I have Stamp-n-Storage to thank for this. Because of their system, I can clean up after a major project in just 5 minutes. Words cannot say how much I appreciate their brilliance in creating the amazing Stamp-n-Storage world."
---
Would you like to be our next Studio Showcase winner and have the chance to receive $75 in store credit?
Here are a few hints: clean up your space, snap some photos (4 or more) from a few different angles, and include some comments about what you love about your area and your Stamp-n-Storage products. Then, you will be entered into our monthly drawing. Email your entry to: contact@stampnstorage.com.