April Studio Showcase Winner
Our April Studio Showcase winner is a great example of how organizing your space is a process that takes time. Kathy had been paper crafting for years and had made many attempts to be organized. "I was never happy with my results" she says. In September of 2016 she started a craft room makeover that took 7 months to complete. Kathy began with a trip to IKEA® and Stamp-n-Storage on the phone to make sure she was getting the right shelving units. She was on a mission to get organized!
Kathy's craft room had limited wall space due to a computer desk, doors and a window. "I knew I wanted to take advantage of my one corner without losing any space, so I placed two IKEA® shelves at an angle" she says. These shelves hold Kathy's Stamp-n-Storage Paper Holders, Drawer Cabinets and other storage bins. The bins are a mix and match from Target and IKEA®.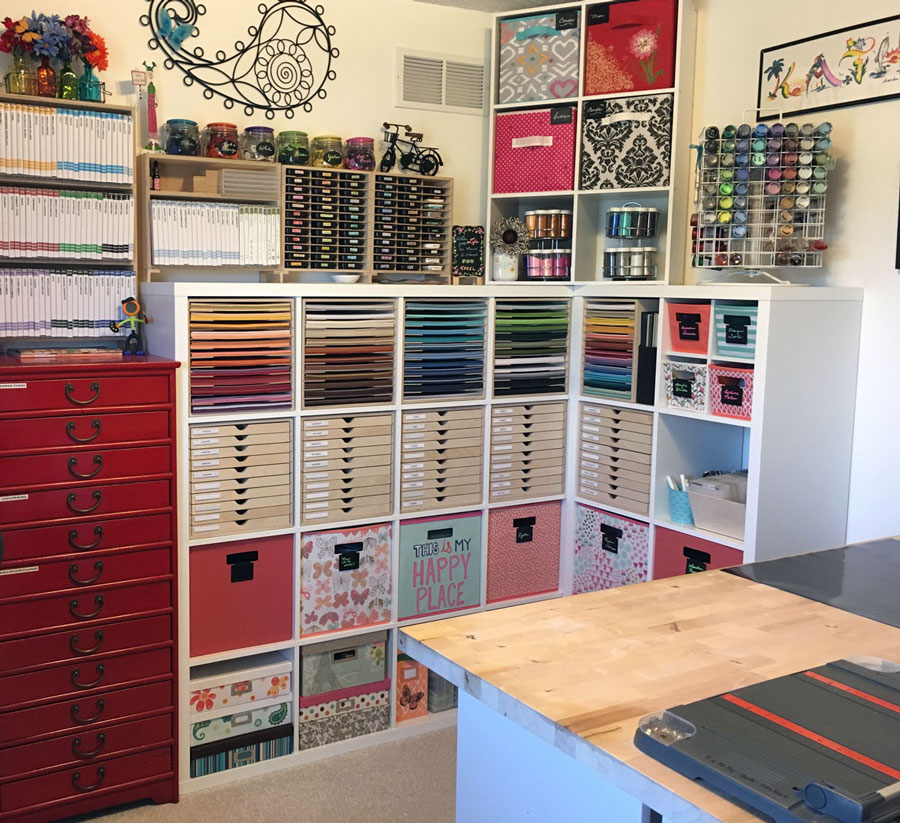 Kathy's desk is made from a collection of storage cubes. "I had over 20 cubes, but I was never happy with them since there was so much wasted space. When I started my Stamp-n-Storage makeover, I knew I didn't want to just get rid of them so I rearranged them into an island" Kathy says. She then added a 3x6' butcher block table top she got at a local hardware store. We think it was genius idea for a desk!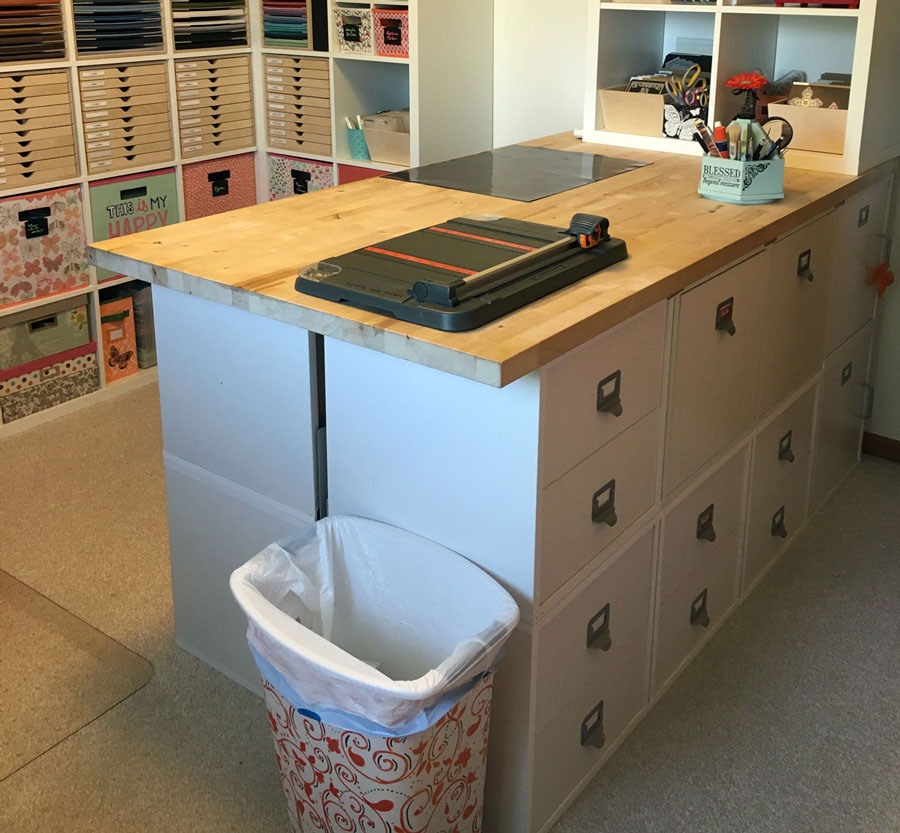 On top of the desk for easy reach is a small IKEA® Kallax that holds Kathy's Stamp-n-Storage Marker Nook, Side-by-Side Marker Holder and her Magnet Cards in Creative Crates.
Kathy stores her clear and cling stamps in the Stamp-n-Storage Double Stamp Case Shelf. She separated most of her sets by theme in no-hub DVD cases. Kathy designed a color-coded insert to identify the content of each case.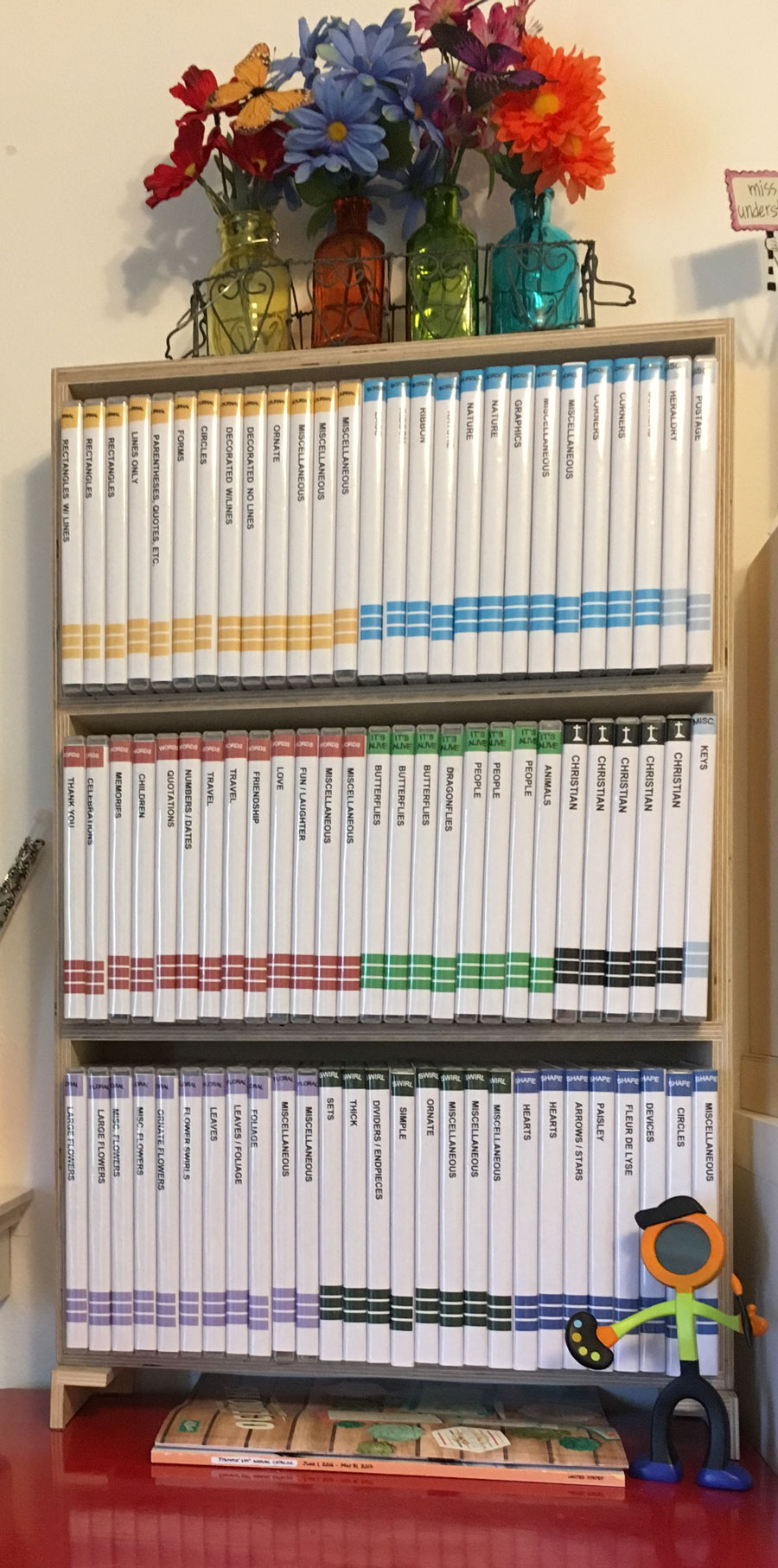 Another piece we love in Kathy's space is her red lacquer check that she found at a local flea market. "I drooled over it for 4 months before I had the nerve to make a counter offer and the seller accepted" she says. It currently holds holiday stamps, large background stamps and any stamps too thick to fit in her Stamp-n-Storage Drawer Cabinet.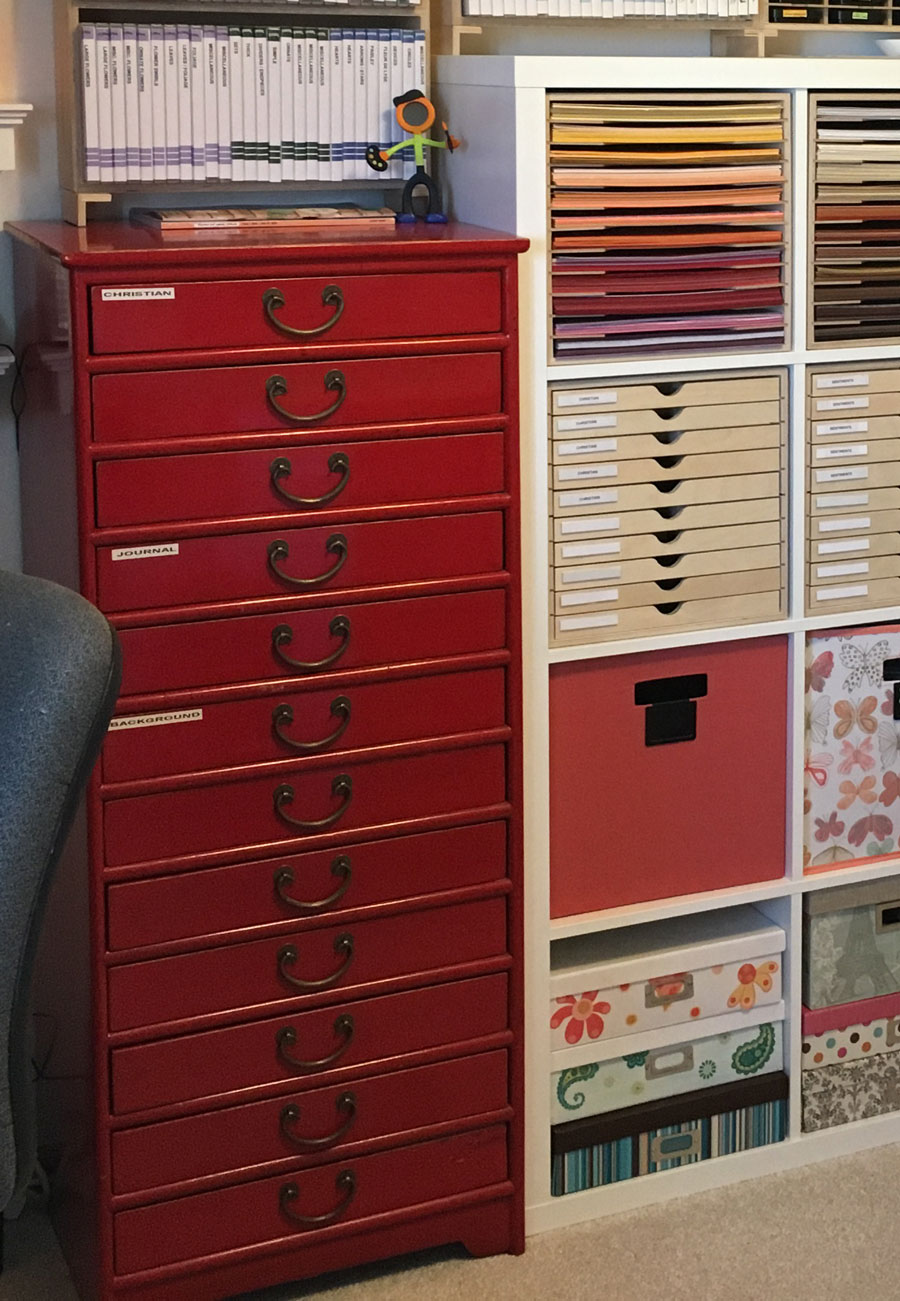 After 7 months, Kathy loves her space! She now has more time to create an encouraging card or to scrapbook trips like her visit to Rome. Thanks Kathy for sharing your space with us!
---
Would you like to be our next Studio Showcase winner and have the chance to receive $75 in store credit?
Here are a few hints: clean up your space, snap some photos (4 or more) from a few different angles, and include some comments about what you love about your area and your Stamp-n-Storage products. Then, you will be entered into our monthly drawing. Email your entry to: contact@stampnstorage.com.