Studio Showcase Winner – December 2013 - Carmen G
Carmen G is the December Studio Showcase contest winner!
(Interested in being considered to win $50 like Carmen? There are two ways to win! Check it out whether you're new to Stamp-n-Storage or already a customer.)
Carmen has been building up her collection of Stamp-n-Storage products over time, and this is how things looked in December!
She posted her pictures on Splitcoaststampers in the Stamp-n-Storage Gallery. Here's what she said in her post, and she makes a VERY good point about how being organized is really helping her creativity and productivity:
Look…I admit to being OCD. Not the good kind where my house is always clean, but the one that tends to COST me money! That being said, I don't regret ONE RED CENT that I've spent with SNS. I've been 'collecting' since August. I have another 5 pieces on the way, which will pretty much finish my craft room off by January.
At first, my sister (the one who introduced me to this insanity..I mean, 'hobby') didn't understand why I was spending money on storage instead of stamps. I explained it to her like this: I wasted over half my creative time trying to find stuff. 90% of the time, I would get distracted and end up forgetting about what I was working on, etc. I also found myself buying duplicates of embossing power, embellishments…even STAMPS…because everything was so scattered!
When I bit the bullet and purchased my first products from SNS, I saw a difference IMMEDIATELY. It saves me time and money and it frees me up to think creatively and not interrupt the flow because I can't find the right ink!!!
Btw…want to guess where my sister stamps now????? You got it!! Right here!
Read more: http://www.splitcoaststampers.com/gallery/photo/2...
Carmen created a panoramic view of her work area.
From upper left to right:
Embossing Folder and Steel Die Totes & Magnet Cards
Since this picture was taken, she has also added a 60 Combo Holder, Ribbon Shelf and a more!
Here's a close-up of her paper holders: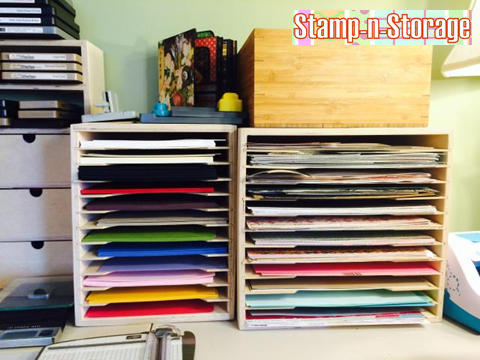 The Distress Ink Pad Holder, Half Height Shelf and Six-Drawer Unit: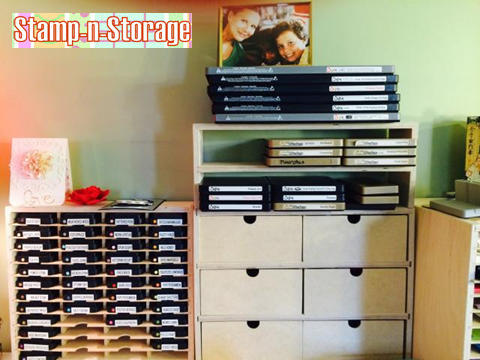 Finally, here are her Punch Holders, 60 Ink Pad Holder and another Drawer Unit. At the very bottom of the picture you can see her Embossing Folder Tote (with cover) and Steel Die Tote, along with a collection of Magnet Cards to organize all of her dies.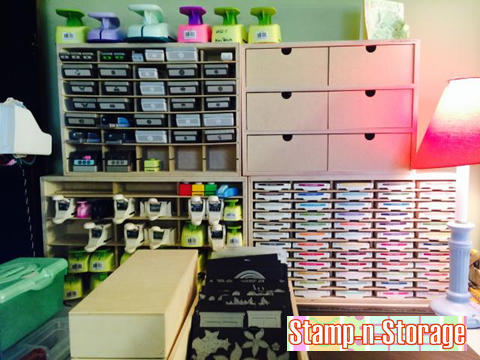 Everything looks great, Carmen! It's easy to see how you can be so much more productive here!