Our latest Studio Showcase winner, Denise, is a talented crafter who has been scrapbooking for 21 years. Her crafting journey has evolved from her kitchen table to a dedicated crafting space, which she designed with her husband after their home was destroyed in a fire. Denise shares her insights on creating her craft room, her layout and design choices, her storage solutions, and how being organized has helped unleash her creativity.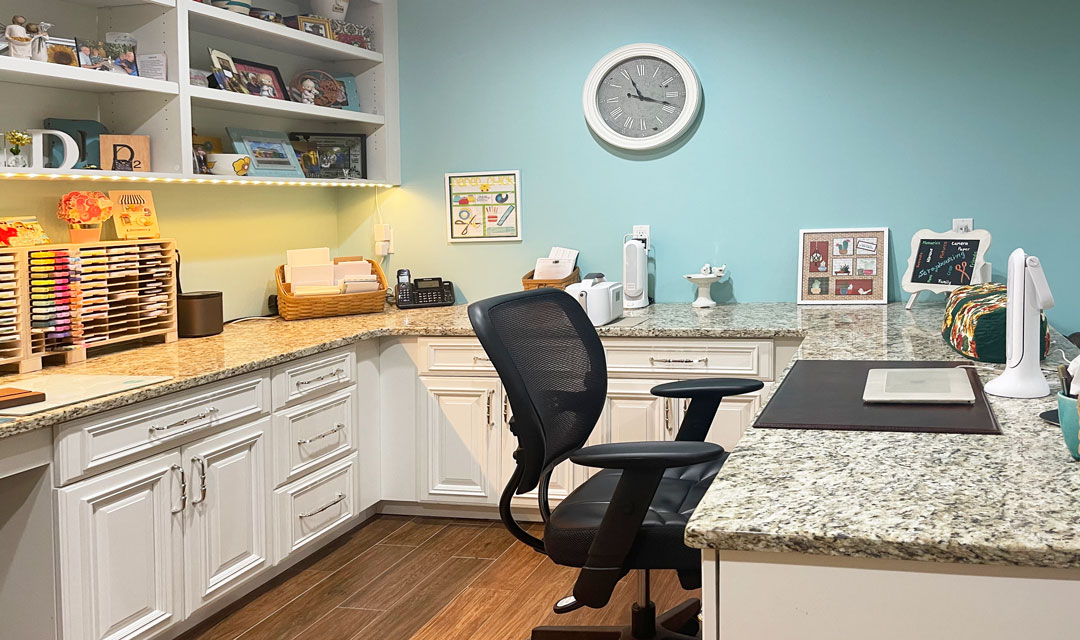 Let's meet Denise and learn more about her craft room!
SnS: Tell us about your crafting background.
Denise: I started scrapbooking 21 years ago, the year our son got married. My scrapbooking has evolved through the years from my kitchen table to my dedicated crafting space. During the pandemic, I needed something else to do and was introduced to card-making with Stampin' Up! products. I have two friends that would join me once a month, and after three years, we still meet and enjoy paper crafting together.
SnS: What was the process of creating your space?
Denise: When we moved to our present home, it already had a "bonus room" in the basement. I right away claimed it to be mine. In 2014, a fire destroyed our home, we rebuilt it in the same spot, and that's when my husband and I started designing a new craft space.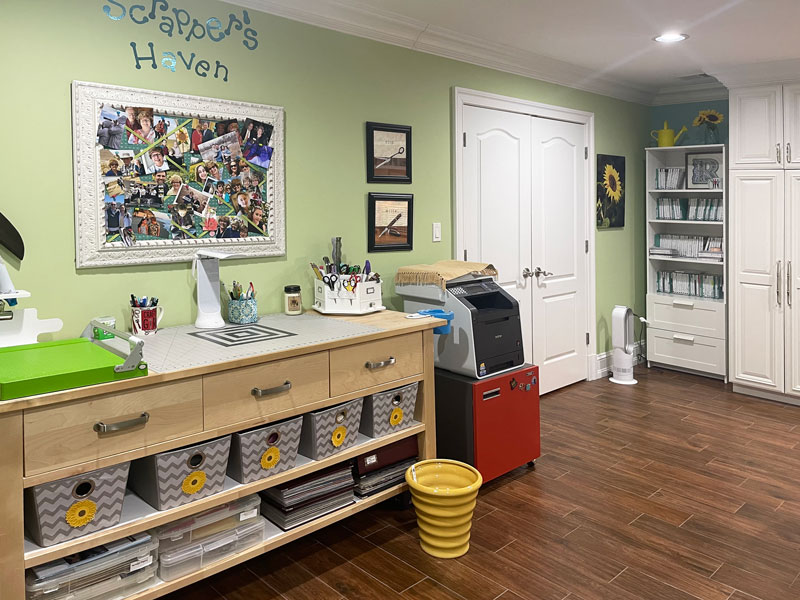 SnS: What inspired your layout, design, and decor choices?
Denise: My room has no window, so I needed recess lighting and Ott lights for my desk and cutting area. I also have two different colored walls that inspire me. I love sunflowers, so that was a must when picking out décor. My daughter-in-law painted the canvas sunflower in my space.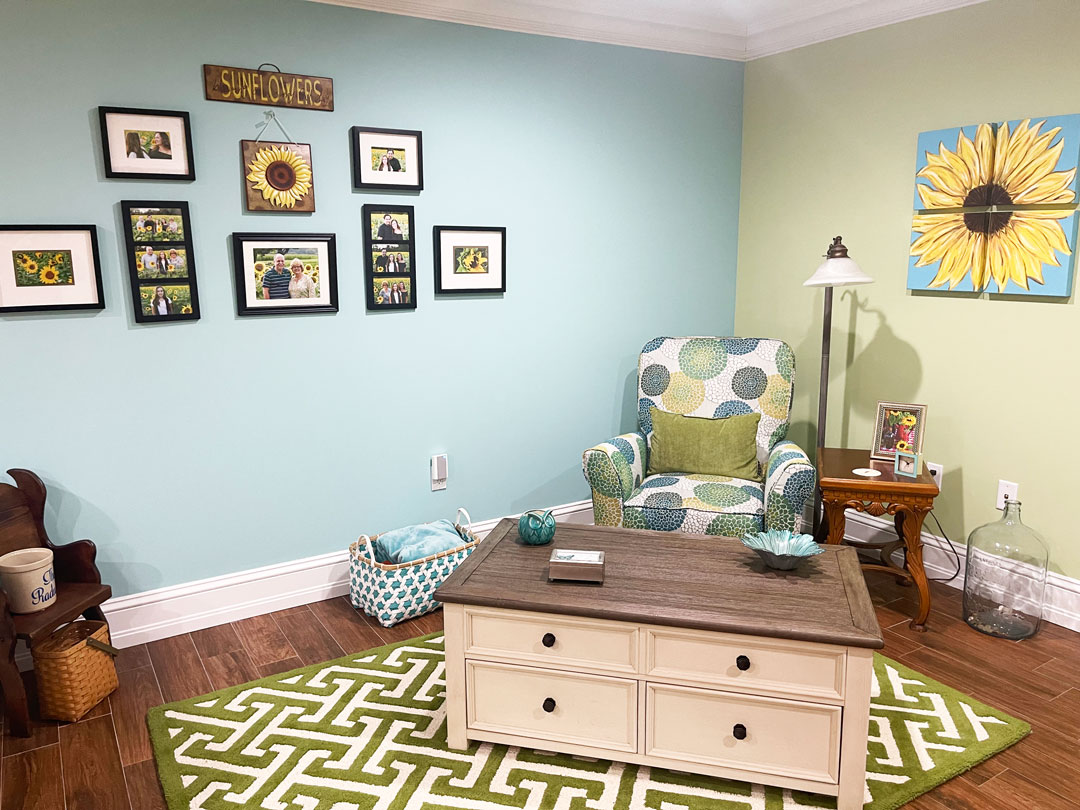 SnS: Tell us about your IKEA® Kallax unit.
I love my Kallax unit with my Stamp-n-Storage 12x12, 8.5x11, and 6x6 Double Paper Holders for IKEA. If you ask me what my biggest struggle has been, it's PAPER. I love paper, and these Paper Holders have been a lifesaver. My Kallax also holds my ribbon in a Ribbon Three Shelf for IKEA, and punches in the Lock-Down Punch Holder for IKEA. I also have bins in the bottom of my Kallax unit that stores extra supplies such as adhesives, glue guns, ribbons, etc.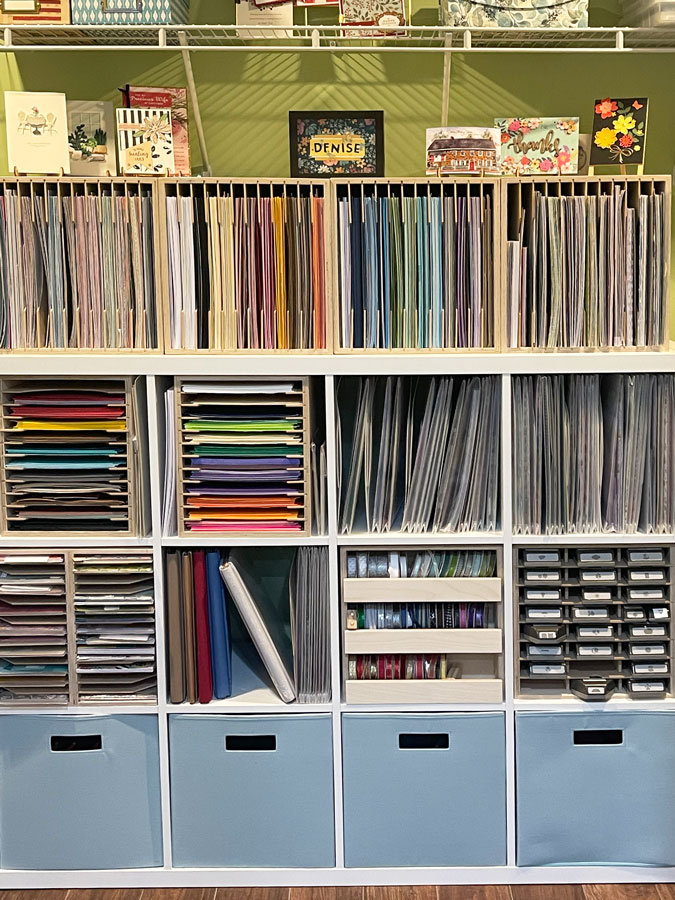 SnS: Tell us about your workspace area.
Denise: My U shape desk area is custom-made and set up with my computer, Cricut, embossing machine, cutting area, and space where I craft. I have a chair with rollers that helps me roll to and from each station.
SnS: Tell us about your cabinets.

Denise: The cabinets are also custom-made. The tall cabinet houses my completed scrapbooks. The drawers hold various punches and supplies. Two file drawers store my Stampin' Up! cardstock in hanging folders with the name of colors and item numbers. I also keep my matching scraps in the folders stored in Stamp-n-Storage Paper Storage Pockets.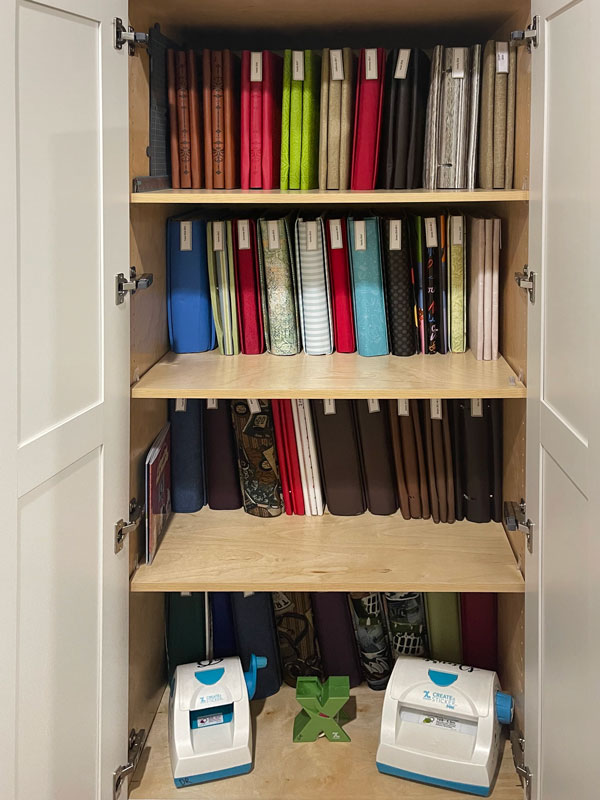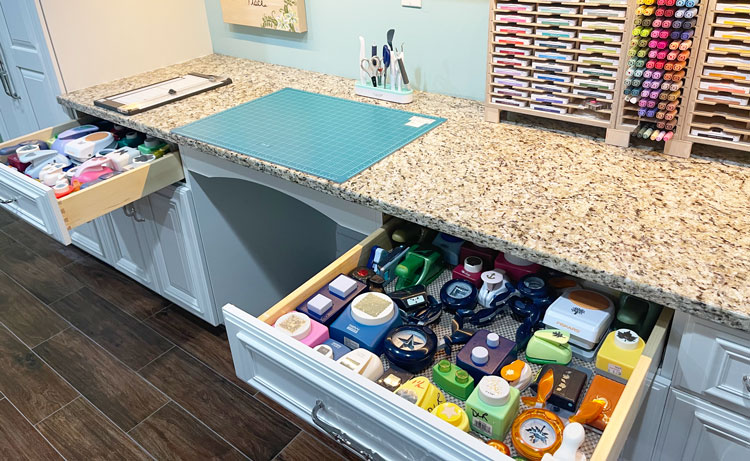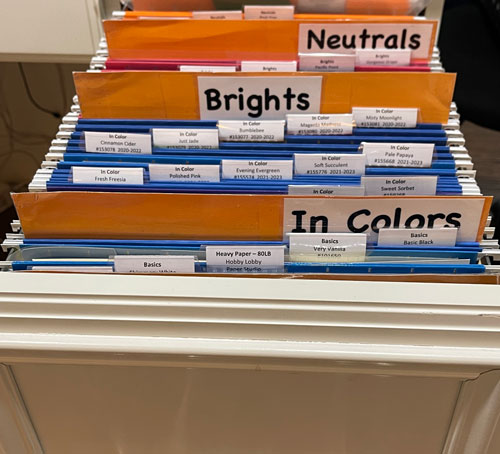 SnS: Tell us about your inks.
Denise: I have my ink pads arranged by color and organized in the Standard Ink Pad Holder. I also keep my Stampin' Blends arranged by color in the Marker Holder for Stampin' Blends. My inks are visible on my desk and within arm's reach. I keep them raised on Kickstands so I can store smaller items underneath the holders.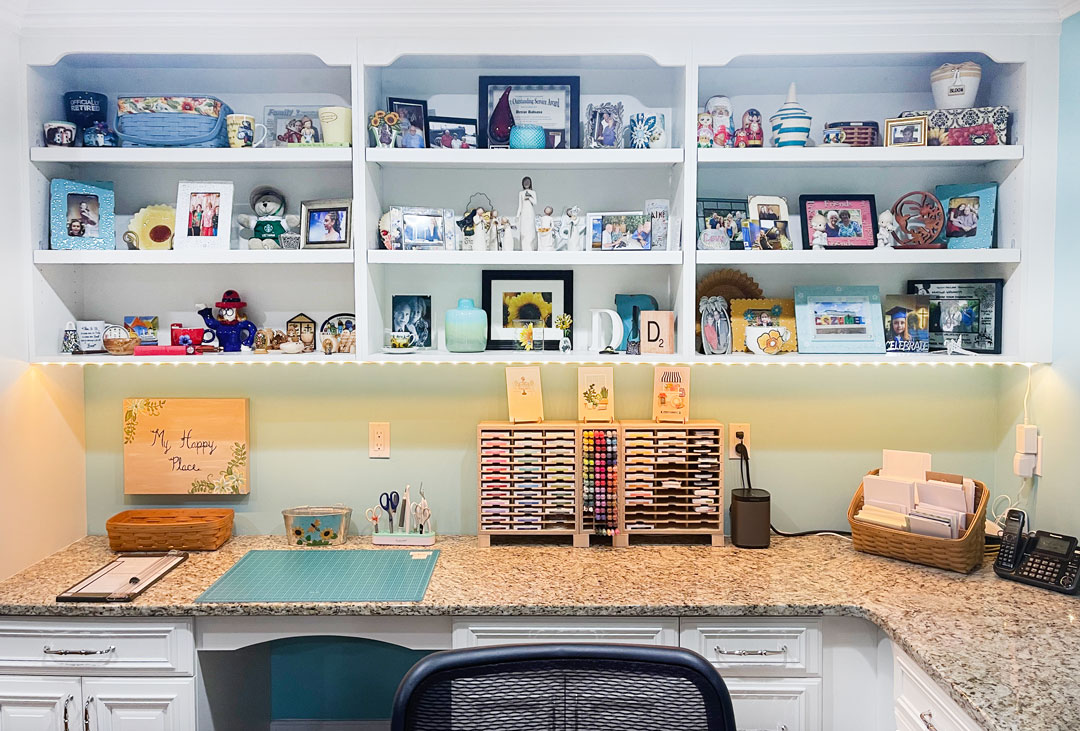 SnS: Tell us about your sitting area.
Denise: In the sitting area, I enjoy reading my Bible and Kindle and just looking at my room, realizing how blessed I am.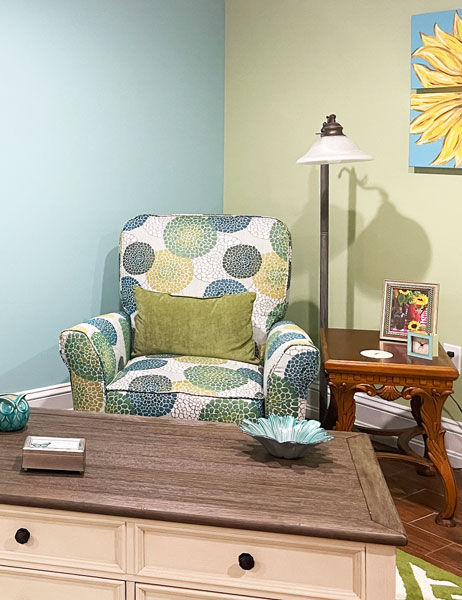 SnS: How has being organized helped unleash your creativity?
Denise: I enjoy organizing almost as much as I do crafting. I'm the type of person that functions better if everything is in its place. Some people like to see everything they own, but I can't function in a cluttered space. Stamp-n-Storage has solved a lot of those problems for me.
SnS: If you had one tip to share with other crafters about how to start the organizational process, what would it be?
Denise: For those just starting to craft, think about what you will be crafting and find what works best for you. Are you someone who needs to see all your supplies or one who functions better with supplies all in their designated places? You may change your setup more than once. I have, and I'm sure I will continue to make changes. There are all kinds of organizational products on the market to help.
---
Thank you, Denise, for sharing your beautiful craft studio. If you would like to be our next Studio Showcase winner and have the chance to receive $75 in-store credit, here are a few hints: clean up your space, snap some photos (4 or more) from a few different angles, and include some comments about what you love about your area and your Stamp-n-Storage products. Then, you will be entered into our monthly drawing. Email your entry to: contact@stampnstorage.com.