September Studio Showcase Winner: Denise K
Our September Studio Showcase is definitely Pretty in Pink! In fact, studio owner Denise even goes by the nickname Pinkie. She has loved pink since a little girl and her "Stamp Pad," as she calls it, is a room that reflects her personality and is truly her happy place to share with others.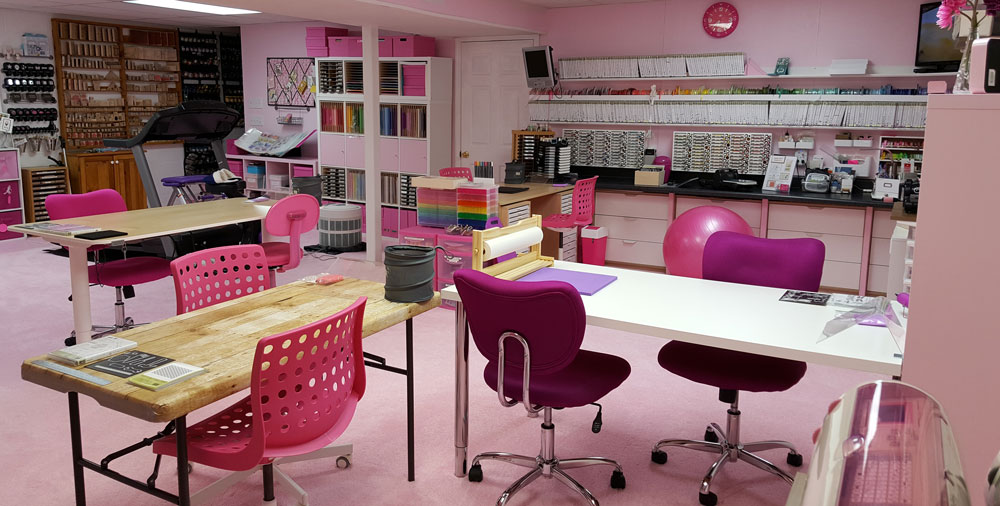 This craft studio was created in Denise's basement. It's a 28x28' space designed to provide stations for a work flow. Denise planned an area specific for cutting, embossing and using machines like the cricket or big shot. It was also important for Denise to be able to accommodate groups of people as it was her dream to have classes, something she now provides. " My space is a happy, cheerful, bright place, to have fun and inspire creativity" she says.
The "Stamp Pad" began with Denise's husband adding a drop ceiling, a few walls, paint and carpet. "It was pretty much a blank slate" Denise says. Once it was time to plan out how she would organize her crafts, she began with Stamp-n-Storage. "I knew what items would allow me the storage that I needed but also give me the visualization so that I could use what I have...because if you can't see it many times you don't use it. Stamp-n-Storage allowed creating a wonderful system that looked appealing and was very functional."
Denise also loved that she could combine Stamp-n-Storage products with IKEA® shelving units. "It made sense for me when I found out that Stamp-n-Storage products were a custom fit, now I didn't have to think about where to put things," she says. The IKEA® Kallax unit displays Denise's Stamp-n-Storage 12x12 Paper Holders and Lock-Down Punch Holders beautifully.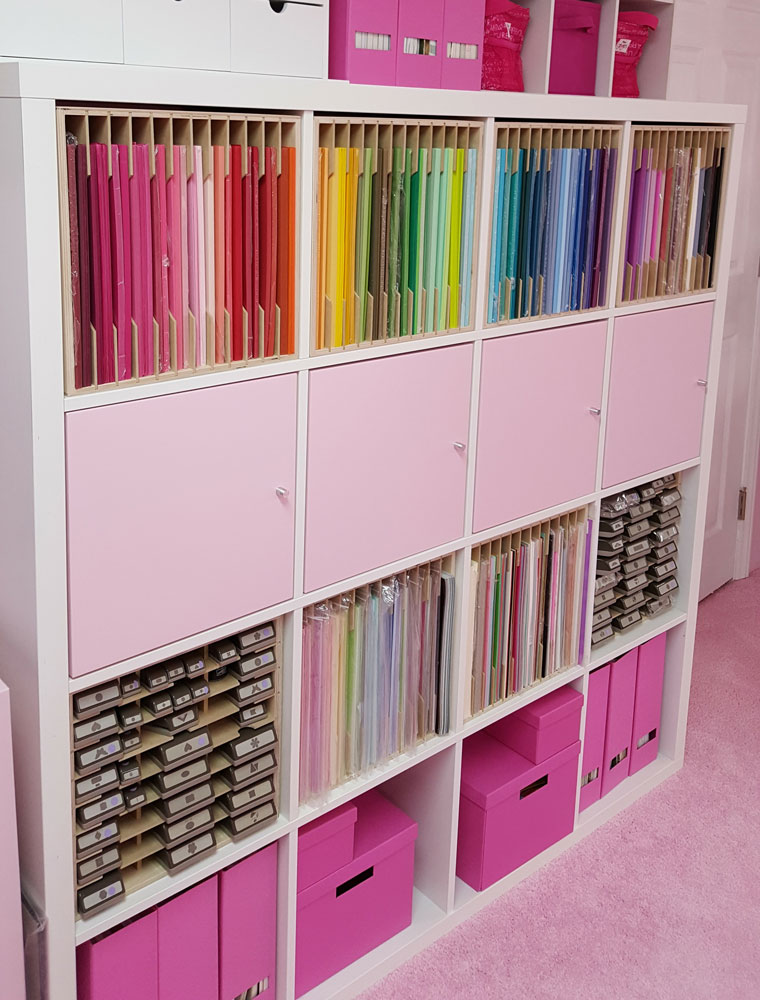 Another stunning feature in Denise's space is her beautiful collection of ribbon. "I have them organized by color so at a glance I can look up and be inspired by all the wonderful colors and textures to spark my creativity" she says. Her ribbon is stored in two Stamp-n-Storage 72 Ribbon Holders which are wall mounted. "The design of the ribbon holder makes all of my ribbon very easy to access. I love the fact that I'm able to add or take one out and put it back. There's not a dowel to fight with and I love the magnetic blocks included, what an ingenious idea!" Denise says.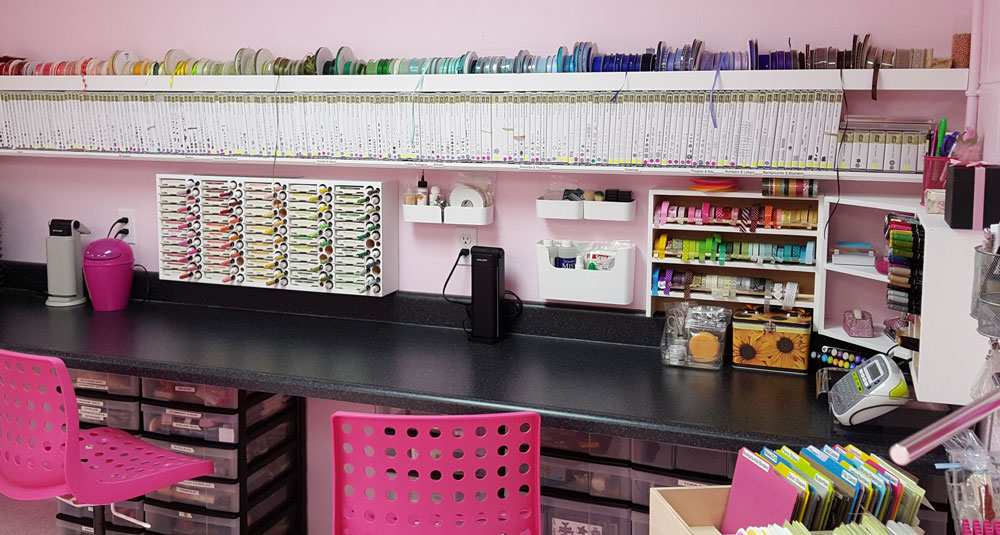 In the corner Densie has the Washi Tape Holder, Corner Shelf, Marker Nook and Stacked Marker Holder.
Also displayed nearby is one of Denise's favorites... the Combo Holder. "I would never wanna do without the Combo Holder unit! It's the best, I can find out if I have a complete set of everything and when there's a hole I know there is something I need to find or order. Love, love, love it," She says.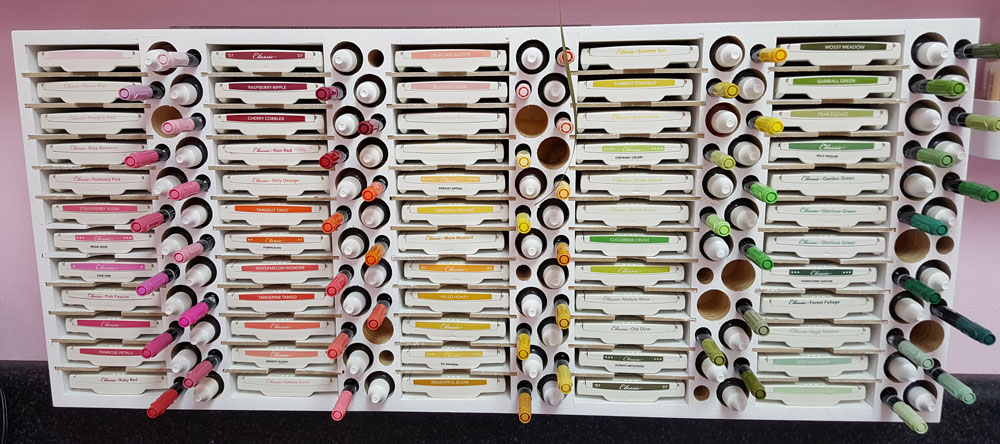 Denise keeps her dies and emboss folders next to each other. Dies are organized on Stamp-n-Storage Magnet Cards and stored in the Large Wafer Die Tote. We love the colored label dividers she has added to help find the perfect die for her project! Her emboss folders are organized in a Large Emboss Folder Tote.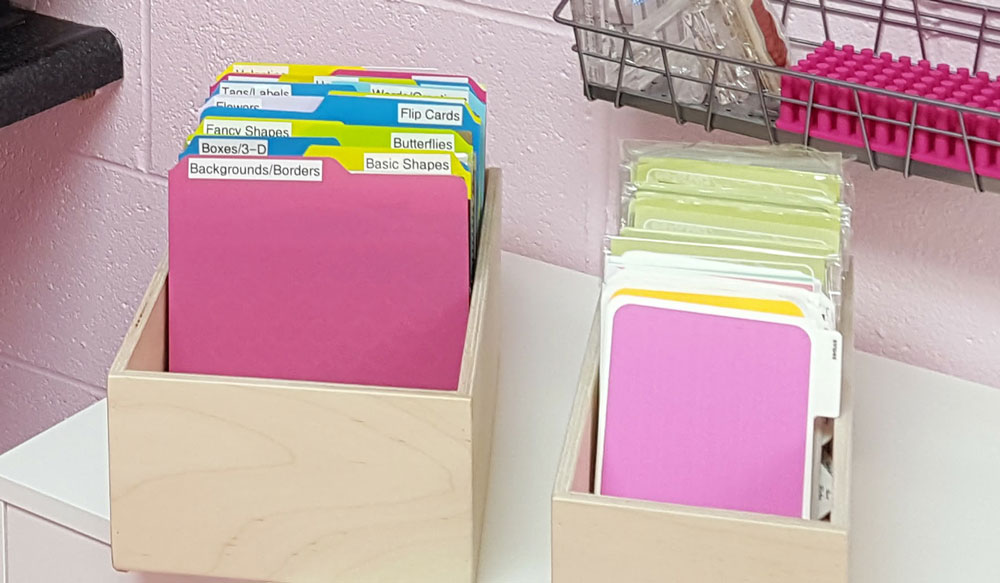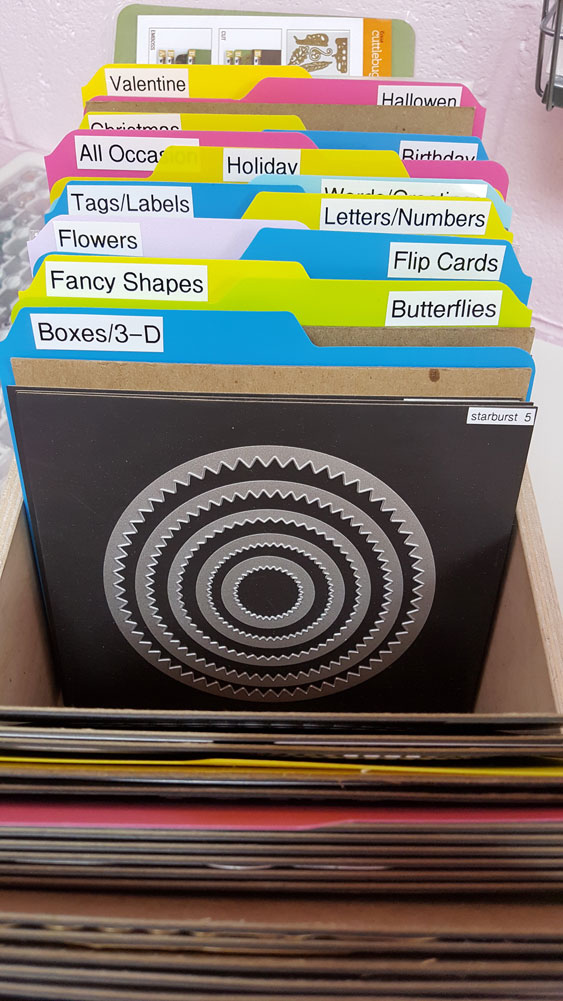 "Stamp-n-Storage keeps me organized in that everything is that my fingertips. I can be seated anywhere in my room and look over at any Stamp-n-Storage item and find exactly what I need. I don't spend a lot of time looking for things because it's all been organized for me and it's all there where I can see it, thanks to the products like the Paper Holders, and my Combo storage unit. This leaves me more time for creating but even better than that it inspires me to create because it's a visual that I can start to look around, have a thought and put it together because I can see all the colors, I love it and so do all my friends!" - Denise K.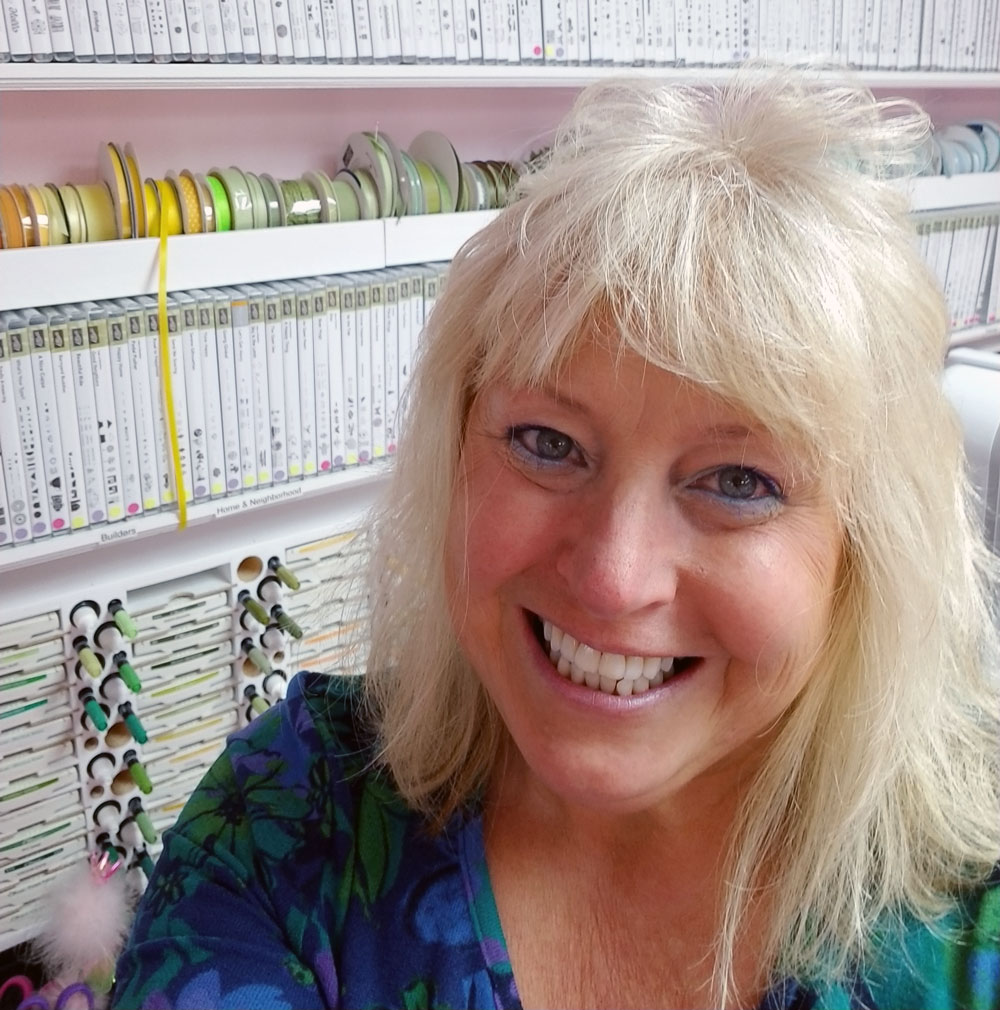 ---
Would you like to be our next Studio Showcase winner and have the chance to receive $75 in store credit?
Here are a few hints: clean up your space, snap some photos (4 or more) from a few different angles, and include some comments about what you love about your area and your Stamp-n-Storage products. Then, you will be entered into our monthly drawing. Email your entry to: contact@stampnstorage.com.