March Studio Showcase: Meredith N
Congratulations to the winner of our March Studio Showcase! We love Meredith's well-designed craft room and we're so glad that she submitted her photos for our contest. She says that her favorite part about the Stamp-n-Storage products is that they are modular. Her inks, punches, and other crafty essentials are all easily within reach without her room looking cluttered. In the past, she only had a few of the Stamp-n-Storage pieces. Now, she has gradually added a couple of new pieces to her collection each year. We really enjoyed seeing this room in its completion, because it proves how you can start with just one Stamp-n-Storage piece at a time to eventually have a very organized craft storage system.
Would you like to be our next Studio Showcase winner and receive $75 store credit? (Of course you do!)
Here are a few hints: clean up your space, snap some photos (4 or more) from a few different angles, and include some comments about what you love about your area. Then you will be entered into our monthly drawing. Email your entry to contact@stampnstorage.com.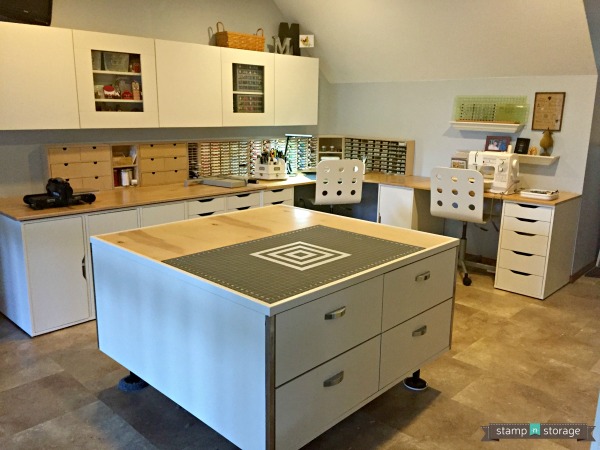 Wow! What a view! Doesn't looking at Meredith's gorgeous room make you want to get out your paper crafting supplies and spend some time creating in her studio?
It's easy to see that the layout of her craft room, which is located in the loft space of the house, was very well-planned. She said that she carefully chose which Stamp-n-Storage products she wanted to put in her room. Her husband built her art table to fit her craft organization pieces that she already had...and others that she included on her wish list. How nice of him!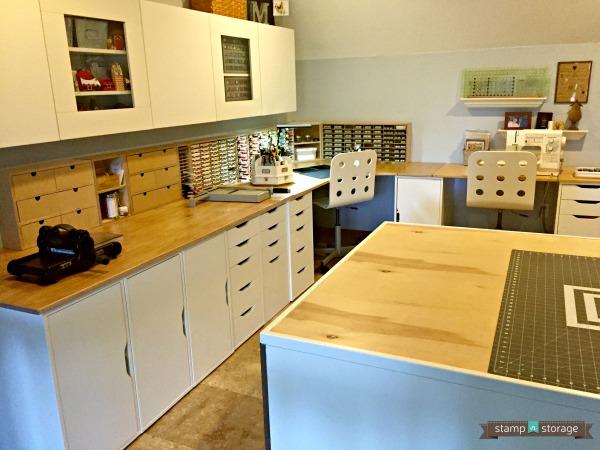 Starting from the left side of the room, are two Six Drawer Units with a custom shelf in between them. Next, is the Marker Holder for Blendabilites™, 60 Ink Pad Holder, a 12 and a 60 Combo Holder, a Corner Shelf, and a Large Lock-Down Punch Holder. It's a beautiful line-up of craft storage that's easily accessible!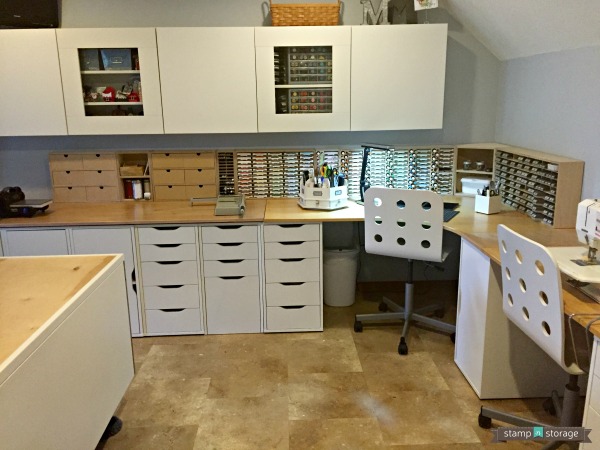 Here's another view of the craft room. This space is opened to the living room below, so she is able to get a lot of natural lighting in her room. This works really well with the light colored furniture too.
The addition of the IKEA® cabinetry is convenient and helps her streamline her storage. We also really like the coordinating white chairs! Aren't they cute?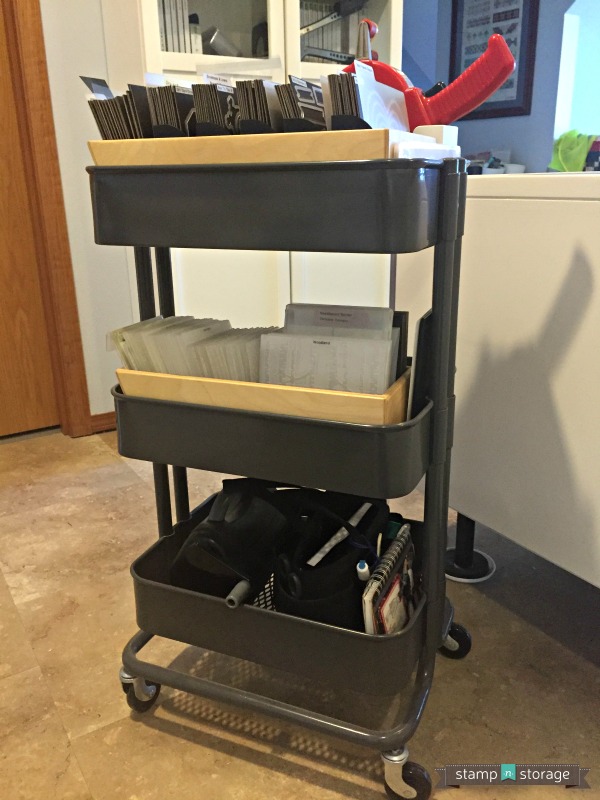 \
Above, Meredith has discovered that her Large Wafer Die Tote complete with Magnet Cards and her Large Embossing Tote fit perfectly inside of the IKEA® Raskog cart! This looks so nice and organized.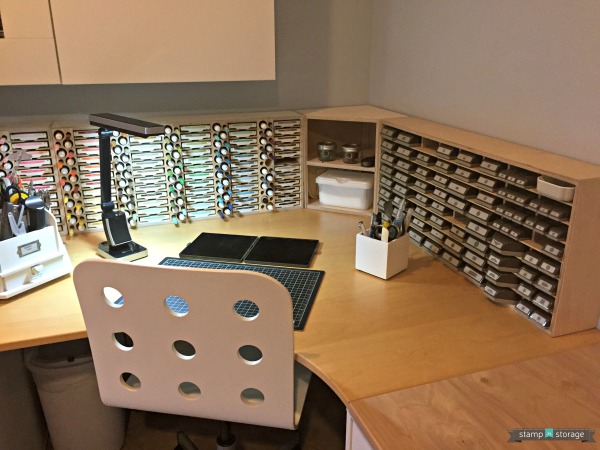 Here is a close-up view of where Meredith spends a lot of time working on her craft projects. We can see her 12 and 60 Combo Holders on the far left, the Corner Shelf is in the center, and the Large Lock-Down Punch Holder is to the right.
Meredith is very pleased with how her craft room looks! She said, "I am so much more productive and creative in a well-organized, uncluttered space." Hearing this makes us ecstatic, especially since our motto at Stamp-n-Storage is to help crafters organize their craft and unleash their creativity!