Let's Bring Christmas Joy to Those Around the World!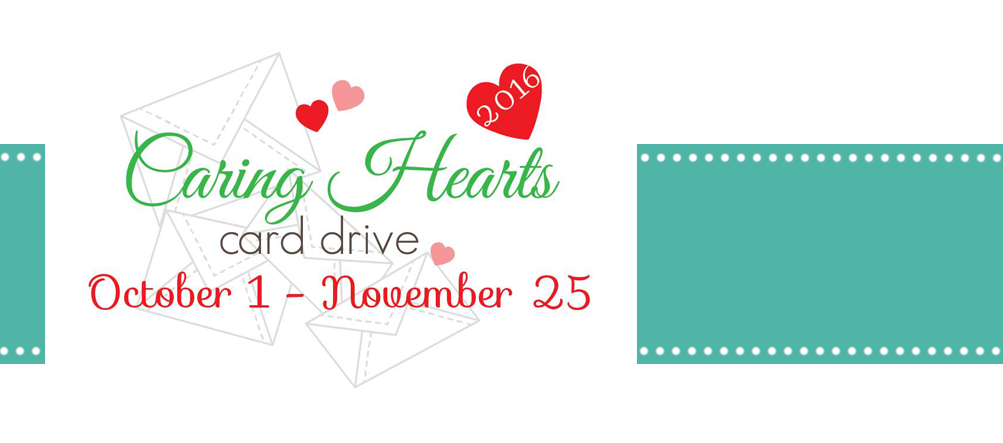 Stamp-n-Storage is honored to be a sponsor for the 7th Annual Caring Hearts Card Drive! Since 2010 the Caring Hearts Card Drive has been distributing cards to the elderly in nursing homes throughout the US, Canada and Australia. This year they've added Europe to the list.
"The holidays are about family, kindness and joy. During this time many of the elderly who lives in nursing homes would really feel the loneliness or missing their family. Wouldn't it be so awesome if we can bring a smile to their face & brighten their holiday season simply by sharing our love of card making? A simple gesture to let them know that they are not forgotten. That someone is still thinking of them." -Vera Yates
Vera began the card drive in honor of her mom's request in 2010. That first year 750 cards were distributed and it's been growing ever since. Last year crafters from all over the world sent 22,000 cards! Vera, Jennifer McQuire and a team of volunteers distributed the cards to the elderly in over 100 nursing homes! Let's help this amazing team spread some holiday cheer!
Not to mention, there are prizes! LOTS of prizes! Stamp-n-Storage is excited to provide a $100 gift certificate as a platinum prize package.


Here are some important details:
This card drive will be going on from October 1 to November 25, 2016. They need to receive your card by November 25, 2016.

Please make the cards for Christmas or Holiday Wishes. Anyone can send a card, your children, church group, scout troops, etc.

All cards need to have a message inside (it can be stamped or hand written).

Please sign your name and where you are from (inside the card).

Please include an envelope for each card and please don't seal the envelope.

Please stick to standard size A2 or 4-1/4" x 5-1/2" card as this will help us in packing more efficiently

Please don't use any pins (safety reason).

Please refer to Vera's Blog for other important details and where to send your holiday cards!
Help spread the word! Share on social media and be sure to hashtag #CaringHeartsCardDrive.