July Studio Showcase: Carole W
Our July Studio Showcase winner is Carole W. She once had a craft room area in her upstairs spare bedroom and used to bring all of her supplies downstairs when she wanted to teach stamping classes.
Recently, Carole and her husband were able to transform their formal living areas downstairs so that Carole could officially keep everything on her main floor. This has saved her a lot of trips up and down the steps! Take a look at this Pottery Barn inspired studio. We love it!
Would you like to be our next Studio Showcase winner and have the chance to receive $75 in store credit?
Here are a few hints: clean up your space, snap some photos (4 or more) from a few different angles, and include some comments about what you love about your area and your Stamp-n-Storage products. Then, you will be entered into our monthly drawing. Email your entry to: contact@stampnstorage.com.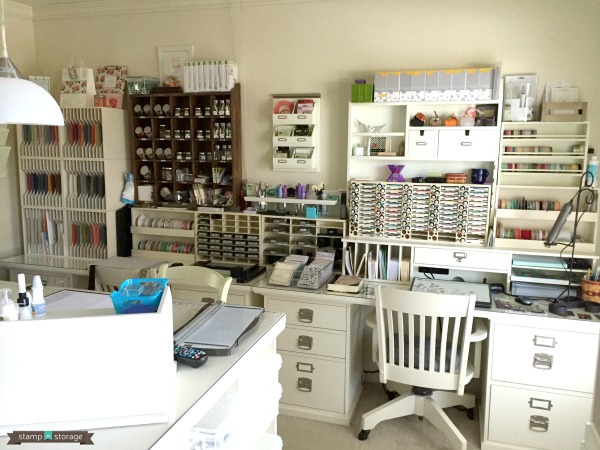 Above, we can see a great view of the Carole's craft room. She usually stamps at the project table which is at the far front left of this photo. Carole loves being able to glance at everything on her wall of craft supplies and know that it is readily available to use. Carole said, "Being able to see my paper allows me to be sure that I never run out."
In the back left of this photo, Carole has 6 Paper Holders stacked vertically, a 20" Ribbon Shelf filled with gorgeous ribbon, a Standard Lock-Down Punch Holder, Whale-Tail Punch Holder, a 60 Combo Holder, and another Ribbon Shelf with a Washi Tape Holder stacked on top. What a great craft room layout she has!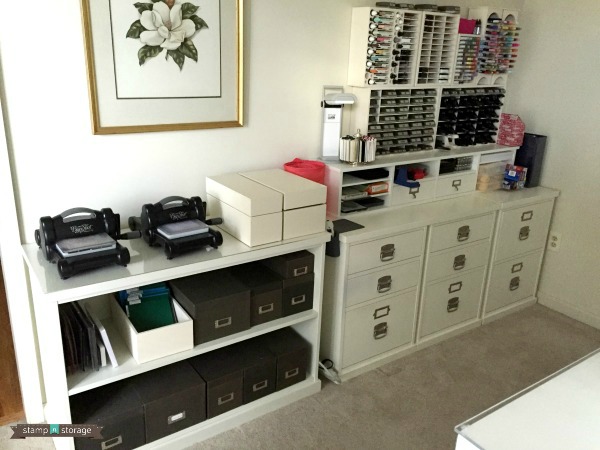 Above, Carole's Big Shot™ station is shown. Next to her machines, you can see her Stamp-n-Storage Embossing Folder Storage on the left and her Wafer Die Tote. Her dies inside of the Wafer Die Tote are all stored on Magnet Cards. She's a big fan of this type of organization for her large collection of dies! To the far right, we can see her storage for ink pads, markers, and paper punches.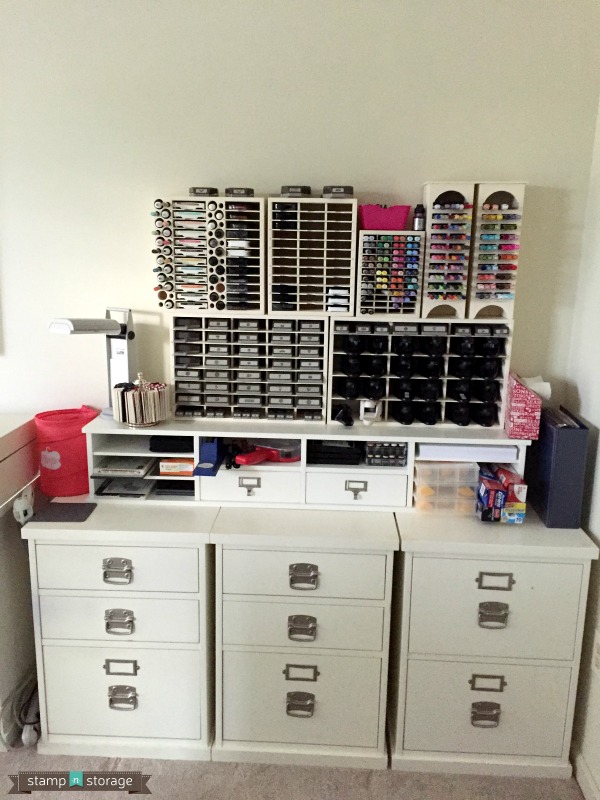 Here is a close up of her ink pads, markers, and paper punches storage area. Carole likes to keep retired supplies here since they are not used as frequently. How nice that she can keep everything separated and so organized!
Above, we see a Stamp-n-Storage Standard Lock-Down Punch Holder with a 24 Combo Holder and 36 Slim Ink Pad Holder stacked on top of it. To the right of the Lock-Down Punch Holder, is a Whale-Tail Punch Holder.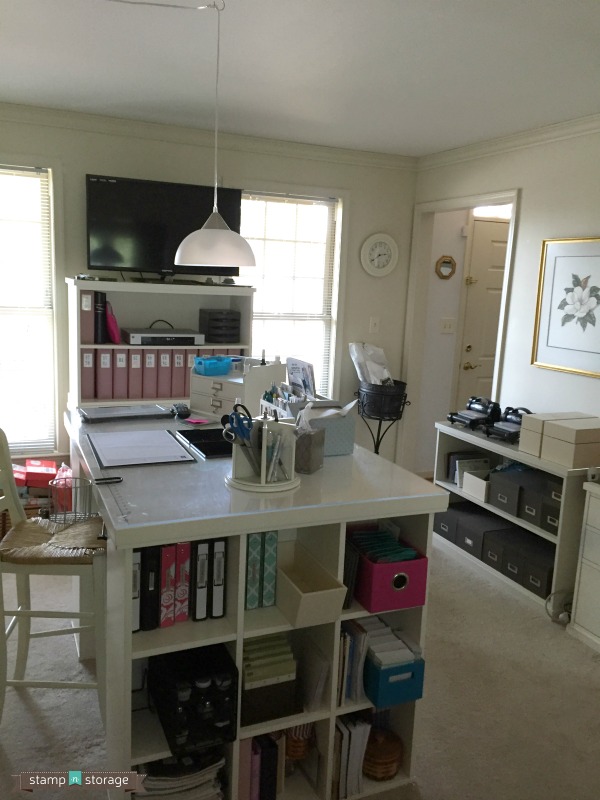 Above is a close-up of the project table where Carole works on many of her paper crafting projects. What a great space for her! We love how there are cubby holes inside of the work station so that she can use that area for storage too. The overhead light is a nice added touch for this project area. It's so important to have bright light near where you're working.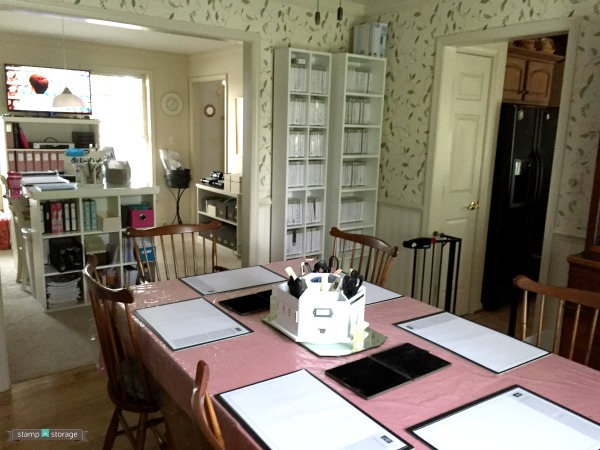 Carole hosts classes in her dining room. On the far right, we can see that she has a lot of shelf space for her stamp cases to be stored. It's really convenient that her dining room crafting space connects to her craft room. She and her husband did a great job combining these formal spaces into creative crafting areas!