January Studio Showcase Winner
What happens when you let an interior designer create a crafty corner in a guest bedroom? You get a gorgeous multi-purpose space.

"It's totally my happy place where I can stamp, craft, sew, relax, and be inspired by art and mementos I have collected over the years," says Colleen, our January Studio Showcase winner.

Colleen has been crafting for over ten years and decided to create a more permanent craft space in her home, something she was unable to do in the past because of frequently moving. Colleen began hunting for IKEA® products in the scratch and dent section and slowly built her collection. She even found a cork bulletin board in a work trash pile that she turned into a board for inspiration.

"I use my bulletin board as a living scrapbook. I put photos, magazine pages, postcards, ribbons and concert tickets all over it. I also write notes about common card sizes, and color samples for Nuvo drops so I can quickly reference them. I feel happy when I can see all those things, and it gets my creativity flowing. If I see a pretty flower in a magazine, I will rip it out and add it to the board so I can reference it next time I'm choosing ink colors to stamp with."
When it came to storage solutions Colleen chose Stamp-n-Storage products, which she first saw in a friends craft space. Colleen purchased the Standard Ink Pad Holder and the Distress Ink Pad Holder. "I used to keep all my inks in the drawers but when I discovered the Stamp-n-Storage products the Ink Pad Holders were the first thing I wanted to invest in so that I could have those on display and easy to grab," she says. For labeling her Distress ink pads, she added labels by inking small stickers with the distress colors. "I labeled two sides of my stamp pads so that I could easily stick them back in without having to fumble too much to have the label facing out." Colleen keeps all her colors arranged in rainbow order. "My favorite product is the Distress Ink Pad Holder. It displays the inks beautifully and wastes very little space, which I did not have a lot" she says.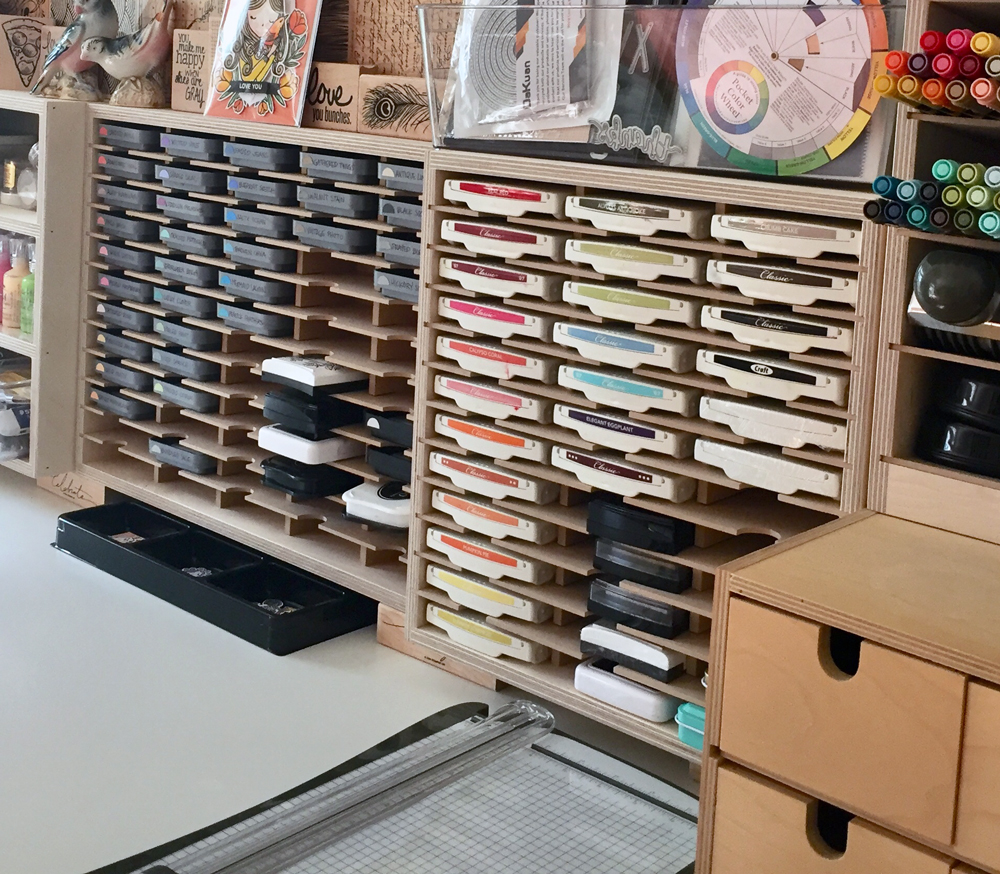 Colleen also had several mini ink pads that she put into containers on a Stamp-n-Storage Storage Shelf. Here she also stores her Nuvo bottles, bone folder, erasers, embossing static bag, scissors, glue, and tape.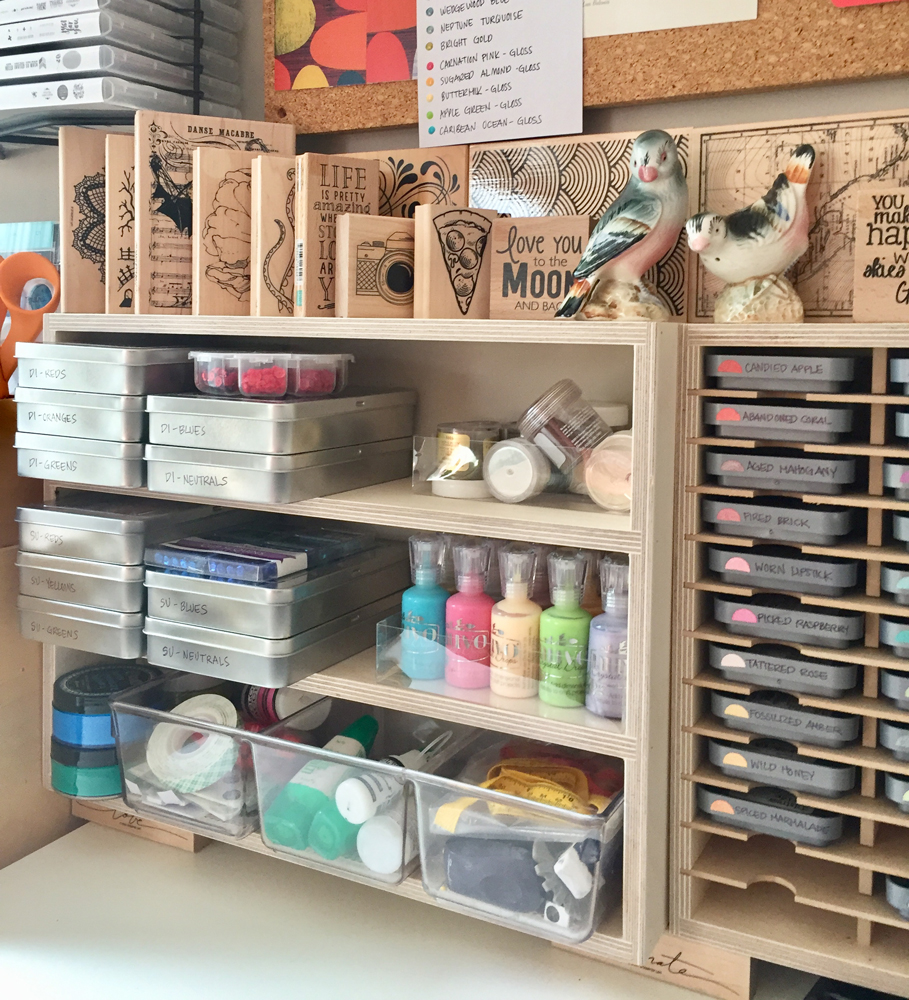 To the right of Colleen's desk, she has a Marker Nook. "I chose the Marker Nook because I would be able to hold more markers and various other items in the same amount of space."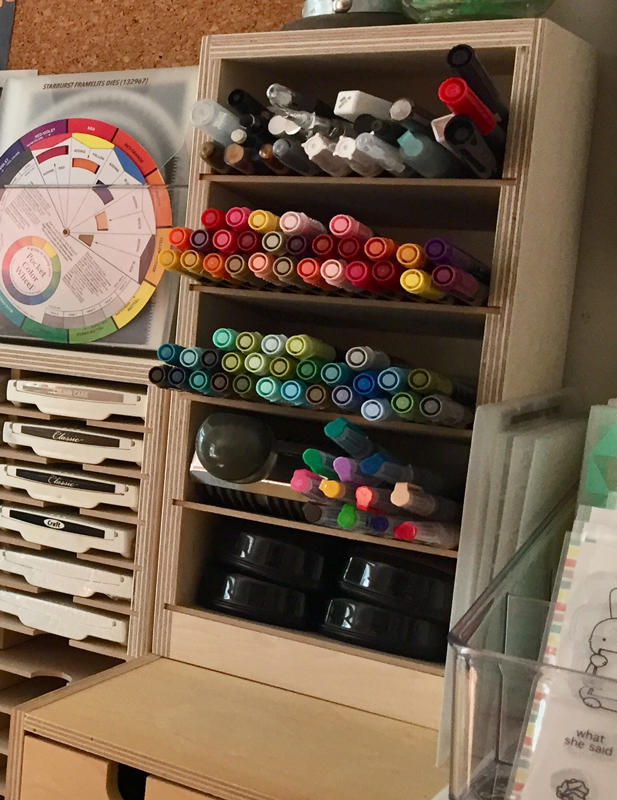 Below her Marker Nook is a Six Drawer Storage where she stores extra adhesives and ink refill bottles, small patterned paper books, card bases in all colors of the rainbow with envelopes, stencils, and an 8 ½ x 11 portfolio with clear sheet protectors holding small scrap paper- in rainbow color order.

On the left side of her desk, she has another Six Drawer Storage where she stores all her punches, ribbon, sequins, glitter, pastels, paints, other embellishments, clear stamp blocks & blending tools.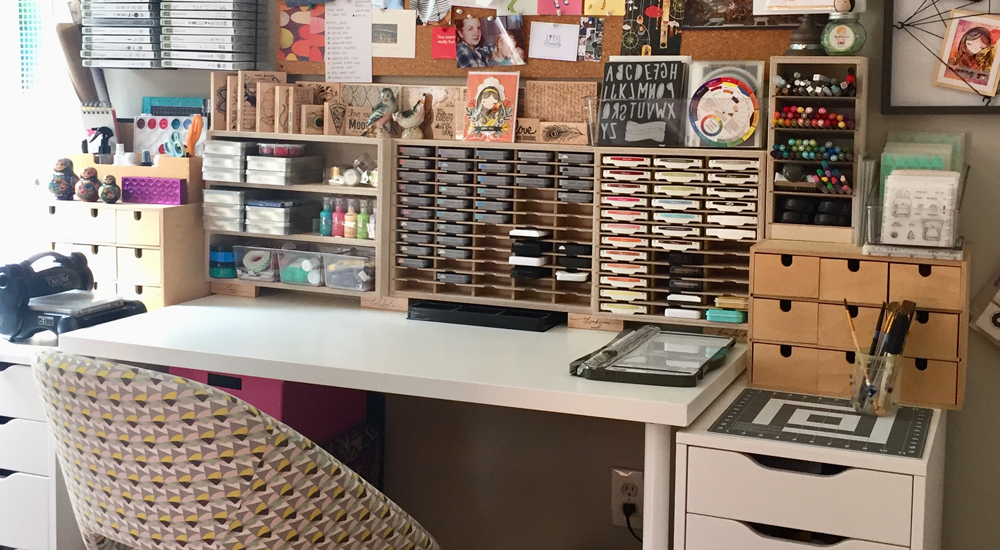 On top of Colleen's Standard Ink Pad Holder, you'll find her Magnet Cards. "Something I didn't think I needed but decided to try was the Magnet Cards...now that I have them I could not LIVE without them and plan on getting more."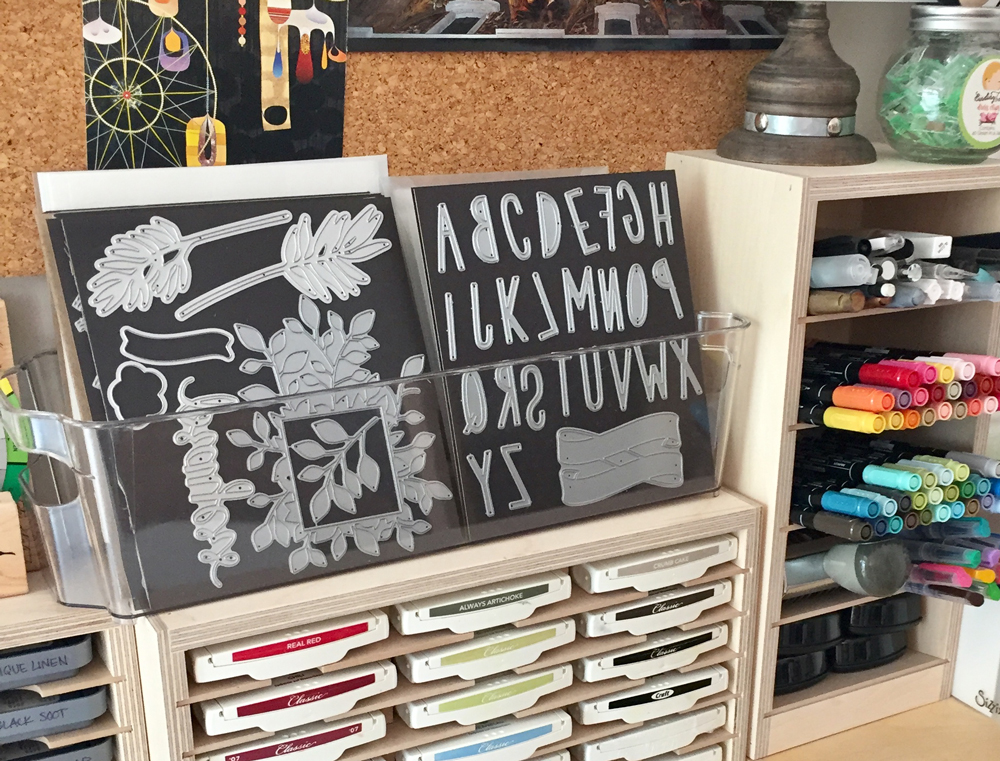 Another feature we noticed on Colleen's door was the large color chart. "This is a Benjamin Moore Paint Color Chart – it reminds me there is an infinite variation to the basic six colors, and I use it for inspiration when making color choices. I also sometimes pick a starting color here – then use a color wheel to select other complimentary hues."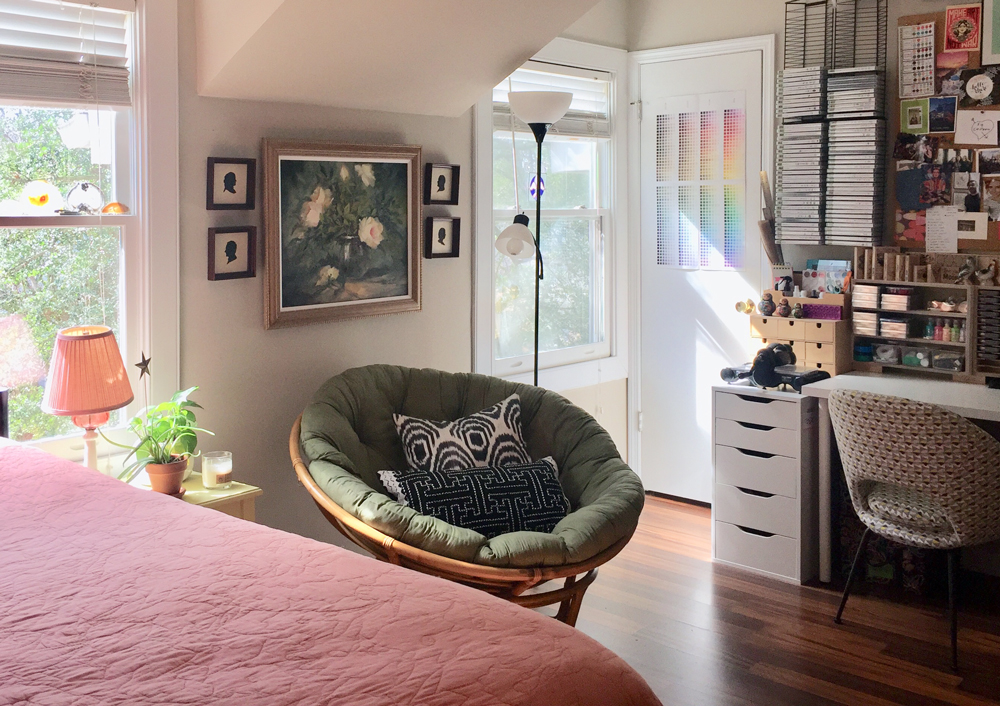 "I can't sit down to craft unless the area is clean first, so I spent more time cleaning up then I did crafting" she says, describing life before organizing her space. "Now I can focus on playing and having fun because everything has a place. Thank you for doing what you do Stamp-n-Storage. Me and my pup Ozzy can't wait to create in our organized studio!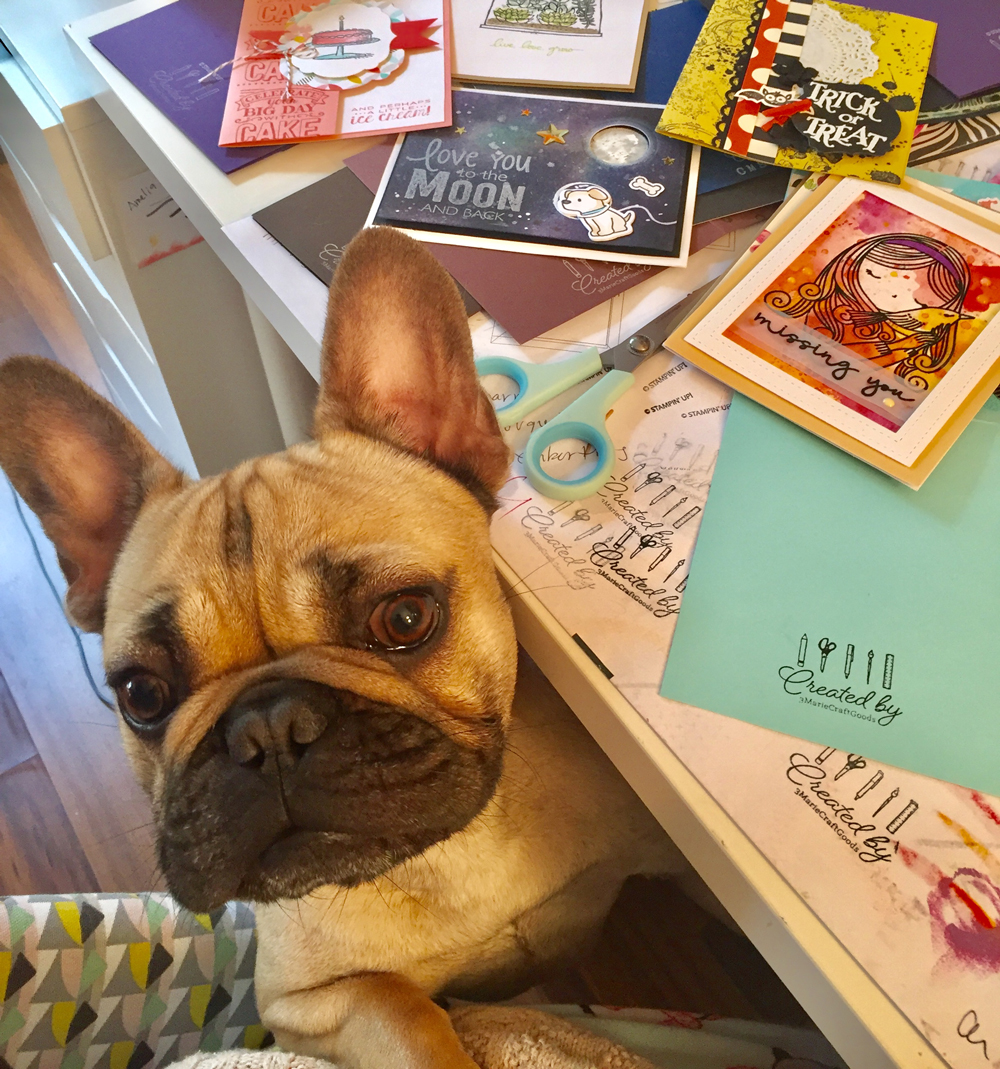 ---
Would you like to be our next Studio Showcase winner and have the chance to receive $75 in store credit?
Here are a few hints: clean up your space, snap some photos (4 or more) from a few different angles, and include some comments about what you love about your area and your Stamp-n-Storage products. Then, you will be entered into our monthly drawing. Email your entry to: contact@stampnstorage.com.