January Studio Showcase Winner: Cathy
Our January Studio Showcase winner is the perfect example of how craft room organization can change over time. This is Cathy's third craft space. When designing the area, she applied what she learned from her first two studios and created a space that works best for how she unleashes her creativity.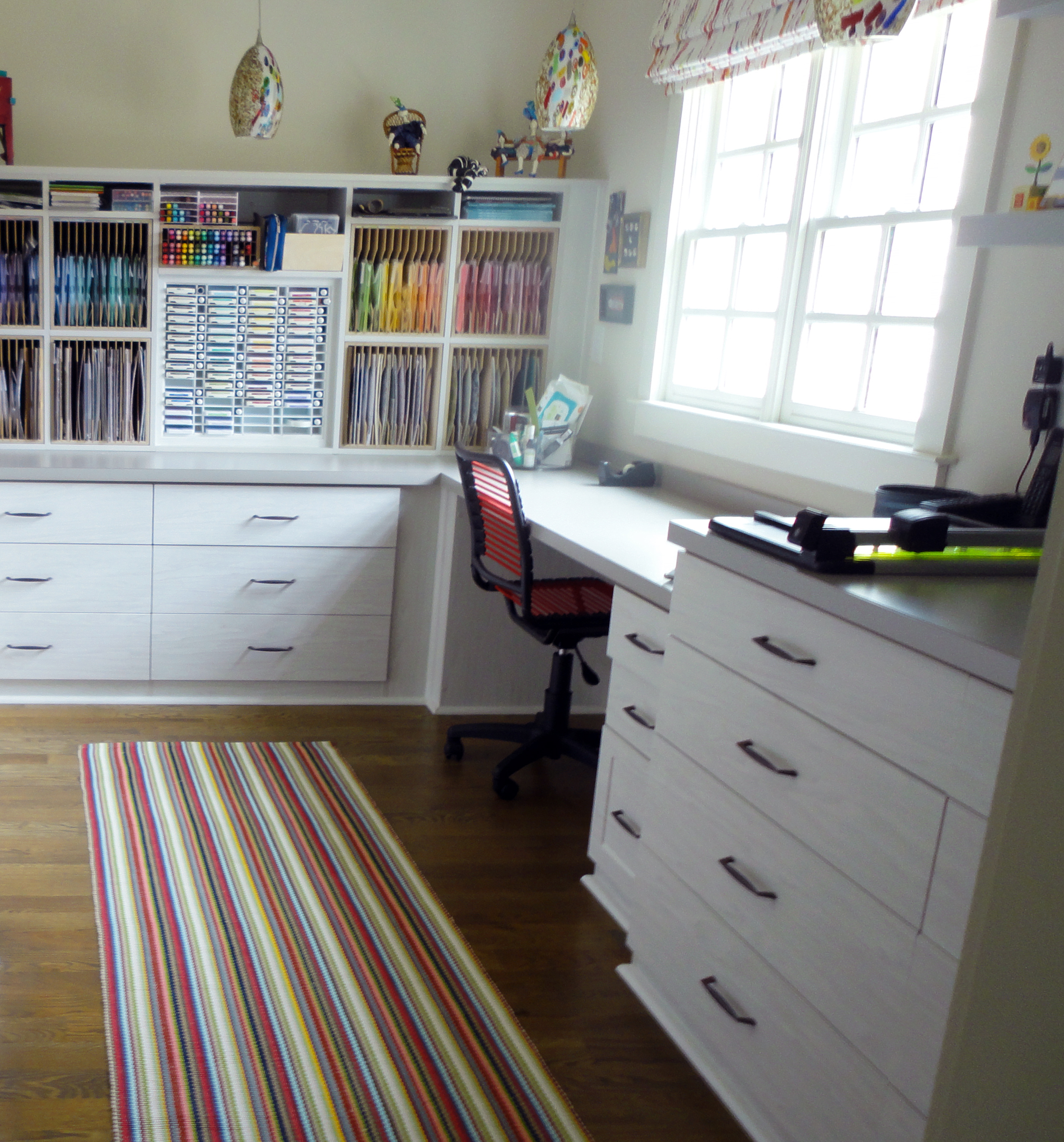 Cathy began her paper crafting journey when she was introduced to Creative Memories in 2000. She loved the idea of preserving memories through scrapbooks. When digital photography became more popular, Cathy began making cards using Stampin' Up!® products. She loved the immediate gratification that came with creating a card for a friend or loved one, not to mention she was a big fan of the coordinating colors and designs.
When Cathy began designing her current space, she worked with Vicki from Artisan Closets. Vicki was involved with the design of Keisha's studio seen in Crafted Spaces. Combined with Vicki's knowledge of Stamp-n-Storage products and Cathy's vision of how she would craft in the space, the two designed a plan.
When it came to deciding which products would be visible and which products would be in a drawer, it was an easy decision for Cathy. "I was enamored with Stamp-n-Storage, especially the Paper Holders, so I knew that I wanted my paper displayed with this product," she says. Four 12x12 Paper Holders sit on top of cabinets with an Ink Pad Holder in the middle. Her Marker Holder for Stampin' Blends and a Creative Crate with her wafer dies sit on the top shelf. These products are kept visible and easy to access.
Cathy chose the 12x12 Paper Holder because she wanted everything symmetrical and knew she would have 12x12 DSP. Her 8.5x11 paper is stored in the 12x12 Paper Holder vertically, and her paper is organized and labeled in a product similar to the Paper Sleeve.
Cathy decided to use drawer storage to keep clutter off her desk space. All of the drawers are from Artisan Closets and were designed to store supplies that could be easily accessed. Her stamp cases are organized in a drawer with dividers that keep them in place. She organized her stamps by current and retired, and then by alphabetical order. Each set has a sticker indicating if it is a current or retired set. She also separates holiday sets so she can quickly identify the sets when a specific holiday approaches.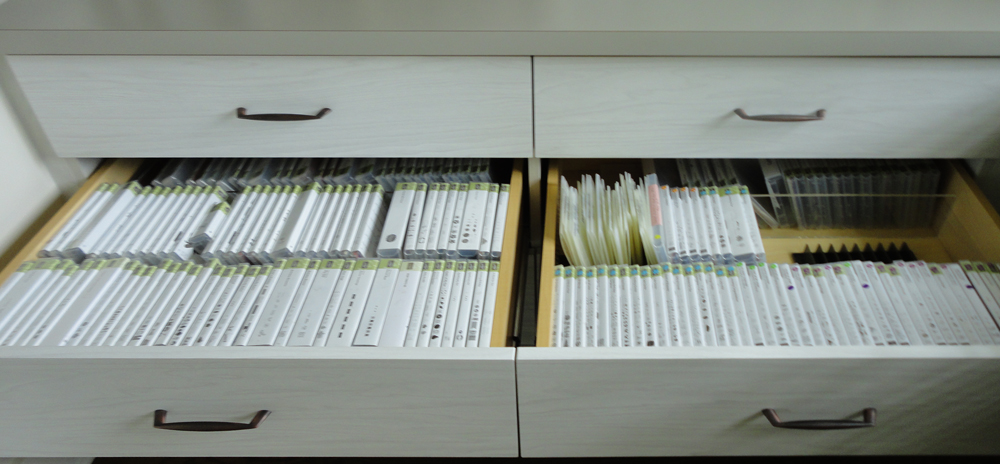 Another drawer contains Cathy's paper punches. She uses the Lock-Down Punch Holder to keep the punches organized inside the drawer. "I can see them very well when I pull out the drawer," she says.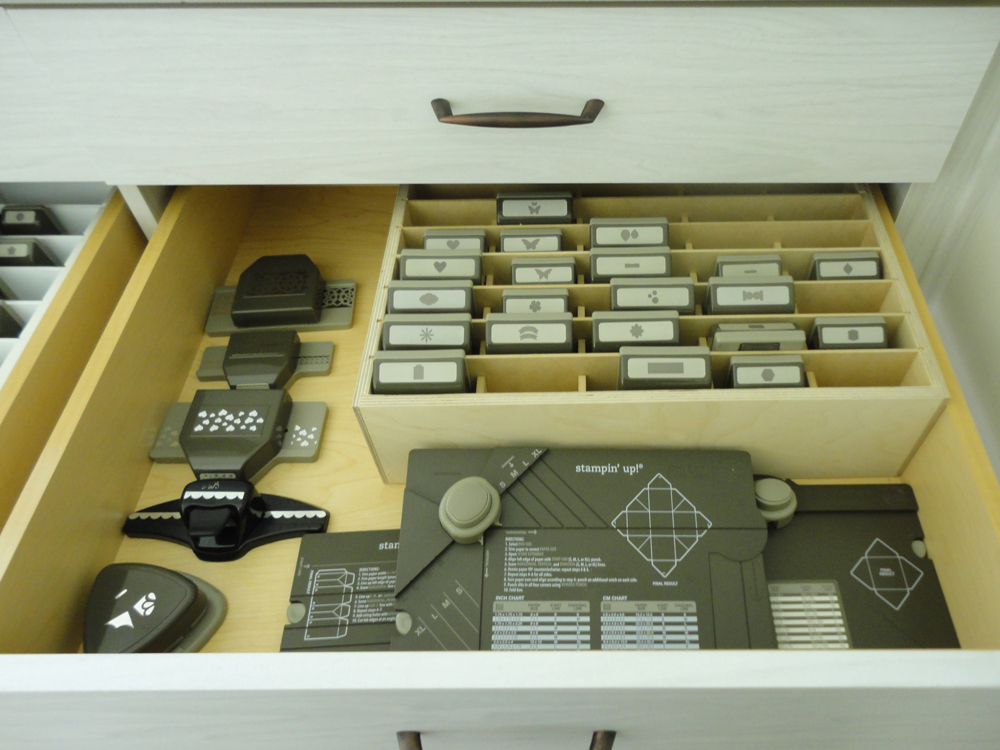 Cathy keeps larger tools like her paper cutter and die cutting machine at a separate station so she can quickly use the tools and return to her desk area for assembly. One of the drawers at this station keeps all of her finished cards organized by theme.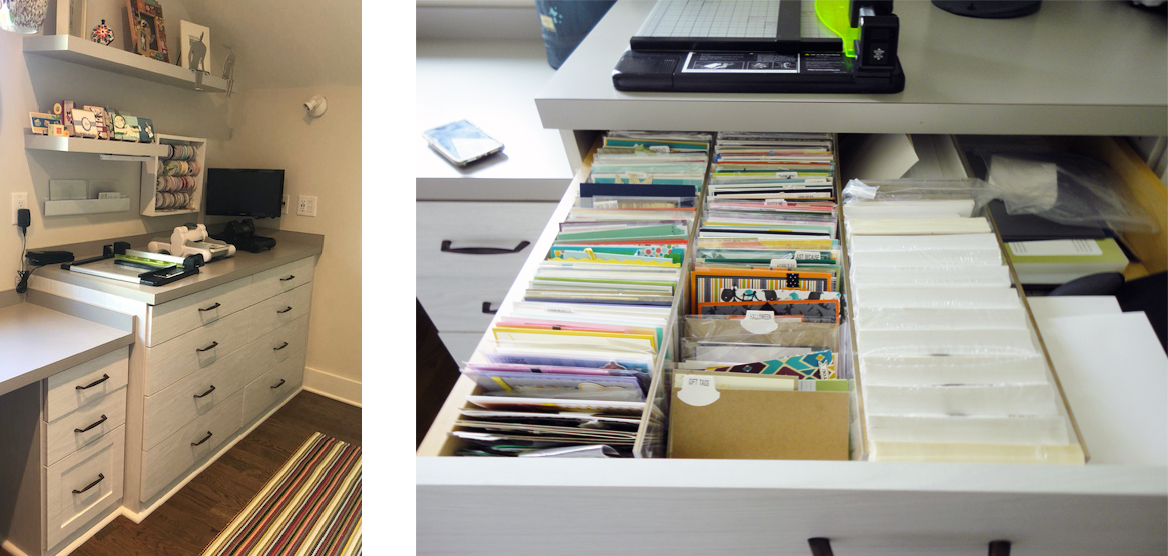 "If I didn't have the various storage solutions, I would have limited ability to concentrate on projects because I can not work in a cluttered space," Cathy says. Her space is a great example for those who want to keep most supplies organized in drawers but also want the beautiful rainbow of inks and paper for inspiration. Thank you for sharing your gorgeous space with us Cathy!
---
Would you like to be our next Studio Showcase winner and have the chance to receive $75 in store credit?
Here are a few hints: clean up your space, snap some photos (4 or more) from a few different angles, and include some comments about what you love about your area and your Stamp-n-Storage products. Then, you will be entered into our monthly drawing. Email your entry to: contact@stampnstorage.com.