Featured Studio - Peggy W
We receive pictures of so many great studios, we thought it would be fun to pick one we recently received to share with you.
Peggy sent in a couple of pictures that show the results of her recent studio upgrade, along with her story:
I've been making cards for awhile, working at a folding table in the guest bedroom and storing my supplies in every available nook and crannie. Then one morning, we were sitting in our computer room and my husband said, "If you had a desk and a bookcase in here for your card stuff, we could be together instead of in separate rooms." (Nice to hear after 46 years of marriage!) Anyway, I wasn't going to give him time to change his mind. After a trip to Ikea and a couple of orders from Stamp-n-Storage, this is the result. I'm pretty pleased with it and I'm looking forward to many hours of cardmaking with hubby nearby to "ooh" and "ahh" at all the appropriate times.
Thank you, Stamp-n-Storage, for providing these wonderful products to keep my supplies neat and close at hand!
And her space turned out great. It's amazing what some simple shelves and a desk can do to give you a very efficient craft area.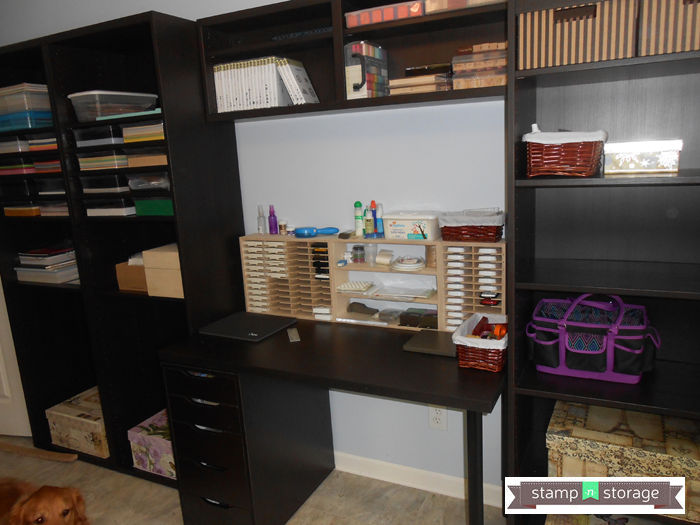 On her desk Peggy a 48 Ink Pad Holder, a 24 Ink Pad Holder and a Full Height Shelf, which are working great to keep those most frequently used items right in reach. (IKEA is such a fun place to shop!)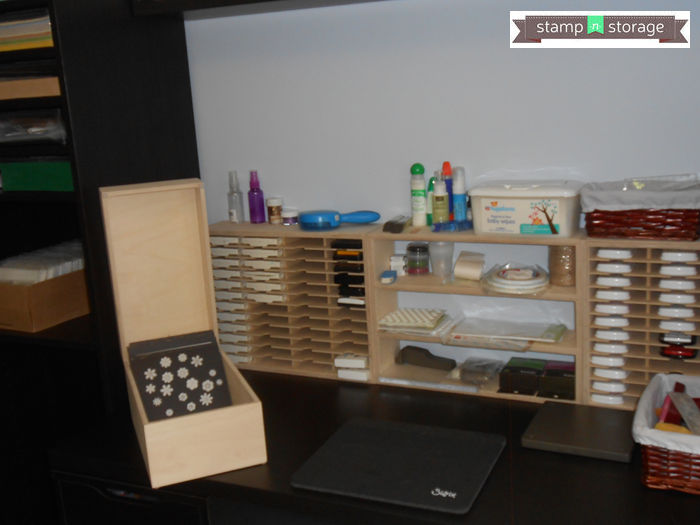 Featured in this close up is Peggy's Wafer Die Tote and Magnet Cards.
And she gets to spend more time with her husband, which is a great perk, too. :)
Thanks for sharing your story, Peggy!